In addition to our single issues, you can also purchase an annual or 2-year subscription to Port. Details of this can be found in our store. For enquiries about or changes to existing subscriptions, please contact subscriptions@port-magazine.com
ISSUE 26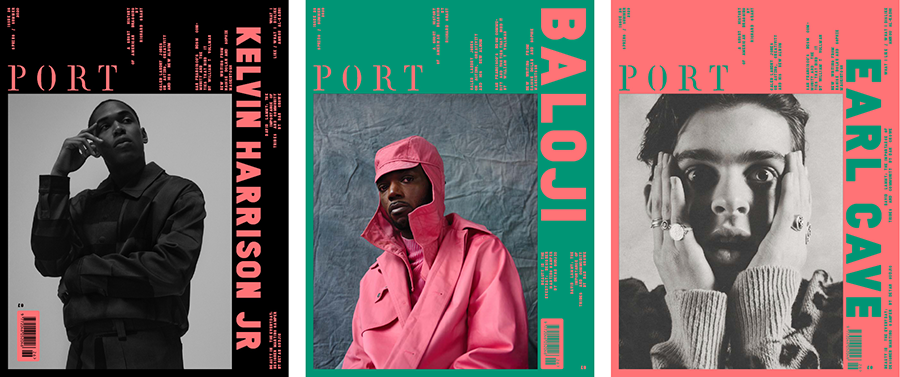 Three young men grace the cover of issue 26, the first being Kelvin Harrison Jr., the up-and-coming actor from New Orleans with roles in 12 Years a Slave, It Comes At Night and Waves. Talking to Anna Smith, he discusses working with his idols, a tireless work ethic and the changing shape of masculinity.
Second, we have Belgian rapper Baloji, an artist in perpetual motion. His albums – including the sweeping, psychedelic 2018 LP 137 Avenue Kaniama – have established him as a star in France and Belgium, and gradually crossed over to English-speaking audiences. The musician of Congolese origin reflects on his career– past, present and future – with Aimee Cliff.
Our third split cover features actor Earl Cave – son of Nick Cave and The Vampire's Wife designer Susie Bick – hot off the heels of playing Ned Kelly's younger brother, and fellow gang member, in Justin Kurzel's visceral drama True History of the Kelly Gang. He talks with Claire Marie Healy about coming out from the shadows of rock and fashion royalty to forge his own creative path.
Elsewhere, Shadow Justice Secretary and Labour MP David Lammy muses on empire, emerging tribes and our need for community, legendary Japanese musician Ryuichi Sakamoto shares his thoughts on his latest soundtrack for The Staggering Girl, William T. Vollmann examines San Francisco's BDSM community and the ties that bind it, while Deyan Sudjic profiles the multifaceted designer Martino Gamper. Looking good has also taken us all around the world, with fashion stories coming from Cyprus, the Barbican, New York City and Brazil, to name a few.
In our Commentary, we have two short stories from Booker Prize longlisted writer Sophie Mackintosh and Irish novelist Naoise Dolan, an essay on the support of creativity by translator Jen Calleja, the opening pages of the award-winning Winter in Sokcho (Hiver à Sokcho) by Elisa Shua Dusapin, as well as a mysterious photomontage from artist Katrien De Blauwer.
Finally, in the Porter, Caleb Landry Jones explores his new album, Tomos Parry shares the beauty of cooking fresh fish on an open fire, photographer Tobias Harvey visits the rugged Faroe Islands, Matthew Turner celebrates Richard Hollis' design work for London's Whitechapel Gallery and Jacob Charles Wilson meets writing mentor and protégé Colm Tóibín and Collin Barrett.
ISSUE 25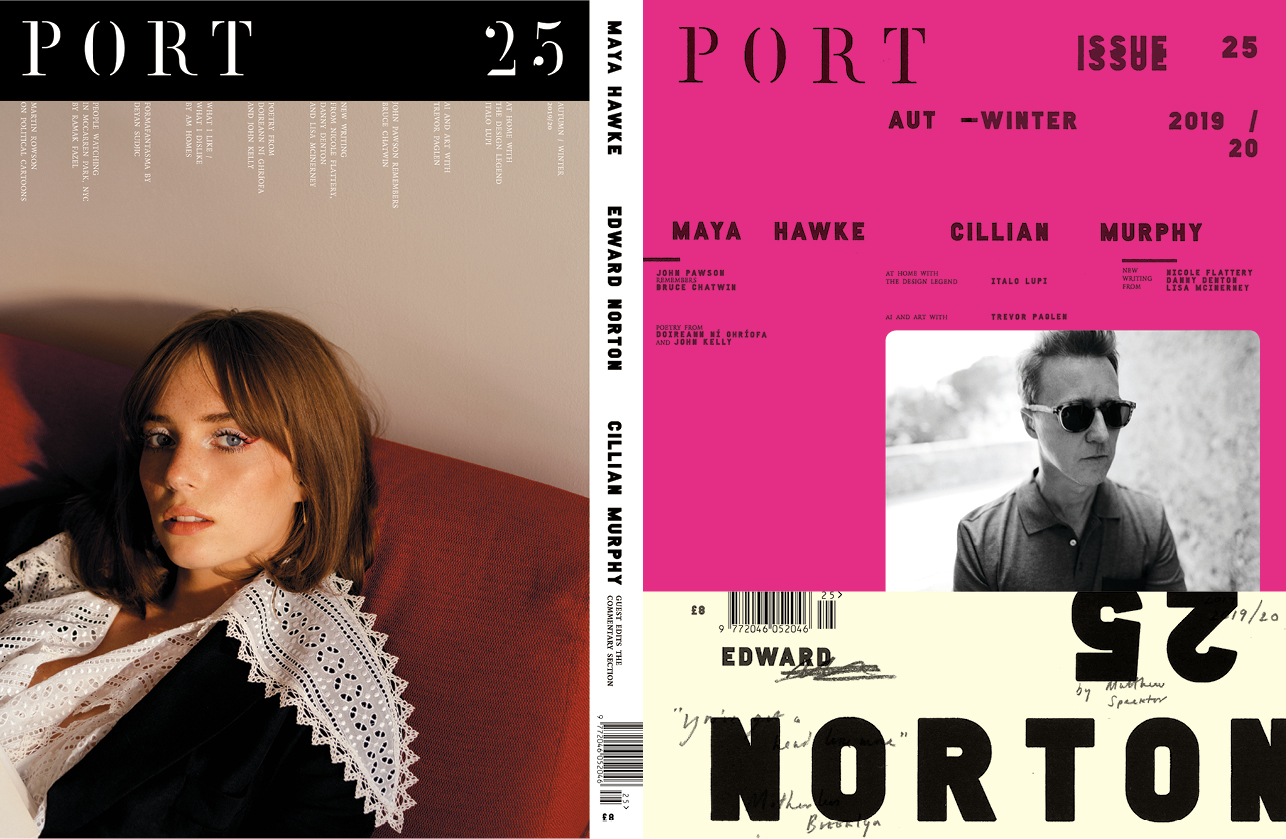 It can be easy to forget how much strong work Edward Norton has done, that it's been 25 years (a long career for any leading actor), of playing everything from scout leaders (in 2012's Moonrise Kingdom) to crusading attorneys (in The People vs. Larry Flynt), from children's show hosts (2002's Death to Smoochy) to honourless thieves (2001's The Score). You could chalk this up to the fact Norton clearly has no real interest in assuming the mantle, the peculiar burden, of being a certain kind of Hollywood Star, and yet, for all the evident integrity and iconoclasm of a man who believes his work should be to some extent confrontational, you realise he hasn't avoided the star-making machinery either. Talking to writer Matthew Specktor for the cover story of issue 25, he discusses his latest film Motherless Brooklyn, that he directed, writes and stars in, and the powerful forces gripping contemporary America.
Another talent features on our alternative cover, the free-spirited rising star of screen and airwaves Maya Hawke. Hawke's introduction to celluloid stardom came proper this year, via roles in indie disaster movie Ladyworld (think Lord of the Flies with eight teenage girls), and a small but pivotal role as a Linda Kasabian-inspired character, Flower Child, in Once Upon a Time in Hollywood. But it's her casting as Robin in Netflix's much-loved sci-fi show Stranger Things that has rocket-launched Hawke into the public consciousness.
Elsewhere, the acclaimed actor Cillian Murphy guest edits our 32-page Commentary section. Murphy drew inspiration from a luminous creative moment currently taking place in his native Ireland, where he recently returned to live. He brings much of that creativity into our pages: exciting new fiction and non-fiction from Nicole Flattery, Danny Denton and Lisa McInerney, poetry from John Kelly and Doireann Ní Ghríofa, plus a play extract from progressive theatre company Dead Centre and photography from Rich Gilligan.
The absolute don of Italian design, Italo Lupi, and the young design duo Formafantasma (interviewed by Deyan Sudjic) show us different ways of looking beyond what we already know. Artist Trevor Paglen reveals how artificial intelligence is learning to perceive the world, and the big business that's behind it; and photographer and artist Ramak Fazel showcases an art project centred around a public space in NYC that has recently bloomed into life – McCarren Park, documenting how the everyday can become something transcendent, magical even.
We have photographed and commissioned stories all over the world, from Patagonia to South Africa, New York to Paris, and enjoyed some great food along the way, with the Italian restaurateur Francesco Panella. George Kafka travels to Le Marche, the ancestral home of Tod's, to uncover how nearly a century of shoemaking heritage is adapting to a changing global market, and George Upton meets the Ted Hughes award-winning poet Raymond Antrobus.
Finally, in the Porter, John Pawson remembers the writer Bruce Chatwin, the creative director of Saint Laurent gives his paean to the art book, Hannah Williams considers the city from one of London's few successful housing estates and Guardian political cartoonist Martin Rowson discusses the importance of satire.
ISSUE 24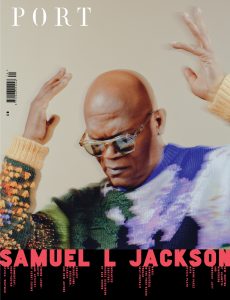 Actor Samuel L Jackson is a rare breed of film star who defines every film he is in, but it is a mantle that belies the personal and social struggle he has faced. Inimitable and yet chameleonic, Jackson has been a DJ in Spike Lee's Do the Right Thing, a snake-fighting FBI agent in Snakes on a Plane, a bounty hunter in Tarantino's western The Hateful Eight and the Jedi master Mace Windu in the Star Wars prequels. Now 70, he continues to dominate the big screen as Nick Fury in the Marvel Cinematic Universe. His success is clear: measured in monetary terms his films have grossed more than those of any other actor in the world. Talking to award-winning short-fiction writer ZZ Packer for the cover story of issue 24, he discusses race, mayhem and how he's been building characters for the past 50 years.
Another mesmerising talent graces our alternative cover, this time in the shape of Harris Dickinson, breakout star of 2017's Beach Rats. The young actor, writer and director is quickly defining himself as someone who wants to do the right thing, as long as it's demanding.
Elsewhere, we visit Simone Leigh – the prodigious activist and artist – in her studio in Brooklyn; Jem Southam presents spectacular photographs of England's west country; we grab a coffee with Britain's most respected architect David Chipperfield; delve inside the mind of modern renaissance man Peter Mendelsund and visit Bulgari's state-of-the-art jewellery factory in Valenza.
Fashion director Dan May together with photographer Tom Craig bring an extended fashion story from LA; photography director Max Ferguson presents the very latest watches and Rose Forde styles the Spring / Summer collections, as well as Fendi's SS19 collection.
Our Commentary section is guest edited by Sylvia Whitman, owner of the one of the coolest bookshops in the world: Shakespeare & Co, with new writing from Jeanette Winterson and Deborah Levy, dialogue from Leïla Slimani and Deborah Landau, and extracts by Marie Darrieussecq and Sylvia Plath.
Finally, in The Porter, author Max Porter reflects on the practice of writing and the items and ideas that inspire him; the New Yorker's creative director tells us his favourite bar in the Five Boroughs; Alfred Mallory reflects on 50 years of B&B Italia's design classic the Up5 chair and Arthur Mamou-Mani discusses the future of architecture.
ISSUE 23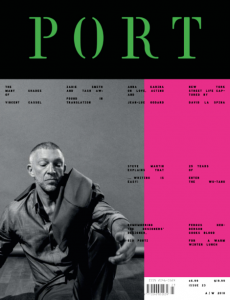 Actor Vincent Cassel, star of arthouse and multiplex alike, is one of the most distinctive and compelling talents working in cinema now. In a career spanning twenty-five years and counting, he has carved out a niche playing complex, troubled and often sensuous characters in critically acclaimed films such as La Haine and Irreversible, alongside box-office hits including Jason Bourne. Having helped to regalvanise French cinema in the long shadow of the nouvelle vague, and after taking Brazil as an adoptive home, he talks to Port's George Upton in Paris for the cover story of issue 23 about the journey to where he is today, and the joie de vivre he has found in and outside of his work on the way.
Elsewhere, photographer David La Spina captures street life in New York City in an extraordinary exclusive portfolio, introduced by the New York Times Magazine's Kathy Ryan; 200 years of expertise in saddlery and showmanship is put to the test at the Saut Hermès, Paris; Christopher Turner profiles the godfather of modern Italian design, Gio Ponti and photographer Tobias Harvey explores the forgotten secrets of military history, hidden in plain sight on the Suffolk coastline.
Fashion director Dan May and photographer Rudi Geyser bring an extended fashion story from Cape Town, South Africa; Rose Forde styles new season Manolo Blahnik, plus a photo story from Düsseldorf, 1984 and Scott Stephenson curates the new season collections.
Commentary comes courtesy of Steve Martin, Will Ashon and Don Morrison, alongside an exploration in translation in which Zadie Smith, Ma Jian and Tash Aw translate Giuseppe Pontiggia. In The Porter, Fergus Henderson cooks a warming autumnal blood lunch, Konstantin Grcic remembers an unlikely style icon in Joseph Beuys, Carlotta de Bevilacqua talks light inspiration and Michel Roux Jr celebrates the humble table crumber.
ISSUE 22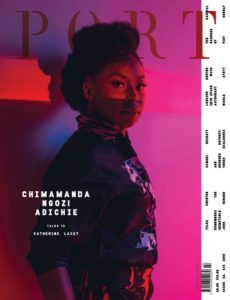 The writer Chimamanda Ngozi Adichie is one of the foremost intellectual voices in the United States today. The author of Half of a Yellow Sun, Purple Hibiscus and Americanah – as well as of one of the most viewed Ted talks in the organisation's history, that was featured in a Beyoncé song – Adichie transcends the barriers between literature, art and music. For the cover story of Port issue 22, she met Catherine Lacey in Washington DC to discuss her extraordinary books, the complexity of recent gender movements and to get a hint at a next big project.
Elsewhere in the magazine, we speak to 6a, the most exciting architecture practice in London; discuss Netflix and race with the director of Mudbound, Dee Rees; and travel to the rural Netherlands to meet the pioneering Dutch garden designer Piet Oudolf. Also featured, the photographer Christopher Payne visits one of the largest flag factories in the US and we uncover the secrets and beauty of space with astronaut Nicole Stott.
In the fashion section, celebrated photographer Kalpesh Lathigra and Port's fashion director Dan May travel to Mumbai to shoot a 40-page story around the sprawling, seaside city. Scott Stephenson styles this seasons collections and Pari Dukovic shoots the greatest male dancer in the world, David Hallberg, wearing Saint Laurent.
Commentary comes courtesy of Will Self, Lisa Halliday and Jesse Ball, as well as Samuel Beckett's seminal Three Dialogues with Georges Duthuit, and highlights from the Porter include Tilda Swinton on her friend John Berger, an interview with the British artist Gavin Turk, foraging with chef Nicholas Balfe and ex-director of the Tate Modern, Vicente Todolí, on his passion for citrus fruits.
ISSUE 21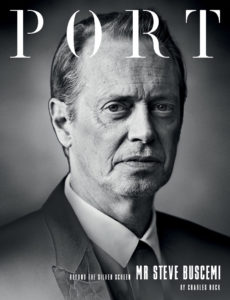 Hollywood action hero, TV mobster and art-house loser Steve Buscemi sits down with award-winning author Charles Bock to discuss playing Nikita Khrushchev in the upcoming The Death of Stalin, his addiction to watching classic movies on TCM, the vanity of the movie business, and his newfound passion for yoga.
Over in the Style section, our Miami Noir editorial – styled by Dan May and shot by Greg Lotus – features a sharp selection of menswear from Emporio Armani, while a series styled by Will Johns features a range of Hermès accessories elegantly interspersed with scenes from a Sussex country village. Elsewhere, we offer our take on the hottest men's outerwear of the season, and mingle casual menswear with dramatic botanical images.
In the features section, sailor Alex Thomson reflects on his experience of the Vendée Globe, a grueling, round-the-world solo yacht race, and the most demanding of its kind on the planet. Will Wiles reflects on the career of one of the last surviving proponents of brutalist architecture, Neave Brown, who was recently awarded the highly coveted Royal Gold Medal; and photographer Elliott Verdier travels to the remote central Asian republic of Kyrgyzstan to capture an ex-Soviet state struggling to find a national identity in a globalised world.
Acclaimed novelist and playwright Hanif Kureishi explores the connection between drugs and countercultural movements, while Alain de Botton muses on that million dollar-question: what is the relationship between capital and contentment, and what can banks tell us about the psychology of money? Conflict photographer Giles Duley unravels the ethics of photography in documenting a violent world, while Steven Johnson considers the ramifications of communication with life beyond Earth.
Highlights from the Porter include 108 Garage chef Chris Denney's celebration of the versatile Japanese seaweed kombu; a focus on the life and work of Soviet Constructvist Vavara Stepanova; and a conversation between Mozambican author Mia Couto and his protégé, Brazilian author and translator Julián Fuks.
ISSUE 20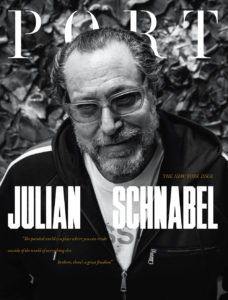 Issue 20 of Port is our tribute to New York – a city that looms large in politics and popular opinion and larger still throughout style, culture and design. In it, we have gathered people and portrayals as big as the Big Apple itself.
Mounting a successful return to New York, our cover star for issue 20 is Brooklyn-born artist Julian Schnabel, who speaks to Kyle Chayka about his reputation as "the carnival man of contemporary art", his recent exhibition at Pace Gallery and a film in the works.
From water towers to fire escapes, our design editor Will Wiles and photographer Robin Broadbent explore New York's architectural motifs in a sprawling 38-page photo essay.
We also meet Peter Westbrook, the first black fencer to win an Olympic medal and founder of the Peter Westbrook Foundation, which uses fencing to enrich the lives of disadvantaged youths.
In our design still-life shoot, styled by Alex Petsetakis, New York-native birds from the Wild Bird Fund are photographed with organic designs including an Eames mobile for Vitra and a silver branch broach from Louis Vuitton.
Richard Meier, one of the 20th century's most iconic architect's and part of the New York Five, invites us into his office and to discuss his body of work and how he is branching out from his love of white-walled modernism.

ISSUE 19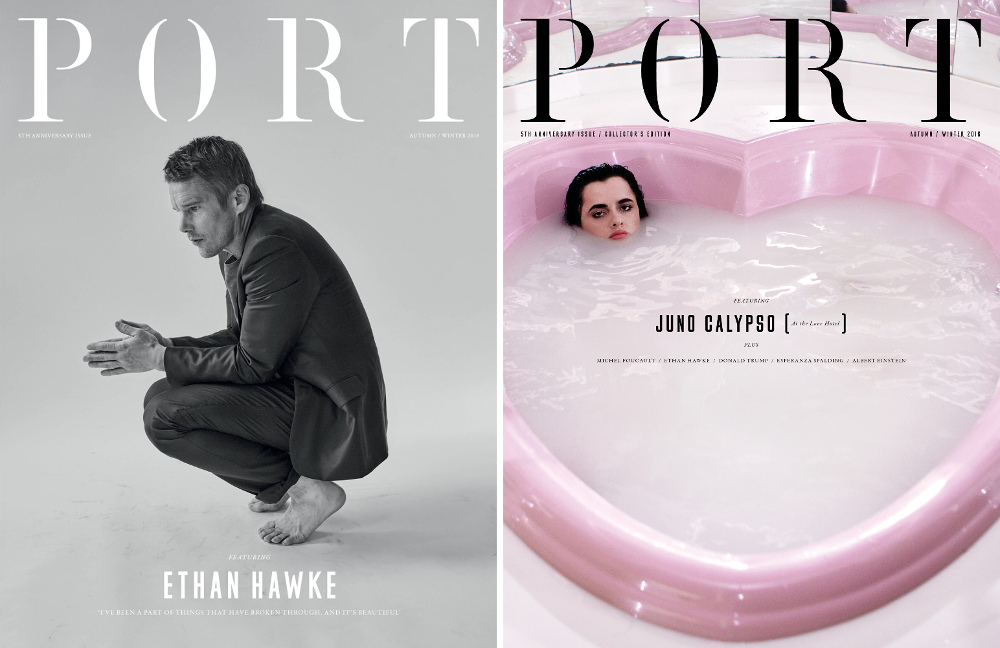 Issue 19 of PORT marks the second part of our fifth anniversary celebration. In it, we meet the people and personalities at the vanguard of their industries, be it style, culture or design, and hear about their unique vision for the future of their craft.
From Boyhood to fatherhood, PORT gets a rare glimpse into the life and mind of the cult-film star Ethan Hawke, who talks to Rachel Syme about maturing as an artist, family, and his passions beyond the silver screen.
Our second cover star, Juno Calypso, returns to the Pennsylvanian love hotel to shoot some exclusively imagery, and speaks to Emma Bowkett about creating her character Joyce, rooting for the underdog and taking inspiration from Jeff Wall.
Photographer Frédéric Lagrange captures arresting landscapes and remarkable characters – from camel herders to the congregations flocking to its monolithic churches – in a journey into the heart of Ethiopia.
Will Wiles, meets the venerable John Pawson – the British architectural designer charged with crafting London's new design museum, set to open in Autumn 2016. This issue also sees the launch of our brand new watch supplement, TENTEN – an intelligent, and in-depth take on contemporary horology.
Also in the issue:
Commentary: Kalpesh Lathigra describes the experience of photographing a revolt in Turkey's Taksim Square as it unfolded around him; Brian Patrick Eha meets the company at the forefront of creating 'digital babies'; and triple-amputee photographer Giles Duley shares the story of some of the victims at the centre of the global refugee crisis.
Fashion: Overseen by PORT's new fashion director, Dan May, the style section includes our favourite looks from the Autumn Winter 2016 Collections and an extensive editorial, styled by Alex Petsetakis, shot at the Royal Institute of British Architects.
Design: Celebrated garden designer Dan Pearson shares and intimate conversation with his brother Luke – founder of industrial design studio PearsonLloyd. Elsewhere, we visit the factories of three international design brands, Flos, Coalesse and Vitsoe, for an R&D special feature.
The Porter: Grammy award-winning musician Esperanza Spalding writes about the album that soundtracked her childhood; two-Michelin star chef Hélène Darroze considers the virtues of a Basque staple ingredient; we take a closer look at a classic teapot by visionary designer Christopher Dresser; and Bob Marley and The Specials collaborator Dick Cuthell sings the praises of those lesser-known brass instruments
ISSUE 18 – SOLD OUT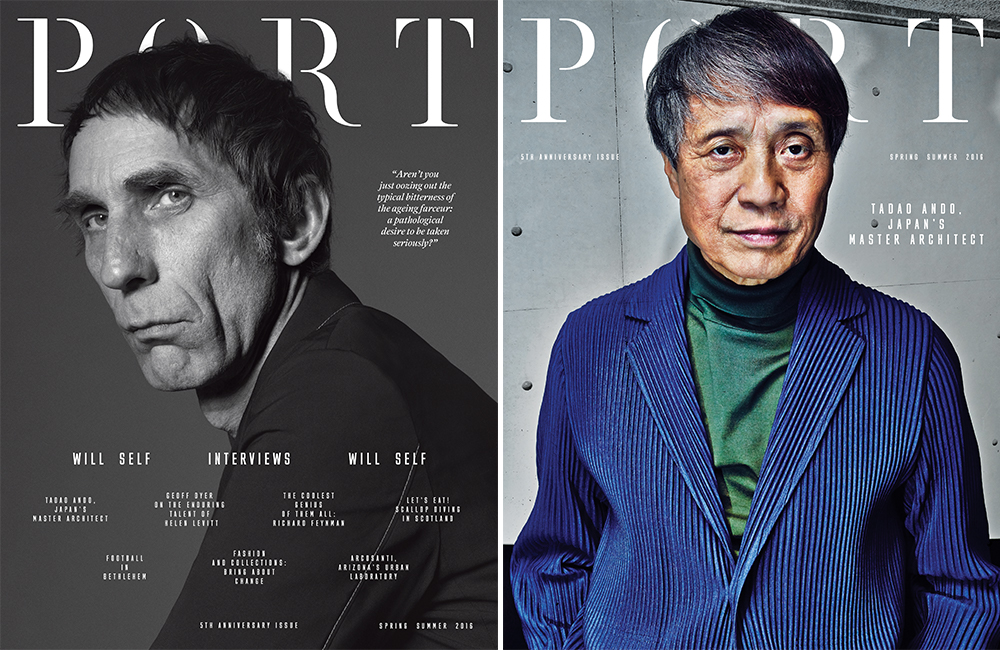 To celebrate PORT's fifth anniversary, we've dedicated our 18th issue to family – from features on bloodlines and heirlooms, to exclusive stories by the friends and contributors who have made it all possible.
The PORT family has expanded over the last five years, but the inimitable writer and one of our issue 18 cover stars, Will Self, has been with us from the start. Here, in one of his most revealing interviews, he focuses the witty and critical erudition that has firmly established him in the British literary scene on the ultimate interview subject: himself.
Our second, special-edition cover features one of the world's greatest living architects, the self-taught, Pritzker Prize-winning Tadao Ando, who granted PORT a rare insight into his Japanese studio, his working practices and the motivations behind his delicate and yet dramatic use of space.
Elsewhere, US photographer Andrew Moore and writer Kyle Chayka explore Arcosanti – the experimental utopian town in Arizona, fifty years after it's original incarnation by architect and philosopher Paolo Soleri. Back in the UK, we head to the Inner Hebrides in Scotland to shadow an entrepreneurial scallop diver and adventurer as he explores the seabed, handpicking shellfish for London's top restaurants.
Also in the issue:
Commentary: Geoff Dyer remembers pioneering street photographer Helen Levitt; former editor of The Independent Amol Rajan reflects on the newspaper's final days and PORT's US editor Alex Vadukul looks back at the unsolved murder of a New York legend.
Fashion: We visit six men at the height of their craft, including Sam Cotton and Hans-Ulrich Obrist, to gain an insight into their daily work routine; Toiletpaper's Pierpaolo Ferrari captures casual tailoring from the Spring Summer 2016 collections; photographer Leandro Farina celebrates the art of the heirloom; inspired by the profound comedy of Buster Keaton, Jonathan de Villiers and PORT's fashion editor Alex Petsetakis revive the icon of silent film on the streets of suburban Paris; and photographer Markus Pritzi partners with fashion director David St John-James to shoot a summer spectrum of casual wear
The Porter: Fergus Henderson shares his family-friendly recipe for spring rabbit; Motown Records ex-president discusses the seminal Marvin Gaye album; design editor Alyn Griffiths reflects on 50 years of B&B Italia; Tom Jenkins remembers science's 'Great Explainer'; we delve into the fin de siècle splendour of the library of comedian Barry Humphries and the seasoned war photographer Don McCullin reflects on his long and eventful career.
PORT Issue 17 – SOLD OUT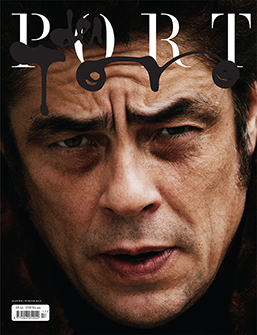 Our second biannual issue, PORT 17, is out now and features one of Hollywood's most engimatic actors on the cover, Benicio del Toro, shot by leading fashion photographer Cedric Buchet.
The new issue is packed with 240 pages of beautiful and intelligent content, including an exclusive photo essay and feature on the stars behind Crystal Moselle's fascinating documentary, The Wolfpack, our pick of the Autumn/Winter collections, a colourful account of life in the Mississippi Delta by British travel writer Richard Grant and, of course, an intimate meeting with our cover star.
Shot in New York by Buchet, Benicio del Torro talks to PORT about his classic roles in The Usual Suspects and Fear and Loathing in Las Vegas, his widespread literary and artistic influences, while revealing some little-known stories about his life and home.
•Also in the issue: In the feature section: Cecil Balmond OBE pays tribute to the Sri Lankan architect, Geoffrey Bawa and his modernist masterpiece, the Heritance Kandalama hotel; Alyn Griffiths meets octogenarian and titan of Italian design, Alesandro Mendini; Graham Robb discovers Victor Hugo's eccentric house is just as he left it in Guernsey; and author Hanif Kureishi lists his likes and dislikes.
•Commentary: deep web expert Brian Patrick Eha gives a potted history of Bitcoin and of Ross Ulbricht, creator of the online black market Silk Road; seasoned war reporter Janine di Giovanni discusses how ISIS has changed the rules of battlefield journalism; and we chart the origins of the blues with an extract from Peter Guralnick's Searching for Robert Johnson.
•Fashion: David St. John-James gains exclusive access to the archive of high-tech innovators Stone Island; David Hellqvist pays a visit to the museum of Swiss shoemaker Bally; and we present our selection of the best of the Autumn Winter collections.
•The Porter: Kerry Crowe speaks to provocative actor and controversial playwright Steven Berkoff; Ollie Dabbous reveals what foods famous chefs refuse to eat; and Ray Murphy delves into the story behind one of London's oldest family-run cafes, E Pellicci.
•Design: Joakim Blockstrom shoots a still life of chairs by young designers, and we present a tropical selection of watches with words by Alex Doak.
PORT Issue 16 – SOLD OUT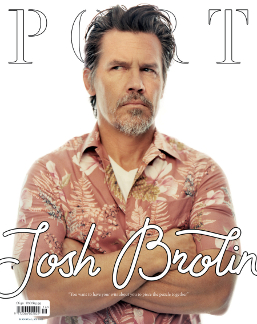 The 16th issue of PORT is our biggest yet and marks our transformation into a fully fledged biannual magazine. We've opted for a larger, weightier format, moved to a thicker and higher quality paper stock and expanded to 242 pages. Our newest cover features Josh Brolin of Inherent Vice and No Country for Old Men, shot by Andreas Laszlo Konrath. Speaking with Los Angeles film writer John Horn, Brolin outlines his experiences working with the Coen brothers, mountain climbing, and mastering the art of bakery.
•In the Feature section: Alyn Griffiths travels to New York, Washington D.C. and Sydney for an in-depth look at the skyscraper industry, while Ray Murphy chats with body architect Lucy McRae about blurring the lines between art and science.
•In the Commentary section: top chef Ollie Dabbous talks about the imPORTance of confidence and restraint in cooking, Cambridge anatomist David Bainbridge charts the biological history of female curves, and writer/broadcaster Michael Smith ruminates over the UK's barren spaces.
•In The Porter section: Porter Bibb speaks to Sarah Grant about his expansive career and saving Rolling Stone magazine, Alex Doak heads to a picturesque German village to see how NOMOS Glashütte's watches are made, and David Hellqvist uncovers the story behind Italian menswear brand Caruso.
•In the Design section: Alyn Griffiths interviews American architect David Rockwell, Joakim Blockstrom shoots furniture and lighting up close, and we reflect on 80 years of Italian design by Molteni&C.
•In the Style section: David St John-James styles a selection of street-cast models in Italy for an editorial photographed by Jonathan Frantini, and Jack Davison shoots a film noir-inspired editorial styled by Alex Petsetakis accompanied by words from British author Jake Arnott.
PORT Issue 15 – SOLD OUT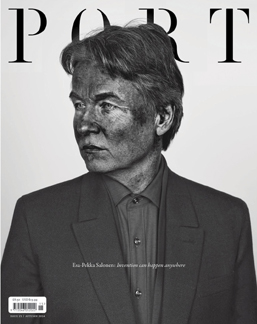 The Autumn issue of PORT leads with a cutting-edge cover story featuring the world-renowned composer Esa-Pekka Salonen – photographed in LA by Pieter Hugo, styled by Patrik Milani and interviewed by respected music critic Timothy Mangan.
Also in the issue:
• Rupert Thomson interviews American writer James Salter about the struggles of his past, his love for France and the new-found recognition for his work.
• In the Commentary section: Rick Moody explains his gradual conversion to vegetarianism; prolific writer Joyce Carol Oates recalls the terrifying circumstances of her 70s photoshoot for Vogue whilst playwright Owen Sheers questions who should be penning the narratives of current warfare.
• In The Porter section: Charles Rangeley-Wilson muses about the intricacy of fly-fishing, Alex Doak marvels at the watch that took almost a decade to develop and Philippe Bienvenu comments on the public's educated consumption of champagne.
• In the Design section: A look inside the unwanted 1970s bachelor pad that Sheridan Coakley, the owner of British furniture brand SCP chose to make his home and photographer Robin Broadbent plays with shadows to emphasis the beauty of shape.
• In the Style section: David St John-James styles the Giorgio Armani wardrobe to combine luxury and casual elegance, alongside several extended autumn styled shoots on location.
• In the Feature section: Alex Vadukul explores the meaning of cricket in NYC and Jack Davison goes early morning fishing for sea bass in an exclusive photo story.
PORT Issue 14 – SOLD OUT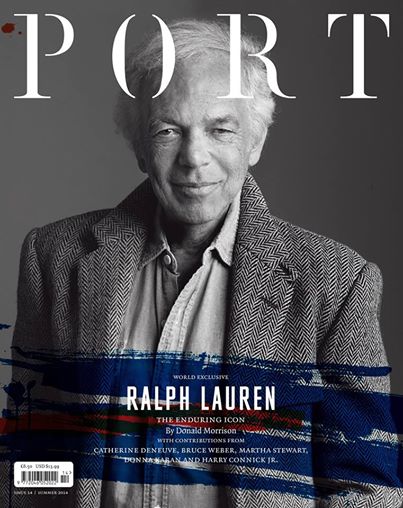 His family-run company is one of fashion's true empires, with its synonymous polo-playing logo visible across the world. Donald Morrison, PORT's European Editor, meets a true fashion icon, in the first styled cover shoot Mr. Lauren has taken part in for several years. Shot by Mark Seliger and styled by PORT's Fashion Director David St John-James in New York, it's a frank and revealing interview that shows the Bronx-born cool kid still has what it takes…
Further highlights of PORT 14 include:
• OpPORTunity and risk: Africa's booming silver screen industry by Peter Guest
• A road trip to the Deep South: a twenty page photo story by acclaimed photographer Tim Richmond
• What I Like, What I Dislike: The Sontag List, by author A.L. Kennedy
• Denim 2.0: special feature by PORT's Fashion Features Editor, David Hellqvist. How is the timeless fabric re-inventing itself?
• A profile of Gay Talese, New York's king of non-fiction, by PORT's US Editor Alex Vadukul, shot by Max Vadukul
•Summer fashion shot by Jonathan Frantini and Gareth McC­onnell
Also including: actor Jared Harris; furnishing your Maserati; Fergus Henderson's summer lunch; Tash Aw and octopus toothpaste.
ISSUE 14 HAS ALREADY SOLD OUT from our store. Subscribe to future issues here, or pick up a copy for your local retailer
PORT Issue 13 – SOLD OUT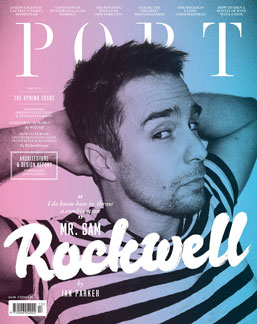 For over two decades Sam Rockwell has been blazing a trail through a huge range of film, from the acclaimed Moon, to Seven Psychopaths, The Hitchhiker's Guide to the Galaxy and The Green Mile, with his eccentric and ever-cool style. The New Yorker's Ian Parker talks influences and dance moves with the actor who is truly one of a kind, photographed by Andreas Lazlo Konrath and styled by Bruce Pask.
Further highlights of PORT 13 include:
• Architecture and Design Survey. Who leads innovation? We ask the industry in a first of its kind rePORT
• How to turn 50 on the Skeleton Coast (with style), by acclaimed author Richard Grant
• Chernobyl, 28 years later: a special extended essay by Will Self
• Inside Henri de Toulouse-Lautrec's family home: a rare glimpse inside a bewitching building that's barely changed over the course of a century
• A profile of Chris Hadfield, the Canadian astronaut who covered David Bowie's 'Space Oddity' aboard the International Space Station
• New fashion addition: Spring Summer 2014 Collections, styled by PORT's David St John-James on location in the South of France
Also including: Ray Winston, Fergus Henderson, Ned Beauman and tips on how to open a bottle of wine with your shoe
PORT Issue 1 – SOLD OUT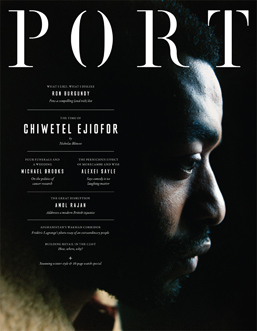 The winter issue of PORT leads with an in-depth interview with 12 Years a Slave star Chiwetel Ejiofor, hotly tipped to walk away with the Best Actor Oscar in 2014. He talks to Nicholas Blincoe about growing up in London, clubbing in Brixton, his parents' and grandparents' experiences in Nigeria, and the stage performances that absorbed him in his formative years.
Also in the issue:
• The world's best anchorman, Ron Burgundy, tells us what he likes, and what he really doesn't…
• Michael Brooks take a closer look at the politics of cancer research in 'Four Funderals and a Wedding'
• Comedian Alexei Sayle says comedy is no laughing matter, as he discusses the pernicious effect of Morecambe and Wise
• In the Design section: a retail special from quarry to shopfloor and everything between, as well as a 16 page watch special edited by James Gurney
• A stunning fashion shoot with this charming man, Olympian Evan Lysacek cutting a figure on the ice
Elsewhere:
• Geoff Dyer interviews Friedrich Nietzsche in 'The Extract'
• Frédéric Lagrange takes us on an epic 'Passage to Wakhan' in his 26-page photostory and essay on his experience in Afghanistan's most naturally extreme (and inspiring) region
• An engaging profile of Ahmad Jamal, who took time to perform for PORT at his New York home
The autumn issue of PORT leads with a world first cover story featuring the highly acclaimed actor Michael Shannon (The Iceman; Man of Steel, Boardwalk Empire) – photographed in London by Nadav Kander, styled by David St. John James and interviewed by novelist Jonathan Lethem. The cover is PORT's first wordless cover, emphasising the iconic power of our styled leading man, who ruminates on how he went from outcast to leading man, playing the "scumbag" and why acting is a service industry.
Also in the issue:
·   William T. Vollmann interviews three transwomen about the process of self-possession, physical transformation and self-acceptance
·   In the Commentary section:war reporter Janine di Giovanni explains why older women have taught her the most; Nathaniel Rich illuminates the darker side of New Orleans, and exclusive fiction from US author of note Dennis Bock
·   In The Porter section: Roots Manuva on the work of acclaimed performance poet Linton Kwesi Johnson; as the explorer Ben Saunders prepares to embark on the longest unsupPORTed polar journey in history, he turns his mind to the nature of motivation – reminding him that imagination is mightier than brawn; the recording industry's vanity press is a long-running escapade with hugely varying results – music aficionado and author Michel Faber turns back the clock to consider why bad used to be so much better
·   In the Design section: a look at the Italian version of The National Trust, FAI, and the extraordinary buildings they protect; Singapore's extraordinary Gardens by the Bay, the worlds greatest synthetic garden
·   In the Style section: the rebel Prince of ballet, Sergei Polunin, captivates PORT with his inimitable bravura during rehearsals at the London Coliseum, plus extended autumn styled shoots on location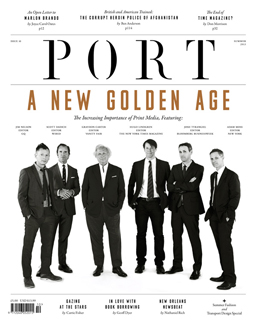 PORT Issue 10 – Out 13 June
The summer issue of PORT leads with a world first cover story featuring some of the greatest living magazine editors, all shot together in New York by Stefan Ruiz, including Graydon Carter (Vanity Fair), Hugo Lindgren (The New York Times Magazine) and Jim Nelson (GQ).
Received opinion says print media is over, and yet it is unquestionably the most respected medium of our time, one that, after a decade spent losing readers to the Internet, is now growing once again.
In a brave and exciting ten-page story, we talk to the leaders of the magazine industry,
the men responsible for re-shaping our print and digital future, and revisit a time when lunch involved three Martinis and company transPORT was a helicopter.
Also in the issue:
·      Joyce Carol Oates writes a fierce Open Letter to the late, great actor Marlon Brando
· In the Commentary section, Carrie Fisher, a.k.a. Princess Leia, writes about her fascination with the heavens; Geoff Dyer talks about difficult books; Ben Anderson uncovers the hypocrisy of the British and American withdrawal from Afghanistan and Nathaniel Rich writes a letter from New Orleans
· A world exclusive fashion special featuring real men attired in Ralph Lauren Double RL range
· Beautiful poet, novelist and dancer Tishani Doshi, interviewed by Philip Womack
· Also including: a revealing "trains, planes and automobiles" design special featuring a profile of industrial designer Sir Kenneth Grange
Buy your copy of Issue 10 now,
out 13 June. Subscribe to future issues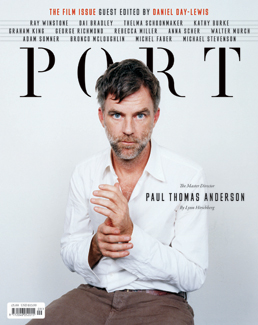 PORT Issue 9 – SOLD OUT
PORT's spring issue, featuring celebrated director Paul Thomas Anderson as our cover star is on sale in the UK from 14 March 2013, and available to buy from PORT-magazine.com. Further highlights include:
·      Daniel Day-Lewis picks the films and performances that have shaped his career
·       The Creators: screenwriter Rebecca Miller; Oscar winning editor and long time Martin Scorsese collaborator, Thelma Schoonmaker; the man behind some of the most recognizable title sequences in film such as Dr. Strangelove, Pablo Ferro; one of the foremost producers working in Hollywood today, with the Oscar nominated Argo to his name, Graham King, and stuntman to Indiana Jones, Bronco McLoughlin
·       Master and Apprentice: PORTraits of the world's leading practitioners in film, including Steven Spielberg's first assistant director Adam Somner and legend Michael Stevenson, with their apprentices
·       A profile shoot with some of the world's leading costume designers: Academy Award winner Mark Bridges (The Artist); regular Coen brothers collaborator Mary Zophres; Joanna Jonston (War Horse, Lincoln) and Michael Kaplan (Fight Club, Se7en)
·       An interview with Walter Murch, Oscar winning film editor and sound designer on films such asThe Godfather Parts One and Two, Apocalypse Now and The English Patient
·       A profile of Dai Bradley, best known for his performance in Ken Loach's 1969 classic, Kes
·       Also including: Lunch with Ray Winstone; Kathy Burke; Ariane Labed; Powell and Pressburger; Ealing Studios; Fergus Henderson's favorite gastronomic film, La Grande Bouffe; author Michel Faber on his beef with Hollywood; Richard Grant on suspending disbelief; the unknown story of the birth of cinema and the men who made the boots for Lincoln
ISSUE 9 SOLD OUT PORT. Subscribe to future issues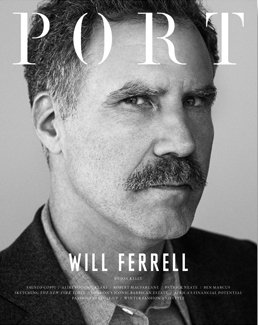 PORT issue 8 – out now!
PORT's winter issue, featuring acclaimed comic actor and writer Will Ferrell as our cover start is available to buy now through PORT-magazine.com. Highlights include:
• AW12 Collections, and an exclusive watch shoot by Stefan Heinrichs with styling from David St John James
• Fiction by Ben Marcus and commentary essays by writer Ali Smith and theatre director Neil LaBute
• The Rise of Africa: a look at alternatives to traditional aid and development on the African continent
• Robert Fripp on his favourite book
• Rapha cycle-wear founder Simon Mottram on legendary Italian cyclist Fausto Coppi
• Design director Tom Bodkin explains how he sketches out the front page of the New York Times
• The Gods of car design, including Ian Callum of Jaguar, Karim Habib of BMW, Giulio Cappellini of Ermini Automobili / Cappellini and Fabio Filippini of Pininfarina
• A fascinating photo essay on nature's most resilient and durable pathogens
• 10,000 Hours with luthier Shem Mackey who has managed to recreate sounds that haven't been heard for centuries
Watch our exclusive issue 8 preview film, featuring Will Ferrell here
PORT's autumn issue, featuring critically acclaimed actor Cillian Murphy as our cover star, and a design section guest-edited by Design Museum director Deyan Sudjic is now available to buy through PORT-magazine.com Highlights include:
• A styled cover interview with Cillian Murphy shot by prolific photographer Platon talking about his feeling towards fame and the thrill of theatre performance
• A raw boxing feature shot in London's The Fitzroy Lodge, accompanied by editorial from award-winning actor and boxing enthusiast Daniel Day Lewis
• An impressive architectural feature on Rothschild Bank's London headquarters, designed by Rem Koolhaas' practice OMA
• Interviews with the most celebrated female names in the design industry: Zaha Hadid, Paola Antonelli, Patrizia Moroso, Patricia Urquiola, Mirkku Kullberg
• An Open Letter from revered British writer and journalist Will Self ("Dear Capitalism… I try not to think of you in sexual terms but somehow I can't help myself…")
• A styled shoot and revealing interview with Brooklyn based singer-songwriter Joan Wasser (Joan as Police Woman)
• Commentary essays from literary genius Jonathan Franzen on why technology has no meaning, actor and director Steven Berkoff on his once-in-a-lifetime meeting with Kirk Douglas and award winning chef Raymond Blanc on the benefits of paying that little bit extra
• Sharp and slick fashion shoots featuring collections from some of PORT's favourite designers
PORT's first annual themed issue, celebrating the joy of food is now sold out through PORT-magazine.com
In this themed issue, guest edited by internationally renowned chef Fergus Henderson, highlights include:
• A styled feature with Nigella Lawson shot by revered fashion photographer Juergen Teller
• A profile shoot with some of the world's leading chefs: Ferran Adrià; Mathias Dahlgren; David Chang; Mario Batali; Michel Roux Jr and Gabrielle Hamilton
• An interiors shoot at Noma; The Four Seasons Restaurant; Le Grand Véfour and many more
• Lunch with award-winning chef Giorgio Locatelli of Michelin-starred Locanda Locatelli
• Beautifully styled food-inspired shoots featuring summer staples from Giorgio Armani, Alfred Dunhill, Prada and Christian Dior
• A Secret City contribution from jewellery designer and progeny of Pablo Picasso, Paloma
• Commentary contributions from theatre director Neil LaBute, scientist Erika Styger, novelist Rick Moody and political activist Ghinwa Bhutto
• A stunning photo essay on fish with text by restaurateur, fishmonger, food writer and chef Mitch Tonks
• 10,000 Hours with David Lidgate of the infamous Lidgates Butchers in London
Watch an exclusive preview of PORT Issue 6 here
The summer issue of PORT is sold out through our store. Contact your nearest distributor to find your local stockist
This spring PORT magazine celebrated its first anniversary with a stellar cast of names, from entertainment and fashion to literature and design
In this special anniversary issue, highlights include:
• An exclusive trans-Atlantic phone call between award-winning actress Samantha Morton and Hollywood legend Philip Seymour Hoffman
• Beautifully inspired styled fashion features for the spring – taking readers from London to the South of France – directed by David St John-James
• Film producer Robert A Mitchell talking to The Ginger Man author and one of the world's greatest living writers JP Donleavy about books, smoked salmon and champagne
• An exclusive and insightful interview with polar explorer Ben Saunders about the equipment he uses to survive on his expeditions
• A behind the scenes look at the production of Italy's most famous four-wheeled exPORT, the Ferrari, in Maranello
• Essays from some of the world's leading political and social commentators, including Janine di Giovanni on the politics of food, Leo Hollis on the antichrist of architecture, and Terry Waite on the death penalty
• Lunch with one of the most exciting British artists working today, Fiona Banner
• A photo essay on the breathtaking landscapes of Namibia by internationally renowned photographer Frédéric Legrange
The spring issue of PORT is on sale now, priced at £5 in the UK. Buy it here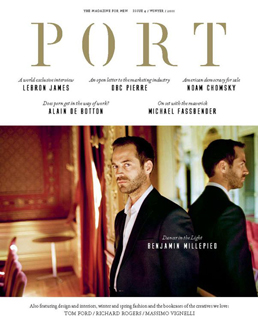 PORT Issue 4 – SOLD OUT
Issue 4 of PORT is now sold out
Highlights from the new issue include:
• An exclusive interview with the world's greatest ballet dancer, Benjamin Millepied, about life as one half of a high profile Hollywood couple and the astonishing body of work he has amassed to date
• An inspiring and insightful interview into the world of NBA basketball legend LeBron James
• Unseen stills of enigmatic actor Michael Fassbender on the set of his new film, Pitch Black Heist
• Essays from some of the world's leading philosophical and political commentators, including Alain de Botton on pornography and Noam Chomsky on the corporate takeover of US democracy
• An angry yet amusing and thought-provoking open letter by DBC Pierre on the marketing industry
• Beautifully styled fashion features directed by David St John-James on British institution Gieves & Hawkes and the finest suits and coats for the winter season, shot by Stefan Heinrichs
• A chilling feature of acclaimed British travel writer Richard Grant personal accounts of fear in different parts of the world, accompanied by stunning illustrations
• Lunch with world-renowned minimalist architect John Pawson and the global creative director for Calvin Klein menswear Italo Zucchelli
• A photo essay by photographer and mono.kultur editor Kai von Rabenau on an Iranian entrepreneur and philanthropist and how he changed a region traditionally dependent on opium production into a rose oil empire
• PORT's version of porn: beautiful bookcases belonging to the likes of designer Massimo Vignelli, architect Richard Rogers, fashion designer and film director Tom Ford and antiquarian Simon Finch
The winter issue of PORT is on sale now, priced at £5 in the UK. Buy it here or download Issue 4 for the  iPad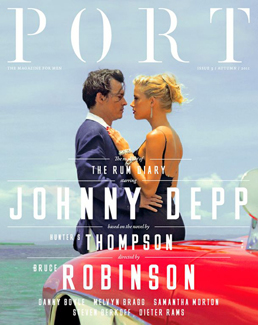 PORT Issue 3 – available now!
Issue 3 of PORT is available to buy from our online store now
Highlights from the new issue include:
• PORT's Editor Dan Crowe chatting exclusively with Bruce Robinson, director of The Rum Diary and Withnail and I about creative freedom, Johnny Depp and red wine
• Film director Danny Boyle travels to once-proud Muynak in Central Asia which looks more these days like a dog expecting a kick
• Essays from some of the world's leading philosophical and political commentators, including Melvyn Bragg on the 400th anniversary of the King James Bible and Steven Berkoff discussing role-play from the set of The Girl with the Dragon Tattoo
• A though-provoking open letter from Charmain Gooch, co-founding Director of Global Witness, discussing money-laundering, global stability and the accountability of banks
• Dieter Rams remembers how a Vespa and his first girlfriend helped him achieve the perfect balance
• PORT's Senior Editor Samantha Morton chats to Mischa Richter over an extended lunch
• Beautifully styled fashion features directed by David St John-James casting from the past, shot by Marius Hansen
• Stephen Smith meets the men fighting a bloody battle against modernity in Spain in Corrida de toros
• 10'000 hours with internationally renowned painter Sargy Man
• A photo essay by world-famous photographer Frederic Lagrange on Mongolia and its people
To see a preview of issue 3, click here
The autumn issue of PORT is on sale now, priced at £5 in the UK. Buy it here or download Issue 3 for the iPad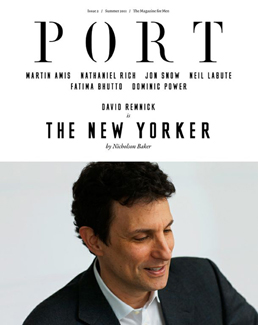 PORT Issue 2 – available now!
Issue 2 of PORT is available to buy from our online store
Highlights from the new issue include:
• Nicholas Baker profiles David Remnick, the man in charge of the world's best magazine The New Yorker
• Writer Martin Amis visits Cali in Columbia and discovers a city where weapons are part of everyday life, violence is what keeps people alive and death is just around the corner…
• Essays from some of the world's leading philosophical and political commentators, including Rory Sutherland discussing synthetic happiness, Neil La Bute enjoying assholes and Nathaniel Rich talking fish fillings
• An emotive open letter from Fatima Bhutto
• Devorah Lauter meets Sylvia Whitman, the woman who reignited the flame of iconic beat bookshop Shakespeare & Co.
• Sam Taylor-Wood, Shane Walter, Bella Freudand and Tony Grisoni share their city secrets
• Joseph Mawle directs Joana Preiss and Callum Turner in a rehearsal-inspired fashion shoot shot by Leila and Damien de Blinkk, with styling by David St John-James
• Senior Editor Kabir Chibber evaluates two very different approaches to business through Baartmans & Siegel and Etwas
• An exclusive short story from Dominic Power
To see a preview of issue 2, click here
The summer issue of PORT is on sale now, priced at £5 in the UK. Buy it here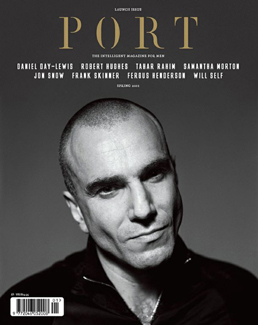 PORT Issue 1 – SOLD OUT
Issue 1 of PORT is currently out of print
Highlights from the launch issue include:
• Daniel Day-Lewis rePORTs from the Gaza strip about how to manage a military attack, with photography by Tom Craig
• Prize-winning journalist Rula Jebreal on the experiences that inspired her book The Woman
• John-Paul Pryor speaks to Tahar Rahim, star of the award-winning French-film Un prophet
• An emotional Open Letter from Oscar winning actress Samantha Morton to her father
• Don Morrison on Reinventing the Banana
• PORT Editor Dan Crowe chats to chef Fergus Henderson over an extended lunch
• Essays from some of the world's leading comedians, philosophical and political commentators, including Frank Skinner on why staying in is the new going out
• Jon Snow charts the changing faces of journalism, and Nathaniel Rich writing from a New Orleans in ruins
• 10,000 hours with Jesus Adorno, Director of Le Caprice in London
• Rory Olcayto talks to Beijing-based architect Ole Scheeren about engineering China's capital
• Will Self shares his sinister short story At The Adelphi
Watch an exclusive preview of the first issue here
Download PORT Issue 1 for the iPad for free here