Millie Walton discovers the artistic variety at Folkestone Triennial and talks to John Marshall and Cezanne Charles, co-directors of design studio rootoftwo, about their headless chickens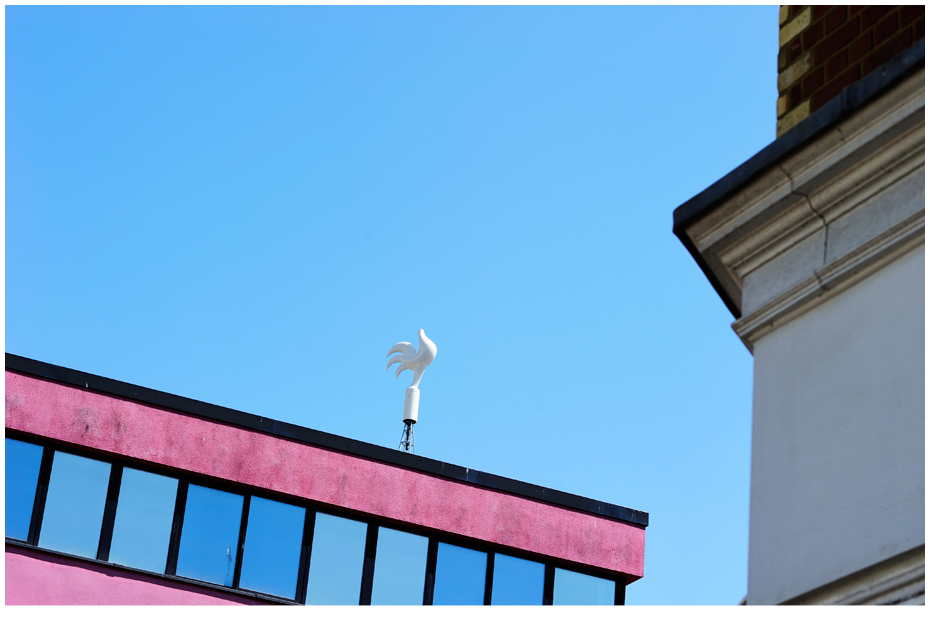 "Folkestone is a small, seaside town punching well above its weight and it's proud to admit it"
Kent doesn't exactly have a huge reputation for a thriving or cutting-edge art scene. When I told a friend I was going to Folkestone for an arts festival they laughed and true to the London manner, sarcastically said something like "That should be good." Well it was good. Actually, it was pretty spectacular. So look who's laughing now.
Folkestone is a small seaside town punching well above its weight and it's proud to admit it. This is the third time Folkestone Triennial has commissioned artists to decorate the streets, roofs and railways with art. In the past, it's housed the likes of Tracey Emin and Richard Wilson. This year 21 artists, collaborations and design studios have created works under the suitably ambiguous title Lookout.
As the curator Lewis Biggs guided us round the sprawling exhibition (a guide or at least a map is a must as the art work merges surprisingly well into the seaside landscape) he couldn't resist feeding in snippets of historical context. "The Pent river," he rather suddenly announced at one point, stamping his foot on the cobbled street, "runs right below your feet."
This resulted in wide eyes and multiple feet stamping. The image of water rushing below you is no easy thought to swallow but not so easy to forget thanks to a collaborative project by local artists Diane Dever and Jonathan Wright who have mapped out the hidden waterways by placing silver, New York-inspired water tanks above the ground.
Above: rootoftwo, Whithervanes 1 – 5, a Neurotic Early Worrying System, 2014, Courtesy Thierry Bal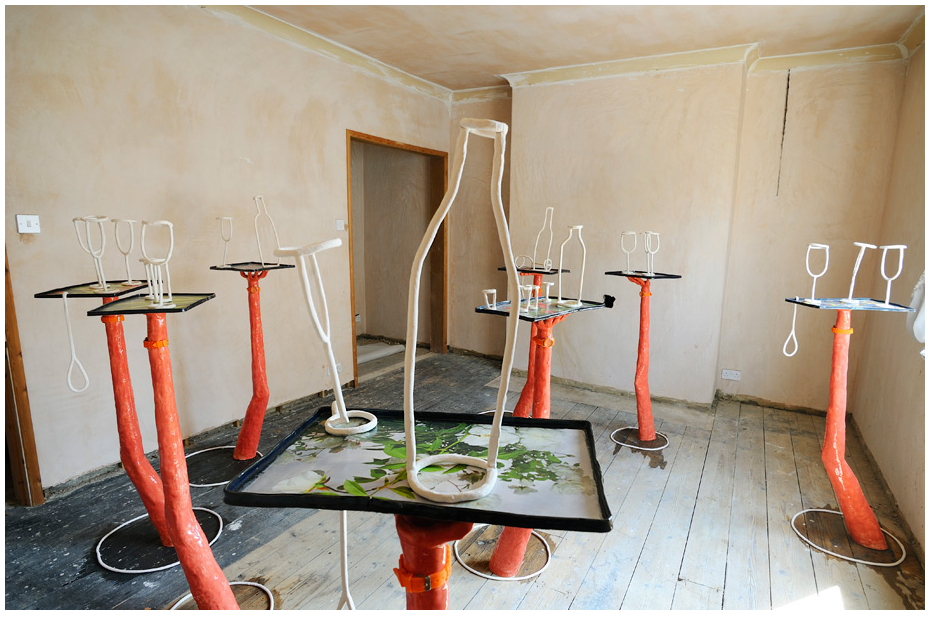 Above: Emma Hart, Giving It All That, 2014, Courtesy Thierry Bal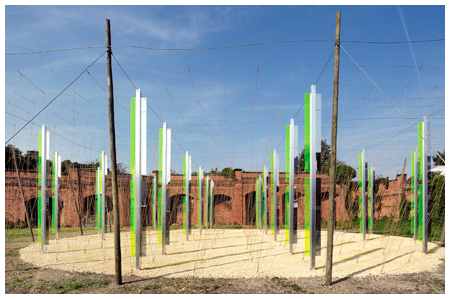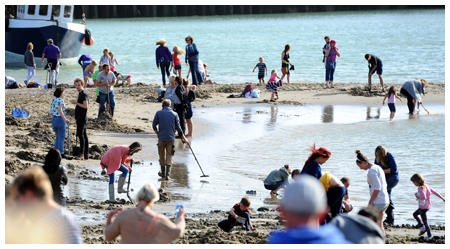 The five Pent Houses were so-called with the purpose of resituating the river's presence in conversation, but also to highlight the desirability and luxury of living near water even if it's no longer visible. The tanks also tap into current concerns surrounding the depletion of natural resources by highlighting the unused potential of the river, which initiated the town's growth and urbanisation in 1900s. In this context, their presence becomes a pointed critique of our inability to recognise simple solutions – a point that's really hammered home by the uncomplicated, basic structure of the tanks themselves.
Jyll Bradley's giant sculptural light installation, Green/light (For M.R) also returns to a part of the town's lost history. The work sits on the redundant Old Gasworks site – the place where electric light was first generated for the town – and uses traditional hop-stringing skills to create an impressive, geometric web of luminescent colour. Born in Folkestone, Bradley sees the installation as a "giant self portrait" reflecting on the hops gardens, which were part of her emotional landscape growing up.
Standing amongst the strings encourages you to look back to a period of childhood and playfulness but also forward to the re-energisation of desolate spaces. From the ground it's almost overwhelming, from the air, it must surely resemble a glowing, alien crop circle.
Left: Jyll Bradley, Green/Light (For M.R.), 2014 Courtesy Thierry Bal; Michael Sailstorfer, Folkestone Digs,2014 Courtesy Stuart Wilson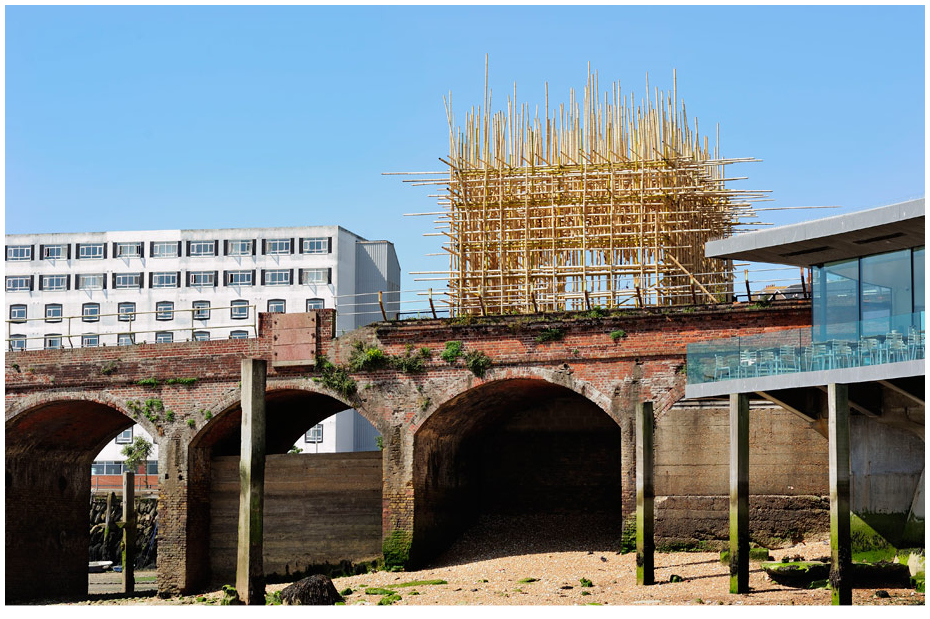 Above: Gabriel Lester, The Electrified Line, (Cross-track Observation-deck), 2014, Courtesy Thierry Bal
The agricultural theme is continued by Detroit-based design studio, rootoftwo co-directed by John Marshall and Cezanne Charles who have created a Neurotic Early Worrying System (an anagram for news) of spinning headless chickens or Whithervanes. Having noticed that the cardinal points of the compass on traditional weathervanes spell out NEWS from certain perspectives, the duo set out to develop a system that responded to international media and measured the public's fear level.
Their software searches Reuters' international news feed for a list of 726 key words taken from homeland security's list and combines them with words generated by the inhabitants of Folkestone through workshops. "We got a lot of different things from dog poo – because apparently Folkestone has a real issue with dog poo – to people being worried about gentrification, people talking about gastro tourists coming into town, even the impact of artists moving into the city."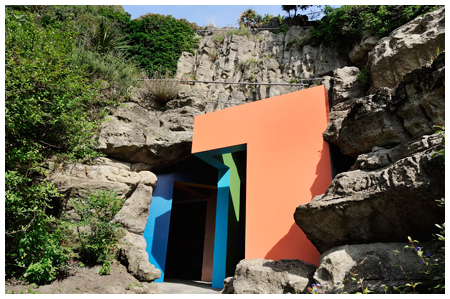 Above: Krijn de Koning,Dwelling (Margate/Folkestone), 2014, Courtesy Thierry Bal
In the daytime the chickens, which are perched on buildings around the town, purposefully placed to vary the geographical postcode, rotate according to the level of threat. "So if it rotates once it's a pretty low threat, if it rotates twice its kind of a bit more guarded and it keeps stepping up the level to five. In the evening you'll see the colour system as well, which is derived from the homeland security threat level. So green low, blue guarded, yellow elevated, orange high and red is severe."
You're also able to agitate or pacify the chickens by tweeting them @whithervanes. "The two key things they're looking for is 'keep calm' which lowers the threat level or 'sky falling' which puts it up." Whilst the chickens have been developed as "a human readable interface for what's happening around the globe in the news", the studio also wants to capture people's imaginations. "We want people to bring their own sense to the project so if someone looks at it and finds it to be just a beautiful chicken and starts to myth-make about why its changing colours, that's also part of it."
"We want people to bring their own sense to the project…"
Though the Whithervanes may not have the visual impact of Gabriel Lester's giant bamboo sculpture on the old Harbour Railway or Krijn de Koning's colourful maze-like sculpture Dwelling or even Emma Hart's sweating ceramics (you really need to see them to understand what that's all about) is certainly the most innovative project at the triennial and demonstrates the variety of the art on display. It's no wonder Folkestone is causing a stir amongst artistic types. Now is the time to get involved, even if purely for the purpose to shamelessly spend your afternoon digging on the beach for Michael Sailstorfer's buried gold.
Folkestone Triennial runs until 2 November, open daily 10am – 5pm. No tickets required. For more information click HERE
Words Millie Walton