His family run company is one of fashion's true empires, with the polo-playing logo visible all over the world. Donald Morrison meets the Bronx-born 'cool kid'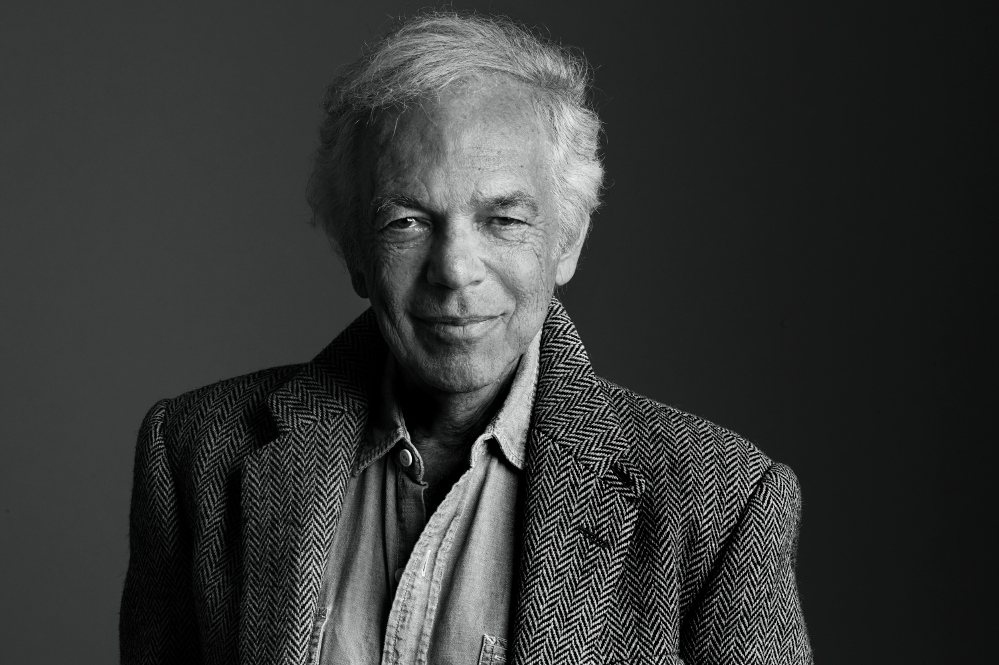 I wasn't expecting the bear. It sauntered into the mahogany-panelled, thickly carpeted, double-storey waiting room at Ralph Lauren Corp., led by two assistants and trailed by a photographer. It was about 5 feet 4 inches tall and looked like a distant cousin of Paddington, only better dressed – blue blazer, white shirt, regimental striped tie. Inside was a young woman, or perhaps a small counter-tenor, someone who spoke in a high voice about having trouble seeing through the little bear eyeholes.
It was 'Bring Your Kid to Work Day' at Ralph Lauren's midtown Manhattan headquarters, and Ralph had made sure that the little nippers would be entertained by a life-size version of the teddy bear that adorns several lines of Lauren clothing. At Ralph Lauren, no detail goes overlooked and no expense unspared. "Can I get you some water?" an assistant asked, and I croaked that I could use a drink. Alas, the offer had been addressed to the bear, not me. At Ralph Lauren, employees are treated like family, and even the bears have assistants.
I was waiting for still another assistant, a gorgeous, impeccably skirted communications officer, who would pass me along a chain of similarly impeccable subalterns who would convey me to the inner sanctum of the man himself. At Ralph Lauren, nearly everybody looks terrific (including Ralph, as we'll see), and I was soon stealing glances at myself in every shiny surface I passed, insecurity blooming like acne. I had come to have lunch with the famously enigmatic genius who built a global fashion empire by selling classic styles and old-money elegance to self-doubting slugs like me. And I was wearing a black blazer I'd bought a decade earlier for $99 at a discount chain. What was I thinking?
I needn't have worried. As I was led into his large, memorabilia and geegaw-packed office, Lauren rose to greet me. At age 74, he is trim and tanned, economical in his movements, but otherwise the same ruggedly handsome, prematurely greying guy who for years modelled in his own adverts. Best of all, he was dressed even more casually than I: worn jeans, scuffed cowboy boots, a leather jacket that looked older than both of us. "Where did you find that?" I stammered. "I get my ideas from all sorts of unexpected places," he said. "I saw this jacket framed on the wall of a little shop. It's a Schott (a century-old New York maker of motorcycle jackets). I said that's really beautiful, you have to sell it to me. 'I can't,' the owner's son told me. 'It's part of our history. But I can give it to you. And when you're tired of it let me know.'" Lauren smiled. "So far, I'm not tired of it."
Half a century after he broke into the fashion industry – behind the necktie counter at Brooks Brothers, an old-line Manhattan men's store – Lauren does not seem tired of anything. He still comes into the office almost every day, still prowls antique stores looking for ideas – though less often now that he's a widely recognized celebrity. His name has become synonymous with understated design, quality workmanship and a distinctly American vision of glamour retrieved from a bye-gone era and re-applied to clothes, jewellery, towels, restaurants and anything else on which he chooses to put his name.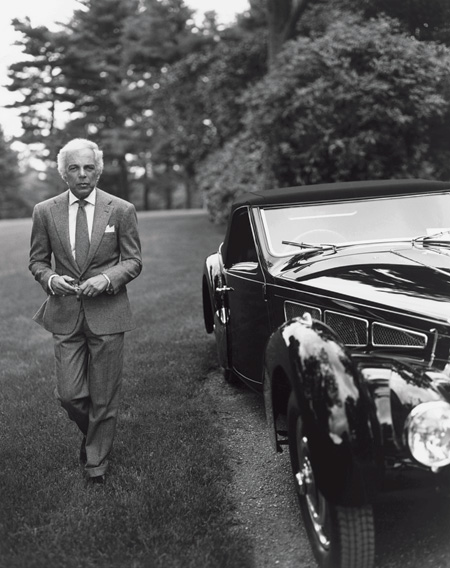 Above: Ralph Lauren with his 1937 Bugatti Type 57SC Gangloff Drophead Coupe. Photography Bruce Weber courtesy of Ralph Lauren
"Ralph Lauren leads the enviable life: a handsome man with a beautiful family – a talented wife, a businessman son, an actor/model son and an entrepreneurial daughter. He is a fine neighbour (our properties adjoin), a good friend to many, a philanthropic leader and a phenomenal business success." Martha Stewart
That vision has been praised for its consistency and authenticity. Also dismissed as derivative, nostalgic and downright bogus – "thrift shop classics at designer prices," as New York's Village Voice once complained. Lauren's "primary market is among the arrivistes," sniffed a Washington Post critic. "The only difference between a parvenu in a sharkskin suit and a parvenu in a Lauren blazer is that the latter has pretensions."
On the other hand, Lauren has won every major award in the fashion industry. His clothes are worn by heads of state and their wives. He has outfitted U.S. Olympic teams, as well as on-court officials at Wimbledon. His men's wardrobe for the 1974 movie The Great Gatsby won an Oscar for costume design. "Ralph Lauren not only changed American style, he changed American culture," Glenda Bailey, Harper's Bazaar Editor-in-Chief, informed me. "In the horserace of fashion, he's the true thoroughbred."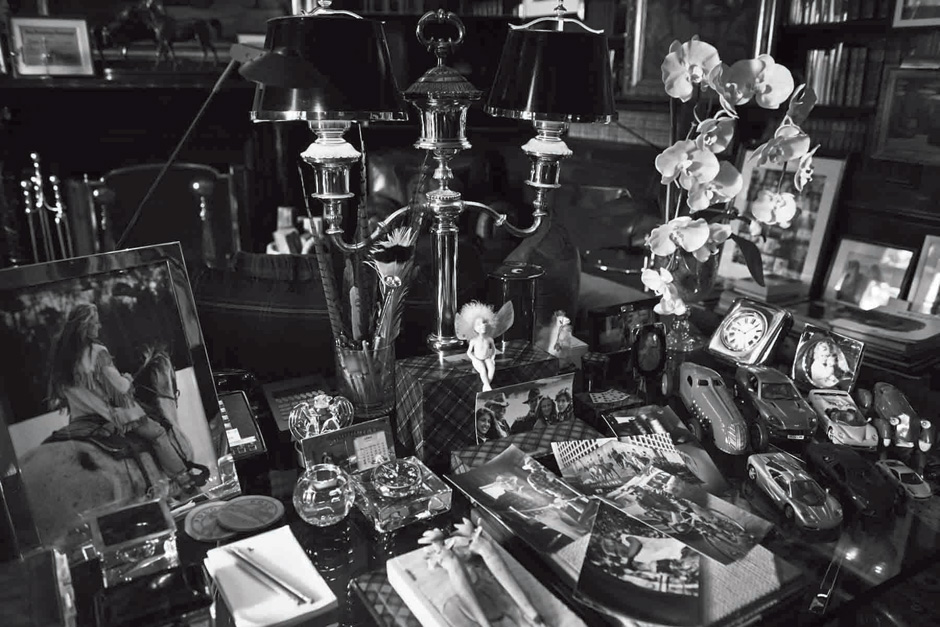 French President Nicolas Sarkozy, that parvenu of boundless pretension, told Lauren as he was inducted into the prestigious Légion d'honneur in 2010: "In Democracy in America, (Alexis) de Tocqueville said that great revolutions occur in small things first – he saw abandonment of formal attire as a sign of democratic revolution. You have shaped that that underpins the beauty of democracy and the American way of life in order to share it with the entire world." He added: "Your style is a personal version of America's roots."
Ralph Lauren's own roots are as American as onion bagels. He grew up in the Bronx, a New York borough then as now a destination for immigrants. Ralph was the third and youngest son of Frank Lifshitz, a house painter, decorator, artist and musician and his energetic wife Freda, both from Eastern Europe. Ralph attended state schools and a yeshiva, where he studied to be a rabbi, though that profession seems improbable given his boyhood interests – basketball and clothes. Calvin Klein, Lauren's chief rival in the pantheon of US designers, grew up a few streets away. "I have the greatest respect for Ralph, I really do. When I was a child in the Bronx, I would see him and think, 'Who is this person? Who dresses like that?' He sticks to what he believes and he has made it a successful, huge business that is now respected as a public company. I take my hat off to him. It is so difficult to be a success in this business, and look at what he has achieved."
Early photos of Lauren show him meticulously dressed in the American style known as preppy – the preparatory-school, rich-kid look of button-down shirts, penny loafers and flat-fronted chino trousers, much as the bear was attired. Traditional as can be, but to Klein and the T-shirted greasers of the neighbourhood, Ralph must have seemed like a clothes horse from another planet.
"Ralph Lauren is an American hero – a true rags to riches story – although what I wouldn't give to have my hands on one of those original "rags": a 1967 denim necktie, good enough for Steve McQueen! It is indeed an honour to call Ralph a friend, as he not only epitomises elegance and class, but is a true gentleman." Harry Connick Jr.
As a teenager, he started haunting thrift shops for beat-up jeans, battered bomber jackets and other vintage costumes. (When I mentioned this to one of my New York friends, he recalled having a locker next to Lauren's in the 1970s at a country club favoured by young bankers and lawyers. "He was always in some costume or other," my friend said in amazement, "like fringed buckskin jackets and cowboy boots.") Otherwise, an ordinary childhood. "I was a cool kid," Lauren tells me over lunch – grilled salmon for him, chicken salad for me, served on trays amid the toy cars, planes and superhero dolls in his office. "I played basketball in the schoolyard. I had a very nice life. I guess I had my own sense of style then. I had older brothers as role models (who, like Ralph, changed their surname to Lauren as young adults). I was more advanced than kids of my age. I was listening to Frank Sinatra when they were listening to rock 'n' roll."
Lauren's cultural influences were consistent. "I grew up watching movies – Cary Grant, Fred Astaire, Audrey Hepburn," he says. And tracking the Chairman of the Board. "I was a big Sinatra fan. Late at night I would listen to these jazz programmes on the radio, and the talk was all about a Sinatra comeback. It was just before From Here to Eternity (the 1953 movie that revived Sinatra's flagging career, though purists were appalled). I told Frank, deep in those nights, 'Don't do that.' I didn't want him to become commercial. It was like I was handling his career. He was down and out, but I knew his specialness. I was finding new sophistication with Frank Sinatra."
Sinatra's biggest influence on Lauren was not so much sartorial as philosophical – as in 'My Way,' the crooner's 1969 ode to stubbornness. "New York in the 1960s was scary for me," Lauren recalls. "I didn't know what I was going to be. I didn't have any formal training, didn't go to fashion school. I thought maybe I'd be in the advertising business. But I always had a nose for style, and I saw what was missing from the market." That would be neckties, wider and flashier than the ones he was selling at Brooks Brothers. Such 'kipper' ties were all the rage in London, but Lauren could not persuade his bosses to pay attention. "In those days American men were wearing three-button suits and narrow ties. I was selling ties, so I saw how they were designed and made," recalls Lauren. "I'd say, 'Why don't you do this, why don't you do that?" And people at Brooks would say, 'You're a kid. What do you know about this?"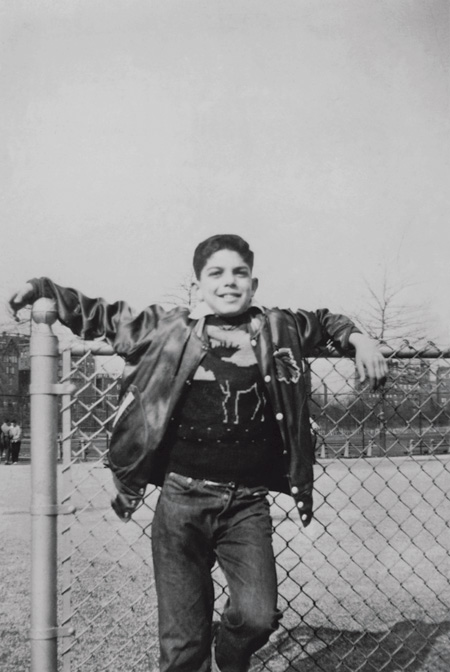 Above: Young Ralph Lauren, taken in the Bronx in 1955. Courtesy of the Ralph Lauren family
So in 1967 he gave up on Brooks and had a manufacturer in Cincinnati run up a batch of ties bearing his own label, Polo, which sounded sophisticated. He took them to Bloomingdale's, a newly trendy department store in Manhattan. "The buyer said the ties were very interesting," Lauren recounts, "but could I please make them narrower? And take off the label, so they could put theirs on? I said I'm very sorry, but I can't do that. Then I thought, oh my God, what have I done? I had walked away from Bloomingdale's. I knew it was crazy, but it represented what I am."
"The amazing thing about Ralph is that he always designs clothes that can fit into your life, or the fantasy that you wanted your life to be. His interest in all kinds of people and places in this world is what make him unique, as a designer and a person. Ralph's unending work with charitable organisations has always been done with great success and in a quiet and respectful way. I'm proud to be associated with him over many years, it's brought me great joy." Bruce Weber
Six months later Bloomingdale's relented, and Lauren's ties were a hit. Lauren soon expanded into shirts that went well with wide ties, and then suits that completed the look. "In those days, a shirt company made shirts, a tie company made ties, a suit company made suits," he recalls. "But I made them all. That was a radical thing."
He ventured into other products, sometimes on his own and sometime through licensees, always striving for the same classy elegance. His high-end couture collections would grab headlines and win prizes, but the real money was, and remains, in his knit shirts, bath towels and other everyday items. He continues to approve every product and every ad campaign, often demanding redesigns, better fabrics and other tweaks that drive his business managers crazy. As a result, the company has had some rocky years, even after going public in 1996.
Today Ralph Lauren Corp. – New York Stock Exchange symbol: RL – is the world's fifth-largest apparel company, with nearly 1,000 stores and concession shops, more than $7 billion in revenues and a market capitalisation bigger than the GDP of Iceland.
With age has come institutional stability. An unusual number of the firm's 23,000 employees have been with Lauren for decades. Buffy Birrittella, who heads women's design, was his de facto right hand back when he was peddling those Cincinnati ties. Lauren's brother Jerry was a top men's designer there for nearly four decades. Chief of Staff Charles Fagan started 20 years ago behind the tie counter at Lauren's flagship Manhattan outlet, the tastefully restored 19th century Rhinelander Mansion. "It makes him happy when people get promoted," says Fagan, who was himself elevated recently from head of retail development. "After all, it happened to him."
Lauren's idea of classiness evidently extends to corporate behaviour as well. In 2009, RL executives learned that the firm's subsidiary in Argentina was bribing customs officials. Rather than quietly cover up the offense, the firm promptly informed US regulatory authorities, bringing RL a sizeable fine but priceless admiration in the business press. "I try to hire the best people in the world," Lauren says. "There's a tradition of people wanting to stay with the company."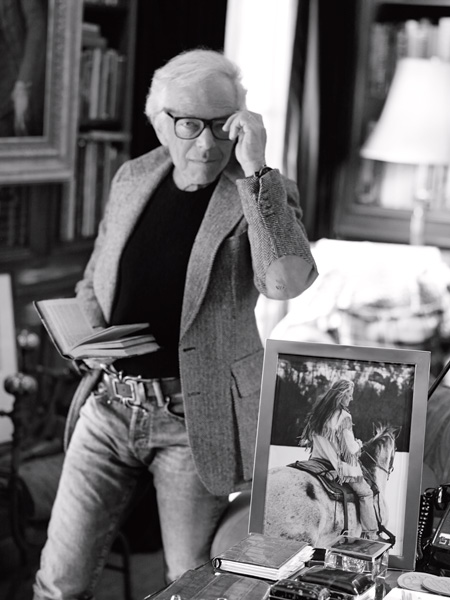 Competitive pay, lavish perks and occasional bear sightings are part of it, but there is something else. Jeffrey Banks joined Lauren as a 17-year-old assistant in 1971. A year later the two of them were in a taxi together when Lauren asked Banks for ideas about an upcoming fashion show. Banks proposed a theme based on the styles of the 1930s, all in black and white. Lauren immediately put him in charge of the project, which was a vast success. "I was a kid," says Banks, who now has his own fashion company. "That said a lot about him and how he treats people. He trusts you and he's not afraid to take a risk. He's like a father figure." Lauren remains on good terms with employees who have become fashion brands: Vera Wang, John Varvatos, Joseph Abboud. Says Banks: "There's an expression in the industry: Did you go to Polo University?"
"Ralph is the ultimate icon. He has defined and brought American style to the world. His is a very distinct point of view, and he has stayed true to it from day one.  I have the highest regard for Ralph as a visionary, an industry leader and a philanthropist. I also admire how he balances it all with being an incredibly dedicated family man." Donna Karan
Other former employees have said that Lauren can be indecisive, moody and tyrannical, though recent examples are scarce. "He's one of these icons that people are scared to death of," says Fern Mallis, a leading fashion industry consultant. "But he's actually a sweetheart." After Mallis became head of the Council of Fashion Designers of America, Lauren sent her a handwritten note expressing delight and offering support. "Take a look at his office, all the mementos and stuff he's accumulated over the years," says Mallis. "It's the office of a man with a life well spent. Take a look at what he does for breast cancer. When you need Ralph, he'll be there for you."
Fighting breast cancer is a natural for a man who derives much of his fortune (the world's 193rd largest, according to Forbes) from selling clothes to women, but Lauren's commitment to the cause is impressive by any standard. In addition to millions of dollars in donations, he established the Nina Hyde Center for Breast Cancer Research in honour of a Washington Post fashion editor who died of the disease. (How many celebrities would name a research facility after a journalist?) He founded the Pink Pony initiative – lending it Polo's non-bear logo, a polo pony – to support breast cancer treatment in underserved communities, opened the only treatment facility in Manhattan's historically black Harlem neighbourhood and, in May, announced a new partnership with Britain's Royal Marsden Cancer Charity. Such philanthropy surely burnishes the Lauren brand, but stories abound of quieter generosity – supporting his parents' synagogue, putting the children of his apartment building's doormen through college, buying a new sound system for his old Bronx school, designing an egg for a London charity auction of Faberge eggs. In his unauthorized 2003 Lauren biography, Genuine Authentic, Michael Gross contacted a number of Ralph's old acquaintances from the Bronx, who remembered their former neighbour warmly. "I bow my head to him," said Esther Wyszkowy. "How many make money and get big and don't want to know anybody? This is not him."
A similar picture comes from Joel Schumacher, the Hollywood director (St. Elmo's Fire, Batman Forever), who was having a fitting at the Rhinelander store while Chief of Staff Fagan was giving me a tour. After working in fashion, Schumacher was eking out a living on the fringes of the movie industry in the 1970s when he wandered into Lauren's four-room office in Manhattan. "There was this wonderful tweed jacket, and Ralph said, 'Try it on.' It fit me perfectly, so he gave it to me. For the next few years I was going around Hollywood in these terrific suits, samples from Ralph. I was making $200 a week, but I looked like a million bucks. Later I introduced him to Woody Allen, so I guess it evened out."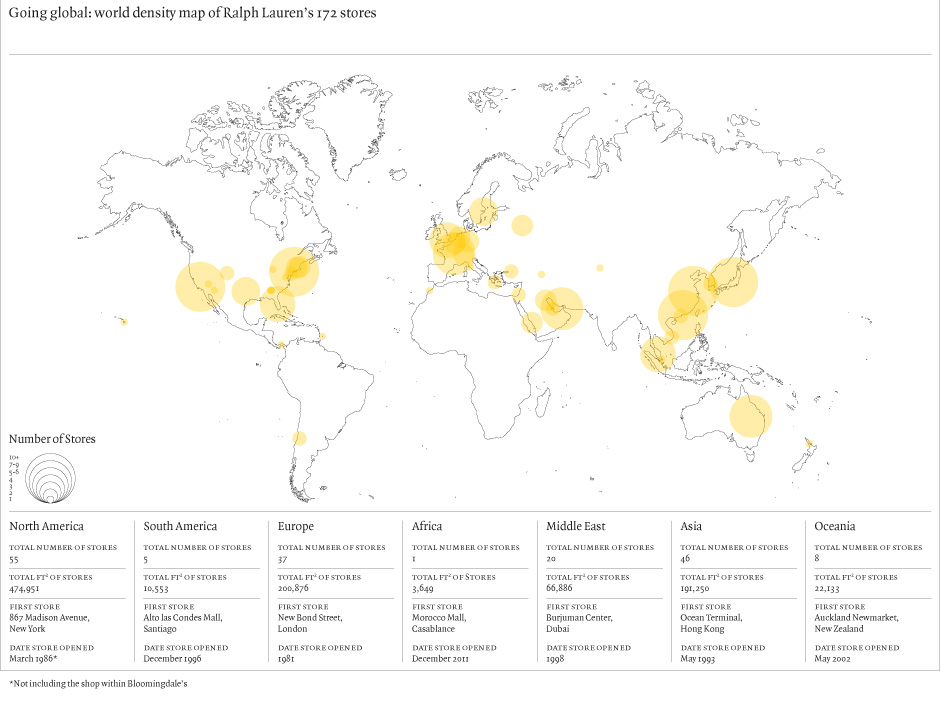 For a man at the apex of the glitzy fashion world, Lauren lives an unusually quiet, family-centred life. He attends the requisite industry events, usually in the company of his wife Ricky and one or more of their three grown children: sons Andrew, a film producer and David, an executive vice president at RL, and daughter Dylan, who started a Manhattan candy store said to be the world's largest. Ricky Lauren, a stunning blonde who was working in a doctor's office in 1964 when Ralph arrived for an appointment (he proposed on their first date), waited until the kids were in school before finishing college and then worked as a psychologist. Lauren's ubiquitous 'Ricky' handbag is named after her. They have the usual contingent of friends, some of them celebrities, many not.
Over the years, however, Lauren developed acquaintanceships with several of his idols. He got to know Princess Diana through various fashion events. ("She was lovely, charming and a little shy.") He met Audrey Hepburn at a charity benefit. She began coming to the Rhinelander store after hours for private fittings and once spent a weekend at the Laurens' home in Jamaica. On one of their first get-togethers, she surprised Ralph by asking for his autograph. "I'm bringing it back for my sons," she explained. "They love your clothes."
"I met him this winter and I was touched by his kindness and his simplicity, such an elegant couple with his 
lovely wife!" Catherine Deneuve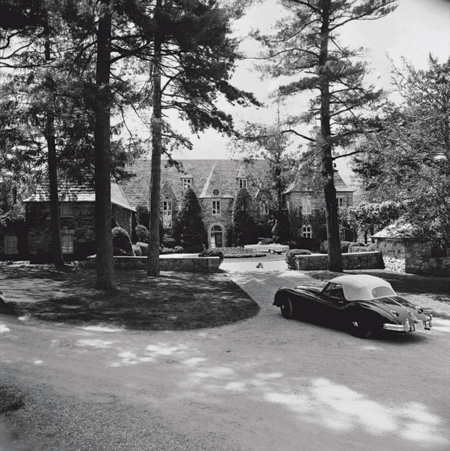 Left: Ralph Lauren's house in Bedford, New York. Courtesy of Ralph Lauren family
Early in his career, Lauren started sending ties unbidden to Cary Grant's Los Angeles office. ("We called them Cary Grant ties – solid grey, simple.") One day Grant called to thank him, and the two hit it off, sharing lunches in New York and a day at the races in LA. "We'd talk about the people he loved, how he started, where he got his style." says Lauren. "We had a discussion about jacket lapels." Even the great Sinatra paid Lauren tribute at a dinner organised by their mutual friend Steve Ross, the late chairman of Time Warner. Though the dinner was to celebrate a joint venture with Ross to sell fragrances, Sinatra not only turned up, he also rose to salute Lauren. Quipped Sinatra: "I haven't made a toast since the days of Meyer Lansky." Coming from the Mafia-dazzled singer, that was a high compliment. Notes Ralph: "Lansky was a major hood."
One celebrity who doubles as a friend is Woody Allen, for whom Lauren supplied some of the clothes in Annie Hall. Allen could not make it to Ralph's 60th birthday party at the Laurens' sprawling estate in a New York suburb (they also have a beach house on Long Island, a ranch in Colorado, a tropical retreat in Jamaica and an apartment in Manhattan), so he sent a video. "Ralph always thought he could be an actor," Allen began. "We had lunch one day and he said, 'Put me in a picture.' I said, 'Who do you see yourself as.' He said, 'Steve McQueen, Gary Cooper.' I said, 'Ralph, you're a short little Jew.' He said, 'Not when I'm dressed.'"
Dressing remains Lauren's pastime. He shows up at business meetings and industry events in killer Ralph Lauren suits (size 37 regular, same as ever), but he is seen more often in denim and leather – the originals, not his company's versions. "I like non-fashion fashion," says Lauren, "things that are real, timeless and have integrity to them." Lauren's other obsession is cars. Seventeen of his vintage autos, among the world's rarest, were exhibited at Paris' Musée des Arts Décoratifs last year. He also likes horses, and the Lauren adverts that feature him in the saddle were not staged. He is said to ride impressively well for a boy from the Bronx.
Professionally, he shows no signs of riding off into the sunset. With the business side of the company in the hands of experienced fashion and retail executives, and with a son rising through the ranks, Lauren has the beginnings of a succession plan. At 42, David Lauren is in charge of marketing, advertising, communications and Internet ventures. In 2011 he married Lauren Bush, a niece of former President George W. Bush, thereby making her Lauren Lauren. David works five floors away from his father in a similarly memento-stuffed office, and he was dressed Ralph-style when we sat down for a chat: jeans, soccer shoes and a gracefully aged leather jacket, though the latter was a Lauren product, not vintage.
"My dad has always been a father first. He was very involved. He knew what we were studying in school. My friends knew he was famous, but he was understated. He'd come up to visit us at summer camp and play basketball with the kids and the counsellors. He's more like a friend than a father, even in the office." David Lauren
While his father speaks so softly you have to lean in to hear him, David brims with confidence. "When I was little I used to play on the floor of the company with fabrics, outfitting my stuffed animals," he said. "My dad has always been a father first. He was very involved. He knew what we were studying in school. My friends knew he was famous, but he was understated. He'd come up to visit us at summer camp and play basketball with the kids and the counsellors. He's more like a friend than a father, even in the office. Did you see that bear out there? People are always saying, 'I didn't know he was so comical, so witty.'"
Ralph's fondness for David is evident. "He's one of my best friends, like all my children," he says. "I may be harder on him than on other people here, and he may not agree with everything I say. But I want him to be successful." Ralph did not rule out the possibility that David's older brother Andrew, the filmmaker, might someday join the company. Movie-star handsome, Andrew is currently featured in a Ralph Lauren ad campaign. Daughter Dylan, who is married to a hedge fund manager, seems content with her booming candy business. Of her, a fashion industry insider says: "Ralph's entrepreneurial spirit survives."
Could the Lauren empire survive without Ralph? He had surgery to remove a benign brain tumour 27 years ago but today has no apparent health problems. Still, he is certainly older than most fashion moguls. As a public company, RL would of course continue to soldier on if he were to step down. And good designers, marketers and accountants can be hired. But what about the vision, the single-minded drive for purity and perfection? What successor would have the nerve to tell Bloomingdale's to take a hike? "What I loved about Ralph was he did not compromise," says former assistant Jeffrey Banks. "If Ralph wants the best silk, the best horn buttons, the best hand-knitting from Italy, and he believes he's right, he won't vacillate."
Ralph and I have finished our lunch, though he barely touched his. An assistant comes in for the second time to remind him of his next meeting, but he is relaxed and talkative. So I ask if he ever thinks about dying. "Yes," he says simply. "If you ask what keeps me awake at night, that's it. How do we accept this terrible thing? We built this life, had these children – and then we won't see each other again? I try to come to terms with death, but I can't. When I'm working and busy with my life, I'm happy. When I sit back and try to figure it all out, it's beyond me. I'm not perfect. I've made mistakes. But I feel I've done good things in the world. I've cared about people. I've been passionate." Passionate indeed. As his friend Sinatra would say of the 74-year-old kid from the Bronx who built a fashion empire on dreams in the night: he did it his way.
Words Donald Morrison
Photography Mark Seliger
Styling David St John-James
This feature originally appears in Port issue 14