PORT's design editor Alyn Griffiths reflects on the best collections, exhibits and events from Milan's Salone del Mobile 2016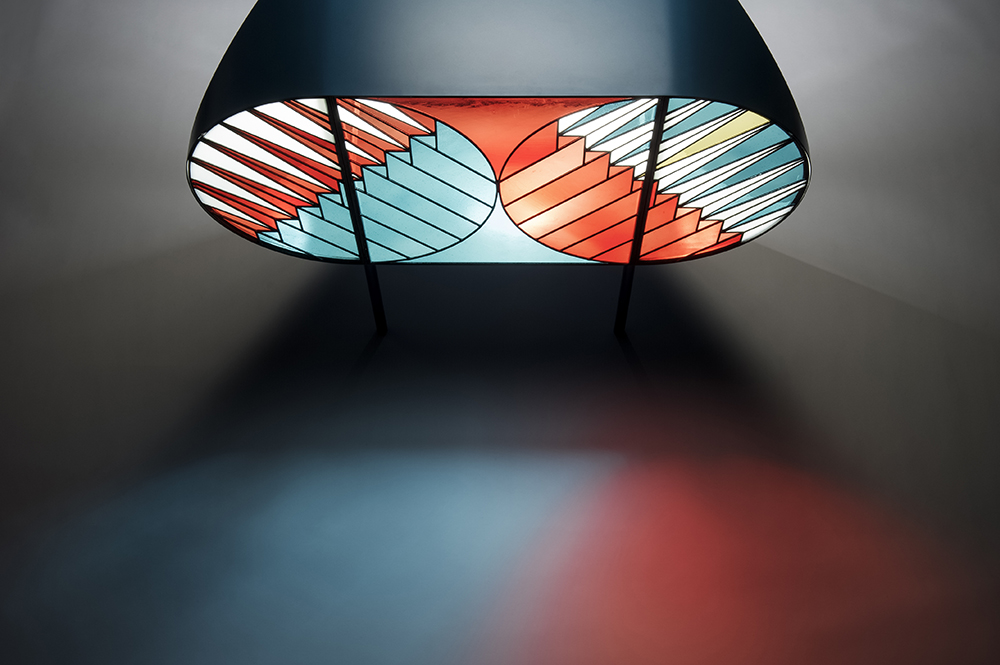 Trying to summarise the best events and new releases at Milan's annual design week becomes increasingly difficult as the volume of shows across the city continues to escalate each year.
At the city's main exhibition centre, the 55th edition of the Salone del Mobile brought together all of the biggest furniture and design brands, while accompanying satellite exhibitions popped up in grand palaces, museums (Tom Dixon), disused shopping arcades (Wallpaper* magazine) and even custom-fitted delivery vans (Lee Broom).
Some of the biggest names seemed to be everywhere at once, with Patricia Urquiola, Neri&Hu, Nendo and the Bouroullec brothers designing products, stands and overseeing the creative direction for multiple brands.
Companies not typically affiliated with furniture design also had a strong presence during the design week, with Mini, Airbnb, Panasonic and Nike among the many aiming to showcase their creative credentials. It all made for a diverse and exciting event, and here, I pick a few of my highlights.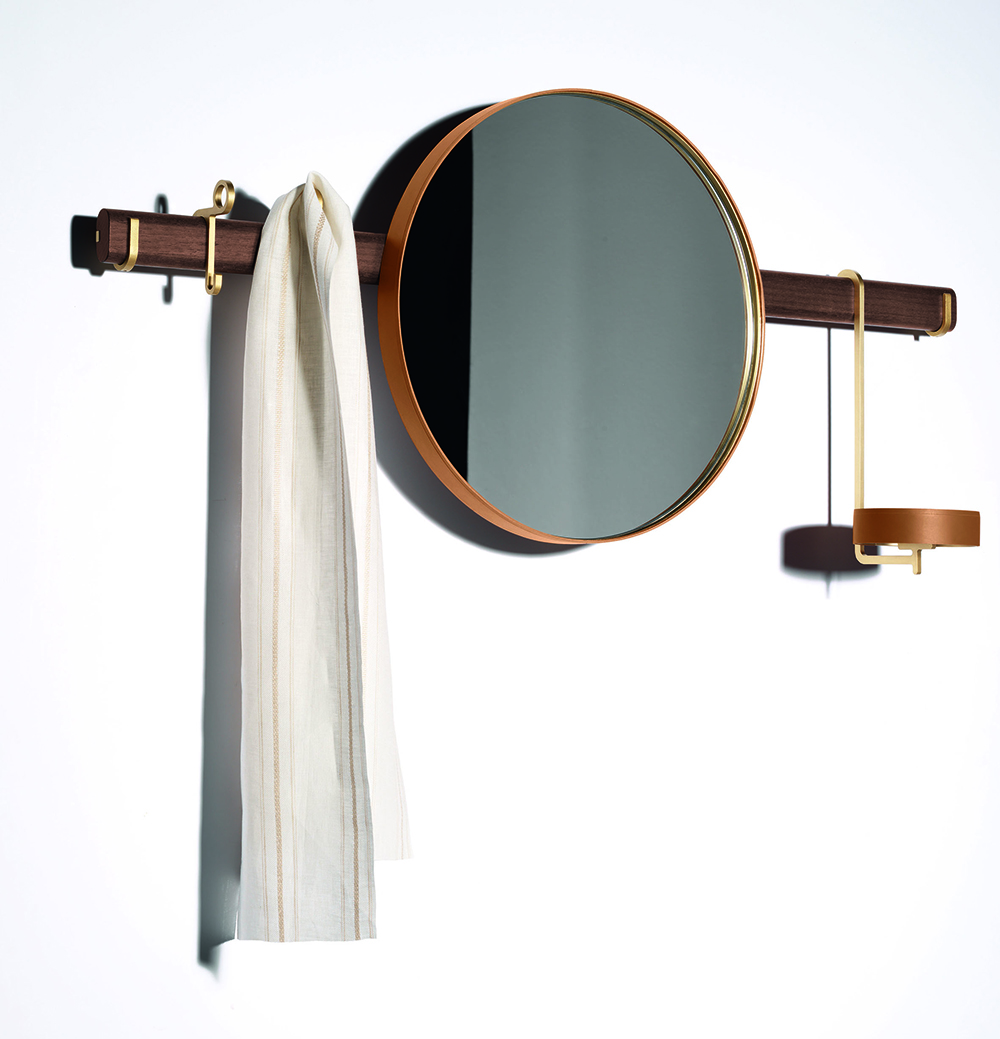 Ren collection by Neri&Hu for Poltrona Frau (pictured above)
For its first collaboration with venerable Italian furniture producer Poltrona Frau, Shanghai studio Neri&Hu chose to focus on an often underused domestic space – the entryway – though the pieces can also be used throughout the home. Rather than designing an addition to the brand's existing range of fully upholstered leather furniture, Neri&Hu used leather to add tactility to the surfaces of tables, coat racks and a valet stand.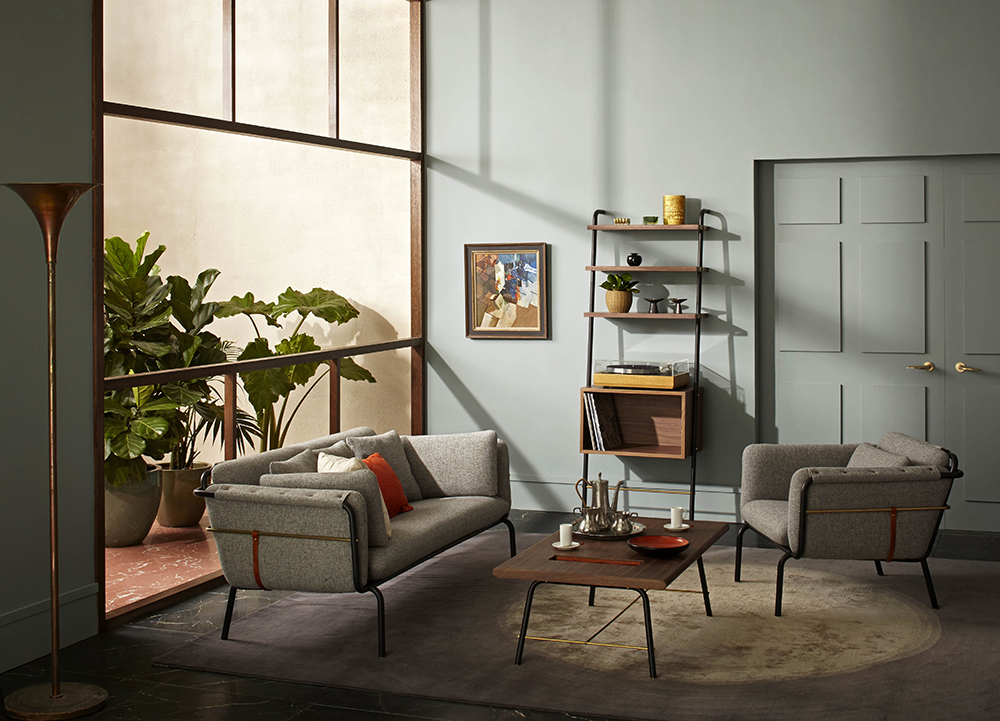 Valet collection by David Rockwell for Stellar Works (pictured above)
Under the creative direction of Neri&Hu, Asian design brand Stellar Works launched American architect and designer David Rockwell's debut furniture collection called Valet at the fair. Rockwell's studio developed 14 pieces distinguished by their simple functions and luxurious details, including matte brass and leather cord. "The collection merges expressive materials, craftsmanship, functionality and elements of surprise to activate transitional spaces in residential and hospitality environments," said Rockwell.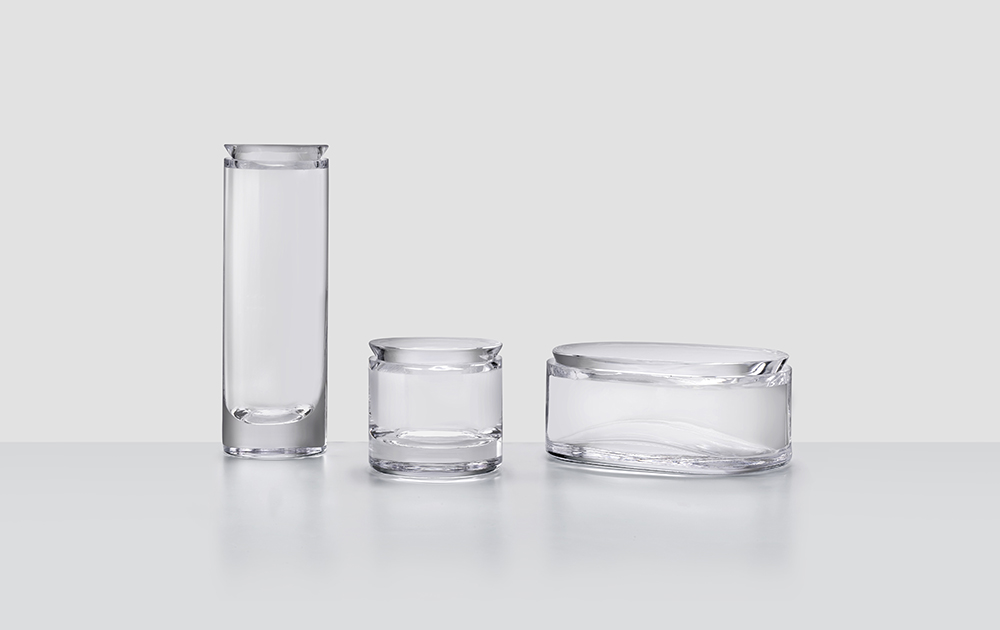 Chamfer by Philippe Malouin for Nude (pictured above)
Within an arcade colonised and curated by Wallpaper* magazine, Istanbul-based design brand Nude presented its latest glassware products, including pieces by Inga Sempe and Joe Doucet. London-based designer Philippe Malouin created Chamfer, a series of glass jars with lids featuring edges cut at 45 degrees so they can be lifted without requiring a handle.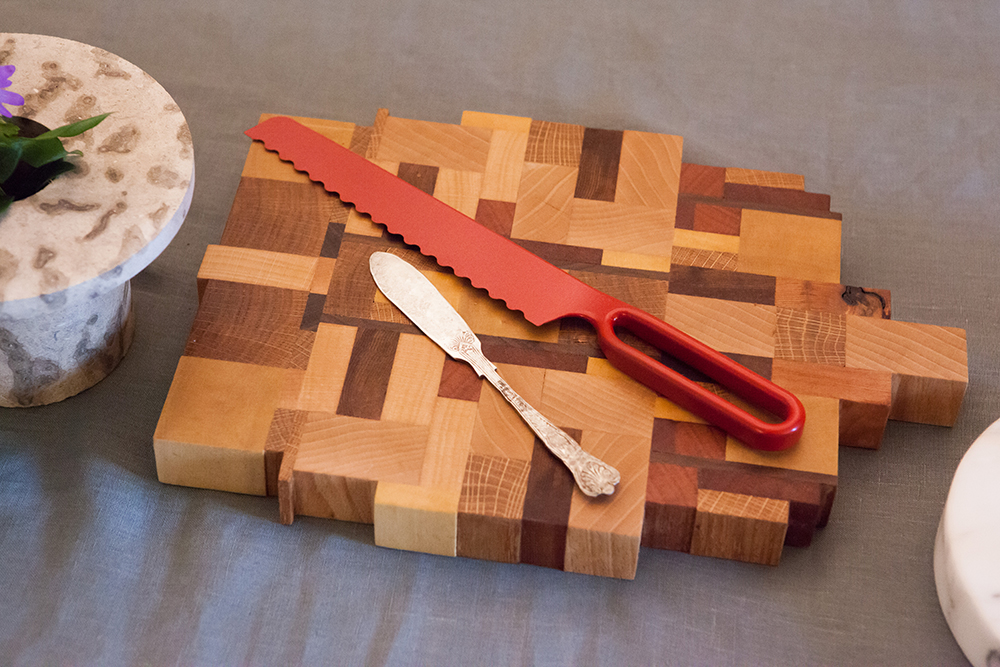 Makers & Bakers, curated by Ambra Medda for Airbnb (pictured above)
As well as fulfilling the role of official "hospitality sponsor" of the Salone del Mobile, Airbnb engaged in its own creative project by inviting curator Ambra Medda to create a pop-up eatery at Ristorante Marta. The project was titled 'Makers & Bakers', and featured products designed for a shared table by creatives from 13 different countries. A 3D-printed titanium bread knife by New Zealander Jamie McLellan and a bread board made from wooden blocks by Study O Portable were among the highlights.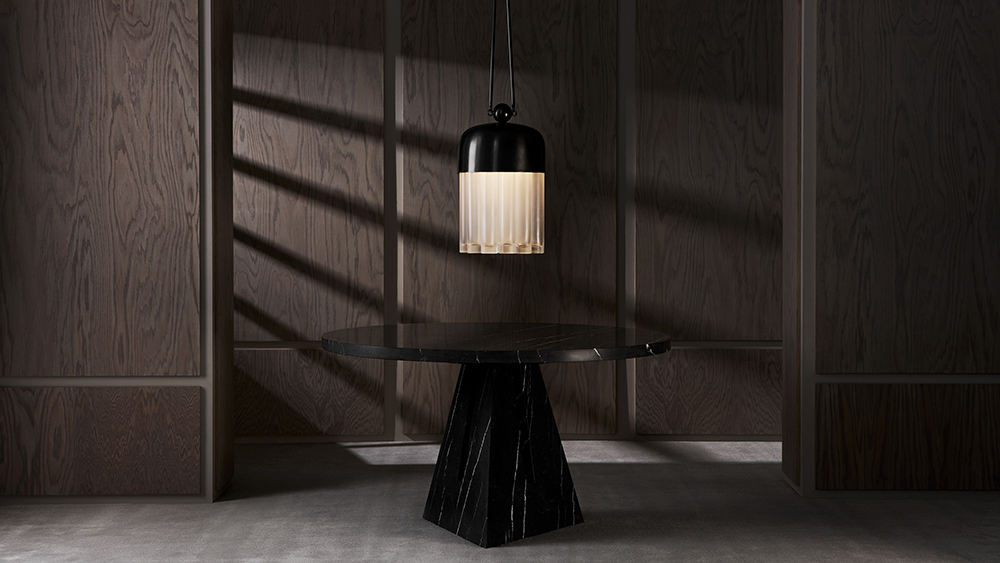 Apparatus (pictured above)
At its showroom in the Cinque Vie district, New York design studio Apparatus showcased new products including a marble version of the existing Portal table and two new lighting collections. Utilising the studio's signature palette of on-trend materials including leather, marble, aged brass and etched glass, the pieces have a robust yet tactile quality combined with classically influenced forms.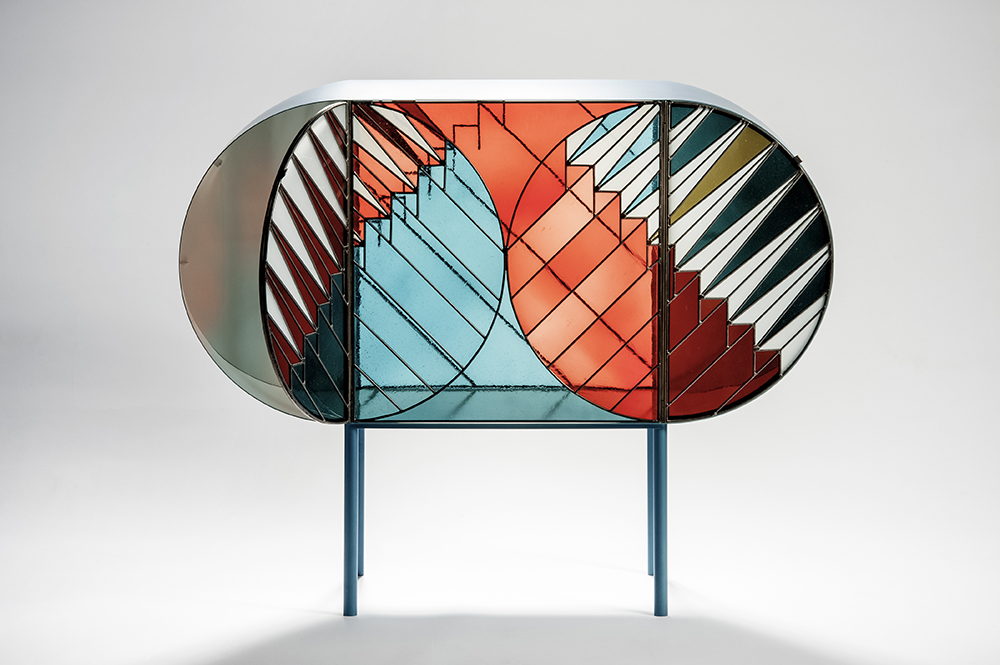 Credenza by Patricia Urquiola and Federico Pepe for Spazio Pontaccio (pictured above)
Patricia Urquiola and artist Federico Pepe combined colour and craftsmanship in their Credenza collection for the Spazio Pontaccio design boutique. The cupboards, screens and low tables feature stained glass surfaces that recall traditional church windows, given a modern twist by Pepe's graphic patterns. Beautifully detailed and produced using ancient artisanal techniques, the sculptural pieces looked stunning in the Milanese sunlight.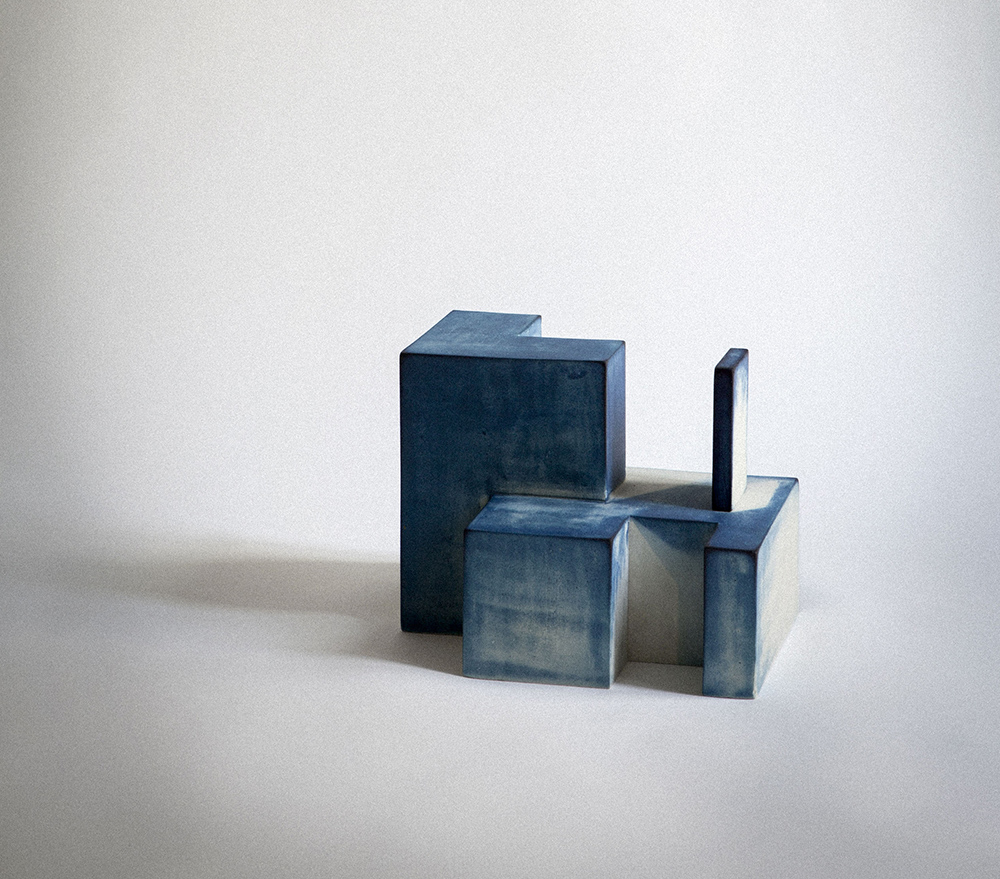 Out of the Blue by Studiopepe (pictured above)
Of the more conceptual works on show, I enjoyed Studiopepe's series of geometric plaster volumes that had been brushed with a cyanotype solution and then left in the sunlight. The angle of the sun, the length of the exposure and the forms themselves all contribute to the appearance and hue of 'shadows' cast upon the objects. This exploration of the relationship between form, light and colour, embodies architectural principles of light and architecture on a compact scale.