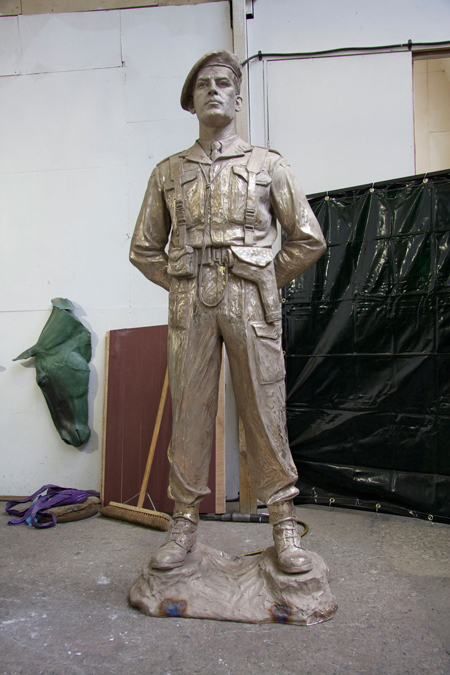 Sculptor Ian Rank-Broadley on the historical importance of remembering the Commando officer 70 years after Operation Overlord
Today, exactly 70 years ago, hundreds of thousands of young men stepped out onto the beaches of Normandy under heavy enemy fire, hoping for the best. They were part of the world's biggest-ever military beach landing, and had one job and one job only: to finish off Adolf Hitler and his Third Reich. By invading the European mainland, taking on Hitler's Atlantic Wall, the Allied troops began their march towards Berlin and, eventually, the end of the war. The invasion, D-Day on June 6th, 1944 under the leadership of General Dwight D Eisenhower, was the culmination of years of preparation, accelerated by Allied victories in North Africa and the successive invasion of Italy, plus the Nazi defeat to Soviet troops at Stalingrad. D-Day was the beginning of the end for Hitler's Nazi empire.
The actual invasion and landings has been the subject of many films and books over the years, partly because of its historical importance but also because, due to the sheer numbers of participating soldiers and civilians, the individual stories of heroic actions that survived the fighting and entered folklore. One soldier who had already made a name for himself before playing a crucial role during and just after Operation Overlord, was Lord Lovat. Leading his 1st Commando Battalion ashore, and then heading off inland to secure the tactically important Pegasus bridge, Lord Lovat secured a place for himself in the history books, helped also by his close companion, the bagpipe-playing Bill Millin.
Now, seven decades on from that day, Surrey-born sculptor Ian Rank-Broadley has erected a statue of Lord Lovat, also known as Simon Fraser, on Sword Beach, the Normandy coastal stretch where Lovat and his men landed. But Lovat's war bravado goes back further than D-Day as he and his men from 4 Commando group famously captured the Varengeville battery in Dieppe during a daring raid in 1942. This, together with Millin's bagpipe – which sounded as the men went ashore on D-Day – add to Lord Lovat's mythical place in history. Here, Rank-Broadley explains the background and reasoning behind the sculpture.
"Lord Lovat's great grandson Roscoe, who lives in LA, asked his grandmother, Virginia Fraser, about his great grandfather's actions during the war and together they visited Sword Beach. From this incident the idea of a statue was conceived. It's based on extensive research in the family archives. I hired a 1940s battledress, and had the experience of wearing it in the studio as I prepared the maquettes for the large statue. Lord Lovat was a unique soldier and, quite simply, he led from the front. 'Under him men did more than they could possibly imagine they could do, were braver than they knew themselves to be,' as the Independent's Obituary said when Lovat died in 1995.
"I've had a keen interest in the Armed Services since I made 14 life-size figures for the Armed Forces Memorial in Staffordshire. I find it interesting that ordinary people, when in uniform, can achieve heroic acts. My main subject matter has always been the dynamic male figure in action. It was important to erect this statue now because after decades of reappraisal of Lord Lovat's contribution and that of his men, this was a last chance to erect a memorial whilst some of the men who particapated could still see the statue."