Natalie Lasance talks to the Australian artist about how his fantastical landscapes straddle the brook between imagination and reality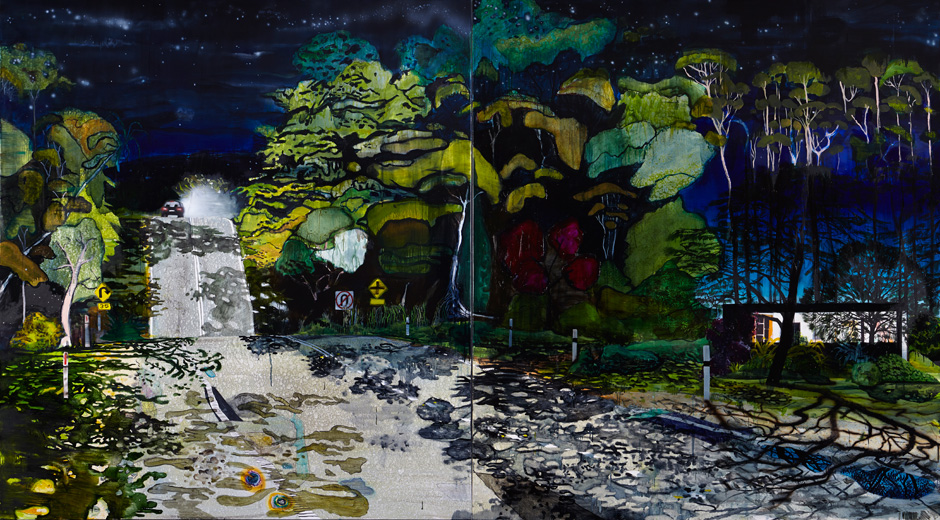 Above: Moonlight II, William Mackinnon, 2014
Melbourne-based artist William Mackinnon's large, cinematic paintings take the viewer on a road to nowhere. Lonely highways twist and turn through the wild Australian landscape, the subject always just outside of scene, peering out from behind the windshield and into the inky darkness. "It was an image I had in my mind for a couple of years that I knew I wanted to explore", Mackinnon explains of his fascination with the driver's gaze. "It's giving one a sense of peering through. Sort of like a veil that pushes the viewer back into the room as they look out."
Painted largely from memory, each work sits somewhere between fantastical reality and dreamscape. These seemingly empty and haunting spaces are given life through watery strokes and a mix of oil and acrylic applied as a spray, giving depth and texture to the canvas. The versatile medium of oil paint draws him in: "I love how it can take your mind and eye in multiple directions simultaneously. Flat, thin, creating space, imagery, emotion, whilst always reminding the viewer that this is paint on a flat surface."
---
"'My work really is the interaction between what I am thinking about and what I am physically looking at' he says. 'I often title my works of landscape as self-portraits. They are psychological spaces as much as anything'"
---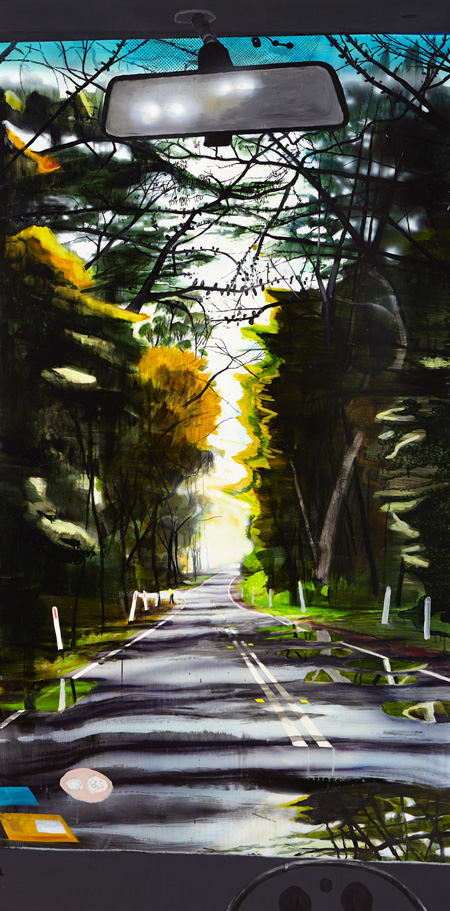 Having developed a passion for painting as a child, Mackinnon was greatly influenced by the time he spent working on a farm as a "jackaroo" in his teenage years. It's easy to see how so much time spent in beautiful, rural spaces has informed his landscapes. In the absence of other people, the artist evokes the notion that these uninhabited places are full of his own identity: exploring what it is like to be a human in this huge, new world.
"My work really is the interaction between what I am thinking about and what I am physically looking at" he says. "I often title my works of landscape as self-portraits. They are psychological spaces as much as anything. Roads, dips, bridges and exits stand in for emotional states."
Even with his more ominous and sinister nightscapes, there is something light and optimistic about Mackinnon's work. Desolate roads reveal a sense of longing, at once looking forward to a destination but with a fierce sense of nostalgia and a powerful sense of the Australian identity. Though the artist is alone, there is so much life and possibility in each scene.
"Each piece is not a straight depiction of landscape but a collection of lots of things I have seen from film, television and travels and, of course, my imagination, amalgamated", Mackinnon says. The artist likens his process to that of the Australian bowerbird, which collects small jewel-coloured trinkets and pieces. Each work incorporates brightly coloured elements from the Australian landscape with fragments of his imagination.
Mackinnon's style has been compared to the French post-impressionist Henri Rousseau because of his naively painted botanicals and foliage and exotic tableaux scenes. Unlike Rousseau, who famously never visited his safari landscapes, Mackinnon has been influenced by time spent living and working in remote indigenous communities in Central Australia and the Kimberley region. After graduating with a Master of Visual Arts from the Victorian College of the Arts in 2008, Mackinnon won the prestigious Marten Bequest Travelling Scholarship. This allowed him to spend two years travelling through rural Western Australia and the Northern Territory, serving as a field officer and artist in residence.
The result of these years is his series, The Lucky Country, in which Mackinnon dots hooded and distant figures amongst abandoned cars, ramshackle buildings and, of course, the iconic red dust outback. The paintings depict a fractured wasteland that's also full of life. "It is impossible to put into words how intense, bizarre, dysfunctional and wonderful these places are" he explains, pointing to the burnt-out cars, waste and graffiti that litter the series. "They are things you see all the time, burnt out. The current situation in these places is very complex and bleak. But it's also about personal burn-out."
Exploring these indigenous communities is a highly-charged subject matter but Mackinnon is careful to point out that they are more about personal experience than a social or environmental commentary. "I can only speak about my experience and time spent in two different communities" he explains. "My work is about what it is to be human in the world now. It is quite personal and I don't have any grand proclamations. I guess I just like to use my world, inside and out. That is enough."
Left: Mornington, William Mackinnon, 2013
.
Words Natalie Lasance