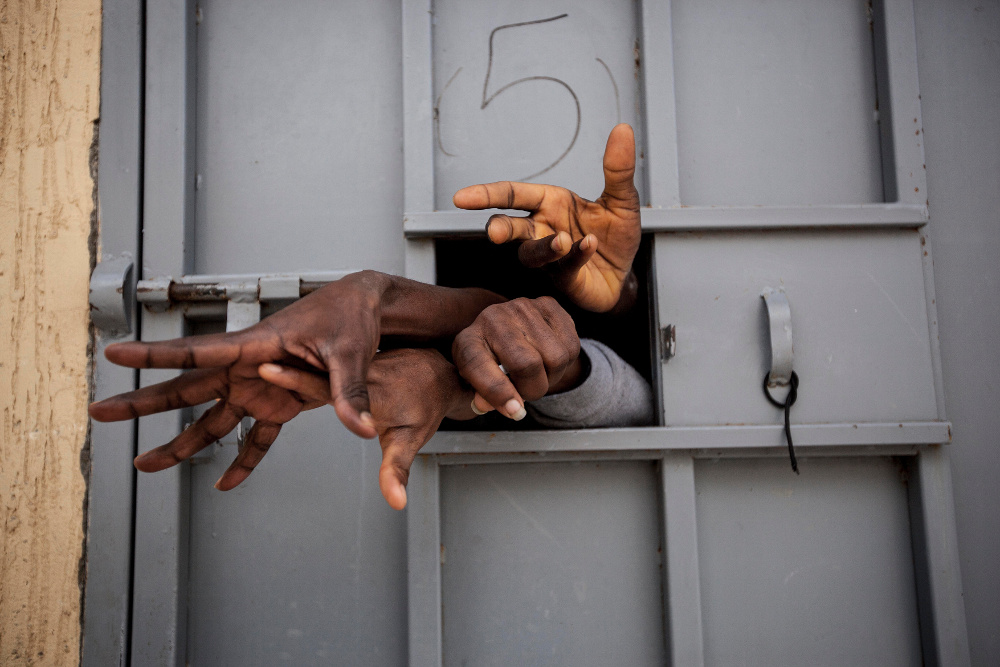 Photographer and Carmignac Award winner recalls his journey into Libya to document some of the country's estimated three million migrants and refugees
I travelled across Libya for 73 days from February 2016 to record the stories of groups of non-natives who have been made extremely vulnerable by the vacuum of power in the country. In this picture, Sub-Saharan illegal migrants and refugees stretch their hands through the window of a cell in the Garabuli Detention Centre, pleading for water, cigarettes, food and their release.
For the rampant militias who have seized control of the country, these migrants represent free-flowing cash. I met groups of foreign nationals, including illegal migrants, asylum seekers and refugees, who have become primary targets for a flourishing human market run by militia groups aligned with criminal networks. They use 'detention centres' to re-sell and to distribute these groups via the networks of illegal trade. The Carmignac Award for photojournalism was essential as it gave me the necessary time and resources to keep working in the field until I could find a way to sneak through the barriers.
Smuggled and sold from other countries and/or bought in Europe, 40 per cent of the illegal migrants and refugees in Libya attempt to cross the Mediterranean Sea (and this number is increasing), whilst 60 per cent remain in the country and provide labour. Unofficial figures estimate that there are three million foreign nationals in Libya today, and they live in fear of the militias who wield power. They are trapped: they have no choice but slavery, departure or death.
Narciso Contreras – Libya : A Human Marketplace runs 25 October 2016 – 13 November 2016 at the Hôtel de l'Industrie, 4 place Saint-Germain-des-Prés in Paris and from 16 May to 16 June 2017 at the Saatchi Gallery in London.