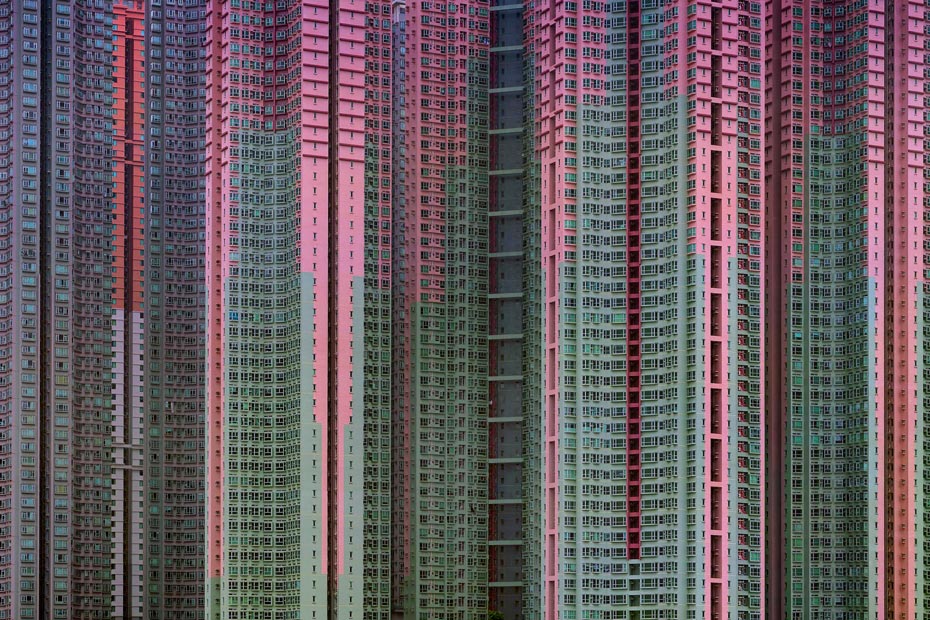 As his iconic series shows in London in large scale for the first time, German photographer Michael Wolf speaks of his love of the vernacular and sheds light on Hong Kong's terrifying lack of living space
People sometimes allude to being transfixed by an image or work of art, of not being able to take their eyes off it, or, when viewing a particularly gripping piece of television or cinema, of being 'glued to the screen'. That's certainly the case with photographer Michael Wolf's Architecture of Density (2003-2009) series, an extensive study of high-rise residential architecture in his adopted home city of Hong Kong, currently showing at Flowers Gallery, London. The images have a peculiar affect when viewed from a few feet away: they nudge the observer into a state of light hypnosis. It's the result of a spot of creative cropping on Wolf's part.
"I use a stylistic trick to make them more powerful: in none of the pictures do you see sky or horizon," says Michael on the line from Paris, where he's currently residing. "Therefore you really don't know how big they are, you have no point of reference, so these buildings could be twice or three times as high, you just don't know. They could end right above the frame but you have no way of knowing that, so your mind plays a trick on you and you say 'wow, this is huge."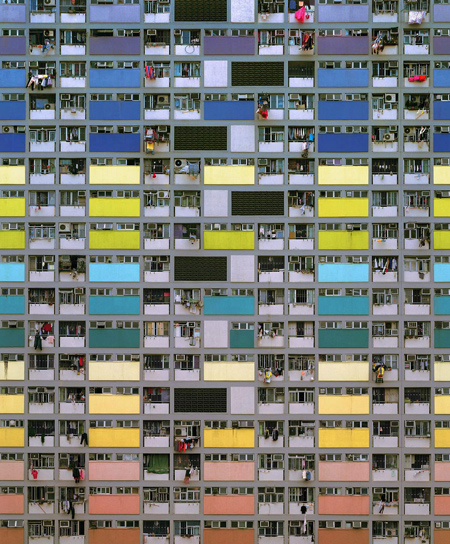 Wolf grew up in Canada, the US and Europe, before moving to Hong Kong in 1994 to work as a photojournalist, where he immediately fell in love with the rapid pace of regeneration and the "ever-changing landscape" of the city. It suits his way of working: "If you look at my work I tend to revisit things, and sometimes I revisit things ten years later and something entirely different or improved comes out. Old buildings are refurbished or torn down and new buildings come up. In Hong Kong things change very rapidly."
Many of the shots in Architecture of Density, as Wolf points out, seem "almost ambivalent … they could be supermarket barcodes or Mayan tapestries" when viewed from afar. But once you get closer (and you've shaken off that involuntary crossing of the eyes), the images evolve from simple, seemingly infinite, repeating patterns to an almost living, breathing documentation of city life. "It's only when you come up close and see a pair of jeans hanging out or a t-shirt, or there's a feng shui mirror, that you realise behind these windows there's a small apartment and there are people living there," he says. "I like that effect."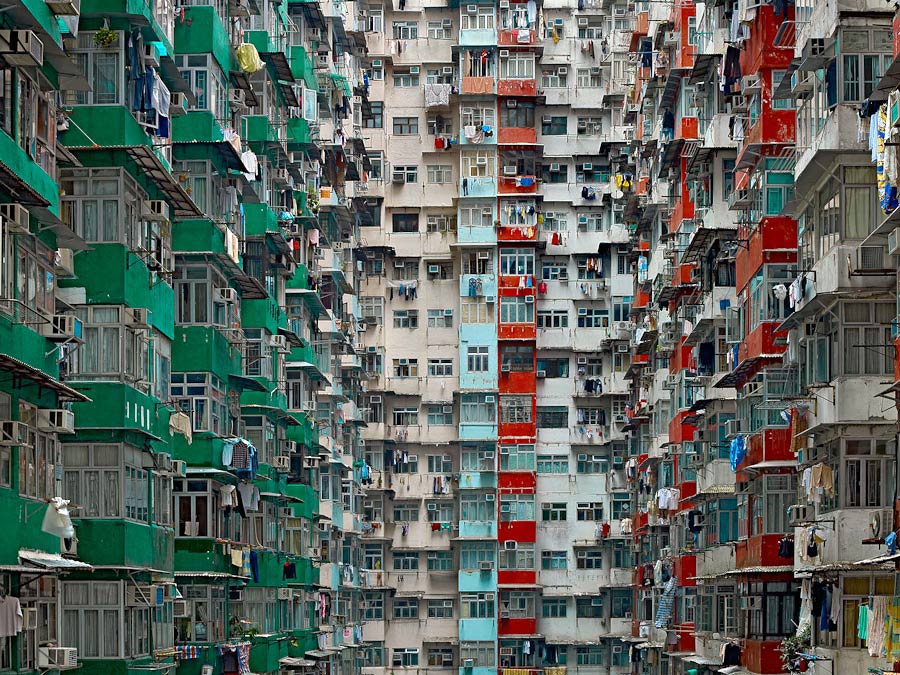 Wolf sees himself as a sociologist, documenting the vernacular wherever he goes. Mega-cities are his muse, but he's all too aware of the socio-economic forces that drive the expansion of these colossal hubs, where glamour and grime jostle uneasily for space – and the cost.
"These mega-cities are pure profit centres for property developers, there's really very little concern for the general population – how to live there and how to make life more liveable," he says. "In Hong Kong the tax revenue is very low, so you have to ask where does Hong Kong get the money, how does it pay for itself? They pay through land sales. The government puts seven or eight big plots of land up for public tender every year and the big developers bid on it. That's how the system works there. Housing is so horrifically expensive."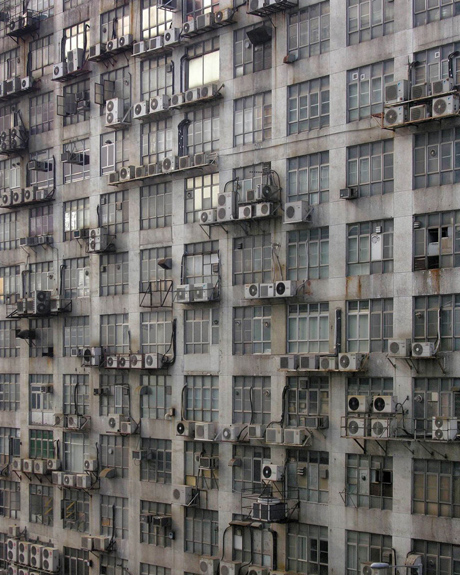 The result of this of course is the density of living you see in these photographs, but according to Michael, those living in the high rises are the relative lucky ones: "In Hong Kong you have extreme poverty and extreme – I mean really extreme – wealth, all within 15 minutes of each other. You can be in a cage home, these 200m sq flats where a landlord puts in 40 cages and rents them out for 80 Euros a month each, and you can walk five or ten minutes and you're on Canton Road, where you have Louis Vuitton and Prada and all the brand shops."
Hold on, did you say 'cage homes'?
"They're wire dwellings, like a coffin but a bit higher, literally," says Michael, as I sit stunned. "They're maybe 80cm by 80cm by two metres. The city of course is quite ashamed and they're trying to get rid of them, but they're replacing them with these cubicles, which are very small, around two metres deep and one metre wide, like shafts almost." My reaction doesn't surprise him: he's never sold a Density picture to a Hong Kong native – they see it everyday and simply don't think it's anything special – but western, liberal Europeans are of course "horrified and mesmerised."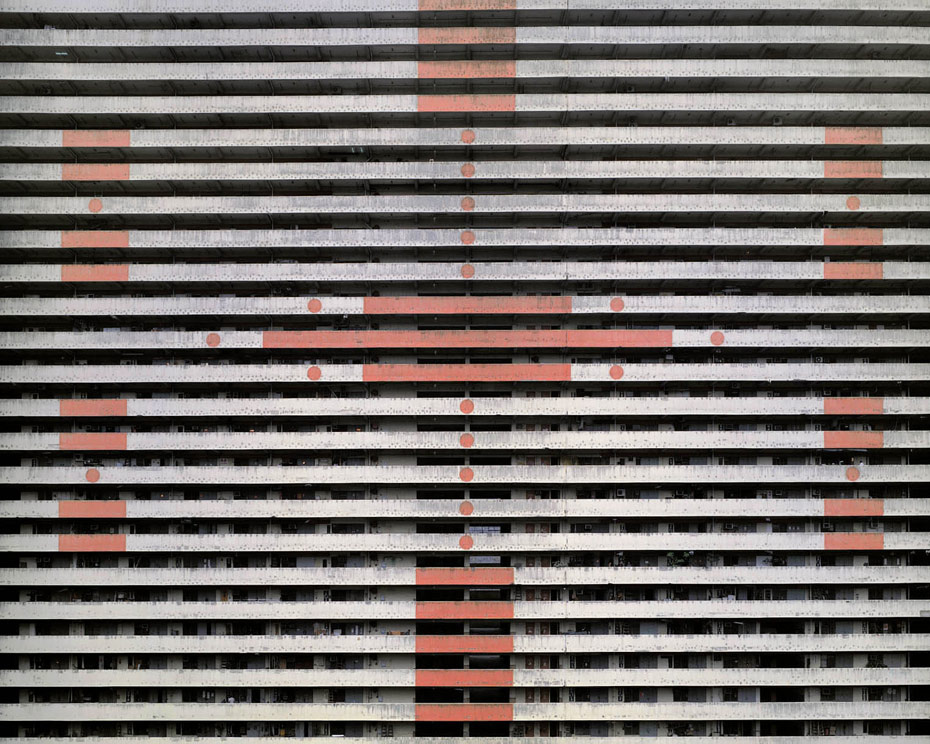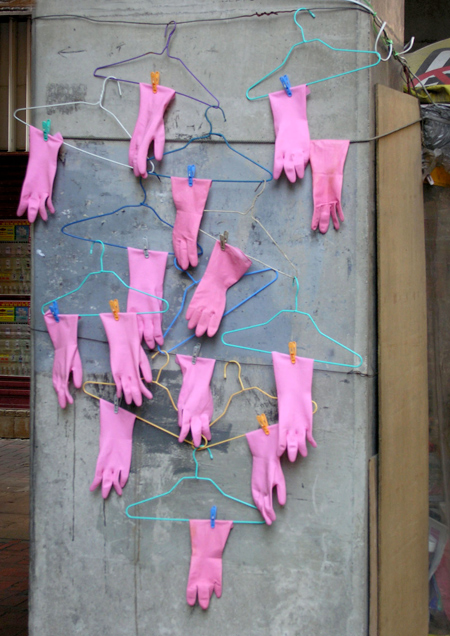 Another source of shame for 'the city' are the cluttered back alleys behind every commercial and residential building, "where stuff happens that you aren't supposed to see," the focus of his new book
Hong Kong Trilogy
: "It's like looking under the bed. That's where all the restaurants wash their salad and cut their meat, where all the workers park their little carts and hang up their gloves and mops to dry. Space is such a commodity, so people tend to make public space into their private space."
So enamoured is he with these "filthy corners where the rats congregate" as the government sees it, he's even half-jokingly suggested they be declared world-heritage sites. "They're very particular aesthetically," he says. "People leave all kinds of things, which look like beautiful, ready-made assemblages by Rauschenberg. It's one of my pre-dispositions, to look for the vernacular somewhere."
Herein lies the thread running through Wolf's work: identifying the minutiae of human life amongst the clutter and detritus of modern 'living'. The irony is, coming away from Architecture of Density at Flowers Gallery without picking up on this, where Wolf's images are presented on a scale never before seen in London (1.8m x 2.2m) – there are several smaller photographs in the series too, such as workers gloves drying on barbed wire, and "chaotic labyrinths" of ventilation pipes – means missing the bigger picture.
Architecture of Density' is at Flowers Gallery, 21 Cork street, London W1S 3LZ, until February 22
Photography Michael Wolf