Stuart Anderson-Davis tries the time-honoured American tradition of a winter escape to Florida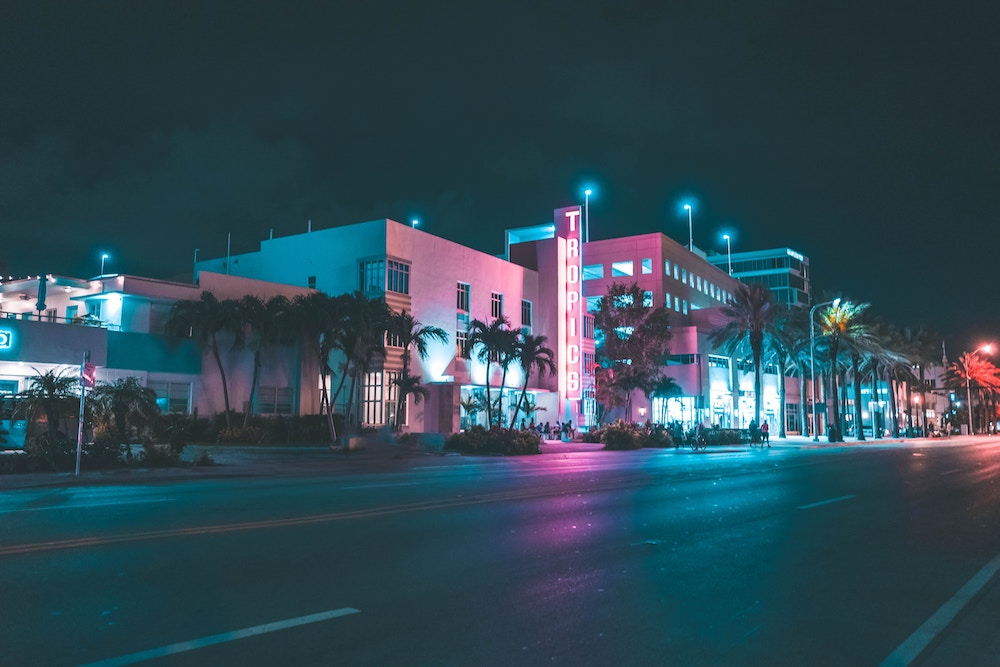 Completing Grand Theft Auto: Vice City on the PlayStation 2 was probably one of my finest teenage achievements.
Like most of my schoolmates, I took great pleasure in rampaging through the digitally reconstructed streets of Miami – or at least a city based on "the capital of Latin America" – putting aside all thoughts of revision in favour of criminal undertakings and general mayhem. The video game, released in 2002, seemed to really convey the energy, swagger and ruthlessness of 'Vice City'; transporting the player into a world that combined the dodgiest parts of South London with a tropical paradise. Back then, Miami seemed exotic and exciting beyond belief – an American mega city with Caribbean climate and Latin flair!
And so it was with great excitement (and a little trepidation) that last month I visited the place for myself. The circumstances where somewhat different from Grand Theft Auto. Unlike that game's protagonist, I would not be stepping out alone into this hotbed of intrigue. Oh no, I would be accompanied by two highly-skilled accomplices – my wife and our two-year old daughter, an extremely cunning but hot-headed character who's never far from trouble. We would be the kingpins of 'Vice City' – what could possibly go wrong?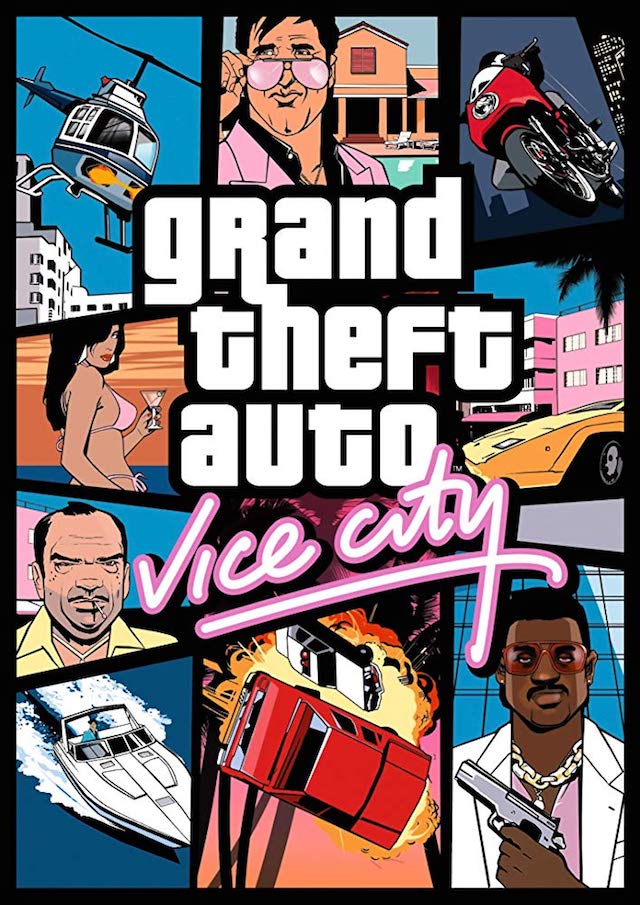 Of course, we weren't the only family hatching this plan. The winter-time escape down to Florida is a time-honoured American tradition, with sunshine, beaches and the promise of "good times" just a short flight away. In 2018, over 126.1 million tourists visited Florida – the majority coming from inside the United States. From Orlando's garish theme parks to stunning wildlife in the Keys and Everglades, Florida brands itself as a destination for every occasion. Sure enough, the prospect of escaping New Jersey's winter desolation proved too much to resist and we packed our bags for a week in the "Sunshine State".
First stop was Fort Lauderdale – a less-glitzy city up the coast from Miami. The city is named after a series of forts established during the Second 'Seminole War' – one of more shameful episodes in American history, during which the authorities sought to "pacify" a group of Native American tribes. Fort Lauderdale itself evokes a strangely familiar feel for British visitors, with a beachside promenade reminiscent of fading coastal resorts like Blackpool or Eastbourne – except with actual sunshine. The city is populated almost entirely by power-walking OAPs. Indeed, if the average age of residents is lower than one hundred then I will eat my visor cap.
From Fort Lauderdale we headed to Miami via the Everglades World Heritage Site – a vast 'subtropical wilderness' that dominates Florida's heartland and houses a formidable collection of beasts, including alligators, snakes and the elusive Florida panther. Unfortunately the weather proved too cold for our lily-livered Airboat driver to take us alligator hunting on the water – much to the fury of our youngest member. Whilst positively tropical by British standards, the weather throughout our visit was deemed headline-worthy for its frigidity. Indeed, local media was filled with reports of frozen iguanas falling out of trees onto unsuspecting Floridians. Rejected by the Airboaters, we settled for the more civilised option of bike rental at the misleadingly named Shark Valley National Park – stopping mere feet away from innumerable sunbathing alligators, each of whom was subject to relentless trolling from the toddler in the child seat.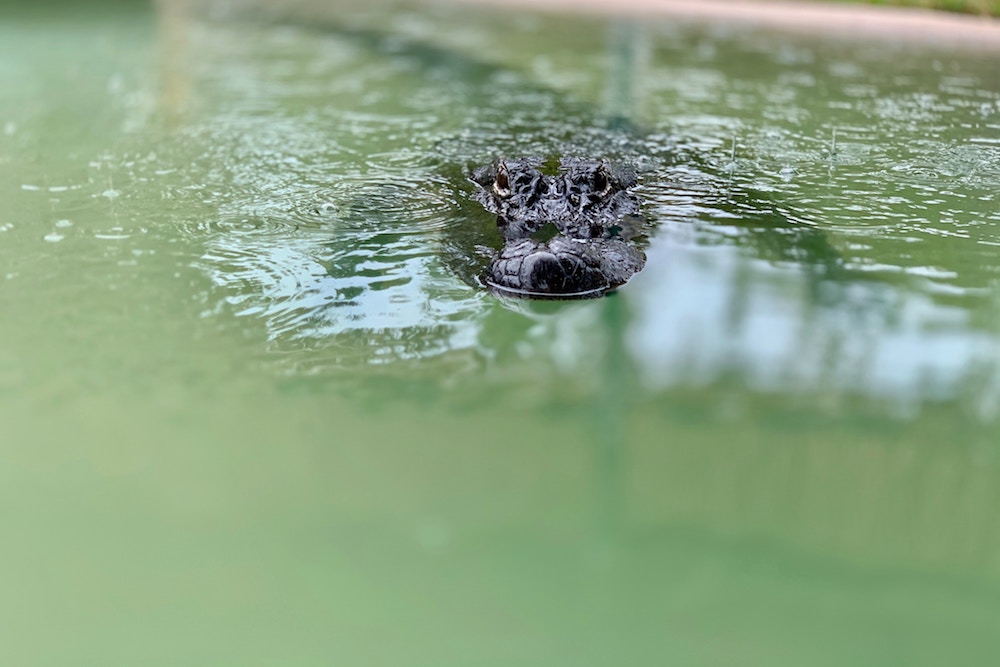 After surviving the snoozy alligators it was finally time for 'Vice City' – Florida's beaming metropolis which straddles Biscayne Bay and stretches its beaches out along the shimmering waters of the Atlantic. However, we first had to survive one of the most terrifying stretches of driving I have ever experienced. Nobody does fuck-off massive, sweat-inducingly intimidating freeways quite like America. But even by US standards this was scary. High-speed traffic slung out over 7 lanes – complex flyovers densely packed with aggressive drivers overtaking, undertaking, and even trying to drive through in order to shave a few seconds off their precious journeys.
Somehow we reached our refuge from the storm – South Beach Hotel. This Soho House wannabe describes itself as "an exemplar of Miami Beach style and coolness, a place where locals and visitors can think less and play more…chic and boldly handcrafted, yes, but intimate and easygoing too." The hotel's nausea-inducing prose was nothing compared to the response triggered when we finally pulled up outside, only to be informed that the car park – sorry, I mean premium "valet service" – would require an additional $40 dollars per night. Not a promising start and it went downhill from there.
It turns out that Miami is infamous for its very 'unique' approach to customer service. I will spare you the long-list of grievances (that's what TripAdvisor is for), but the lowlight came when I tried calling the front desk for the thousandth time without them picking up. Frustrated, I marched to the lobby through the pouring rain (it's possible the foul weather somewhat influenced my mood…), slipped over and went careering into a wall. Perhaps sensing a lawsuit, the hotel agreed to our demands for a quick exit.
But what of Miami itself? Well, leaving Fawlty Towers early meant we had only one full day to explore the city – walking down South Beach and meandering through its Art Deco neighbourhood. Now, I appreciate that reviewing Miami on this basis is like judging London after a visit to Camden Market and Madame Tussaud's. However, since I wholeheartedly blame our premature departure on the city's behaviour I'm afraid that's the way it goes… Anyway, my first observation was the sheer volume of scantily-clad joggers of all shapes and sizes. For better or worse, body confidence is not an issue here and this sense of brashness seems to cascade across all Miami life.
South Beach itself is a riot of neon signs and pastel shades, with palm trees and picture-perfect sands to appease the most snap-happy Instagrammers. But for some indefinable reason the whole place just jarred. Everything seems fake and the atmosphere had a flat, plastic quality I really didn't expect. Even the beautiful beach was compromised by the creep of nearby hotels, offering loungers and cabanas at prices that would make the Fyre Festival organisers blush.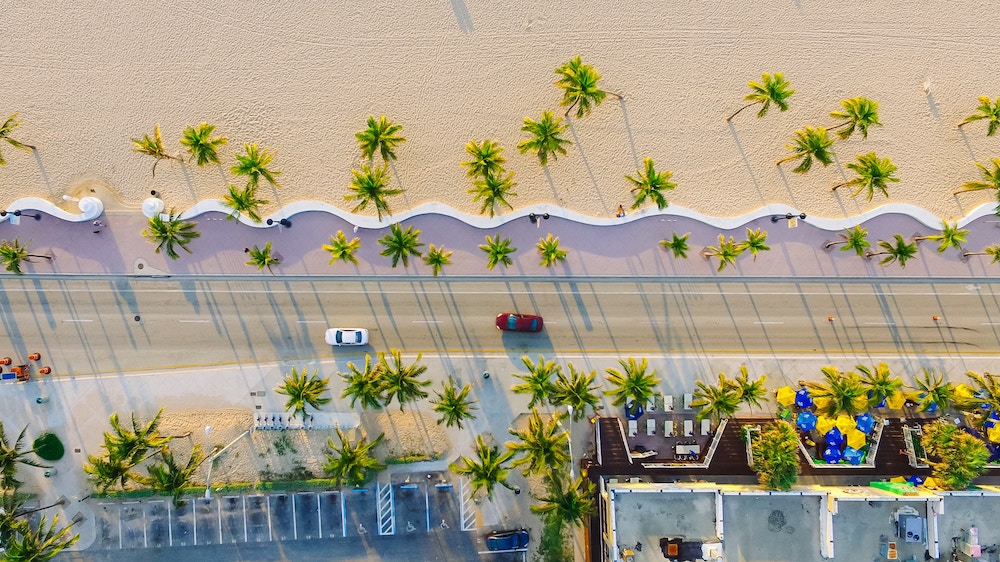 In Miami's defence, it was a pretty dumb decision to bring a two-year-old child to this notorious party town. The final reality check came when we attempted to gain access to the Versace Mansion – notorious as the spot where flamboyant fashion pioneer Gianni Versace was gunned down in 1997. Now a 'luxury' hotel, this iconic location not only offered a ghoulish spectacle, but also the promise of a much-needed bathroom. Sadly, we were refused entry by a particularly officious model/receptionist, who took one look at us and decided we weren't fit for this palace of bad taste.
Enough was enough. Time to escape Vice City for our last hope of holiday salvation. So we began the long, crawling car journey through Miami's outskirts and desolate satellite towns (wishing we could've nicked a Police helicopter or gangster's powerboat instead) to the Florida Keys – a glittering island archipelago that extends from Florida's base into the Gulf of Mexico.
By contrast, the island-section of the drive must rank as one of the world's most stunning. The 'Overseas Highway' improbably threads together islands in an impossibly scenic route down to Key West – an island that's physically closer to Havana than Miami. The road is an extraordinary achievement – as impressive for its feats of engineering (its network of 42 bridges would surely now fail even a Boris Johnson infrastructure assessment) as it is disturbing for the environmental impact of plonking a 113-mile road through paradise. And this is a true paradise; a designated National Marine Sanctuary boasting exotic mangrove islets and the continental United States' only living coral barrier reef.
You could feel the collective relief as we moved further away from Miami – replacing that city's misplaced cocksureness with somewhere considerably more straightforward and chilled. Like Miami, Florida Keys has a strange time-warped quality to it – with diners and basic, low-rise hotels squeezed into the gaps between highway and ocean. As you might expect given its location, the atmosphere is a quirky mixture of Caribbean and Deep South. The locals and tourists, however, are almost exclusively white, middle-aged to elderly and LARGE. Fried fish, beer and spirits dominate the menu and everyone follows the gargantuan consumption philosophy of the Key's most famous resident and alcoholic, Ernest Hemmingway.
But what the Keys do deliver is an incredibly beautiful destination for good-old-fashioned family fun. The people are friendly and welcoming, while the sight of wildlife like dolphins, pelicans and giant tarpon fish felt strangely life-affirming after the urban chaos of Miami. So as I sat in the hotel's tiki bar watching a glorious technicolour sunset over the ocean – manly Pina Colada resting in my hand – I reflected that maybe Florida isn't so bad after all. But unlike the veteran bank robber who can't resist going back for "one last job", this writer will certainly not be returning to Vice City.