Port visits Villa Lena, the Tuscan hotel doubling as an artists retreat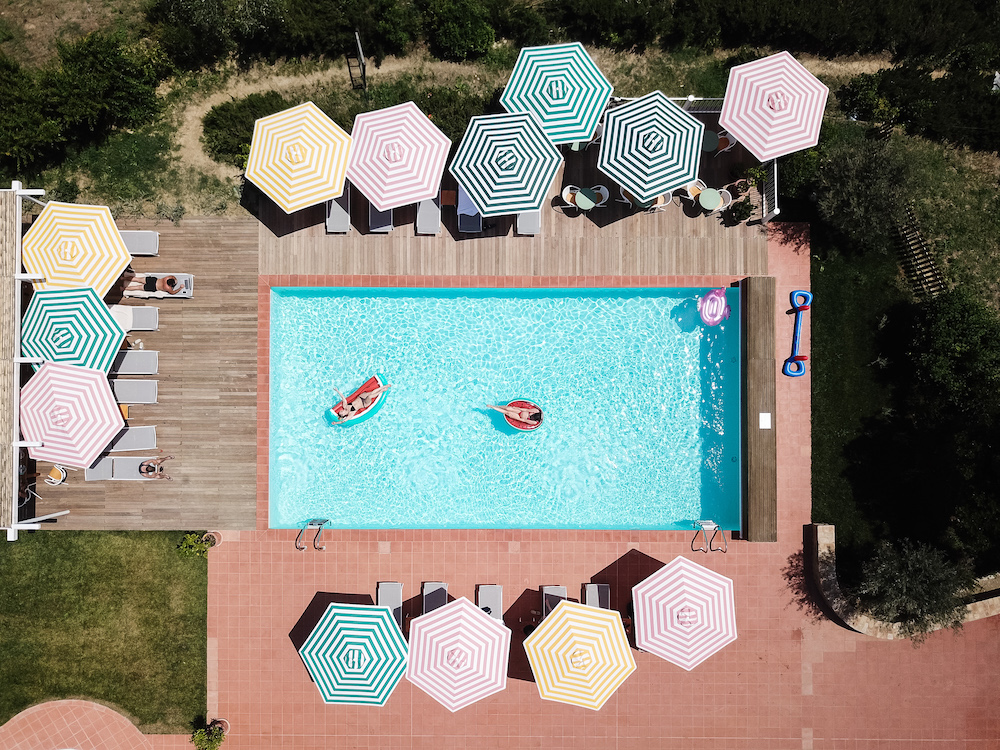 Ihhro, our truffle-hunting dog, has found something. His gruff wordless master, Massimo, gently breaks the earth with his spade before the Lagotto Romagnolo hurriedly digs. "Basta!" An intensely fragrant tartufo bianco gem the size of a child's fist is pulled from the ground before Ihhro can eat it, a rare find by all accounts. An hour later I'm grating the prized fungus on top of some fresh cappelletti pasta I've just shaped, finished with butter, Parmigiano and pepper. The Church in the Middle Ages labelled truffles 'devilish' and warned their congregation against eating them – I can testify they really are that good. Newly met strangers swap stories down a long, communal table, savouring every Ricotta parcel. While this Autumn lunch feels close to paradise, it is just another day at Villa Lena.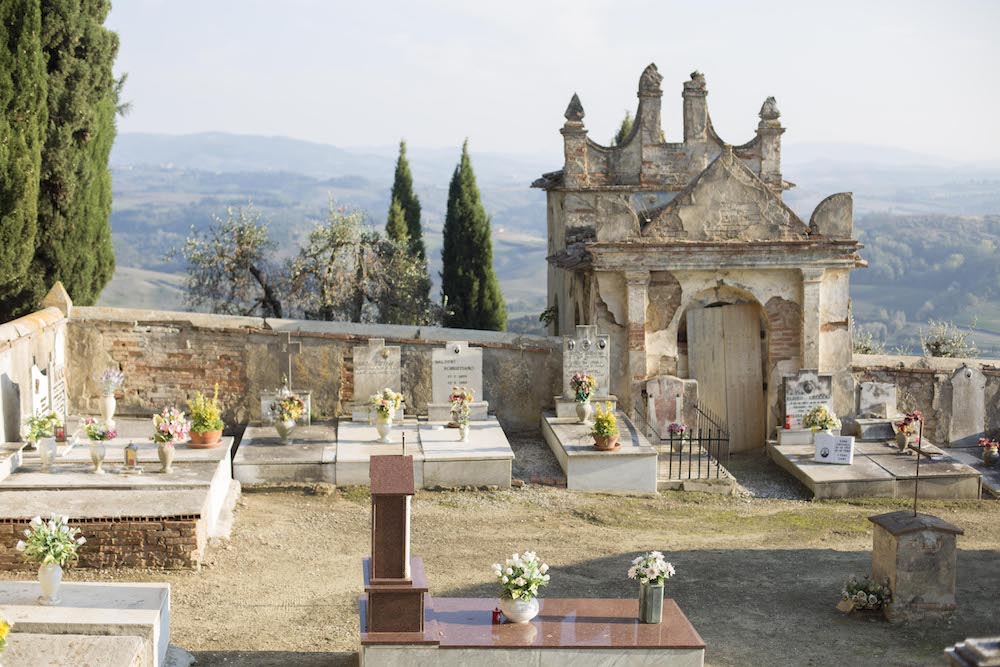 Situated between Pisa and Florence, the land we are resting on is named after the archangel Michael, who has a chapel devoted to him inside the Villa. Dating back to the late 19th Century, the estate was first purchased by the aristocratic family Augusto and Tereza Del Frate. Becoming a locus for revelry, hunting and agriculture, the property changed many hands following WWII and eventually fell into disrepair, before being renovated and redeveloped by art gallerist Lena Evstafieva, her husband Jérôme Hadey (a musician and producer who counts RZA as godfather to his son) and their friend Lionel Bensemoun, the renowned Parisian restaurateur. Re-opening as Villa Lena Agriturismo in 2013, the entire estate stretches to 500 hectares, offering 11 apartments, a farm-to-table restaurant and an artist residency program. "Italy is a country that's very easy to love" notes Evstafieva. "We wanted our property to be different, neither luxury nor economy. It was important to integrate all sorts of price points so we could allow different audiences to stay with us. Marrying a hotel with a residency seemed like the natural thing to do."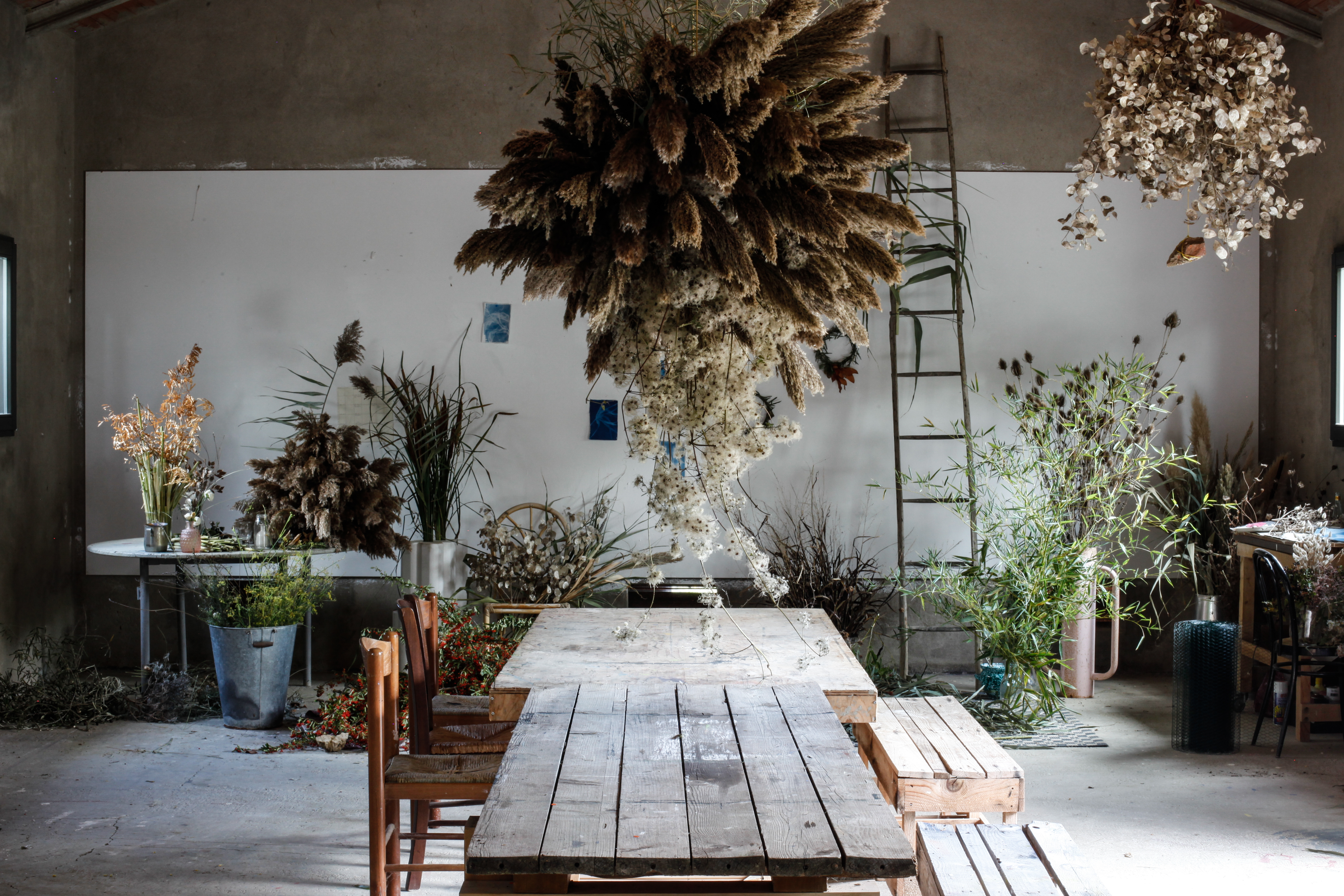 Perched atop looping Tuscan hills, the residency program acts as a kind of sun-kissed, bohemian Bauhaus. Contemporary artists from around the world apply for six-week residencies, living and eating alongside regular guests while enjoying studio space and classes organised by fellow creatives. Myself and my partner take part in a flower crown workshop run by a German botanical-art duo, layering wild flora foraged from the surrounding forest to a wire frame. In the late evening sun, I ask Evstafieva why the art foundation was established. "We wanted to create a space that was democratic. I worked in the contemporary art world, which is a wonderful place, but like any industry it can get quite isolated, self-referential, insulated to other spheres of expression. We wanted to create a residency that is actively against that, that is inclusive, which is why we have such an eclectic mix of artists. Underlying this whole project was the idea of creating a comfortable, open, tolerant space, where people could be intrigued and bound together."
Running from April to October each year, the program leans towards visual artists but has accepted a range of disciplines – from photographers to ceramicists, furniture designers to filmmakers. Who has been one of the Villa's most memorable visitors? "A couple of summers ago," replies Evstafieva, "a classical pianist was scheduled to do a residency. He insisted we install a grand piano for him, he wouldn't play on any other. It took 15 people to jam it through the narrow doorway! He played such incredible concerts on these hot August nights – it felt like a scene from Call Me by Your Name."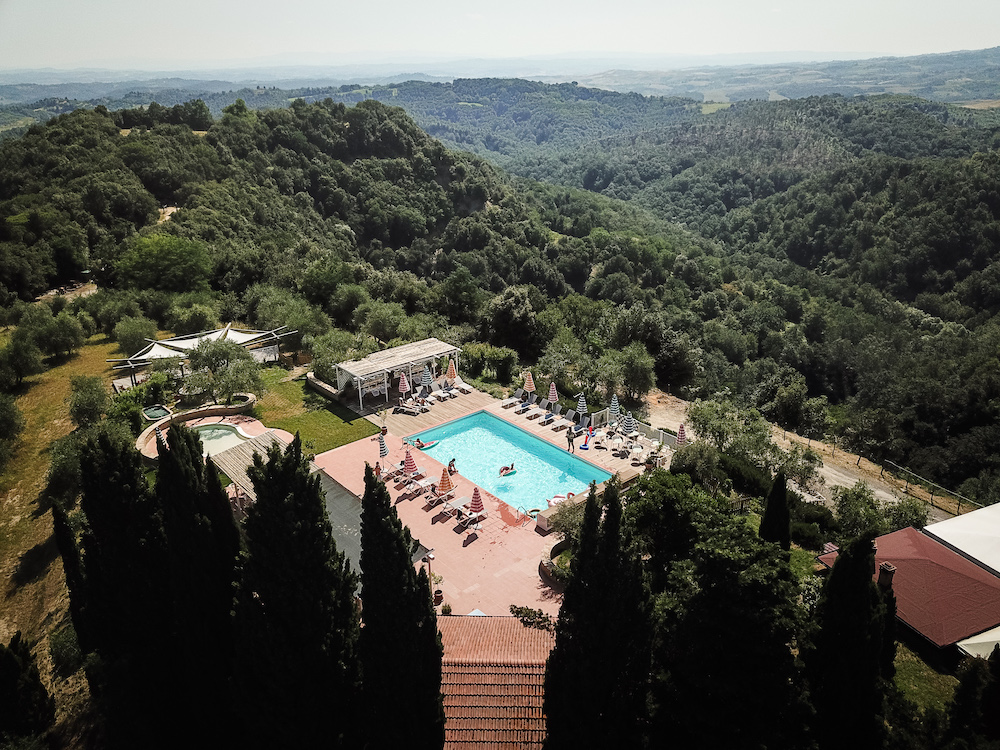 Every artist that passes through is requested to donate a work at the end of their residency. Now, over a thousand are dotted around the estate, and many can be found hanging in the minimally designed, pastel palette rooms that in a former life were hunting lodges and farmhouses. Using only local materials, the Villa does an excellent job of preserving the original soul of their buildings, gently adding contemporary flourishes. London and Oslo-based studio Hesselbrand have recently renovated the Fattoria stables into additional rooms and staying there is a pure delight, Carrara marble and timber wood soaking up flooded light.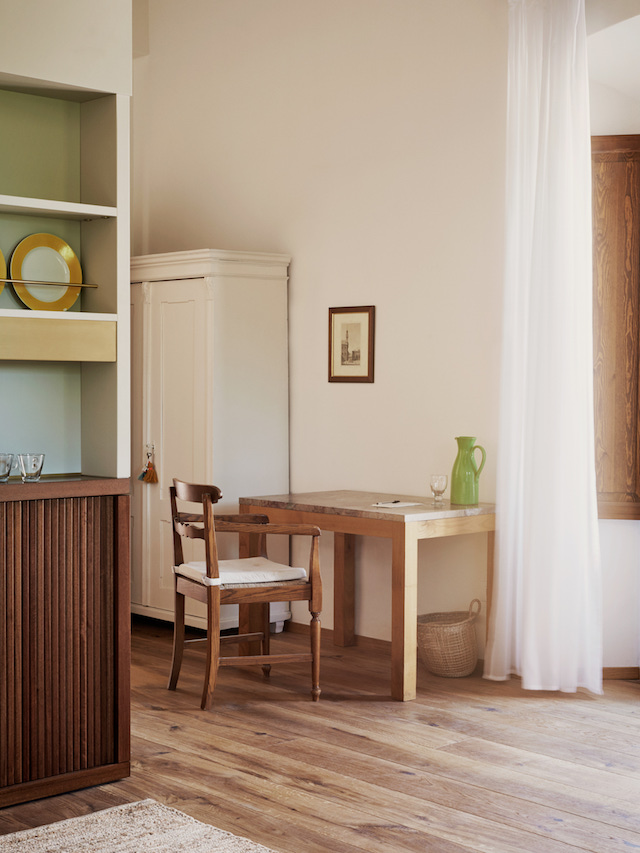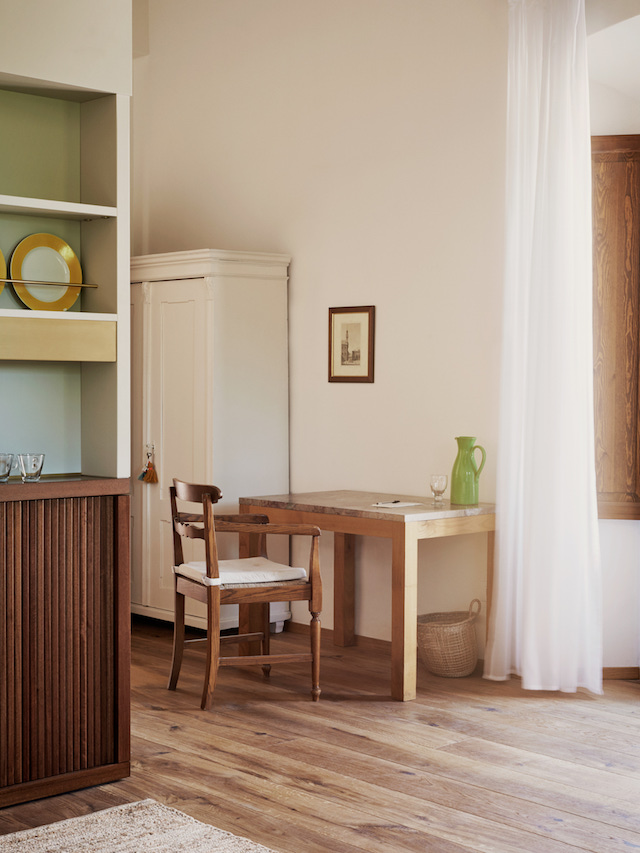 They are a short stroll from both the San Michele restaurant and main pool, the former of which serves a seasonal menu using organic produce from the villa's vast vegetable garden filled with asparagus, artichokes, figs, strawberries, squashes, cauliflower, melons and more, as well as ethically hunted wild boar, pheasant, red deer, mouflon and rabbits from the surrounding land (personal highlight from my stay was the wild boar ragù with parpadelle). To be expected from an Italian farm, it also houses rich olive groves and vineyards that produce exceptional oil and wine. Overseen by biodynamic farmer Pietro Castellani, who joined in 2016, the farm operates on a closed loop system and aims to be wholly sustainable within a matter of years. For Evstafieva, placing sustainable food at the centre of the Villa was a logical decision: "We have all this land, and nothing is better than a freshly picked tomato from a hundred metres away. Our restaurant is powered entirely by renewable energy, so although we're using ancient soil to grow our food, we're forward thinking. Agriculture needs infrastructure, in particular it needs water, so we've had to figure out how to effectively conserve and recycle it. With every renovation, we install filtration systems that allow us to recycle water used in the shower and baths, and we collect rainwater to irrigate our agriculture. Over the next couple of decades, the Villa can grow in so many different directions and I want as many people to come here and enjoy it as possible."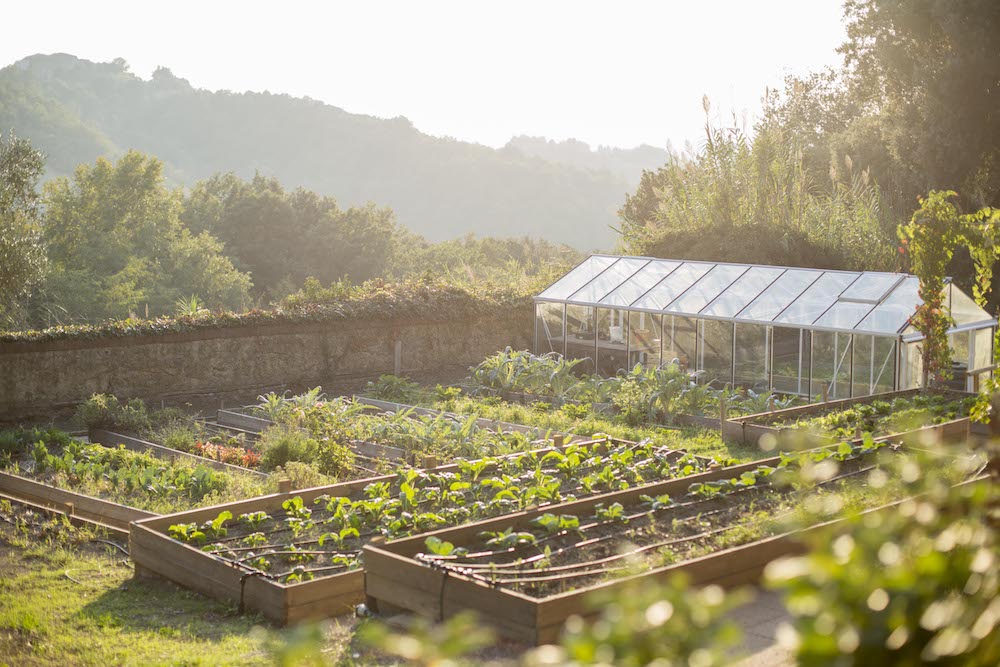 Everything you could possibly want can be found at the Villa, but I was feeling adventurous. Lucca, San Gimignano and Siena are within driving distance, however I decided to cycle to the quiet Medieval village of Palaia, nestled on one of the highest ridges that divides the valley of Arno from the Valdera. Sitting down in the Republic Square, I order a glass of Aperol alongside some Nocciola ice-cream. A pregnant cat sunbathes nearby the Torre dell'Orologio, the civic clock tower, while bronzed pensioners play cards. The cobbled stone is warm underfoot. Evstafieva is right, Italy is very easy to love.