Comedian Mike Birbiglia makes his London debut with a show about learning to love – logic be damned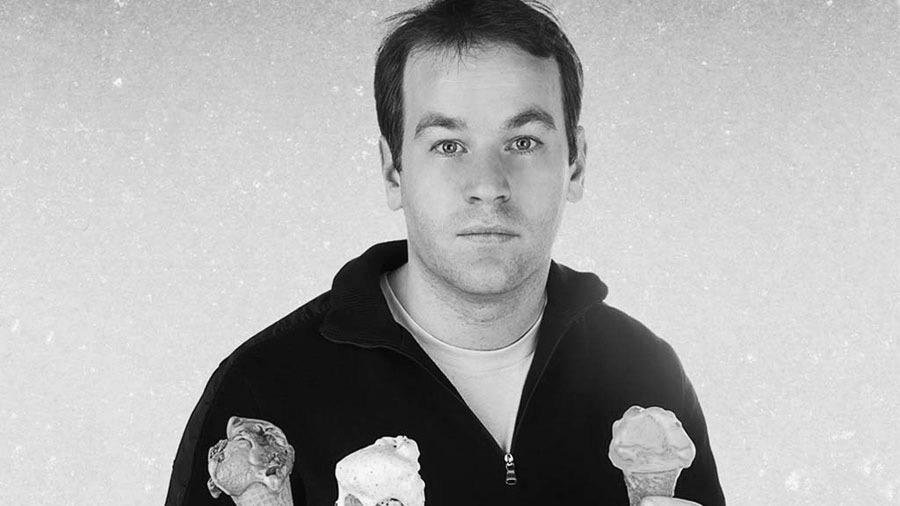 .
Listeners of PRI's This American Life series will be familiar with American comedian Mike Birbiglia, a regular contributor to the award-winning radio show. It may seem a mystery then why he's waited so long before venturing across the pond, an experience he likens to "asking out a hot office co-worker": it might end in marriage, but then again, it might result in five years of awkward exchanges around the water-cooler (or water dispenser, as we Brits call it).
Birbiglia shouldn't have worried: My Girlfriend's Boyfriend is a triumph in comedy theatre.
The story is simple, juxtaposing the romantic experiences of his adolescence – the awkward brace-face kiss that claimed his 'mouth-virginity'; the girlfriend with a second boyfriend; a pavement-pizza inducing spin on the Scrambler at a fairground – with the equally illogical and funny experience of falling in love as an adult when the 'braces' are his receding hairline and expanding waistline.
Birgilia knows his routine inside out: a technical hitch that fires out distortion through the theatre's speakers becomes part of his routine as runs through his performance, helicoptering around the stage as a fairground ride, re-enacting his first kiss – "Kissing it sort of like watching a dog eating spaghetti" he announces, slurping at the air, tongue wagging – and the fateful moment when, driving to a friend's house after a missed gig and argument with his girlfriend, he's T-boned by a drunk driver.
He arrives at the message of his performance with equal force, for My Girlfriend's Boyfriend is a show about love that manages to avoid the usual clichés associated with matters of the heart. Romance and logic are often at odds, but through his routine, Birbiglia makes a convincing argument that the two can co-exist in harmony, logic be damned. "It's how I feel".
My Girlfriend's Boyfriend runs at the Soho Theatre until 26 May