Virginia Lebermann and Rocky Barnette from West Texan restaurant The Capri share their recipe for tempura-fried huauzontles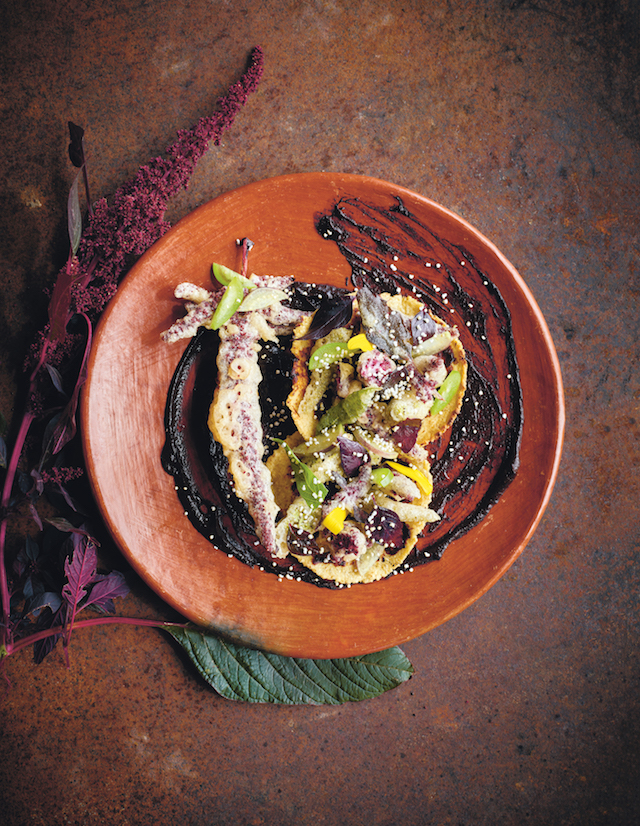 Five years ago we became members of Native Seeds/SEARCH, a seed-saving nonprofit, and I ordered and planted some Hopi Amaranth. Unlike its green Mexican cousin, it comes in a bright crimson, similar to the colour of red beets. With the help of the Marfa winds, it has self-seeded every year and grows like wildfire in the desert. Huauzontle is the Mexican name for amaranth and is also the name of a traditional preparation: The flowers and tender leaves are dipped in an egg batter and deep-fried with a salty chunk of cheese sandwiched within and then served with a thick red salsa. Inspired by this preparation, we tried to lighten it up and subtracted the cheese and tempura-fried the huauzontles instead.
Serves 6
6 tbsp amaranth seeds
Soybean oil, for deep-frying
2 cups (275 g) cake flour
2 tbsp tapioca flour
1 tbsp mesquite powder
2 1/2 cups (590 ml) club soda (soda water), very cold
24 Hopi amaranth flower heads (3–4 inches/7.5–10 cm long)
24 Hopi amaranth leaf bundles
Pink Himalayan salt
FOR SERVING
4 tomatillos, husked, and each sliced into 16 wedges
24 small and tender Hopi amaranth leaves
Diamond Crystal kosher (flaked) salt
1 lime, quartered, central pith sliced off
1 cup (240 ml) Recado Negro
12 tortillas of your choice
1/2 cup (120 ml) Salsa Pasilla
24 sunflower petals
Heat a 4-quart (4-liter) saucepot over medium-high heat. Add 2 tablespoons of the amaranth seeds, cover, and shake until you hear the seeds popping. Pour the popped amaranth out onto a sheet pan and repeat with the remaining amaranth seeds, 2 tablespoons at time. Trying to pop it all at once creates too much steam and won't allow the amaranth to pop, leaving it to burn on the bottom of the pan.
Pour 4 inches (10 cm) of soybean oil into a deep-fryer or deep heavy pot. Heat the oil to 350°F (177°C).
Sift together the cake flour, tapioca flour, and mesquite powder into a bowl. Pour all of the cold club soda (soda water) into the flour mixture and stir with the fingertips of your dominant hand just until the batter comes together and there are no dry spots, 10–15 times. Do not over mix.
Working in batches of 8–10, dredge the amaranth flower heads and leaf bundles in the batter and immediately drop into the fryer while constantly stirring the oil with a spoon. Once they are evenly browned, 3–4 minutes, remove from the fryer and place on a cooling rack or paper towels to drain. Season immediately with Himalayan salt. When all the flower heads and leaves have been fried, set aside 6 of the finest-looking flower heads and cut the rest into 1-inch (2.5 cm) pieces.
TO SERVE
In a small bowl, toss the tomatillos and small amaranth leaves with kosher salt and a squeeze of lime.
Divide the recado negro among 6 plates. Place upon this 1 reserved flower head and 2 tortillas slightly overlapping. Dress each tortilla with a spoonful of pasilla. Arrange the cut huauzontles and fried leaves on the tortillas. Garnish each with the dressed tomatillos and amaranth leaves, the sunflower petals, and popped amaranth. We serve this at room temperature because it is generally pretty hot around amaranth season, when this dish is typically on the menu. 
Cooking in Marfa: Welcome, We've Been Expecting You by Virginia Lebermann and Rocky Barnette of The Capri is published by Phaidon (£35) phaidon.com