Nike releases its new sustainable collection for Tokyo 2020, set to be the hottest Games on record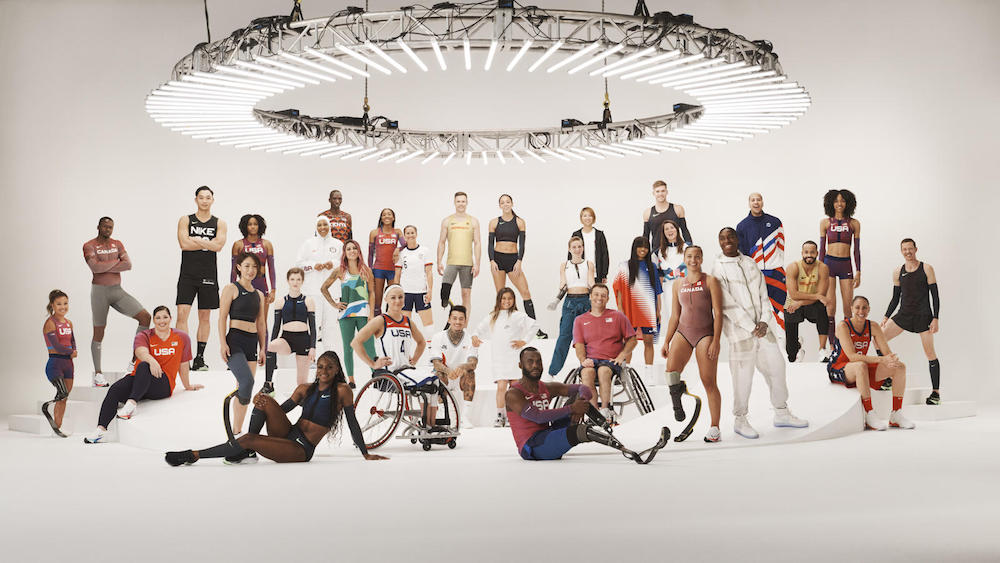 The Tokyo 2020 Olympics is going to be hot, in all senses of the word. Last year saw an average summer high of 33 degrees, 6 degrees above the 30-year norm, with ten million tourists expected to descend on Japan's capital. Fifty-six years after organising the first Asian and live telecast Olympic Games, the sprawling metropolis has had to repeatedly rebuild portions of the city due to recurring and increasingly aggressive earthquakes, tsunamis and typhoons. Recognising that the Games are not only a sporting event, but a global platform to raise the urgency of climate action, Nike has released new sustainable collections for running, skateboarding and Team USA. The NEXT% platform, introduced by Kenyan marathoner and world-record holder Eliud Kipchoge, will also now move into new disciplines following its success in distance running.
"What's at stake isn't just records, but the future of sport itself", notes Nike president and CEO John Donahoe, "In Tokyo, we'll help the world's best reach new levels of performance with our revolutionary platform, while sharing real solutions for the barriers all athletes face under rapidly changing climate conditions." Below, we take a look at some of the innovative new pieces.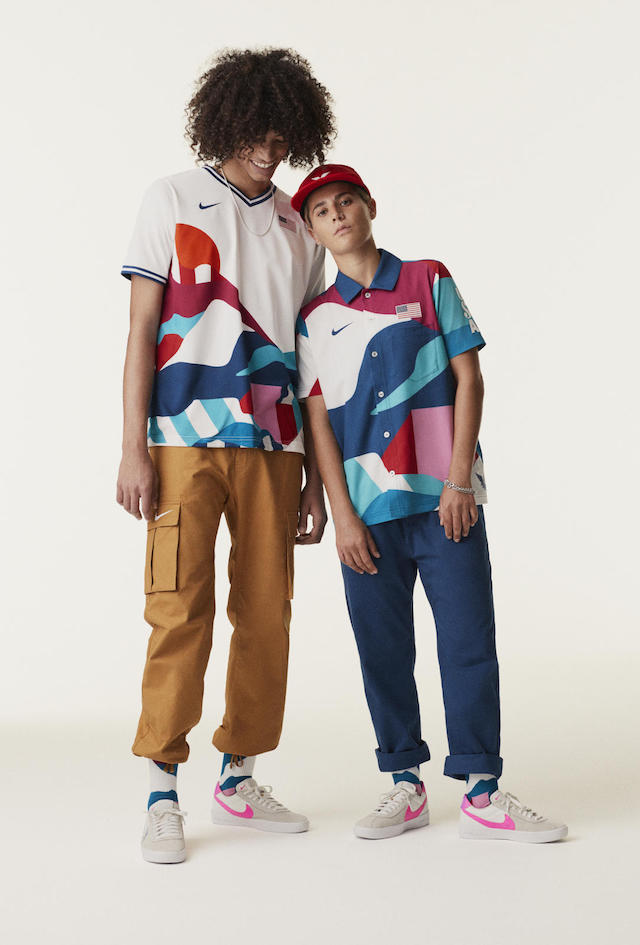 Nike SB Skateboarding Kits
For the sport's debut, Nike SB has created some incredibly playful kits together with Dutch artist Parra for Team USA, France and Brazil, designed with 100% recycled polyester and pattern efficiency for minimal waste.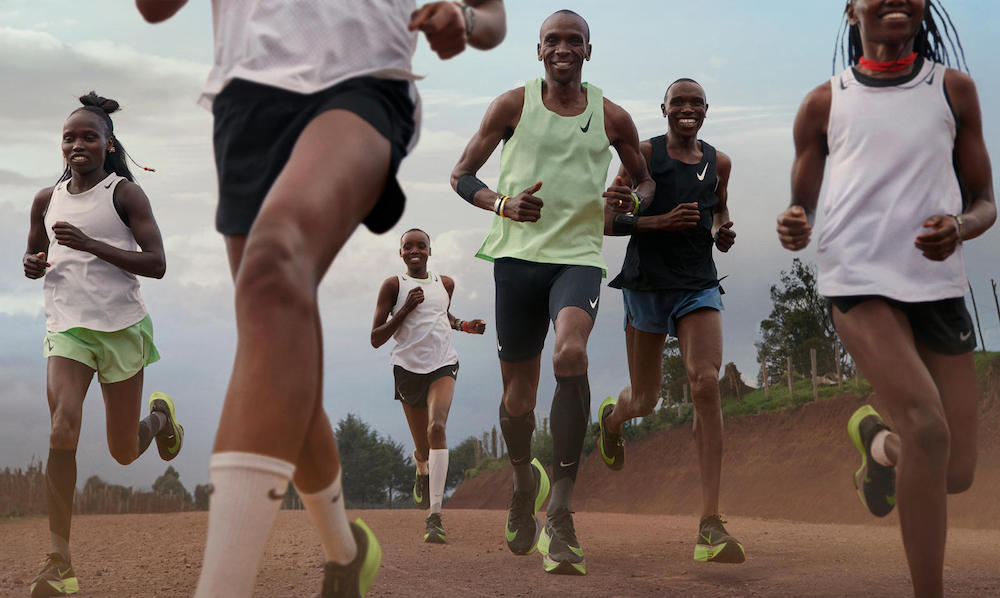 Nike Air Zoom Alphafly NEXT% 
These shoes set records. Eliud Kipchoge wore a prototype version of these when he ran a 2:01:39 marathon in Vienna last year. This summer they will make their official debut, now with an updated carbon fiber plate and an ultra-breathable upper, intended to improve running economy even further.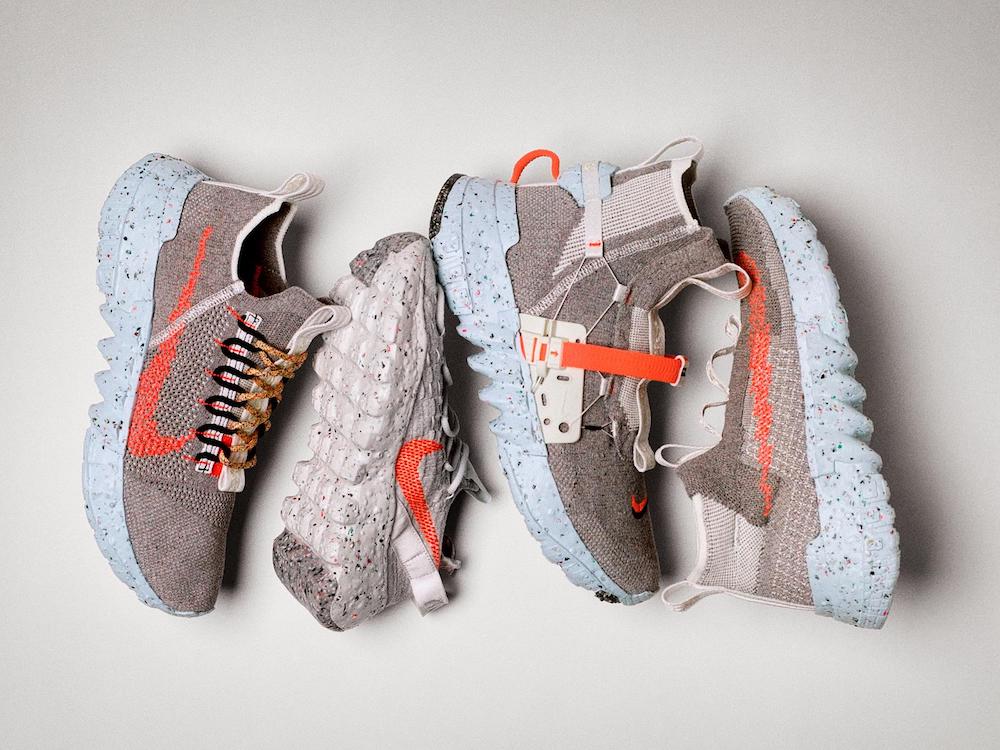 Space Hippie
Built from transformed scrap metal from factory floors – what the design team has 'space junk' – these shoes are a great example of circular design. From material to production to packaging, every aspect of the capsule collection make it the brand's lowest carbon footprint footwear to date.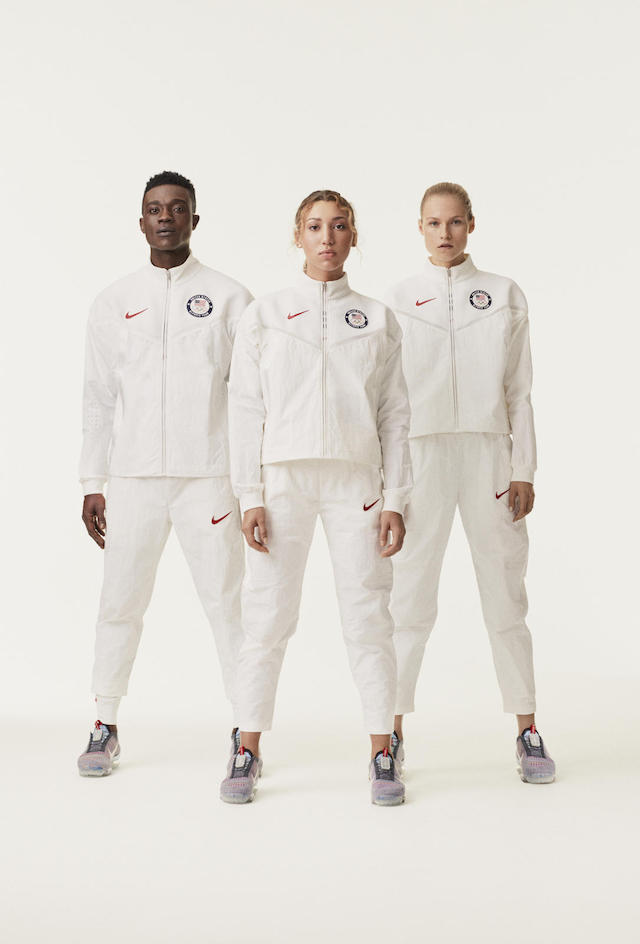 Team USA Medal Stand
When Team USA (inevitably) win lots of medals, they will be wearing their most sustainably designed stand uniform. The instantly recognisable Windrunner jackets have been remade with 100% recycled polyester, while the trousers are 100% recycled nylon. Complimenting these will be the recycled-rubber Nike Grind trim and the Nike Air VaporMax 2020, built with recycled manufacturing material and precision-knit uppers for minimal waste.