Merlin Labron-Johnson, the Michelin-starred chef behind Osip, shares a recipe for issue 28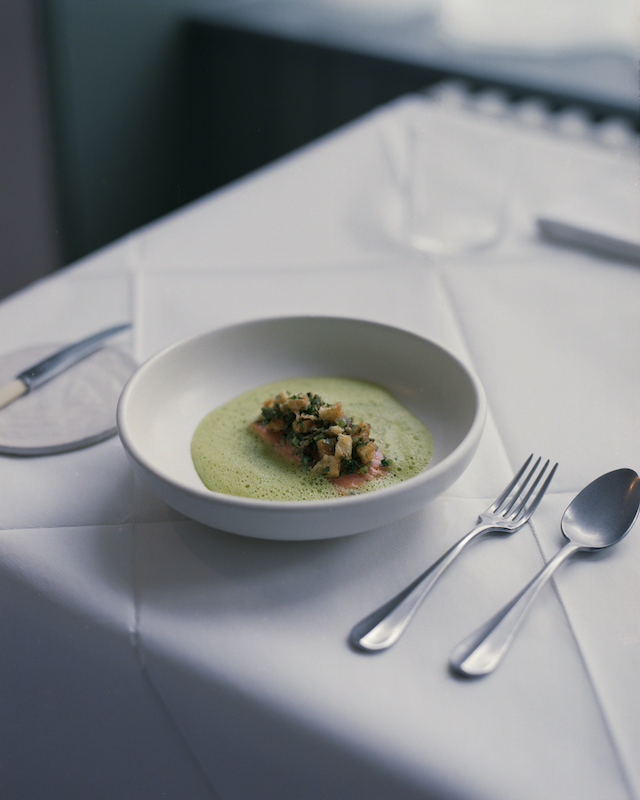 Ingredients
500g trout fillet, scaled and pin boned
50g rock salt
10g caster sugar
1 shallot, finely sliced
400ml water
1 glass of dry white wine
100ml cream
1 handful parsley leaves
1 handful wild garlic
1 lemon
3 large leeks
75g butter
1 slice of old bread, crusts removed
Olive oil
Method
Place the trout flesh side up in a dish large enough to sit in the fridge. Mix the rock salt with the caster sugar and smear over the flesh of the trout. Grate over the zest of one lemon. Leave for four hours before rinsing the fish, making sure to remove all the salt and sugar. Use a clean towel to dry the fish fillet and return to the fridge uncovered for another few hours to allow the fish to dry out a little.
Wash the leeks well and separate the green part from the white part. Roughly chop the green part and place in a saucepan with the water. Bring to a boil and cook for 30 minutes on a gentle simmer before straining through a sieve. You will use this leek broth for your sauce. Slice the white part of the leeks as thinly as possible and sweat very gently in 25 grams of butter for 30 minutes without any colour. Season with salt and set aside.
Preheat the oven to 150 degrees.
Put the shallots and white wine in a saucepan and bring to the boil. Cook until almost evaporated and then add the leek broth and cream. Cook for a further 10 minutes then transfer to a blender. Separate the leaves from the stems of the wild garlic. Add the leaves and half the parsley to the blender and blitz until smooth and bright green. Return to the saucepan and add the remaining butter. Season with salt and keep hot.
Cut the trout fillet into four even-sized pieces and place in an ovenproof dish. Drizzle a liberal amount of olive oil over each piece, cover the dish with foil or a lid and place in the oven for 15 minutes. Dice the bread into tiny cubes and fry in a little olive oil. Chop the wild garlic stems and the remaining parsley as finely as you can. Reheat the leeks.
After 15 minutes, the trout should be lightly cooked, flaky and a little bit raw in the middle. Remove from the oven and top with the chopped parsley, wild-garlic stems and fried bread.
Divide the hot leeks between four bowls. Place a piece of trout in each bowl. Give the wild-garlic broth a good whisk and pour a little onto each plate, serving the rest in a jug on the side.

This article is taken from Port issue 28. To continue reading, buy the issue or subscribe here