Childhood friends Joe Talbot and Jimmie Fails create a cinematic love letter to a city in flux with their debut feature The Last Black Man in San Francisco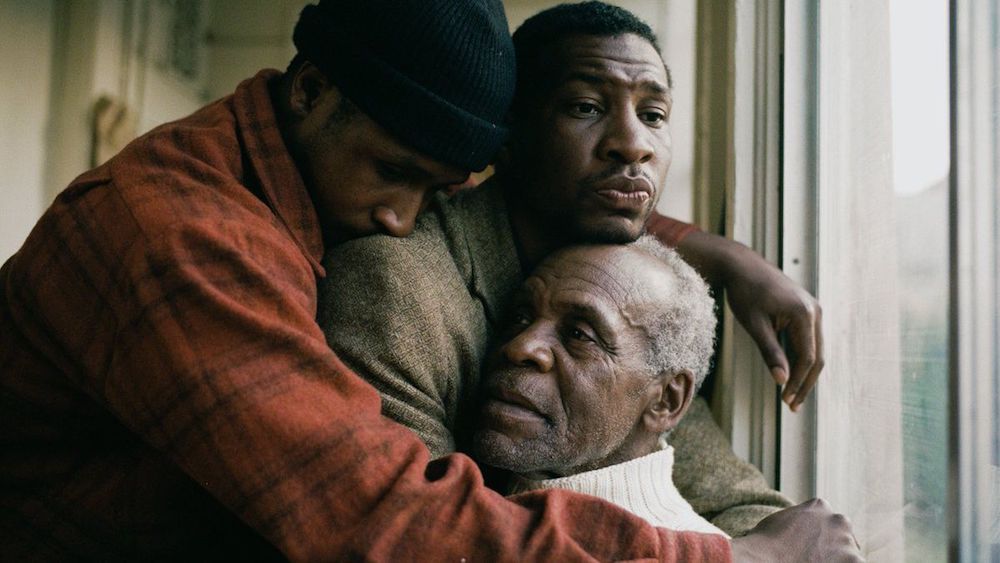 Our childhood homes are often the sites of our earliest and most visceral memories. Embedded deep in our subconscious, they come to form part of our personal mythologies – the place where we first belonged. Jimmie Fails (playing a fictionalised version of himself) is a young man living in San Francisco, determined to reclaim the sprawling Victorian house in the historic Fillmore district, built by his grandfather in 1946 and once his childhood home.
We learn that Jimmie regularly returns to the house, touching up the paintwork and pulling up weeds in the garden, much to the consternation of its current owners – a white middle-class couple who aren't charmed by this uninvited caretaker. When, by a twist of luck, the house is vacated, Jimmie sneaks in and starts hatching a plan to make it his own. Having spent years in a boys home, the house stands as a totem of the happiness and stability he once knew. In one of the film's most heartbreaking scenes, Jimmie encounters his estranged mother on a bus. As the two exchange niceties politely across the aisle, their shy glances betray the gulf that has grown between them with time.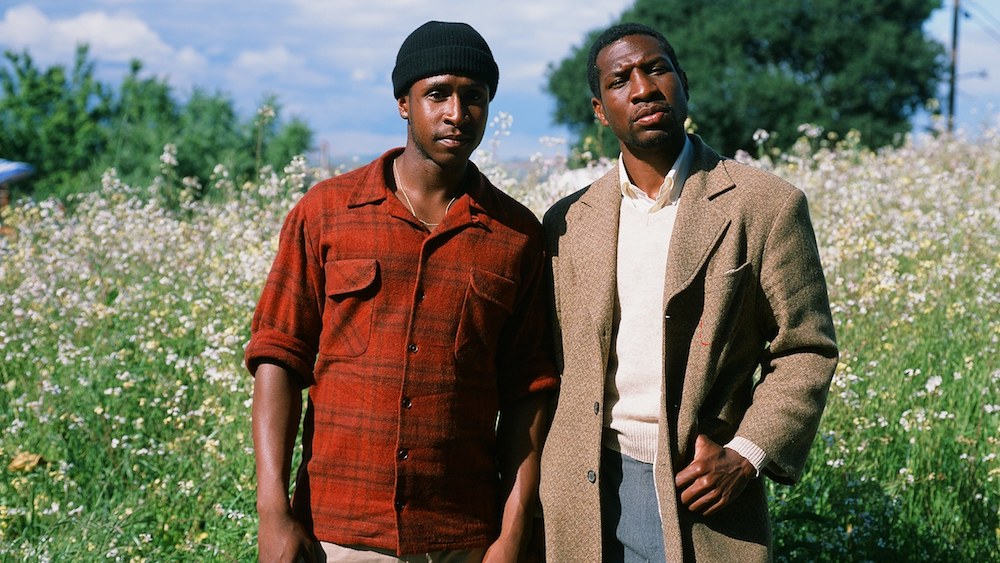 Jimmie, with his beanie and skateboard, represents an image of masculinity that sits in opposition to those around him: whether it's the group of African-American men who gather on the street insulting each other in affectionate camaraderie or his father who bluntly informs him that the neighbourhood he lays claim to was never his own. His friendship with Mont by contrast is close and has a beautiful lived-in feel. Jimmie sleeps on the floor of his friend's cramped bedroom and evenings are spent in front of the television with Mont and Grandpa Allen (Danny Glover), their heads propped against each other as they laugh in the darkness: a tableau of cosy domesticity. Where Jimmie is a restless presence; Mont (played with great empathy by Jonathan Majors) is ever the dreamer and intellectual on the sidelines, a budding playwright referencing Stanislavsky and Brecht. Between shifts at a fish market, he is seen scribbling in his red notebook and rehearsing scenes from plays germinating in his mind.
Cinematographer Adam Newport-Berra translates Talbot and Fail's story to the screen with exquisite results: the dynamic tracking shots in exterior shots and carefully composed lighting in the palatial house lend the film a majestic feel. The luscious colour palette recalls the rich hues of William Eggleston's photographs. Splashes of tomato-red appear throughout – from Jimmie's flannel shirt to the red notebook Mont carries, or the glossy details on Jimmie's beloved house.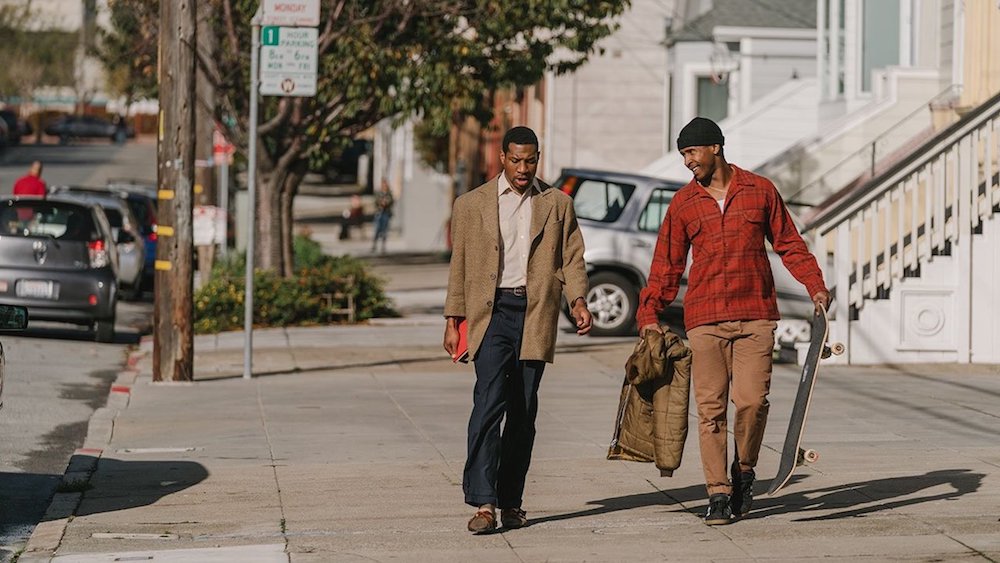 In the film's striking opening scene, the camera glides alongside the two friends as they traverse the city on a shared skateboard. A preacher recalls the city's history over the propulsive rhythms of Michael Nyman's 'Musique à grande vitesse', drawing visual parallels between the houses and people below: "their eyes', look at them look at you…look down at you. But we built them!" Once home to waves of immigrant communities, these candy-coloured monuments now serve as painful reminders of a legacy just out of reach. Cameos from locals including Danny Glover, Dead Kennedys frontman Jello Biafra and the rapper Willie Hen further add to the rich texture of the film. Composer Emile Mosseri creates a swooning soundtrack that elevates this simple tale to something that feels near-epic. The foghorns from San Francisco bay are echoed in the booming tuba and the deep timbre of the oboe evokes the warm opulence of the Victorian house.
There's a timelessness to the city portrayed: mobile phones make a rare appearance, Jimmie's father's sells bootleg dvds and Mont's play is advertised with flyers handed out in the street. A four-eyed mutant fish is a symbol of both the toxic bay and its longtime residents who find themselves aliens in their own city. Talbot choose to illustrates these social tensions with wry humour. After 'moving in' to his new home, Jimmie greets a fellow resident on the street, declaring "I'm going to be the best neighbour you ever had!". The man maintains his composure but is evidently discombobulated by Jimmie's mere presence in (one assumes) his predominantly white neighbourhood.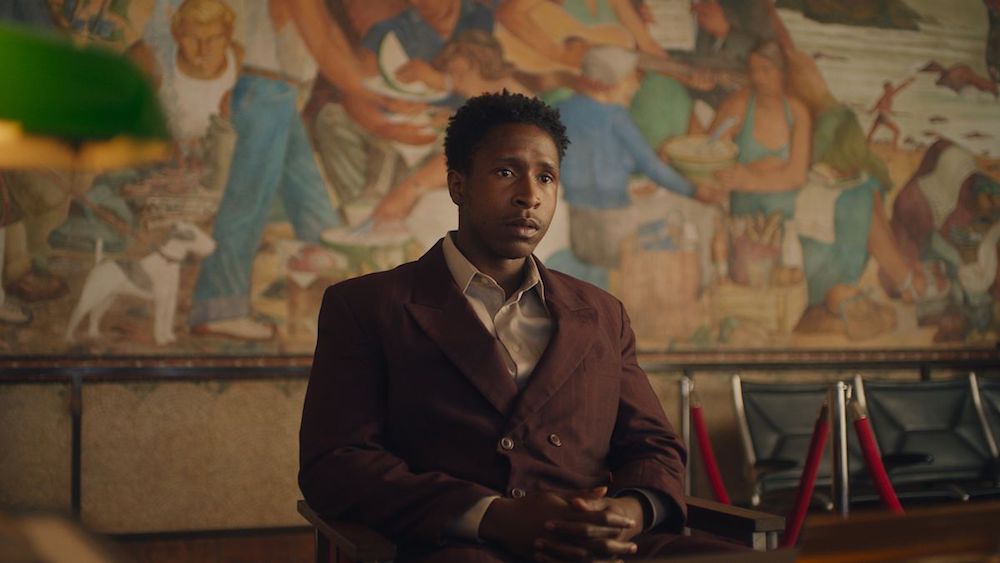 As Jimmie struggles to hold on to his dream, Mont asks "What if we shouldn't be here?" to which his friend replies "then we should be here more". Much like the nostalgia Jimmie feels for the San Francisco of his childhood – this is a film born, not out of anger, but love. It could be read as a tale of gentrification but is perhaps most powerful as a celebration of friendship, home and our inherent desire to belong.