Onitsuka Tiger's AW22 pays homage to the purity of 1980's Japanese design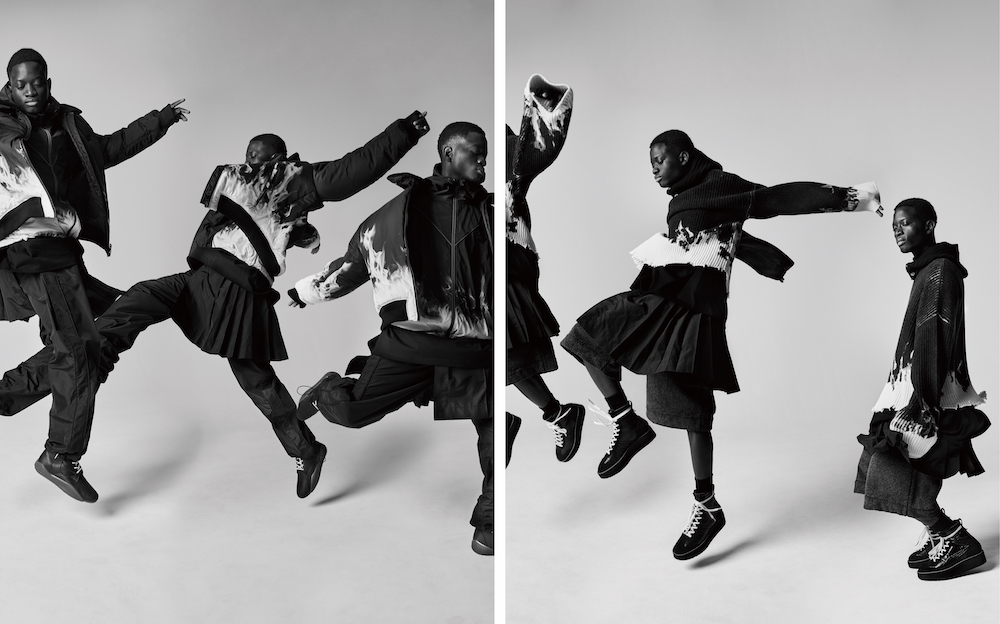 In the Western world, the 1980's were a time go big. See: shoulder pads, power suits, bouffants, spandex, and a garish neon palette. On the other side of the fashion coin was Rei Kawakubo and Issey Miyake, designers leading an avant-garde drive to redefine minimalism and deconstruction, exploring androgyny and asymmetry through largely monochromatic garments. It is this "purity and austerity" that ran counter to occidental extravagance that Japanese fashion brand Onitsuka Tiger has paid tribute to in its gothic inflected AW22. Built around the concept of "shadow", the completely black and white collection feels refreshingly contemporary thanks to flame and flower prints on hems, mini dresses with drawstring waists, and multi-pocketed waistcoats. Everything – inevitably, because of the brand's deep sports heritage – encourages movement, with generous silhouettes via ultra-oversized T-shirts, kaftans and maxi Bermuda pants neatly matched with voluminous boots and knit sneakers. Typical of Japanese ceremonial dress, clever layering was on full display at the runway presentation of the genderless collection.  
To celebrate its AW22, creative director Andrea Pompilio caught up with Port to discuss the enduring influence of the 80s and Japanese cultural heritage pieces that acted as a creative springboard.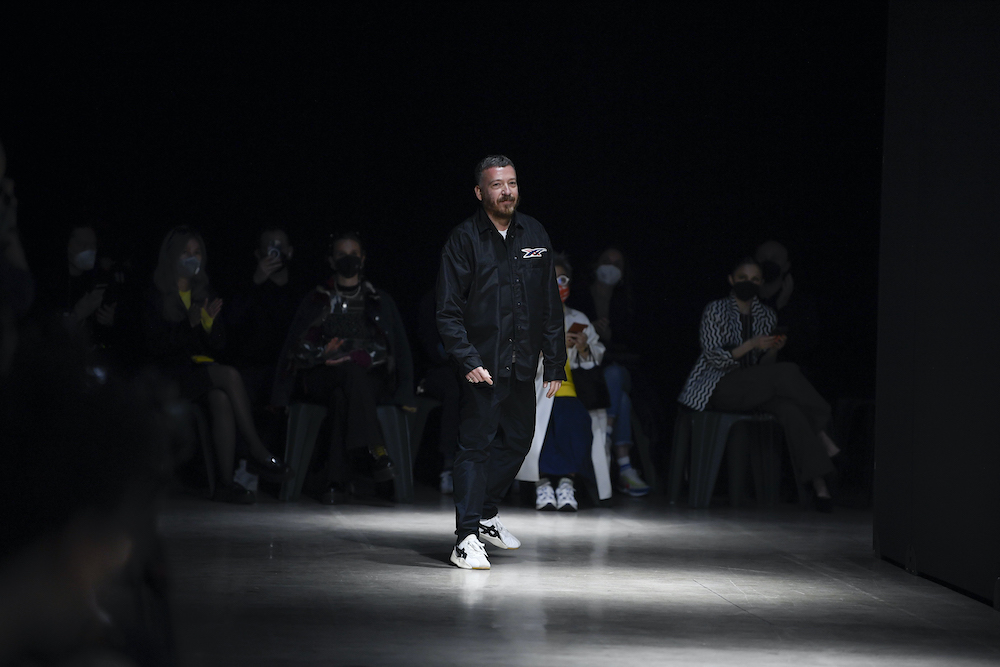 Could you talk about what inspired the collection? 
Andrea Pompilio: The 80s represented an explosion of Japanese fashion not only in the domestic market but internationally, and a total change from a period of maximalism to one of total minimalism. This was the initial inspiration that I tried to grasp through my eyes and reinterpret in a contemporary context, channeled through an extremely international cast for the campaign. I also wanted to include a particular tribute to the "Paw project" in the final release, the historical Onitsuka Tiger tracksuit, reinterpreted in a fabric studded with crystals.
The elements that inspire me from the Japanese fashion world are infinite, but above all what I have always found extremely interesting is how each person wears and interprets their clothes, as well as their construction. In this collection I tried to make sure that the people who wore the clothes all had a strong personality, like the ones I usually see walking through the streets of Tokyo.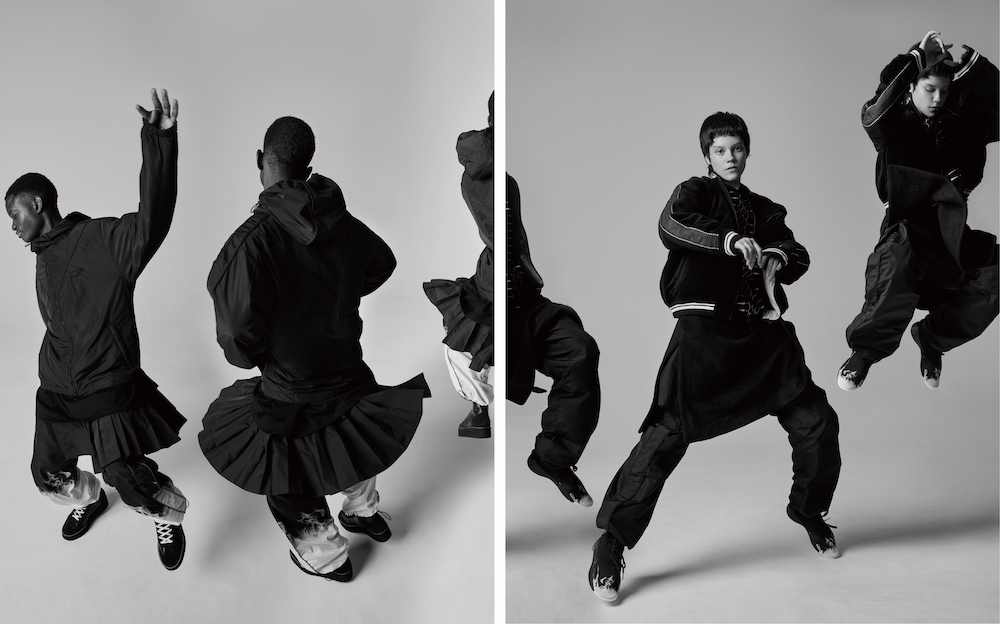 There is nowhere to hide with monochrome, what impact or focus do you think clothing has when colour is removed out of the equation?

AP: Colour perception definitely helps in the styling process. However, monochrome gives the opportunity to focus one's attention on the silhouette and proportions, creating a play of light and dark and textures.
Why was the 80s Japanese fashion aesthetic such an exciting contrast to what was happening in the West at the time?
AP: In the 80s, Italy and Europe in general went through an incredible economic explosion that was interpreted in fashion with opulent fabrics, silhouettes rich in details, and a maximalism that wanted to represent this abundance. On the other side of the world, however, the exact opposite was happening with a fashion characterised by minimalism, cleanliness, and the concept of "purity and austerity". From my point of view, this very strong contrast characterised and went on to influence the entire decade of the 90s.
How have you updated these principles and brought them into the contemporary world?
AP: By simply maintaining an Onitsuka Tiger aesthetic and bringing this form of purity and austerity back into unusual materials such as fleece and nylon.
What other materials did you enjoy working with for the collection? 
AP: It depends from season to season, in general for Onitsuka Tiger I always like to maintain a base of materials such as nylon and interesting Japanese jersey to which I add new materials seasonally according to inspiration or design needs.
What detailing and elements from rock / grunge / goth / metal or otherwise did you pull from?
AP: For each collection I always try to maintain a common thread that respects the values and heritage of Onitsuka Tiger and, at the same time, follows my sensations and emotions of the moment to create a contemporary collection that combines fashion and sport. For AW22, I started from Japanese cultural heritage pieces like the Kimono, a ceremonial dress made of layers of different materials, and also drew from Tsuppari fashion, a young female group that began in the 70s who picked pieces from a man's wardrobe and mixed it with the classic school uniform to create new layers and unexpected volumes .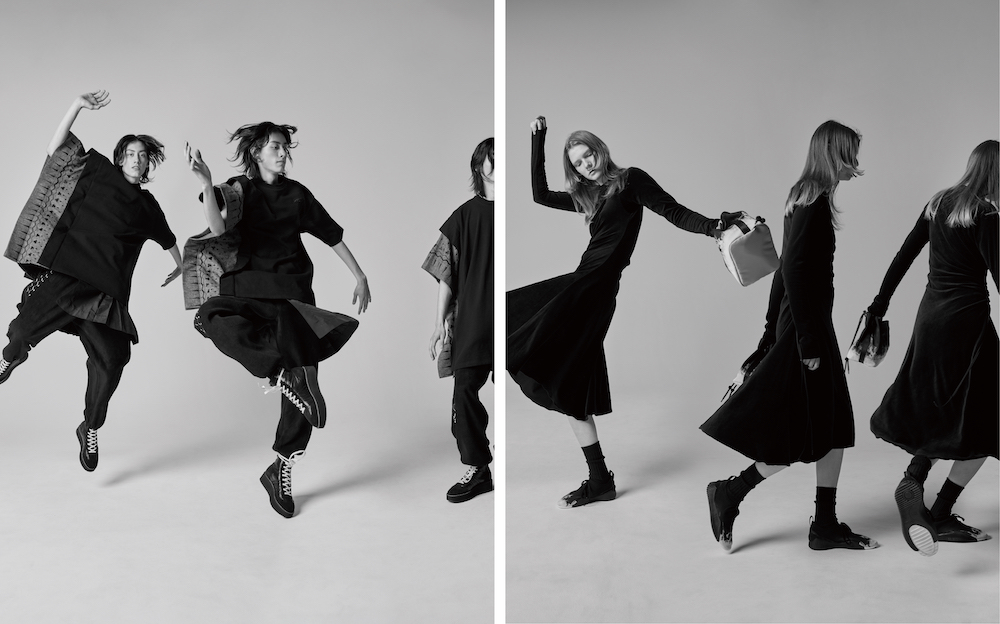 Do you have a favourite item from AW22?
AP: Of course the final look, the Onitsuka Tiger tracksuit. The new sparkling version represents both the heritage of the brand and new vibes.