Herschel Supply founders Jamie and Lyndon Cormack talk about the origins of the contemporary accessories brand, where the name comes from, and their connection to one of Canada's most diverse cities
We are all shaped by the places we grew up in and where we live today. The geographical circumstances of our lives, be it personal or professional, has as profound effect on us as the actual place, and the people living there help form us into who we are. Accessories brand Herschel Supply. is a good example as its products are partly defined by the unpredictable weather on Canada's west coast, but also the constant globetrotting by its co-founders, brothers Jamie and Lyndon Cormack. Bags are, after all, all about the journey, however long or short.
Vancouver is a city with two sides: sky-high mountains on one and the never-ending ocean on the other. What better starting point could any lifestyle brand ask for? On a recent trip to the brand's Vancouver HQ, we quizzed the Cormack brothers on their life in the Canadian city, why it ticks all their boxes and the company's backstory.
Where does the name Herschel Supply come from?
Jamie: The name comes from a little town, Herschel, where our great-grandparents, our grandparents and our father grew up. Our mum was actually from a town about a 15-minute drive away as well.
Lyndon: When we started Herschel Supply – being brothers and having to choose a name – we kept honing in on Herschel because it was where we had some history, family connections, and it was also one of favourite places in the world to visit. It's not on the map as a worldwide tourist destination, in fact there are only 30 people living there today…
Jamie: It was perfect for a couple of young kids who wanted to fire guns and ride motorbikes; there aren't any traffic lights or anything, so it's a bit like the Wild West out there. I don't think I've ever seen a police officer in Herschel. As a name, it doesn't mean anything to anybody. It's more about an emotion and a memory of a place that was special to us. It has nothing to do with Vancouver, it's more about nostalgia.
So you guys never lived there. You grew up in Vancouver?
Lyndon: Well, we grew up in Western Canada, but we've lived in Vancouver longer than we've lived anywhere else in the world.
Jamie: I certainly won't be leaving Vancouver anytime soon either, as it's definitely one of my favourite places.
Lyndon: Yes, it's an amazing city, ticks all the boxes really.
Why's that?
Jamie: It's a very worldly city. A lot of people travel and move here; it's a lovely melting pot society with good food, a diverse culture and a great inclusive nature.
Lyndon: To be able to live in the city on the water and be this close to the mountains… that is the perfect mixture for both of us.
Is Canada a little like the US in terms of the East and West coast being the cultural epicentres?
Lyndon: Absolutely yes. It's very similar whether you compare Los Angeles to New York, or East versus West. It is definitely more city life on the East coast and it's more 'city meets nature' in the West coast. We have more in common with Portland and Seattle then L.A. Much like San Francisco, Vancouver is very outdoor/indoor living, and with somewhere like Toronto – the biggest city in Canada – it's more of a concrete jungle.
Would identify more with West coast America than East coast Canada?
Jamie: I would say so, yes. As individuals, certainly, but as a brand it doesn't matter. Herschel Supply is as comfortable in New York or Toronto as in the middle of a forest.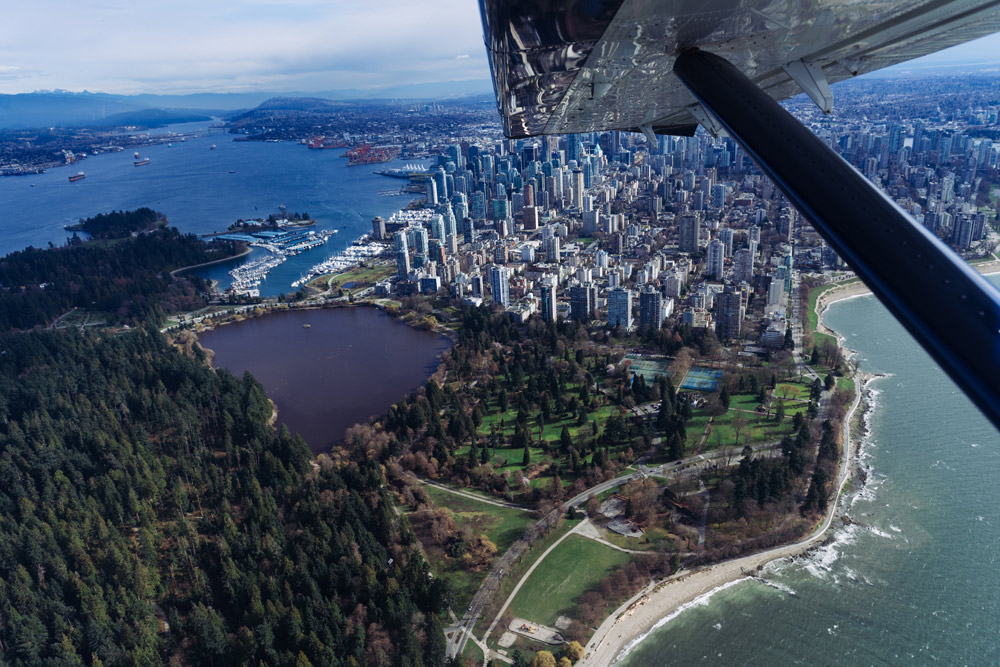 Can you highlight a few things that you think attracts people to your city?
Jamie: I think that the locals in Vancouver embrace what surrounds us really well and the city naturally gravitates to its best highlights – it's something both tourists and locals alike celebrate, whether it's the huge viewpoints or amazing hikes, or the fact that we're surrounded by the Pacific Ocean. Plus, we're a city on the base of a mountain.
Lyndon: When the city gets dark in the winter there's three ski hills that are open for night skiing across the area within 15 minute drives away.
There's a very diverse community in Vancouver. What nationalities the congregate here?
Lyndon: There's lots of Hong-Kongers, Chinese, Japanese and Korean people living here. We also have a large South African population – I think it's like 130,000 people now and it's quite a large community within British Columbia.
That must have a great effect on the local food scene?
Jamie: You definitely have to eat sushi here… We're on the Pacific Ocean and with salmon being such a staple dish for us, that's a given. But it's also great to sample the way Japanese sushi chefs and their take on salmon. Another of my favourites is a Belgian restaurant called Chambar, where we tend to eat there quite a bit. I think the restaurant we go to most often is a little one by our houses in Deep Cove called The Arms Reach Bistro, which is situated right around the corner of the the main street that overlooks the yacht club and the Pacific Ocean.
Where are you based in Vancouver?
Jamie: Our offices are in a really nice design district called Railtown and right beside that is Gastown, where you find a number of different incredible clothing shops. It's around the corner from Livestock, which is an amazing sneaker destination.
Could you have created the brand anywhere else, or does Vancouver help define what you do?
Lyndon: We really consider ourselves citizens of the world rather than citizens of Vancouver. I love living in Vancouver and calling it my home, and even though I like to get out there and see other countries and cities, I always love coming home. For me, that is really my test to see if you're in the right place or not!
Photography Stephen Wilde