Melda Auditia's structural, hand-crafted graduate collection seeks to examine the notion of femininity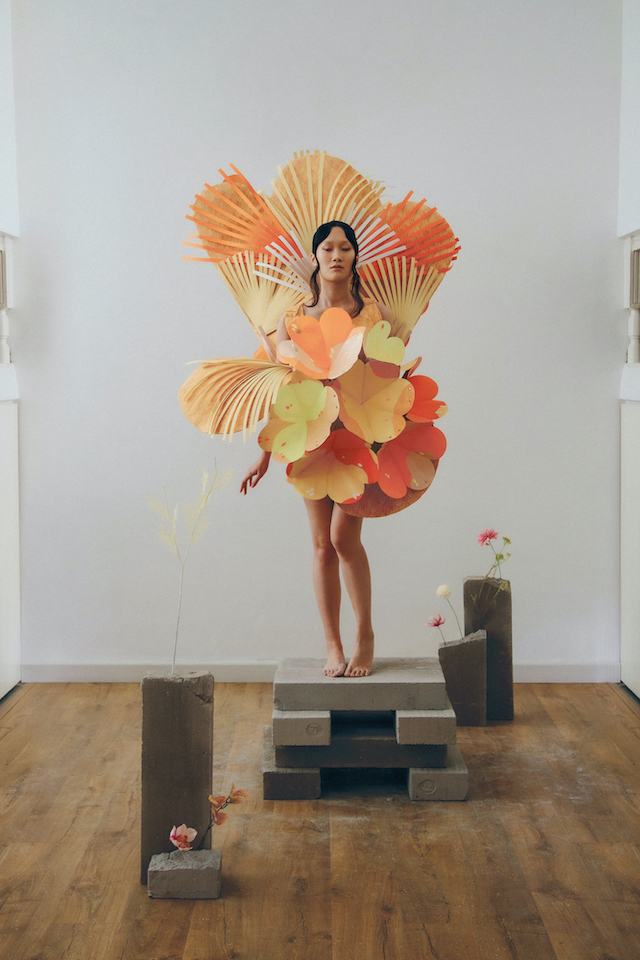 Growing up in Indonesia, Melda Auditia was surrounded by craft. From pottery and textiles to jewellery and ceramics – plus the rich, natural fibres used to build them – needless to say that this exposure would steer the work of Melda, affecting both the composition and themes addressed in her own creations.
The designer, who's now living in Tokyo, learnt to appreciate the process of handcrafting from a young age. "That's what made me fall in love with fashion in the first place," she tells me. The skill of making a quality garment or object from hand takes mastery, time and patience, which is a welcomed contradiction to the constant hum-drum of city life in Tokyo. "Life in Tokyo is incredibly fast-paced, so it's super easy to forget that there are so many beautiful little details in my surroundings. But one thing I've learnt to do is to carve out the time to slow down and take in the little details, because when I let myself absorb everything, that's when I get inspired."
While pursuing a degree in fashion design at Bunka Fashion Collage in Japan, Melda began to employ the use of textiles and fabrics as a way of exuding her love of handcrafted processes. But, equally, it was also perceived as a way of discussing cultural and social issues that were greatly affecting the world. And this is exactly how Bloom was borne; a collection comprising large-scale flower dresses that seek to examine the subject of femininity.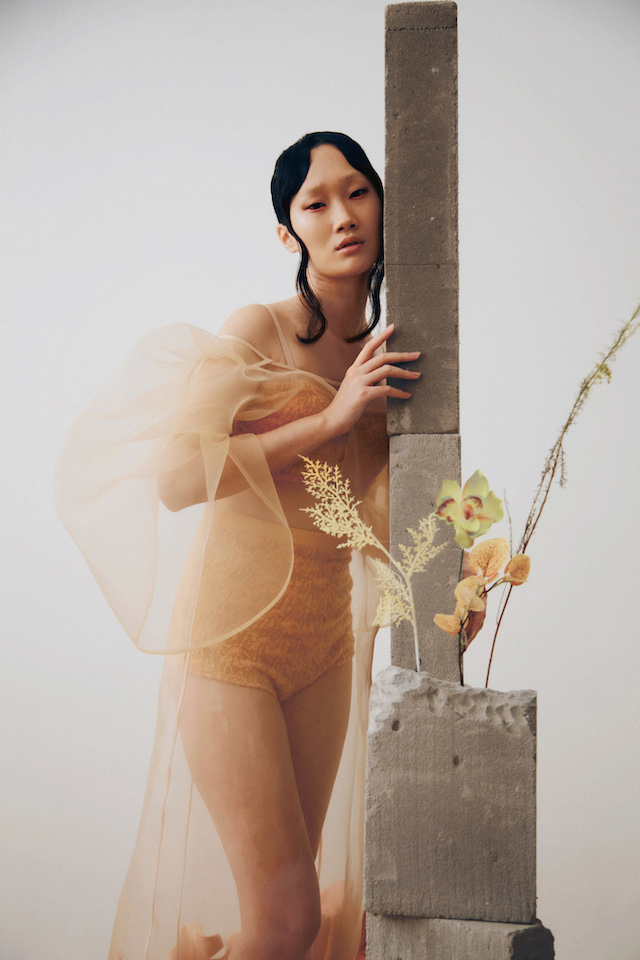 Shrouded in soft pastel tones and textual wefts hanging from the shoulder, the artfully delicate compositions found in Bloom are paired with structural elements, like the panels that hang from arm to hip, cinched in corsets, sashes and, most characteristically, the structural – almost sculptural – addition of flowers and petals. Construed from subtle silhouettes and an "explosion" of colours, Melda's use of materiality is just as important as the meaning attached to it. From sturdy high pressure laminate (HPL) to soft organdy, she toys with different processes and marries them into her own unique vision: using hand-painting, silkscreen, hand-cut petals to form the blooming flowers to achieve her goals.
Not just a beautiful foray into nature and form, the collection also turns a sharp eye onto the concept of femininity and how this is perceived throughout daily life. "Growing up, I realised that society has all these gender boxes and its own definition of what it means to be a woman or a man," she says. "Since we were little, we have grown accustomed to suppressing our feminine sides: 'stop crying like a little girl'. That is what they would say to us women when we show the slightest emotion, or to men when they express themselves outside the box of gender we are all put in. But we often forget that, regardless of our gender, we all have a feminine side inside us."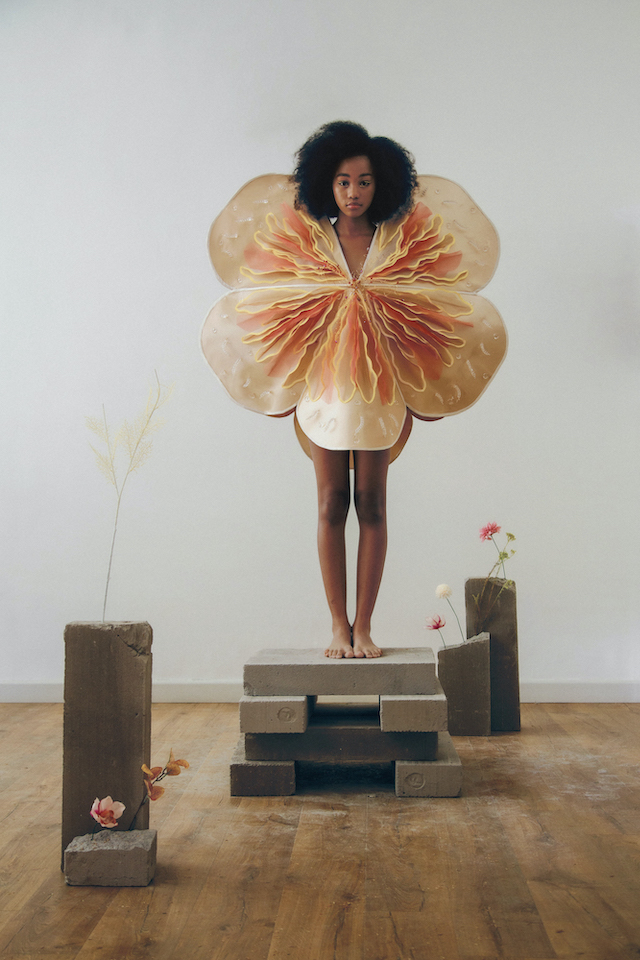 The symbol of the flower, then, has great importance in Bloom as well as in the wider context of gender and identity. By merging the natural form with a floral petal, for instance, the collection sings as a reminder that "no matter what gender we identify with, or how we look, there is that feminine side that lies within ourselves and there is no right or wrong way to express it," says Melda. The flower is widely interpreted as a feminine form, varying between cultures, place and time. "Throughout our lives, flowers have always been the symbol of femininity. Even as a kid, it was one of the first few things we came across that's immediately associated with femininity – no matter the colour and form." Rich in context and history, it makes for the ideal symbol to spread her messaging within this collection.
"But," she continues, "this collection is also about the journey of discovering out feminine sides, embracing them and letting them bloom. I want every piece to embody that journey as well, and the process of growth is very much similar to how flowers come to bloom." 
So who can we envision wearing these pieces, which are artistic and bold to the typical fashion barer? "There are some pieces that you can definitely wear on a day out, but there are also some pieces where I just went all out and let my creative freedom flow," she says. "But they're all very personal pieces, not just to me, but it can also be for whoever is wearing them. There is no one single person that I've made these pieces for. I feel like everyone has their own story, so I want these pieces to give whoever wears them the freedom to tell their personal story and experience it too."