In an excerpt from the acclaimed photographer's new book, Masayoshi Sukita strikes a life-long partnership with The Man Who Fell to Earth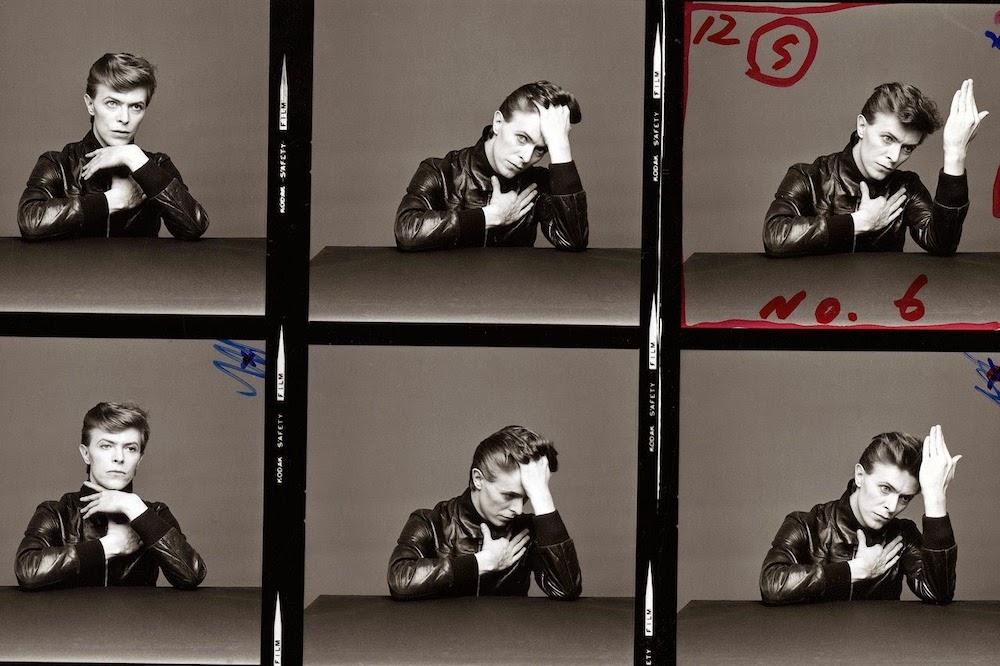 Walking around London after the T. Rex session, Sukita saw a poster of photographer Brain Ward's 'kick' image of David Bowie, which later became the cover for the worldwide re-release of Bowie's third album, The Man Who Sold the World. Sukita immediately bought tickets for that coming Saturday's 'Save the Whale' charity concert at the Royal Festival Hall, headlined by Bowie and Lou Reed. Surprisingly, he did so without a camera. Nevertheless, he was taken aback – 'It was completely new, innovative, extraordinary and incredible; it had a profound effect on me. One of the reasons why I was so inspired by seeing David for the first time was because he is not just a musician. He is also an artist and performer in the "underground" area. The way he acted on stage, his physical movement and "expression corporelle" were very different from other artists.'
The following week, Sukita and Yacco approached Bowie's manager, Tony Defries, to arrange a photo session. Despite Defries previously restricting Bowie's photographers to just Mick Rock and Leee Black Childers, Rock and Bowie liked Sukita's JAZZ portfolio, and a photo session was agreed. Sukita's timing was fortuitous, as Bowie was planning a tour of Japan in 1973. The two-hour shoot took place on 13th July 1972 in a studio rented from Japanese photographer, Hiroshi Yoda.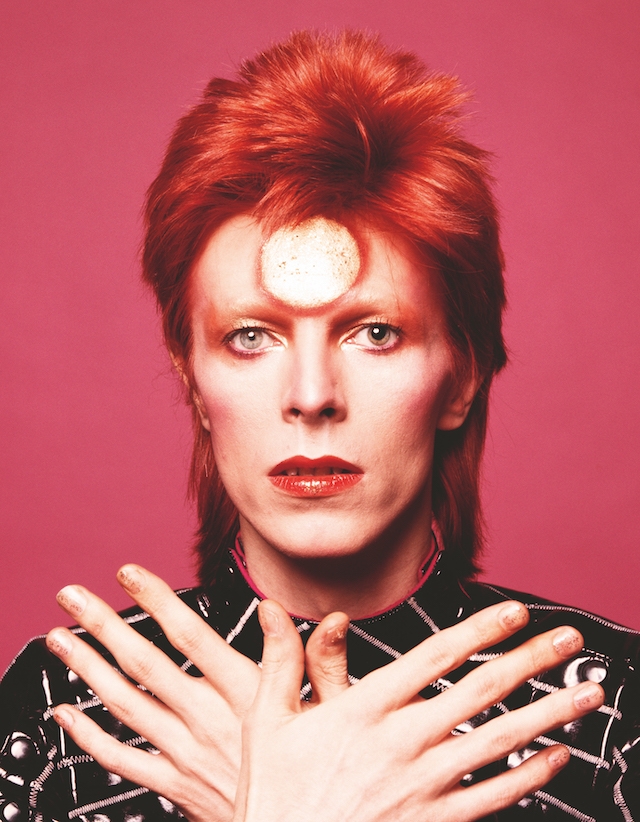 Coincidentally, Yoda had photographed the designs from Kansai Yamamoto's London show for the July 1971 issue of Harpers & Queen. Yoda's photograph of model Marie Helvin wearing a flame-red lion kabuki dance wig, designed by Sachiko Shibayama, would later inspire Bowie's Ziggy Stardust hairstyle, which was created by Suzi Fussey (later Suzi Ronson). Bowie referenced this influence in his lyrics: 'Ziggy really sang / Screwed-up eyes and screwed-down hairdo / Like some cat from Japan.' 'Ziggy' had also started shaving his eyebrows, emulating Kansai's models, and purchased one of Kansai's androgynous 'Woodland Creatures' outfits, which had appeared in the 1971 show.
Despite the nine-year age difference and the lack of a common language, Sukita felt very relaxed during his session with Bowie, which proved to be the beginning of a forty-year collaboration. Bowie's fascination with Japan (influenced by his early mentor, Lindsay Kemp) mirrored Sukita's interest in all things Western. One of the close-ups from the shoot became a giant poster in the foyer of the Rainbow Theatre, London, for the concerts Bowie played on the 19th and 20th August. As Sukita later commented, 'I was very pleased, as it proved that David really did like my work, and that was very important to me.'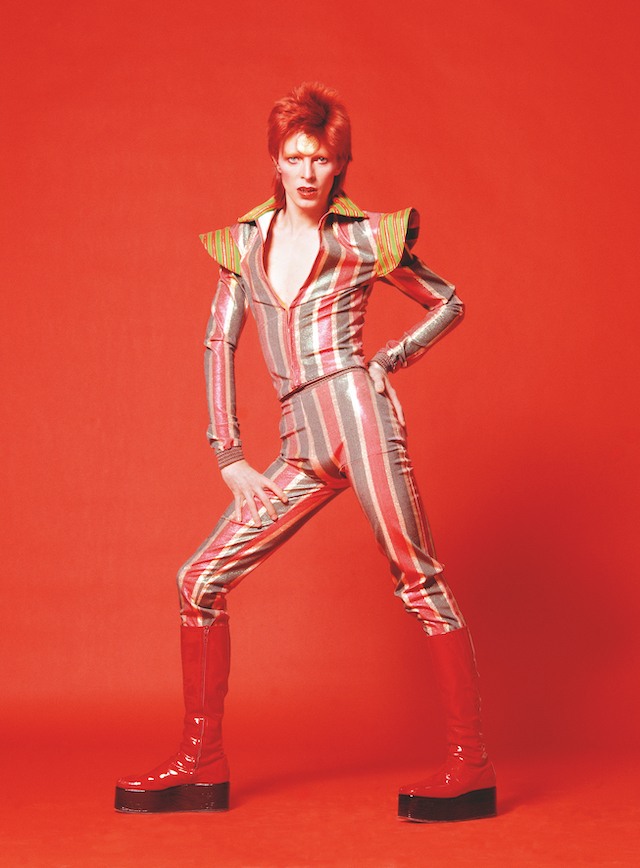 The Japanese fashion magazine an-an published some of the images from the shoot to a hugely positive reader response, leading Sukita to believe that Bowie would have a lasting influence in Japanese society. Sukita also photographed Bowie at the Rainbow Theatre, including the famous 'Backstage by Door' image.
In early February 1973, Sukita and Yacco travelled to New York for a photo session in RCA's Studio A on East 24th Street, ahead of the opening of Bowie's US tour. Yacco brought over several Kansai Yamamoto costumes, which looked 'marvellous' on David, as Sukita recalls, especially against the red backdrop Sukita used for the shoot. Yacco advised Yamamoto to fly to New York to attend the opening night. Backstage after the show, Yamamoto met David Bowie for the first time. He presented him with five new custom-made outfits, which were to form the core of Bowie's Aladdin Sane wardrobe. 'It was the first real connection between a designer and a rock star,' Bowie was later to recall.
Bowie sailed into Yokohama on 5th April to begin his first Japanese tour. Sukita felt that Bowie's arrival in the port city had echoes of Commodore Perry's incursions into Tokyo Bay in the 1850s. These events opened Japan to the West after 214 years of self-imposed isolation. Sukita acted as the official tour photographer and Kansai designed nine new outfits for the tour, based on traditional Noh drama costumes.
Sukita's work with David Bowie established his reputation as Japan's leading rock photographer. His fashion work diminished as a result. Sukita's first association with Japanese musicians was the cover of the Sadistic Mika Band's second album, Kurofune, which was released in 1974 and was produced by Chris Thomas. Later in the decade, Sukita worked extensively with Yellow Magic Orchestra, accompanying them on their first world tour.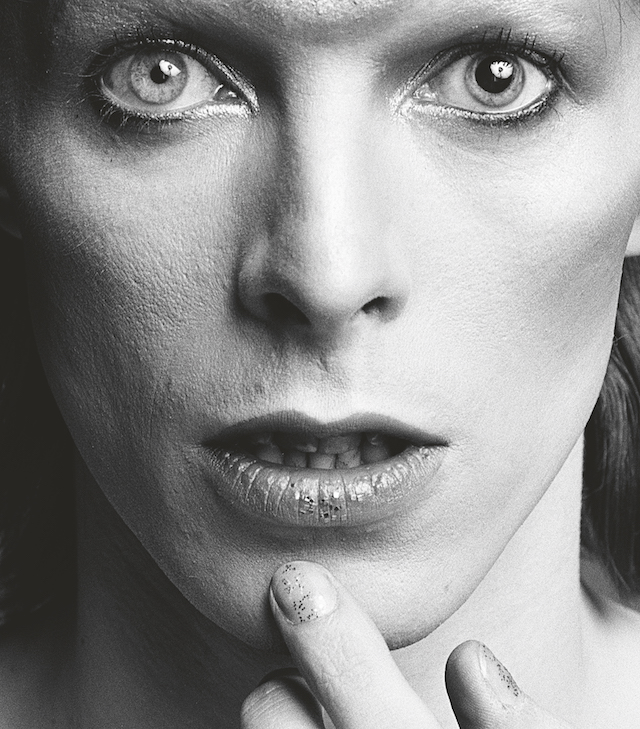 In April 1977, David Bowie and Iggy Pop visited Japan to promote Iggy's debut solo album The Idiot, which Bowie had produced. As neither musician had concert engagements, Sukita suggested an impromptu photo session. Bowie asked Yacco to find several black leather jackets, which she rented for the day. Sukita was able to borrow a tiny studio in Harajuku. He shot both musicians for one hour each, using a door frame in the foreground to provide a rougher 'feel'. For his session, Iggy Pop brought some wooden geta to mimic Tora-san, a famous Japanese film character, having watched one of his films on the plane over.
Of the twenty images Sukita sent to Berlin for review, Bowie chose Sukita's favourite, marked with a red dot, as the cover of his forthcoming album, Heroes. With that selection, Sukita believed 'my work had become part of his. That choice brought us together even more than before, and united us during a time of change in both our careers.' Bowie's unusual pose referenced the angular gestures of German painter Erich Heckel's Young Man print of 1910, and his 1917 painting Roquairol (which also inspired the cover image of Iggy's The Idiot, shot by Andy Kent). The Heroes session changed Sukita's approach to portraiture. He now prefers to let his subjects adopt poses and gestures by themselves, while keenly observing their 'worldview'.
The Heroes cover image was to join the Aladdin Sane cover image as one of rock's most iconic photographs.
It was voted 1977's Cover of the Year in a Melody Maker poll. In 2013 (to Sukita's surprise), the image was reused in Jonathan Barnbrook's design for the cover of Bowie's penultimate album, The Next Day, hidden behind a white square box. In 2014, Bowie again paid homage to the work in an Instagram post in which he replicated the pose in a Daft Punk helmet. Although Sukita remains very proud of the image, he felt that after the session, it was time to move on. 'It became an immediate classic, an eternal image like the album. But, for me, once that photo was taken, it already belonged to the past.'
SUKITA: Eternity is published by ACC Art Books 14th Jun 2021
All photography courtesy of Masayoshi Sukita and ACC Art Books