Port travels to Bogotá for the international art fair ARTBO, selecting the best work from Latin America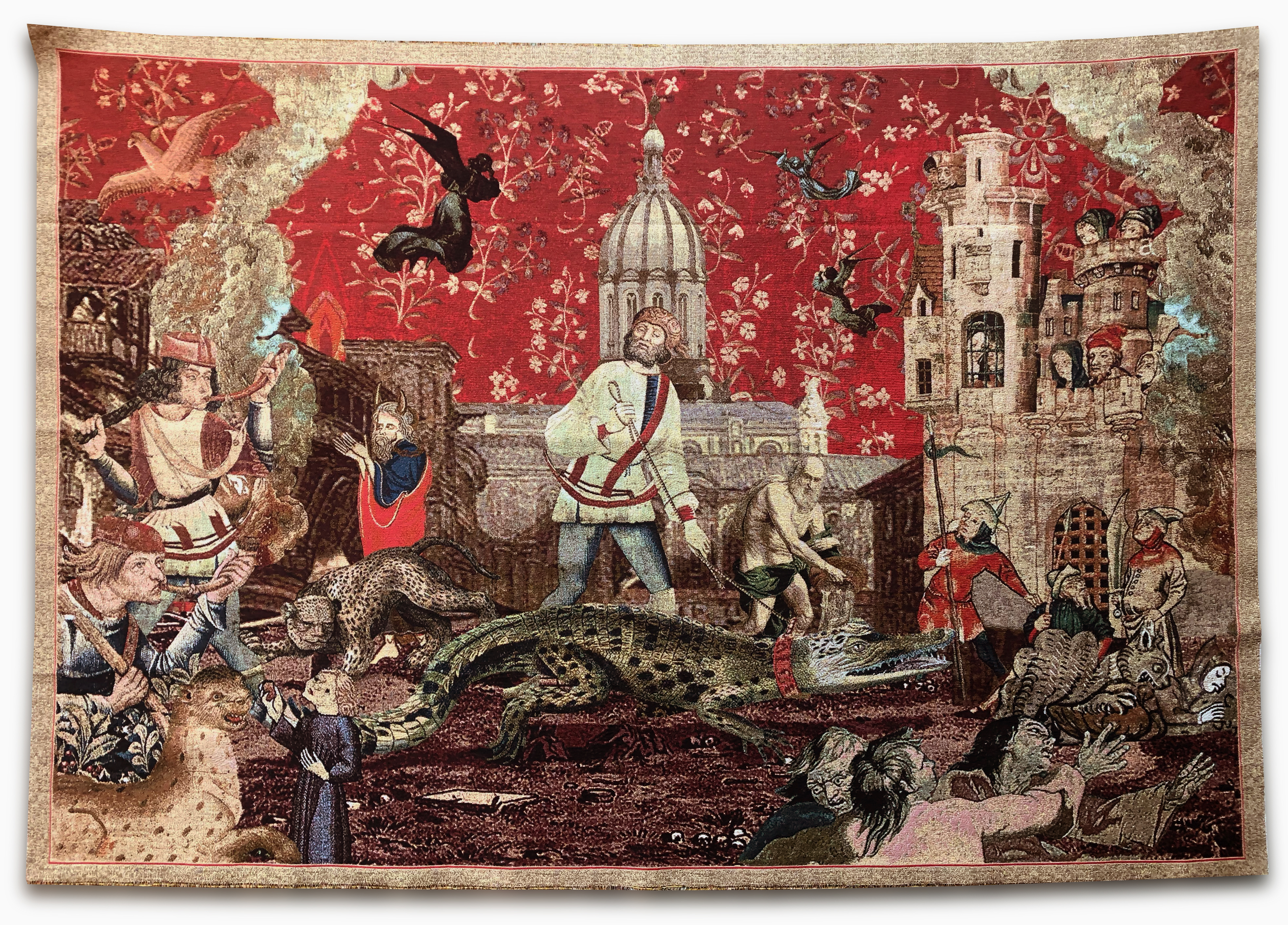 "In Colombia there is no Genesis or Apocalypse, only eternal cycles of return."
– Santiago Rueda Fajardo
Outside the Basilica of the Sacred Heart of Jesus, man-jaguars and pet alligators stalk the streets. As Hugo Chavez lies on his death bed, encircled by demons, the face of Simón Bolívar is reflected in his mirror. A pair of unicorns exit a Noah's Ark Chinook helicopter, watched on by the drug-lord Pablo Escobar. These fantastical images are made all the more surreal by the medium they appear in, the medieval textile of woven tapestry jarring with the modern myths and histories presented. Forming the Colombian artist Carlos Castro Arias' Mythstories, his wonderfully cramped, faux-biblical vignettes were recently exhibited at the international art fair ARTBO. Celebrating its 15th anniversary, the commercial fair housed 67 established and emerging galleries from 17 countries – overwhelmingly Latin American – in Bogotá, The Lady of the Andes.
2,600 metres closer to the stars due to its high altitude above sea level, the seasonless city remains a constant mild-grey all year round. Walking its traffic-choked streets I'd be forgiven for thinking I hadn't left London, save for the fact it sits within a sloping plain at the base of two mountains – Guadalupe and Monserrate – with air so thin you occasionally feel tipsy. The threat of the government signed peace deal with the Farc guerrilla group unravelling, with thousands of people fleeing drug trafficking routes bordering Venezuela in recent months, seemed vaguely distant in the country's educational, financial and creative powerhouse. The possibility of violent "eternal cycles of return" is met with a despairing shrug, the very idea that conflict will rear its ugly head again is exhausting.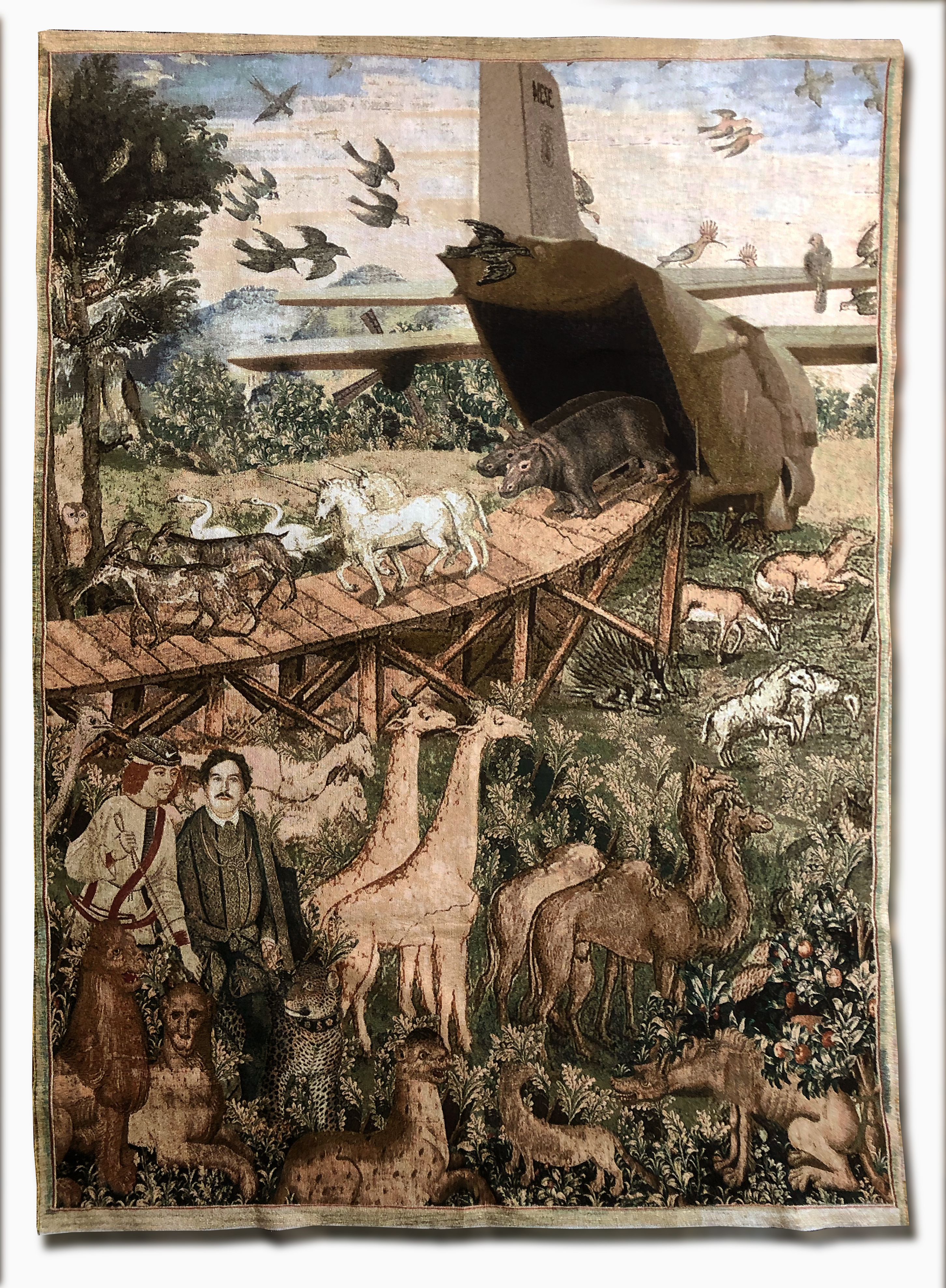 The political, ecological and social anxieties of the Americas, however, frequently came to the fore of the fair's varied film, painting and sculpture. Looming large over one entrance was Chilean artist Alfredo Jaar's provocative billboard A Logo for America, in which a map of the US is accompanied by a neon flash that reads "This Is Not America". Since its creation in 1987, the artwork's growing pertinence has run parallel with Latin America and the US' deteriorating relationship, which has only accelerated in recent years due to the latter's degrading rhetoric and paranoia surrounding immigration. After its initial installation in Times Square, Alfredo Jaar reflected that: "For me, art is about 99% thinking and 1% making. It's about the analysis of the situation and articulating the ideas that we want to share with the audience about the situation." At a time when entire countries are flippantly labelled rapists, celebrating the sharp perspectives outside of North America, as well as an honest analysis of it, seems increasingly essential.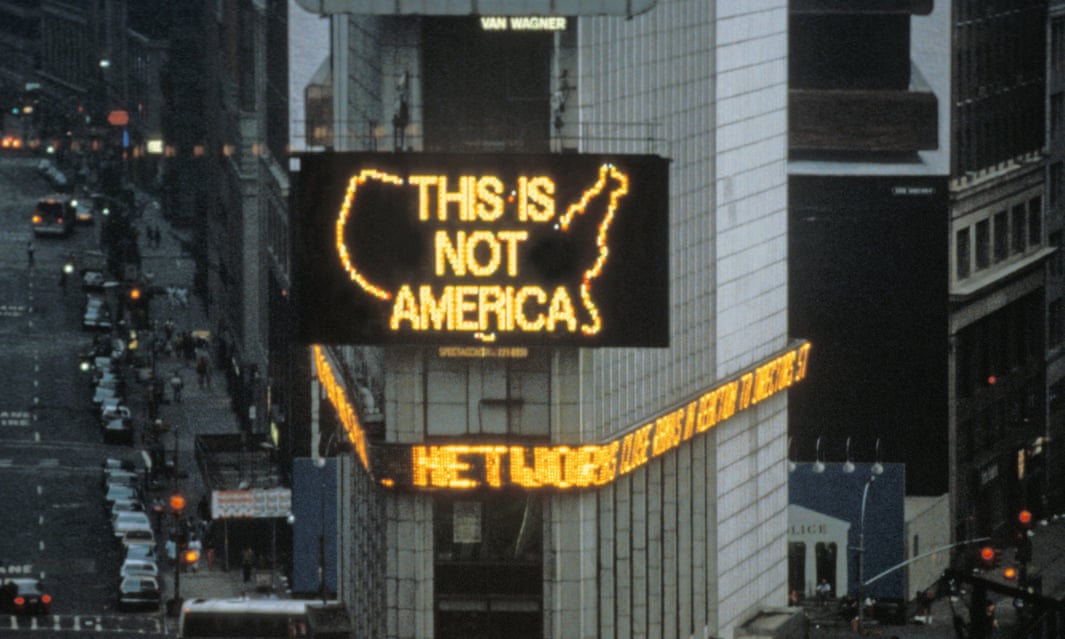 "I see art as providing the capacity for individuals to put themselves in someone else's shoes," noted Maria Paz Gaviria, Bogotá's chief of Commercial and Cultural Platforms and head of ARTBO, "creating empathy, dialogue and collective memory." Much of the fair celebrated the vibrancy, wit and skill of a new generation of artists in Columbia, Brazil, Venezuela, Mexico, Chile and Argentina, among others. The former's current social fabric was investigated specifically in ARTBO's Referentes section, curated by director of the KW Institute for Contemporary Art, Krist Gruijthuijsen, while its Proyectos space presented 11 contemporary artists exploring the concept of performance, chosen by director of The Delfina Foundation, Aaron Cezar. Below, I choose some of my favourite work from the fair, including ornate silver-plated butt plugs, ritual Misak dance and oil painting triptychs.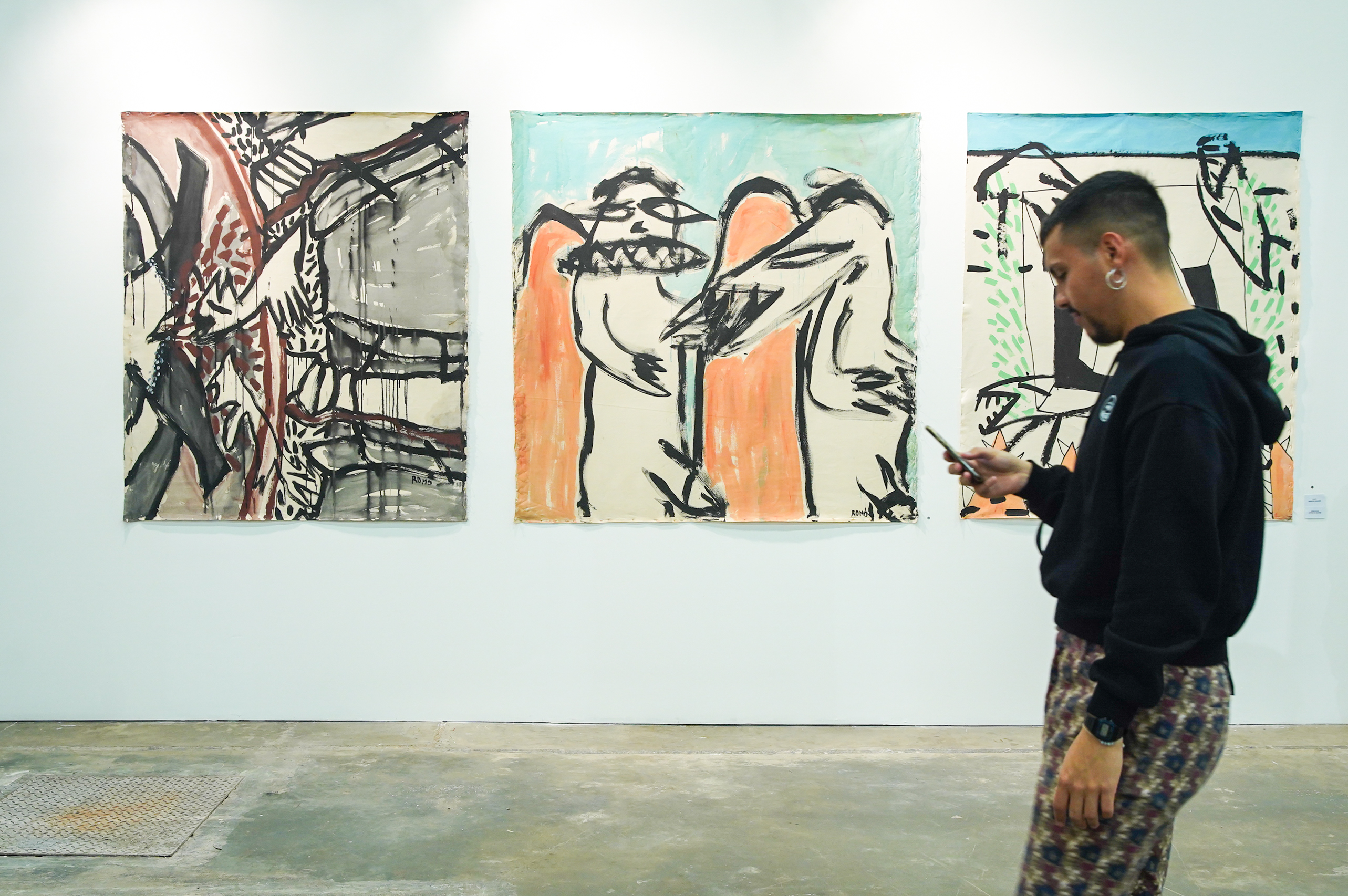 Teresa Margolles, Mexico
Pista de baile, 2016, Photography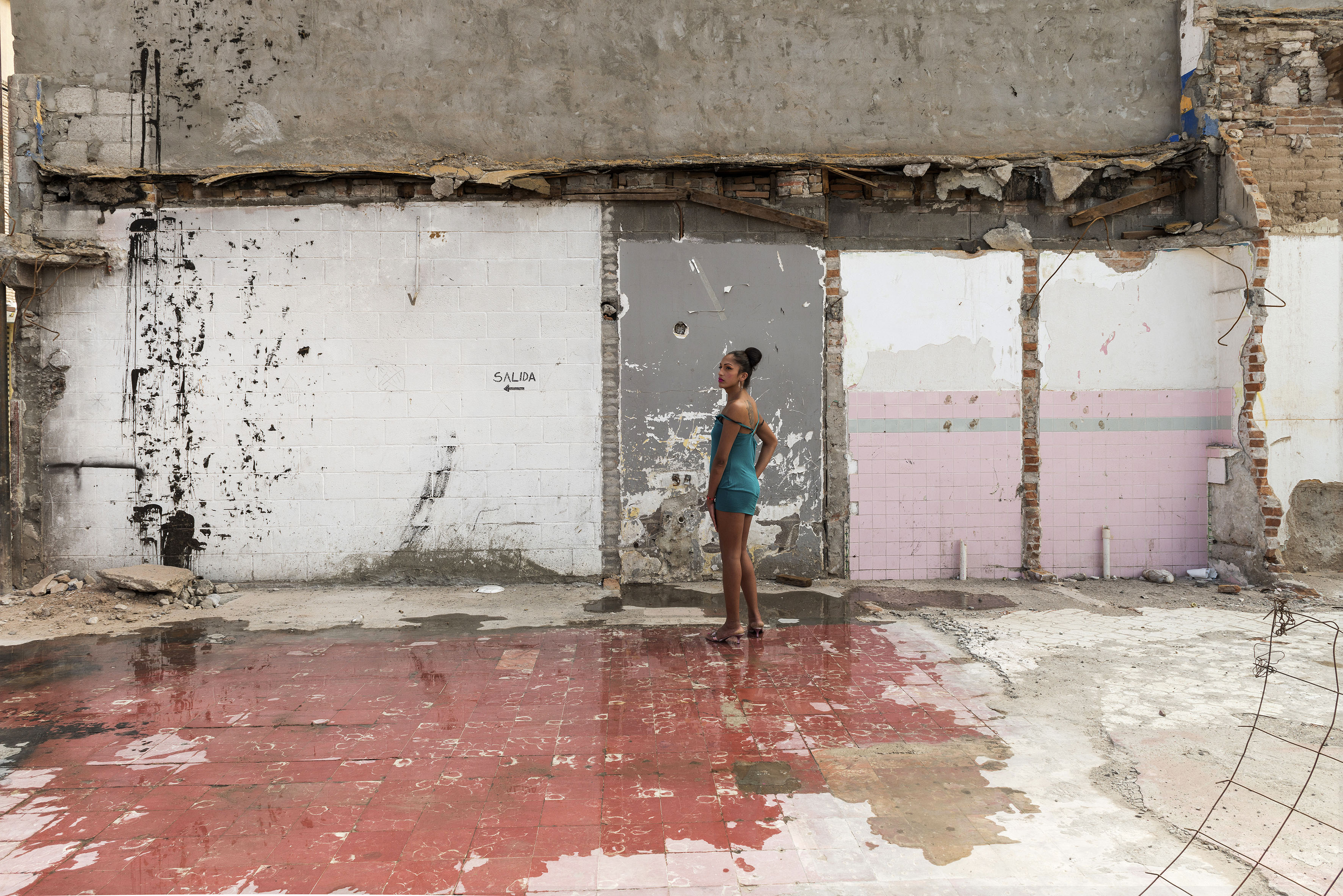 Photographer, videographer and conceptual performance artist Margolles has created a moving set of portraits showing transgender sex workers on the former sites of dance floors and demolished nightclubs in Ciudad Juárez. Absorbed into and made diminutive by the cluttered, ruined landscape, the ghostly figures nevertheless "show us their best self, as if they were asserting themselves amidst the destruction".
Valentín Demarco, Argentina
Patrimonio y algo más, 2019, Exhibition and film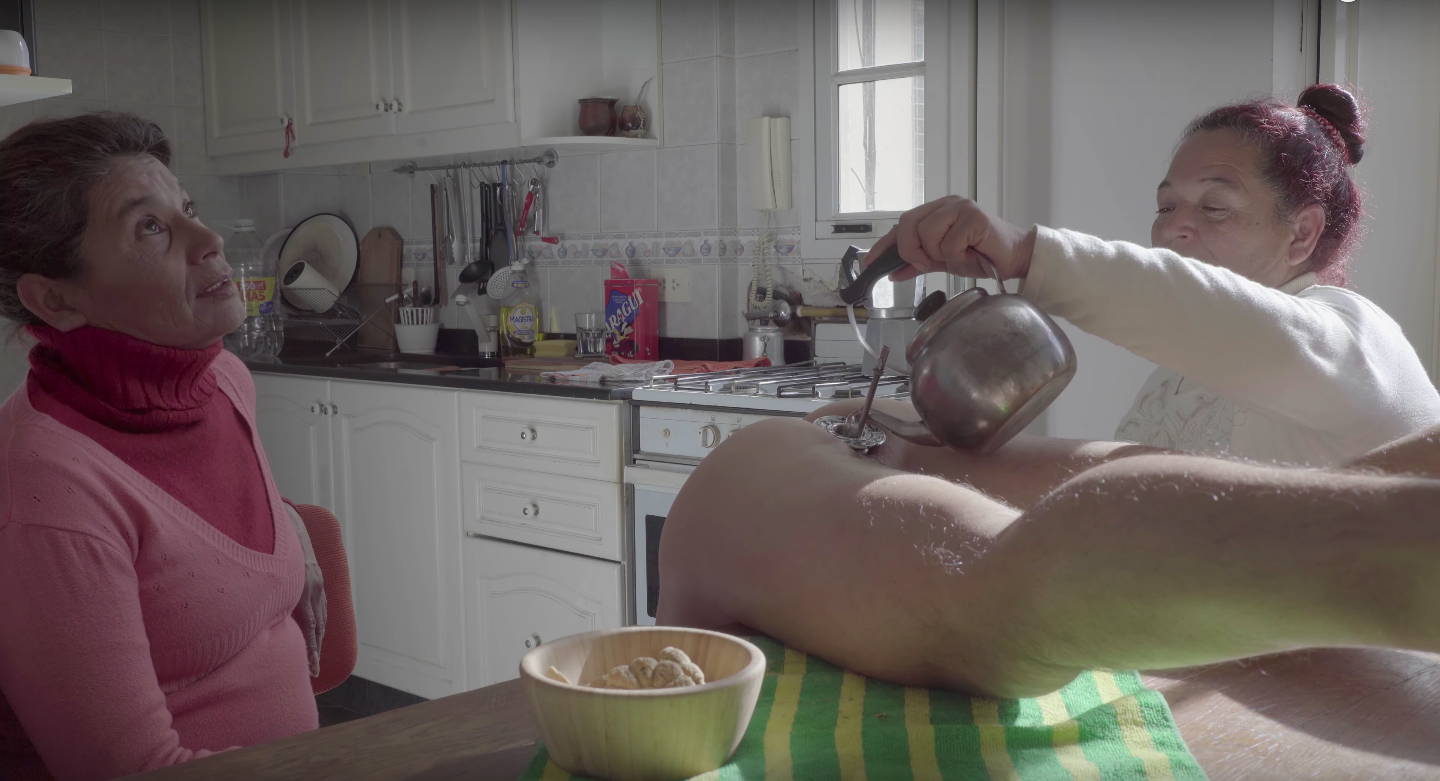 A trained goldsmith, Demarco's exhibition – Hertiage and something else – is centred around a beautiful, copper beaten, embossed and chiselled, silver plated and oxidized butt plug that doubles as a teapot. The graphic nature of the penetrative act is contrasted starkly with the intimate, close-up photography, deadpan, domestic film scenes and artisanal metal tradition the artist is celebrating throughout. Bold, craft-focused and very, very funny.
Julieth Morales, Colombia
Kup (Hillar), 2018, Film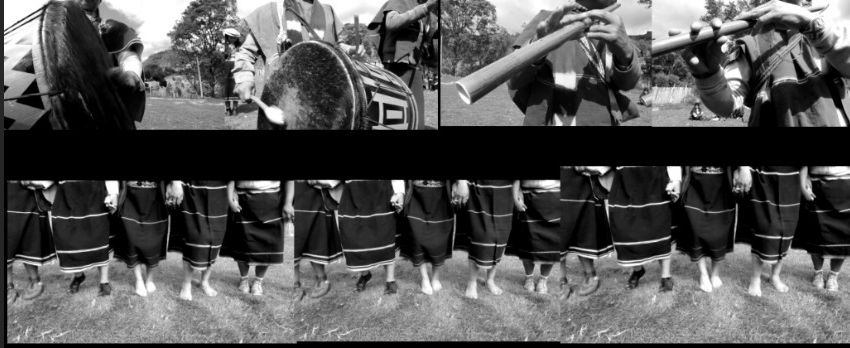 Hailing from Cauca, Morales explores gender, ethnicity and identity through a number of mediums and as an indigenous Misak woman, "reformulates, from a critical position, traditional rituals of her community, with the body as a whistleblower." Actively resisting patriarchal, anthropological Western narratives about the Misak, a particularly powerful piece showcased at the fair was her film Kup (Hillar), in which women from her village engage in a ritual dance, feet moving in unison, arms weaved together, tracing steps and recovering land that was metaphorically and literally taken from them by academic and colonial powers.
Diego Bianchi, Argentina
Meritocrazy, 2019, Parade and exhibition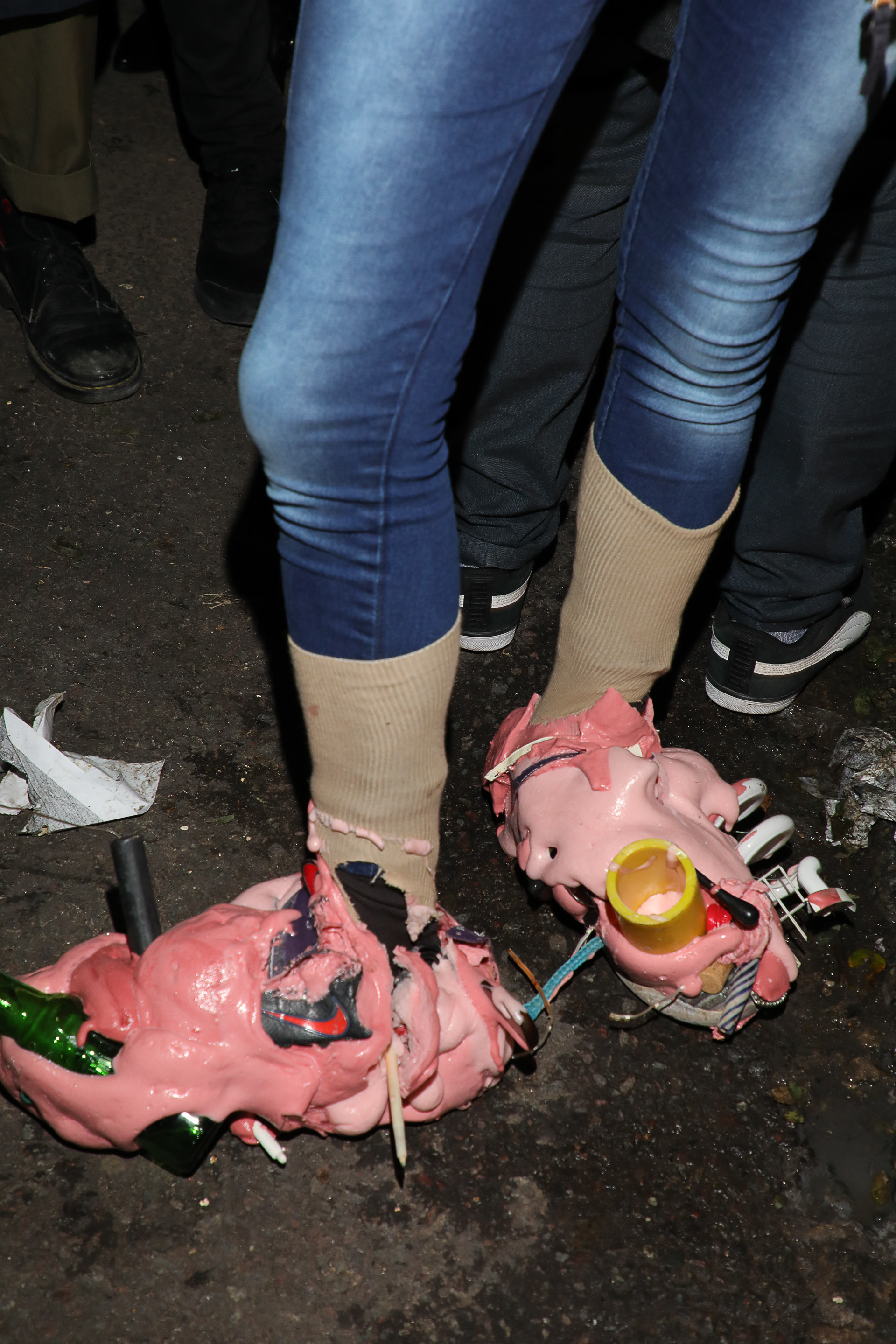 What would happen if Mad Max and David Cronenberg were in charge of a fashion runway? Bianchi's bizarre footwear twists traditional objects of desire into a freakish, dystopian, impractical objects of consumption, but with an inventiveness and humour recognisable to the artist known for ambitious installations. The parade of the shoes (ranging from tyres, leaves, mirrors, concrete blocks and mannequin legs) show a "snapshot not only of the future, but of a closer present, of a present flattened by a capitalist realism that, based on medication, disenchantment and pragmatism, is monolithic, without fissures or alternatives. A time to consume is to adapt."  
Nicolás Beltrán, Colombia
Loop, 2019, Oil on canvas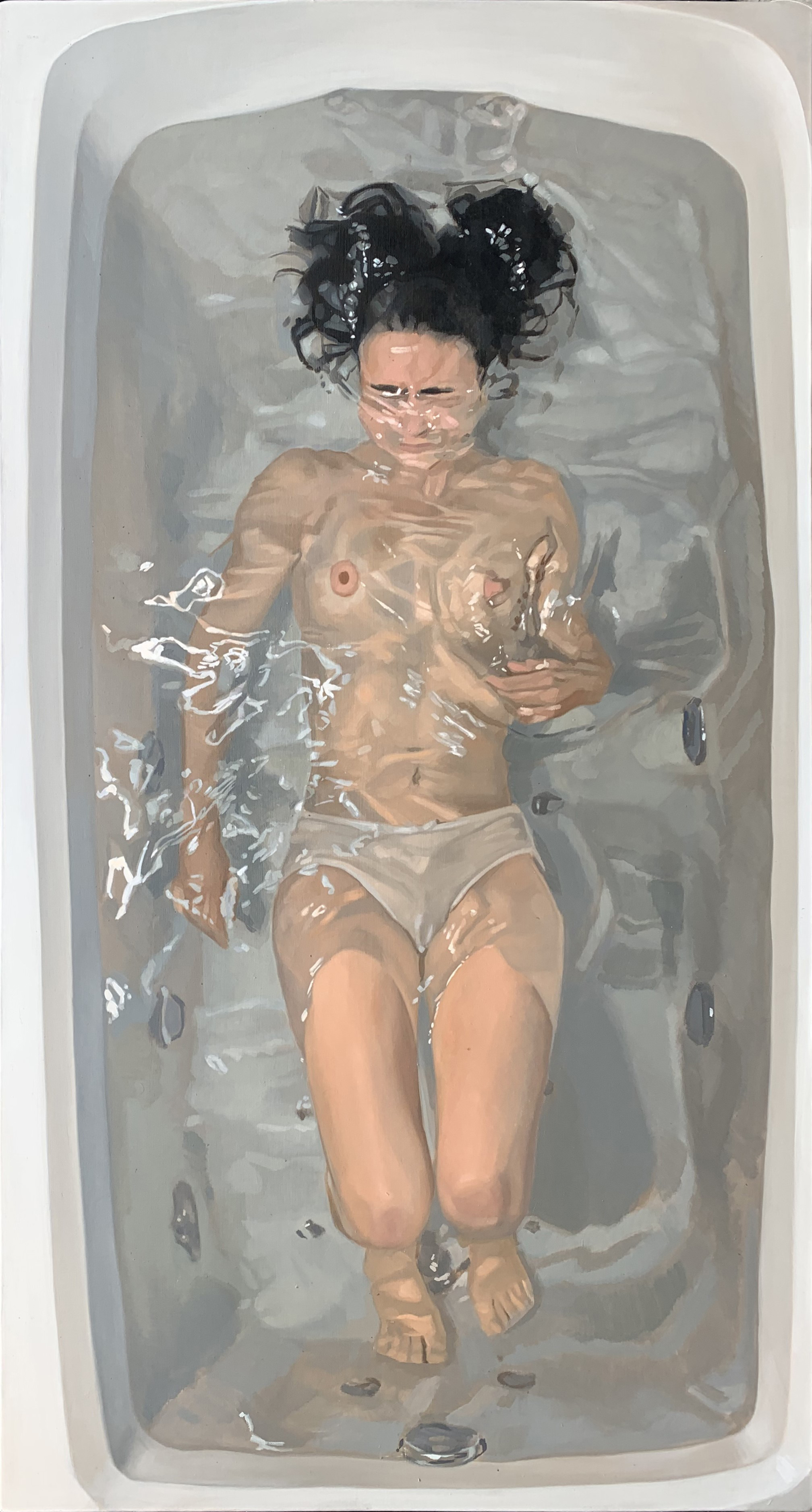 Focusing on the "heterogeneous set of images of the daily life", Beltrán's work is part of a number of important Columbian art collections. The gallery presenting these recent oil paintings had another you could stand on, mimicking the reflection of a bathroom floor. The technical skill and intimacy of these portraits that border on the photographic – together with that interactive element – was incredibly arresting.  
Luciano Denver, Argentina
Monument to the camel, 2017, Digital photo montage

The unwieldy public transport Metrobus, gifted to the Cubans by the USSR, was affectionately called the camel for its unusual brutalist shape and rate of acceleration. Denver's concrete sculpture and fascinating photo montages aggregate multiple images into impossible collages, commenting on the legacy of communism and providing a "homage to a people that lived almost three decades in complete denial of any certainty of a future".