Girard-Perregaux collaborates with Aston Martin on a timepiece infused with automotive influences, featuring cross-hatching, a diamond-pattern and signature splash of Aston Martin Green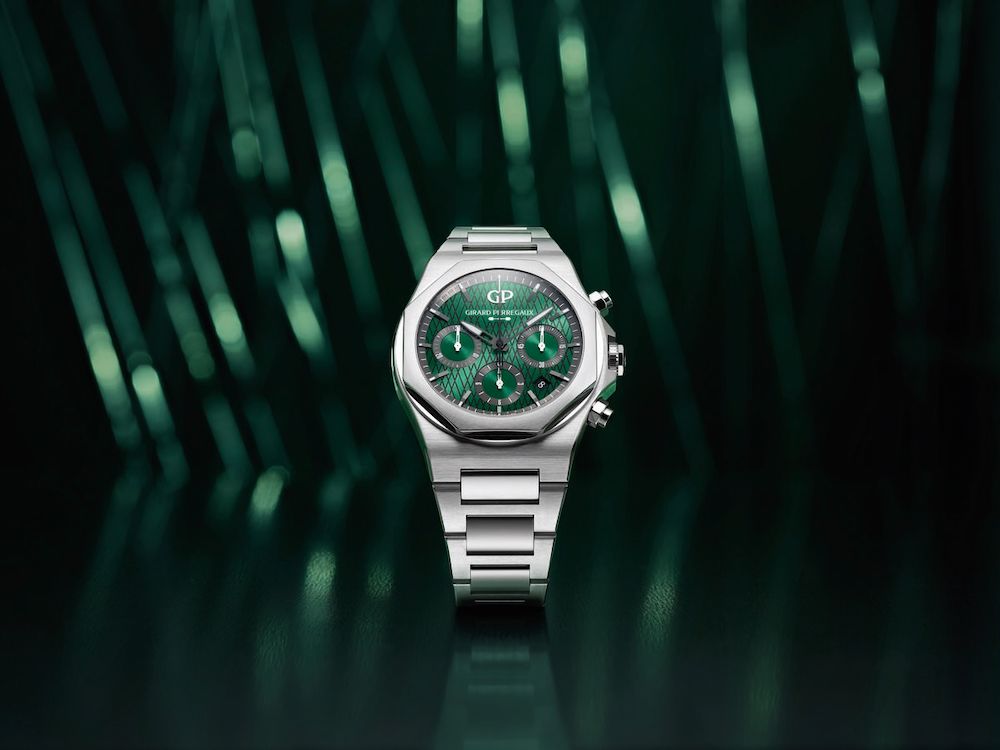 There's a profound synergy between the automobile and the timepiece, from the paintwork and patterns to the assembly and more technical application of fabrics or texture. In a collaboration between Girard-Perregaux and Aston Martin, a new watch named Laureato Chronograph Aston Martin Edition has been revealed as a nod to the enduring history of car racing – not to mention the heritage and legacy of both companies, which amasses to over 330 years of know-how in the field of luxury, manufacturing and performance. Girard-Perregaux, for instance, is currently celebrating its 230th anniversary of watchmaking manufacturing, while Aston Martin was founded in 1913 by Lionel Martin and Robert Bamford, before merging as Aston Martin Lagonda in 1947.
In the early 1900s, selected colours were applied to racing cars in order to pinpoint the different nationalities of the teams. Red was assigned to Italy, yellow to Belgium, silver to Germany, British Racing Green for Britain and so on. The latter of which has been adopted in the signature Aston Martin DBR1, a sports racing car built by Aston Martin in 1956 that went on to win the 24 Hours of Le Mans in 1959. As the years went by, along with many automotive iterations like the modern Formula 1 car, this particular shade of green remained in tact.
The Laureato Chronograph Aston Martin Edition has subsequently been shrouded in Aston Martin Green, a title coined for the manufacturer's long-standing application of the colour. In this case, it's been applied 21 times to the dial, which amounts to seven coats of paint lavished on the finished product. Elsewhere, as further hints to the inspiration of the automobile, the timepiece features cross-hatching, an artistic technique influenced by the quilted seats of sports cars and used to create a textural pattern comprising a series of parallel lines – a method first seen with Aston Martin's logo, 'AM', between 1921-1926. Two chronograph registers and a small seconds display form the timepiece's dials, while each sees an open worked hand plus a spiralled, snailed counter. The bezel is octagonal as a hint to the watch brand's iconic Laureato of 1975 and also presents an open casebook, the first for a Laureato Chronograph timepiece.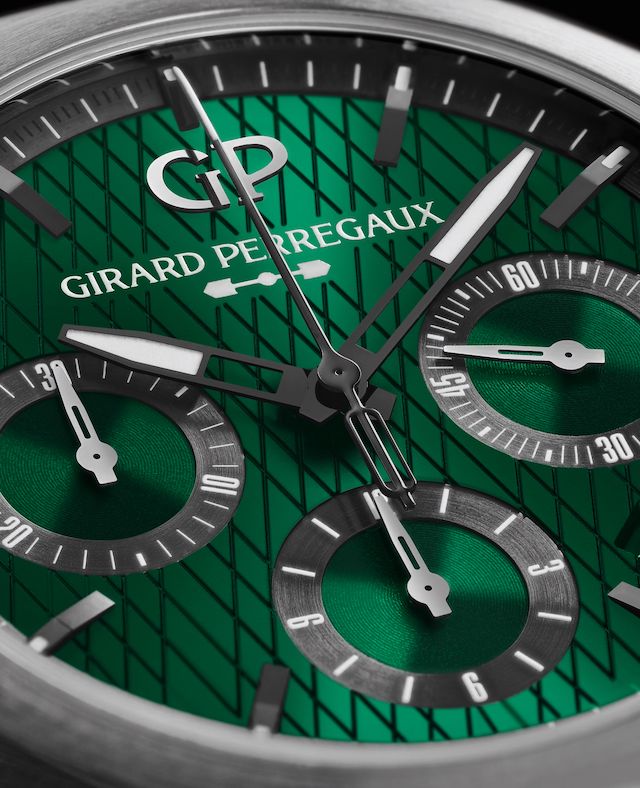 "As Aston Martin and Girard-Perregaux strengthen our partnership, the same is happening with our common design ethos, geared towards discreet luxury," says Marek Reichman, Aston Martin's executive vice president and chief creative officer in an announcement. "Evidence of it continues to appear in subtle touches throughout the watch, for instance in its partially openworked hour and minute hands, which have been purposefully designed to evoke thoughts of racing cars, eschewing extraneous material to deliver superior performance. Likewise, the central chronograph seconds hands features a counterweight that resembles the sides strakes first seen on the 1958 Aston Martin DB4."
Patrick Pruniaux, CEO of Girard-Perregaux, comments in the release: "Our manufacture has a long history of collaborations beginning with our founder Jean-François Bautte who brought different 'établisseurs' together under one roof, effectively creating one of the first manufacturers as we know them today. Not only has our partnership with Aston Martin yielded two exceptional timepieces now, it is indeed a meeting of the minds and marks the beginnings of a true friendship between both brands and our teams. The Laureato Chronograph Aston Martin edition is evidence of that mutual understanding and shared philosophy."