Creative director, designer and stylist Kusi Kubi discusses reworked garments and his Ghanaian label, PALMWINE IceCREAM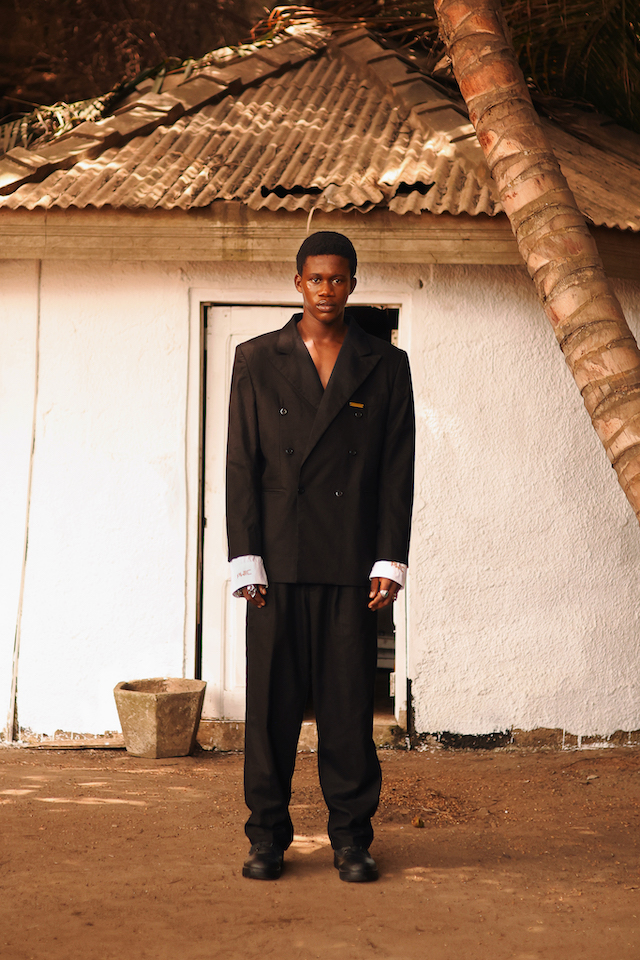 Accra is home to the biggest secondhand clothing market in the world. Twice weekly, Ghana's capital becomes enlivened with those in search for hidden gems in its infamous Kantamanto Market – where over 30,000 traders gather to sell all sorts of thrifted treasures from food to spare parts for cars, and most notably, secondhand fashion imported from across seas in Europe. It's a mammoth industry and one that sees locals revelling in the early hours to discover various ephemera and fashions, collecting and reviving what was once tossed and thrown. Kusi Kubi, a creative director based in Accra, is one of those collectors. 
Kusi hails from Osu, a neighbourhood in central Accra, and previously studied business at University of Westminster. It wasn't long until he decided to flee the corporate world of banking and software development for a new career in fashion – "I just never thought it was a career path to focus on," he tells me.
Now, Kusi runs PALMWINE IceCream, a Ghanaian fashion label that utilises a mix of reworked fabrics and materials, most of which is sourced from the market. In its second season, the latest collection is replete with neutral shapes and forms, sprinkles of shimmering gold fabrics, earthy tones, denims and metallic chain accessories. Indeed for the bold and daring, its these exact cut-out designs and striking ensembles that break down all preconceptions of what can be achieved under the name of sustainable fashion. Here, I chat to the creative about his empowering and ethical business, where he sources his garments, and what's in store for the future of Accra's fashion market.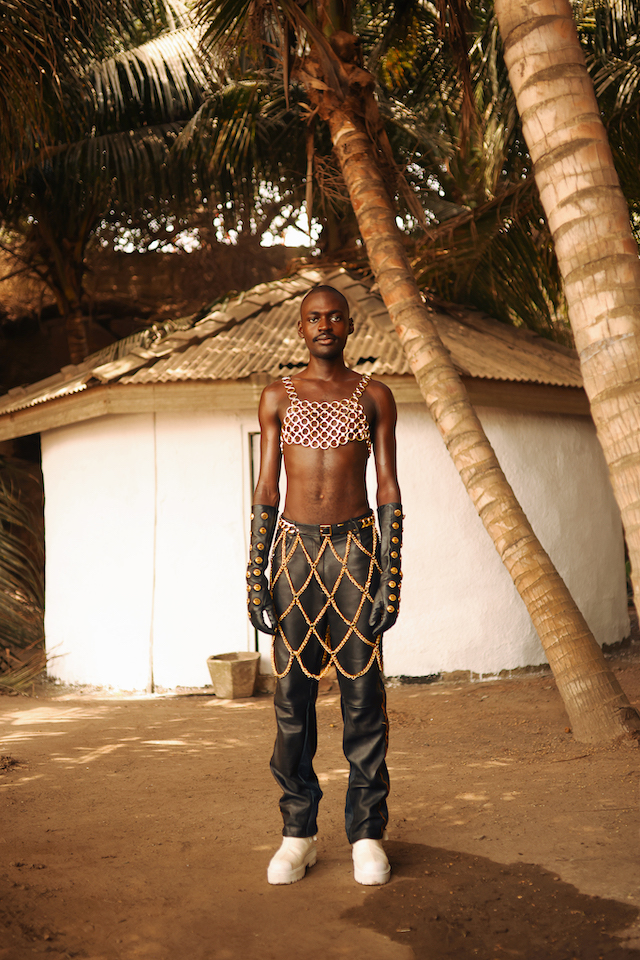 What's PALMWINE IceCREAM all about, and who do you see wearing the clothes?
I wanted to create a name that resembles the look, taste and feel of a tropical climate. PALMWINE IceCREAM is a blend of tastes and feelings, which are not necessarily meant to be combined, but once brought together exude a sense that is new and unfamiliar. PWIC stands for all the things that we are told or made to believe should not co-exist with one another. 
Almost every item in the collection is genderless. The brand is welcoming to anyone who feels a connection to our creative output. It definitely requires some element of confidence, but confidence is very subjective and we have garments which cater for all.
Where do you source your materials?
The denims and leathers from this collection are reworked. This season, there's also a lot of linen and sheers harking back to the tropical West African origins of the brand. The jewellery and accessories are sourced from Italy, while the denims and leathers hail from Accra, by way of Europe – Kantamanto Market, West Africa's biggest secondhand market. The denims are restored using non-chemical methods and customised by hand in the PWIC studios to add the signature visual sensibility to each piece. The production team behind the collection is all-Ghanaian and the pieces are finished in Accra, Ghana.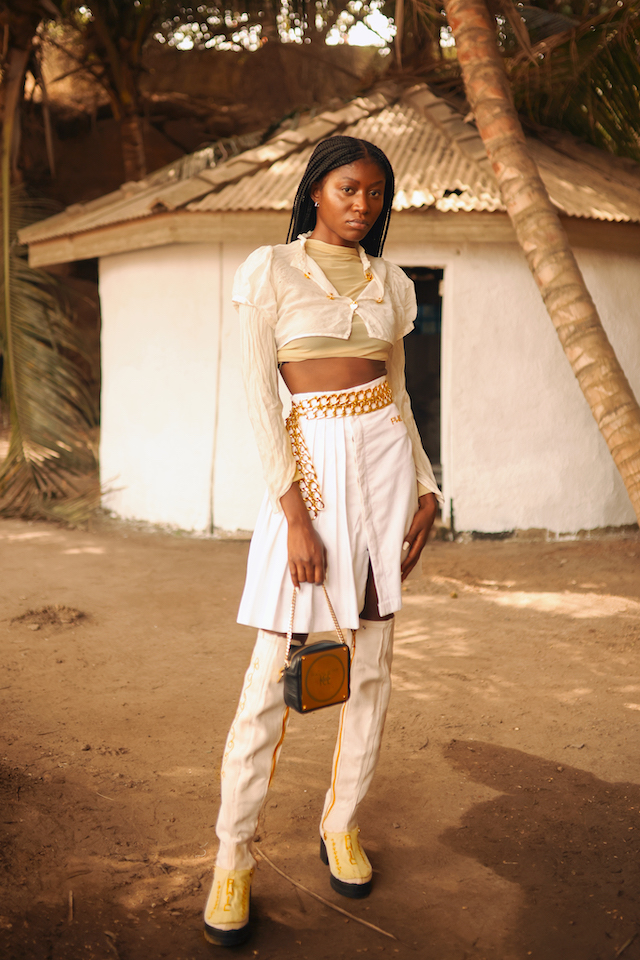 How important is sustainability to your work?
PALMWINE IceCREAM is built on a foundation of sustainability. Though not all garments are reworked, the denims, leathers and buttons are examples of the items reworked throughout the collection. It's essential for me as a creative director to understand the direction the world is heading into, and to also understand the value of creating garments which really speak for itself. 
With Accra having one of West Africa's biggest thrift markets, I can't help but notice how many leftover garments are received on a weekly basis. It's important for me to play my part somehow to reduce further mass consumption. Our Aim at PWIC is not to saturate the market but produce clothing for people who believe in what we do and stand for.
What items can be found at Kantamanto Market?
You can find anything from Rick Owens to Topshop; I think that's what makes the market special. Twice a week they receive new arrivals from all over the world. The trick is to get there early to ensure you get the special goodies before everyone arrives. The selection process can be intense but finding that one archive piece can be rewarding. The market is divided into sections: denim, leather, vest, shirts and dungarees etc. A whole day can be spent there easily.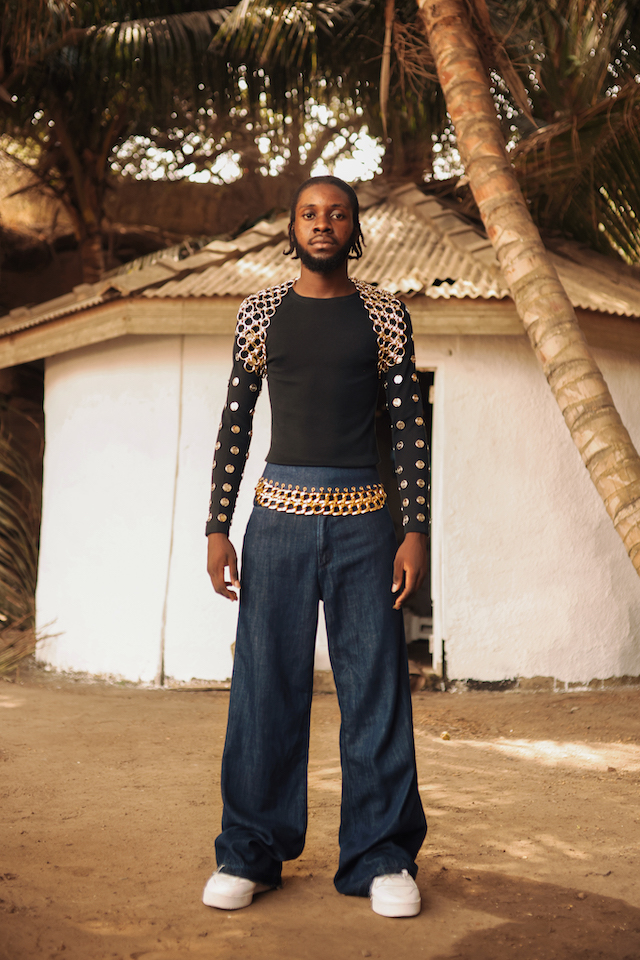 Where do you see the future of fashion heading, specifically in the context of Accra?
We've seen some fashion houses merge seasons into one as a way of reducing waste or improving their sustainability league. I believe consumption will reduce but not drastically. There will be a need for quality over quantity, and most people will lean towards brands which have some sort of sustainability approach to their designs. 
The future of fashion in Accra is developing at a good pace, there are a few startup labels, like PWIC, thriving to make an impression within the creative world. However, there's also the need for our art ministers to believe and invest into the young creative minds here, because there's too much talent out here waiting to explode.
Photographer: @kofmotivation
Creative and styling: @kusikubi
Grooming: @giselle_makeup using Pat McGrath
Style Assistant: @shineorgocrazyy
Photo Assistant: @_thedotse
Producer: @instabryte @luduproductions_
Prod Assistant: @zongostudios