As the Wimbledon championships begin, Conor Mahon meets the German tennis icon to discuss breaking records, Novak Djokovic and his style on and off the court.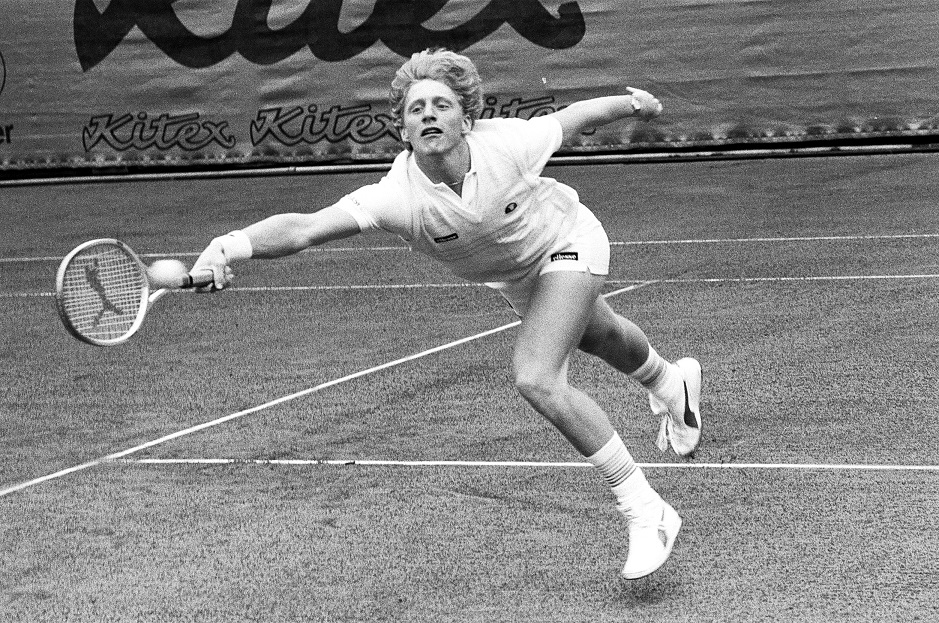 Sitting at the bar of the Hotel du Vin on Wimbledon Common, London, I find myself fidgeting, spinning an empty glass over the bar's surface. The reason for the nerves? I am waiting for three-time Wimbledon tennis champion, Boris Becker. Having grown up with the back and forth of Becker and his old rival, John McEnroe, as the quintessential voices of highly anticipated summer tennis, the opportunity to meet the former world number one is both daunting and exciting.
When he does arrive, with his wife Lilly and their dog, I am surprised at his imposing stature. Whether throwing himself around the court as a teenage star in old Wimbledon videos or later sitting down in the studio serving up quips to Sue Barker, Becker's six feet and three inches don't fully come across. After a double-hip surgery in January of 2014, there's a slight limp to his movement, but when you shake his hand he has the unmistakable physical presence of a world-class athlete. As we sit down at a table overlooking Wimbledon Common, Becker rests his elbows on the table and appears reserved yet approachable. After introductions, I ask what his relationship with the world-famous tournament is like these days. "I happen to coach a player who is a Wimbledon champion, so I get reminded a lot more about my wins nowadays," he replies.
The 7th of July 2015 will mark 30 years since Becker won the Wimbledon men's championship at the tender age of 17 years and 227 days, becoming the tournament's youngest ever champion, the first German to lift the trophy and the first unseeded player to have done so. You might assume that in order to win in his teenage years Becker must have played obsessively from a young age, but he assures me that wasn't the case. "I don't come from a tennis background. My parents played, but not as professionals," he says. "My father was an architect, my mother worked in his office, and my sister studied for a doctorate in interior design, so tennis was really a past time in our family." Looking back to his early years, he explains that further education was on the cards for the teenage Boris. "There were arguments," he tells me, "but I had to win those to win Wimbledon."
Securing victory on his first attempt shook the sporting world and changed the life of a teenager who, to this day, still holds the record. "It was sort of my second birthday… every year when Wimbledon comes back and the record is still standing, it brings back all of the memories, emotions and sensations," Becker says. "You sort of relive it for two weeks." When asked if there are any feelings of protectiveness over the record, he is somewhat stoic in his response. "Every record in sport is bound to be broken… although it seems that, nowadays, those who win in tennis are a bit older."
How and when does he envisage being stripped of the title by a younger champion? "I don't think about it, but who knows? In five years some sixteen-year-old – a bit younger than I was – could come from Edinburgh, Moscow or from Berlin and break it," Becker says. "I'm surprised every year that it is still standing in a way, but each year it stands it makes the original performance a bit bigger."
Becker went on to defend his Wimbledon title in 1986 against the world number one at the time, Ivan Lendl, and won 6-4, 6-3, 7-5. In total, he reached the final of Wimbledon seven times and won his third championship title in 1989. As well as achieving great success in London, the German also won an Olympic gold, the US Open and lifted the trophy at the Australian Open on two occasions, and by 1991 he was world number one.
Becker had grown up in the spotlight, experiencing some tough losses during his passage to the top. "It's the nature of the beast: you lose sometimes, but you just want to win the more important ones," he says, reflectively. It was the combination of his passionate struggles on the court and his amiable commentating style that led to the BBC releasing a documentary in 2005 entitled Boris Becker: Britain's Favourite German. Another large part of Becker's widespread appeal was his appearance and yet, when I mention his image, he is typically dry. "We were famous, young and we represented brands. Fashion and sport really go hand in hand, but it really depends on the personality of a player," he tells me. "For example, Andre Agassi's jean shorts: I wondered whether they belonged on the court, but they fit his personality."
Becker was sponsored by Adidas until 1984 when he switched over to Puma, and a year later the 17-year-old star had won Wimbledon and become the spearhead of Puma's global image, all while wearing a pair of their Match 74 trainers. Despite holding the position of an on-court style icon, could there have been any fashion choices that he regretted? "The brands had fashion directors with certain styles that were trendy, certain colours. You didn't have much of a say," says Becker. "But the older I got, the more I felt I could say something." So what about the now infamous short–shorts, I ask? "You couldn't have longer ones," he replies. "The first player with long pants was Pete Sampras and he was crucified – nowadays that's considered a short-short."
During his time on the court, Becker made some demands that revealed the more enterprising aspects of his character. When Puma looked to be altering the production of the racket that had lasted his career, Becker took a firm stance. "I didn't like that. I was winning with the racket I had played with, so I bought all the moulds, just in case I changed company or they changed me," he tells me. "That meant I played my whole career with the same racket." Today, these racket moulds can be found in the hands of Becker's old racket stringer somewhere in Germany.
It was this pragmatism combined with an entrepreneurial drive that helped Becker gain success in other areas once his professional tennis career ended in 1999. "I started out two businesses and I'm still running both of them," he explains, before enlightening me to one of his lesser-known talents. "I played professional poker for six years and I was on the tour," he adds. "My best ranking I think was number 41 in the world."
Despite the old champion's entertaining and surprisingly varied extra-curricular activities, his heart has always been on the court. "I love the game very much, so I had to ask 'how can I stay in tennis?'". When he was given the opportunity in 2002 to become a commentator for the BBC, the only thing he was worried about was his level of English. "I know the place, I know the tennis, but I was offered the final on the first year, which meant speaking to millions of people," he says, nodding at the prospect. "Then I did 12 years in a row, which landed me other television gigs speaking about sports, so I am grateful to the BBC for giving me my first chance."
For the past two years, Becker has stopped commentating in order to coach the world number one: Novak Djokovic. I was curious about how commentating compares with coaching. "As a coach, you have to talk a lot. In my case it's coaching tennis and I've played and talked about it professionally," he explains, before going on to highlight the differences between being a pundit in the studio and a mentor in the locker room. "It's easy because I can talk, but it's difficult because Djokovic is a connoisseur of the game," Becker says. "You have to be able to tell him something that he hasn't heard yet. That's always a challenge."
As with all of Becker's answers and many of his tennis matches, he closes with a statement of quality. "I think the fact that I've played Grand Slam finals – won and lost them – and the fact that I was commentating on Grand Slam finals for 12 years and am still involved in the game has helped me do my job today," he concludes. "Apparently it works. Djokovic is winning a lot more than he is losing."