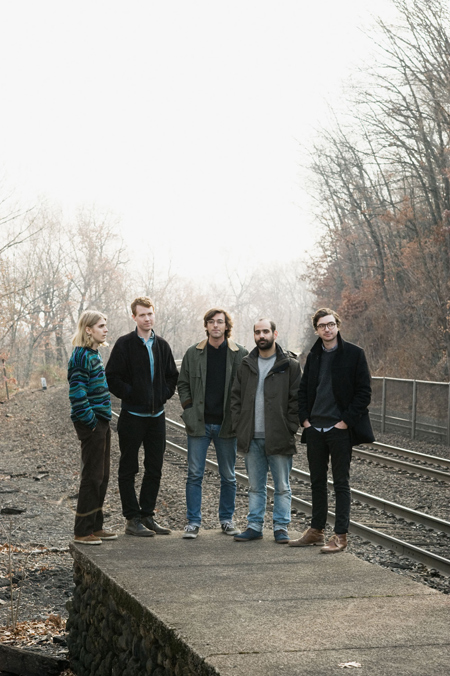 Interview Tom Jenkins
The US band talk state politics, climate change and why they'll be sticking to what they do best on their new album, Atlas
"I like how political this discussion is getting!" says sleepy-eyed bass-player Alex Bleeker, reclining into a scarlet-coloured leather sofa. Either side of him in the near deserted, central London bar sits Martin Courtney and Matt Mondanile, fellow founding members of New Jersey five-piece Real Estate: opposite him and to my left, drummer Jackson Pollis and Matt Kallman, formerly of the band Girls – a new recruit on keys. The interview had started badly: a generic question about recording technique precipitated a rolling of the eyes from Bleeker, because, as he tells me, he's been "talking about this all day."
It was a necessary question, but I take his point. Since then, the conversation has soared. We've been through climate change, the (resurgent) Polar Vortex and the authorities' lacklustre clean-up attempts in New York City, the gentrification of Hoboken, the New Jersey town across the Hudson River from Manhattan, which was until recently the home of the band's heroes Yo La Tengo, and vocalist Courtney's tentative attempts at a solo record. Now we're onto scandal-hit New Jersey Governor Chris Christie, a subject close to East Coast hearts. One they didn't expect to be asked about by a London-based journalist.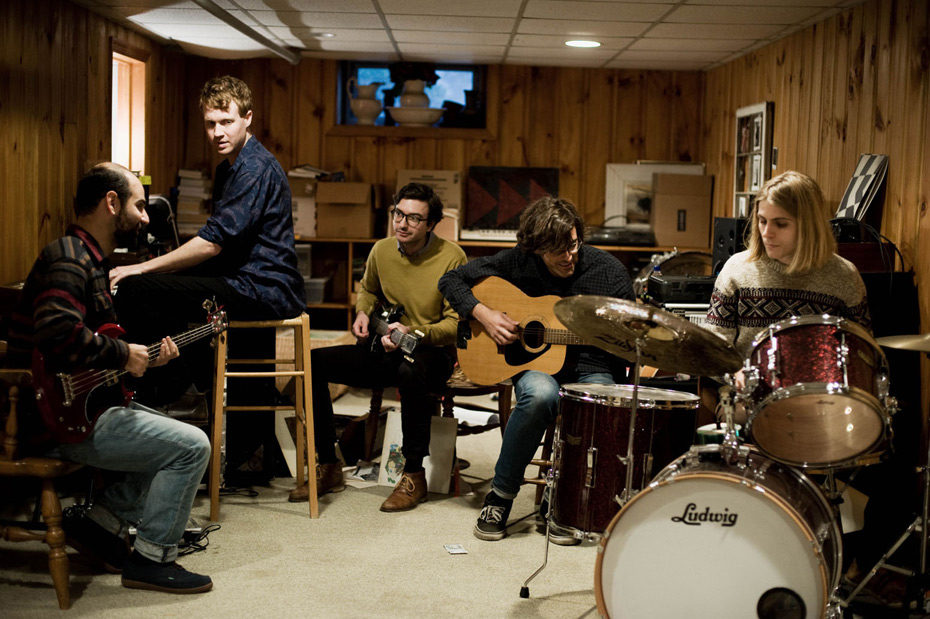 Left to right: Jackson Pollis, Matt Kallman, Matt Mondanile, Alex Bleeker, Martin Courtney
"America loves a scandal", says Bleeker. "It's a really fun story to follow because he's such a cartoon character, such a gangster. Every day, so much of the news media in America is devoted to covering Christie. So, so much – it's ridiculous…" Pollis interjects in a Williamsburg drawl: "It'd be cool if people spent more time talking about Detroit – bankrupt and poor – or Baltimore."
For the unaware, Chris Christie is the liberal – in relative terms – Republican with designs on the White House. His administration has been engulfed by two recent scandals: the closure of lanes across the George Washington Bridge leading in and out of a New Jersey town called Fort Lee, a decision Christie denies any part or knowledge of – Fort Lee's mayor is a Democrat and had refused to endorse Christie – and the mishandling of Superstorm Sandy relief funds.
"It's kind of crap when a band throws everything away and does something new – unless it's totally natural. We did what felt natural."
Bleeker has a theory, despite telling me a few minutes earlier that he's 'positive' Christie is guilty: "He was set-up by his party because he was making a bid for President, but he doesn't reflect the values of the rest of the Republicans: they don't want this greasy, liberal, East Coast guy, as their guy. What he's accused of doing is trying to win endorsements from members of the Democratic Party, so he could show how he could win the presidency by crossing party lines. He's a slimeball." Courtney is even more blunt: "I want him to get impeached, he's an oaf".
After passing sentence, we finally we get onto the real reason for the interview: the release of Real Estate's third album, Atlas, out 3 March. Musically it's no great departure from 2011's Days and why should it be? They've found a style that suits them, a "lazy-river pace" as it's been described, of gently jostling clean-sounding guitars, walking bass lines and subtle synths. As ever, the melodies are scarily infectious. Did they feel any pressure to do something entirely different this time around?
"We thought about it, because if anyone's going to say something bad about this album – we're all pretty happy with it – it might be because we haven't changed that much, but we didn't act on that impulse," says Courtney. "Certain critics already have the record and luckily it seems that people are happy we haven't changed. Not every band has to sound different on every record. Also, our style isn't so rigid. It's kind of crap when a band throws everything away and does something new – unless it's totally natural. We did what felt natural."
"That's nuts man! You guys are crazy. That was psychedelic. Time expanded and slowed down, it blew my mind!"
The majority of Atlas was recorded at the band Wilco's studio in Chicago, a veritable sweetshop of vintage gear spread over a large warehouse space containing, they may be exaggerating here, roughly 1,000 guitars. Enigmatic frontman Jeff Tweedy visited just once, but his timing was impeccable. "We only met him very briefly, but he was super-casual and nice and funny," says Courtney. "We were recording this song that didn't make the cut of the record, a long improvisational jam, and he came in while we were doing that. We finished a take and he was like, "That's fucking nuts man! You guys are crazy. That was psychedelic. Time expanded and slowed down, it blew my mind!… Alright, have fun y'all." He was gone.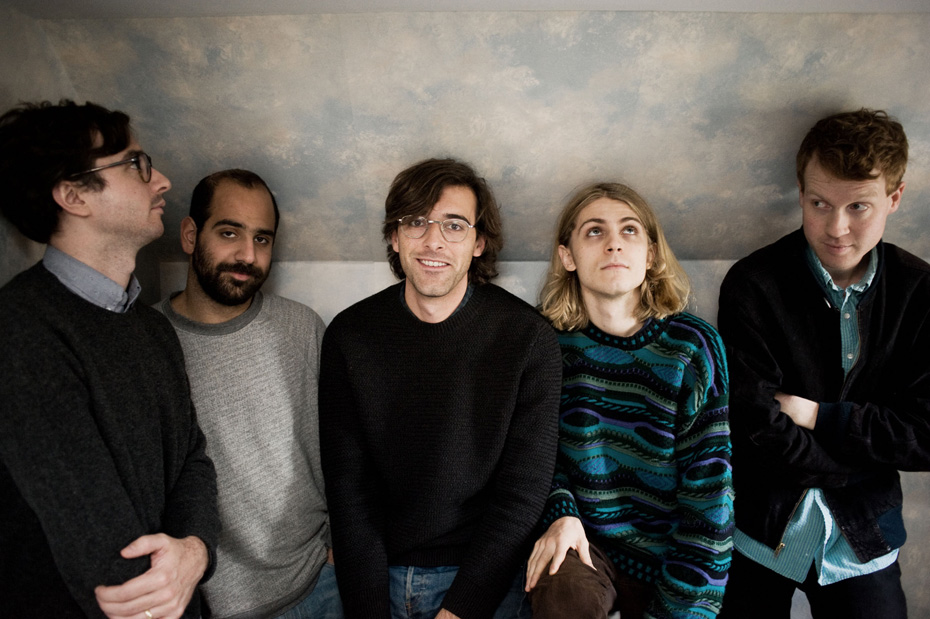 Throughout the interview, various members of Real Estate study their phones, passing them to each other to look at. They're not being deliberately rude. As Bleeker explains, Real Estate is a band that checks its own press and they're currently waiting to see if Crime, the second single from the album, has made track of the week on the most influential music site (it has).
"It feels like this album is going to be pretty big at this point," he says. "It's exciting the world is hearing it, literally right this second. What you're witnessing is a sort of private thing that happens with this band. It's hard not to check your own press." I assure him they're not alone. Real Estate, creatures of habit – they're probably reading this, right now.
Atlas is out 3 March on Domino Records. Real Estate are playing various festivals across Europe this summer, including Dot to Dot and Primavera Sound