Last week we announced that David Hellqvist would be joining us as Port's new online editor. This week, he gives us an insight into his favourite record, Go West by the Pet Shop Boys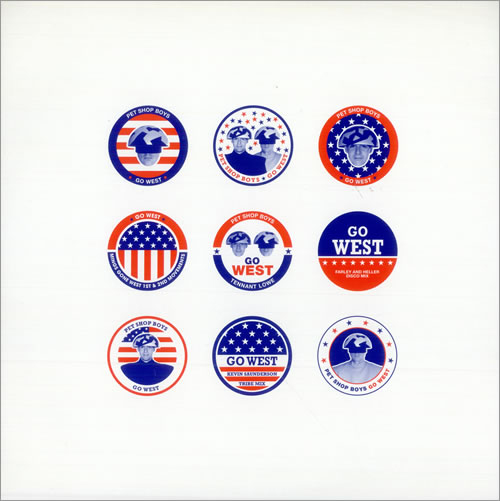 It was 1993 and I was in my early teens. I had just given up my not-so prosperous football career; the local team in the middle class suburbs where I grew up was just gonna have to do without me. There wasn't that much to do besides sports and playing music in my area. Unfortunately, I couldn't play either. But at least I could buy and listen to music. In some sort of sonic self-harm, I started out with a few Right Said Fred and MC Hammer cds before somehow getting hold of Pet Shop Boys' Very album. I can't remember how — metrosexual electronic soft pop wasn't really on the agenda in my neighbourhood, my contemporaries mostly listened to Europe and Def Leppard.
But for me it was about so much more than just the music. Without knowing it, I had contextualised the songs, giving them a meaning I'm not sure Neil and Chris had intended to by combining the euphoric chorus of Go West with my intense interest in war history. At that age, having given sport a two-finger salute, I had turned my attention to building World War Two Airfix models. I was immersed in reading about the battles, heroes and weapons and I loved recreating my favorite war machinery in small scale models (favourite tank: Sherman, favourite airplane: Spitfire — though I also built a lean mean Mustang) and while doing this, I listened to Go West. Over and over.
"Together we will love the beach, together we will learn and teach / Together change our pace of life, together we will work and strive / I love you, I know you love me; I want you happy and carefree / So that's why I have no protest when you say you want to go west"
Thinking back, it was the crashing wave intro that did it for me. I was obsessed with The Longest Day, a 1962 black and white war movie about D-Day. One summer, I watched it nearly every day. The opening scenes had the same sort of sound as the song, waves crashing in on a Normandy beach. For me, building Airfix models, watching John Wayne and Robert Mitchum liberate Europe and listening to epic synth pop all made beautiful sense. It might have been a Village People cover (if possible, even more camp) but for me this was a battle cry: it was me, Neil and Chris fighting against the Nazis — me with a 2×6 inch plastic tank and PSB with Neil's larger than life voice and Chris' electric keyboards. We were going west, and we were going to win. It might not have been as physically rewarding as playing football, but I didn't care. Still don't.
Listen to Very by the Pet Shop Boys on Last.fm
David Hellqvist is Port's new online editor. Previously he was editor of Dazed Digital