Felix L. Petty talks to the electronic avant-pop artist about his latest album's "dark tendencies" and "poppy melodies"
"Take a trip on something else", Matthew Dear intones as he struts around a stage covered in white roses and bathed in delicate pink light: "I'm not sick anymore."
If you were to cast a quick ear over the musical output of Matthew Dear it feels like considering the oeuvre of a man with multiple personalities. His talent lies in being able to just as easily channel the ageing hipster insecurities of James Murphy, the outré musicality of Brian Eno, the re-contextualised techno-revelry of New Order and Bowie's cocaine and milk period. Amongst all this it's hard to place just who Dear is, hiding behind the veil of his musical references.
Loitering around Fabric's labyrinthine corridors before his show he recalls a time when he started off recording, aged 14, in Texas, on a tape recorder. Before getting sucked into warehouse parties and techno music at university in Michigan. He met Sam Valenti at a house party and started a record label. He released a chunk of amazing dancefloor orientated music, he put out records under a slew of aliases as well as records of avant-electronic beauty under his own name. 2010's Black City felt like a high-water mark, a synthesiser opus to the paranoid-neurotic sexual energy of the city. Then he concentrated his energies on being in a band, spent two years touring and recording the follow up, which came out earlier this year as Beams.
For all of Beams' "dark tendencies", Dear describes it as a record full of "poppy melodies" that "aren't there for their complexity, but to kind of highlight the detail and atmosphere."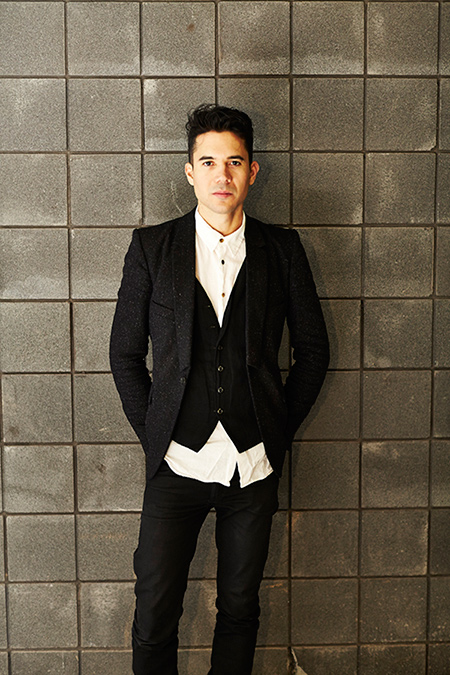 I'm comfortable in the belief that I don't know everything, I'm not the kind of artist who is going to come out and paint a picture and tell you how you should feel or think about that, because I don't think I even know how I feel or should think
And if there's an area where Dear excels, it's in his use of detail to bring to life the world he's creating. Ahead of Myself hums and throbs with a swirling vertigo of synthesized ohs and ahs before his voice kicks in, full of low slung charm. Fighting is Futile utilises the same trick of bringing the inhuman techno machine world to life with beat patterned backing vocals.
Beams has an air of the self-assured sonic exploration, uniting swathes of aliases, sounds and ideas into an almost perfect fifty minute journey through Dear's career at its poppiest and most personal. His dancefloor rhythms and eccentric inclinations are couched by their desire for accessibility and exploration of all his various personas; "it's saying it's ok to have different personalities," he explains, "the songs focus on different characters within myself, but I'm at the core, sitting in the studio, recording this stuff." Lyrically and musically self-assured, sure, but it's a self-assured in it's insecurities, flaws and neuroses. "It's ok to want to be someone else sometimes", he sings, tellingly, on Earthforms.In Do The Right Thing his voice deadpans over clichés, dissolving them into something genuinely touching, singing about how his "heart weighs about a ton, how he feels hollow as the grave I have to dig every day." "You don't need to mess with the best of heartaches", he sings on Overtime, as if to reinforce his vocal proposition of the sincerity of cliché when delivered perfectly, emotionally allowing it to encapsulate something greater than itself.
"I just try to write about the human experiences I'm having," he says of the personal nature of the record, "and maybe other people are thinking the same thoughts about existence, and love, doubt and pain. I'm comfortable in the belief that I don't know everything, I'm not the kind of artist who is going to come out and paint a picture and tell you how you should feel or think about that, because I don't think I even know how I feel or should think."
For more information, go to Matthew Dear