The musician redefining what it means to be a harpist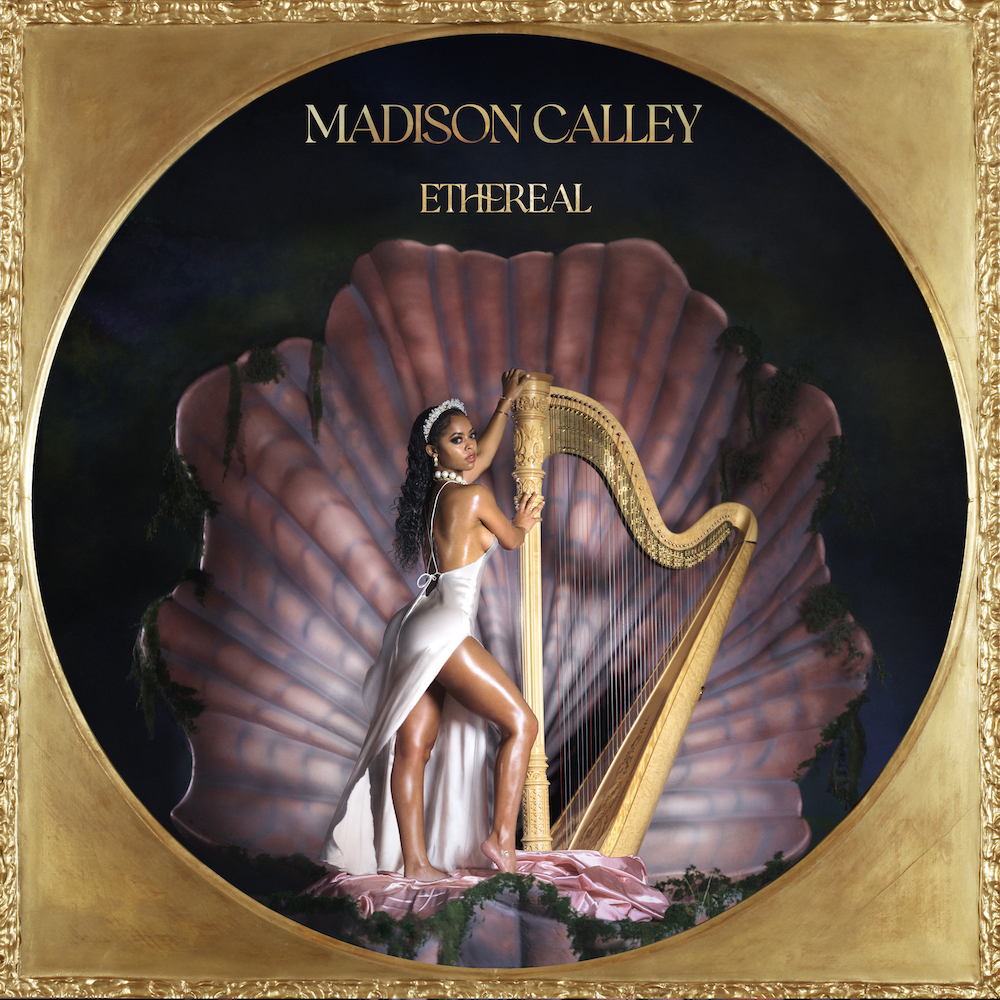 "I describe myself as a soul-harpist, I think that best describes the space I'm occupying right now," says Maddison Calley. The twenty-something year old is part of a new generation of classically trained musicians who are refreshing the image of the harp for the millennial and gen Z set.
Calley is talking to me from her Los Angeles home, on an uncharacteristically rainy afternoon. The grey provides the perfect opportunity for Calley to reflect on a bumper twelve months, during which the industry took notice of her genre bending style. In 2021 she performed at the Grammy's, signed with a new label, was featured in Rolling Stone magazine, garnered the admiration of her music idol Alicia Keys, and released a debut album – an atmospheric compilation of tracks where Calley plucks and plays the harp to modern pop and R&B covers.
Calley seems bewildered by it all, perhaps even bashful by the growing attention. Media outlets have labelled Calley as a 'barrier breaker' and a 'stereotype smasher'. The former label gets a reluctant agreement from Calley (she's humble – maybe to a fault). "I do want to send a message that classical instruments can be whatever we want them to be. There is a lot of outdated thinking of what you should play and how you should appear. That's partly what made me struggle with the harp for years," she reflects in a softly-spoken voice.
Born in Washington D.C to musically inclined parents, Calley started learning to play at six. Resentment towards the instruments crept in later, as Calley moved further into the world of classical music training. "It wasn't the harp per se, but the whole environment I found myself in. I was feeling like an outsider because I was the only minority in a lot of orchestras." Despite feeling like an intruder, Calley kept at the craft, eventually earning a degree from the prestigious Carnegie Mellon.
After graduating, Calley did not touch the harp for four years. Only recently did she pick it back up, this time finding the confidence to play what she wanted. "It was a bit of a twist of fate how I came to play R&B on the harp, but when I did that I felt that spark again," she says. And it is with this newfound confidence that success has followed. Her breakthrough year is all the more notable as it comes at a time when, according to one study, less than five per cent of orchestral musicians in the United States are African American – a dismal statistic that's the result of decades of institutional racial bias.
Port spoke to Calley to hear her reflections on her journey so far and how she hopes to create a more inclusive orchestral community.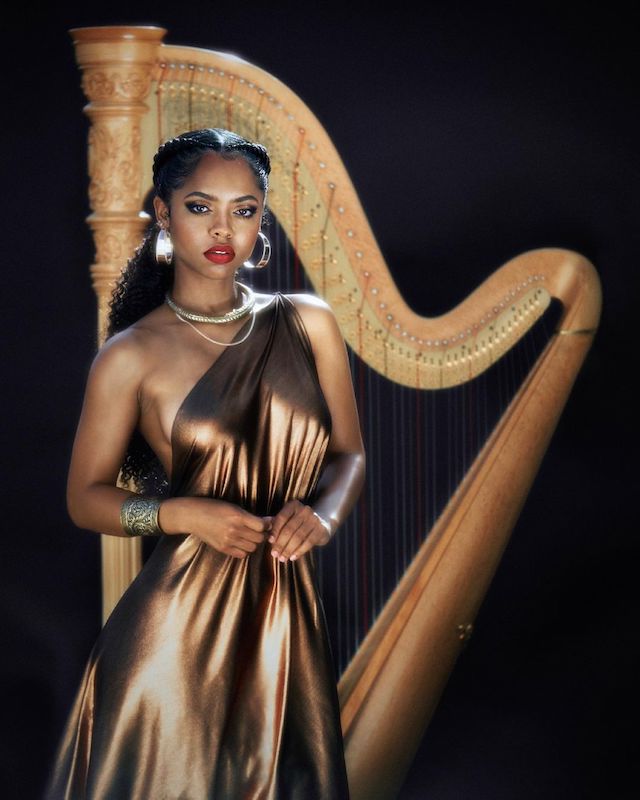 How did you come to the harp?
Growing up I went to church in DC, and afterwards, my family would go to a restaurant in Arlington, Virginia, and they had a harpist. I was about four at the time, and the harpist would play Disney songs. I loved going to that restaurant just to see them play. I told my mom that that was the instrument that I wanted to learn. She had a deal with me and my brothers that we had to pick an instrument and a sport. So that's the one that I chose and my mom started looking for a teacher. I ended up being part of the DC youth orchestra.
You've had a love/hate relationship with the instrument. Can you tell me about that?
I started to resent the harp for a few reasons. One, it is a hard instrument to learn, but there were other factors too. It maybe wasn't the harp per se, but the whole classical music environment. I was always feeling like an outsider because I was the only minority. I never really felt a sense of belonging. I always felt like an outcast. It's also a competitive world which can make it hard to make friends. So that wasn't the most enjoyable or embracing experience.
How did you rediscover the joy in the harp? It was recently that you got back into it, right?  
When I graduated from college I moved to LA. I was having this sort of identity crisis of what to do with my life. I was pursuing acting and fashion design. In LA I was meeting all these people and somewhere down the line it was mentioned to a few that I played the harp. I mentioned it in passing to a man who turned out to be Jaden and Willow Smith's manager, who I'd met at a fashion event. And so maybe like two years ago, I got a random call from him saying 'hey I remember you mentioned that you played the harp, are you still playing?'. I looked at it lying in the corner, collecting dust, and said I haven't really played in a while but yeah, I do. I ended up doing a gig with Willow (Smith) and it was my first time playing R&B on my harp. I got hooked! I was having so much fun playing again.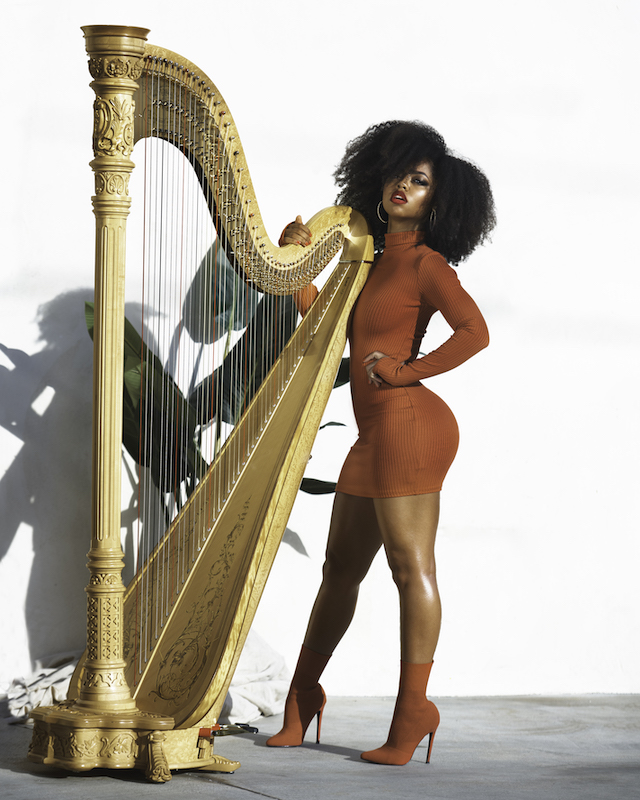 BIPOC people are severely underrated in orchestral communities and not just in America. I know you're passionate about changing that, what can we as a society do though to flip the script?
I tell people we have a lot of work to do on this front, and it's got to be institutional change, but it also has to start somewhere, why not with us? For one, I'm now teaching students and they're all ages and all minorities. What I'm trying to do is show other ways of playing the harp beyond the usual repertoire. When I take on a student I get to know them and I create arrangements for them to learn. Usually it's of their favourite songs. I also try to keep things economical: the cost of the instrument and lessons is already such a barrier. I do believe we need more programs that increase access to classical instruments. Beyond that, I'm hoping to play a small part in increasing the exposure of the instrument. When I tell someone to play the harp, their first reaction is well, I've never met anyone that plays the harp.
There are a few harp players in your generation making the harp more popular, I think The New York Times called them the players who are 'making the harp hip'. Do you work or connect with these other young harpists?
I do feel like that virtual community has allowed me to meet other minority artists or artists just trying other things. Who knows, maybe some of us can work together in the future. At the moment we don't really collaborate, but there's potential there. The other thing I'd say about social media is that it has helped connect me to people going through similar things that I did. Every week I'll get a number of women message me saying I resonate with your story or I'm pursuing this degree at harp performance and I'm trying to finding myself or finding my belonging in this community.
Photography James McCloud