The former Doves man talks going solo, adjusting to life outside of the whirlwind and why he'd never say never to a reunion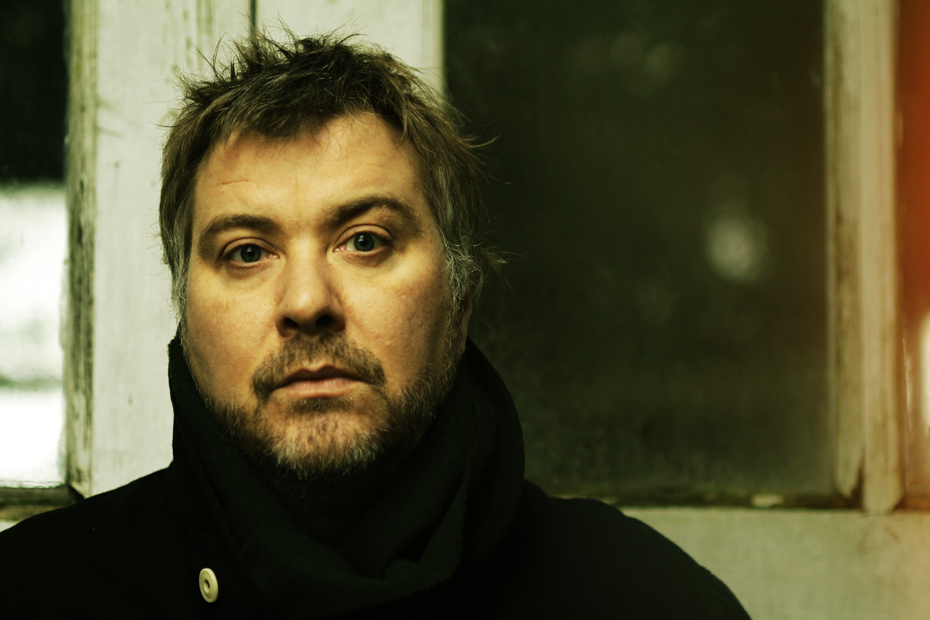 Words Tom Jenkins
There's a song on Odlulek, the recently released debut solo LP from former Doves frontman Jimi Goodwin, called 'Oh! Whisky'. It opens with the line "I saw a child with a skipping rope/I said I used to be like that/One of these days I'm going to give myself a real good talking to/Recover some youth." "Oh to be that care free and not have a thought in your head!" says Jimi over the phone in broad Cheshire tones. "Worry's a killer, isn't it!"
Odlulek has been in gestation since Doves called an indefinite hiatus in late 2010, after four massively successful albums. The title is a Polish word that translates as 'loner' or 'pilgrim'. Does he enjoy solitude? "I am a bit of a loner, I can go days without speaking to people, and it's fine by me," he laughs. "Most of the time I'm fairly happy in my own company." Fittingly, he recorded all of the instruments on the record himself, which should come as no surprise to Doves fans – he and bandmates Andy and Jez Williams would often swap between guitar, bass and drums onstage.
"In my head this record was going to be a collaborative effort, because that's all I know," he says, "but I realised two things: one, I'd be at the mercy of other people's schedules and I didn't want to be firing off emails going 'I'm Jimi Goodwin, I used to be in a band called Doves' – I wanted to get moving. Two, I was enjoying exploring me and not having to run ideas by anyone other than myself, I only had myself to please. It's good to know what your strengths are. I got my Prince on. I've always admired one-man bands."
Odludek is a diverse record that glides seamlessly between anthemic ('Hope'), dance inflected ('Live Like A River') and thigh-slapping hoe down ('Panic Tree') songs. They'll be comparisons with Doves of course – they always were a diverse bunch, more so than people gave them credit for – but it's only really the pretty 'Didsbury Girl', the oldest song on the record dating back to 2004, that brings Goodwin's previous band instantly to mind.
The split with Andy and Jez, who he'd been making music with since his teens, initially as chart bothering dance trio Sub Sub, was amicable: "It was literally the first proper time off we'd had in 12 years. If we weren't on tour we were in the studio writing and recording for the next one. Kingdom of Rust was a tough record to make. Ultimately it came out well, we believed in it, but it wasn't easy. There were warning signs. I don't think any of us could face that again."
However, he found it difficult to adjust to his new-found freedom and the absence of routine, despite insisting he hates the latter. "When we called time, it was the first time in my life I'd ever questioned my allegiance or love or passion for music – I don't like to call it a career, but it's become one," he says. "I think I had some kind of breakdown, it was like 'What now?' It scared me. I'd never questioned music, or my intent or my passion. I was sat there going 'Do I even like music anymore? Am I any good at it? Have I got anything to say?' It's sobering: you need times like that to re-evaluate where you're at. You've life goes on hold as you knew it, but those times have to happen don't they. It's about motivating yourself."
There's a refreshing lack of self-pity when he talks. He obviously went through crises, but feels he's over it now and recognises the privileged position he's in: "We spent all our adult lives in bands. Obviously that's great – our dreams came true. The whole whirlwind was great in the main, but when you finally do come home and unpack and you're unpacking this time indefinitely, life has a funny way of knocking on your door: family illnesses and all sorts of stuff that we all deal with… or don't deal with! Thankfully, I started to believe in the songs that were coming."
Now he has a band to play those songs live: "It's all new and yet it's not new. It's been great. The guys I've got in the band, I've admired them as players for years. Bo (Walsh) was in a band called One Lady Owner, on Creation Records. Christian Madden the keyboard player I've always admired. He's played with Simon Cherry Ghost and was in a great band called The Earlies years ago. He's an awesome musician. "There's a young friend of mine called Jake Evans on guitar. He's a great, really inventive guitarist." This "Tough little unit" as he describes it will be embarking on a full UK tour this May. Prior to that they'll be hitting the arena circuit in support of Elbow.
It feels strange to refer to Jimi as the "former" frontman of Doves: what does the future hold for the three musical soulmates? "Never say never – you feel like you're trotting out a line, but it's the truth," he says, and I believe him. "I don't know when that will be, but there's every possibility we'll get together and make music again. Maybe we should've had more rows in Doves. We'd always have words but it'd never be about things like 'Jesus, I hate the way he eats crisps'. Perhaps sometimes we should've cleared the air more, but we're polite and non-confrontational. Ultimately there were never any massive issues.
"As for friendship, I don't see them a lot: Andy's got a young family, so has Jez; I've got two psycho teenagers. You know what life's like; there aren't enough hours in the day to see your mates. I don't know how people do it, how you manage to get everything else done and then go the cinema with a pal or whatever. You've got to make time for that and I'm an incredibly disorganised person. I love them man, they're my brothers." That's a maybe then.
"I'm more nervous now than I've ever been I think," he continues, "but maybe it's that thing of you used to be able to dive off 30ft rocks as a kid but as you get older you think before you leap."
Take the leap Jimi, after all, it's the worrying that'll kill you, not the fall.
Odludek is out now. For a full list of live dates click HERE