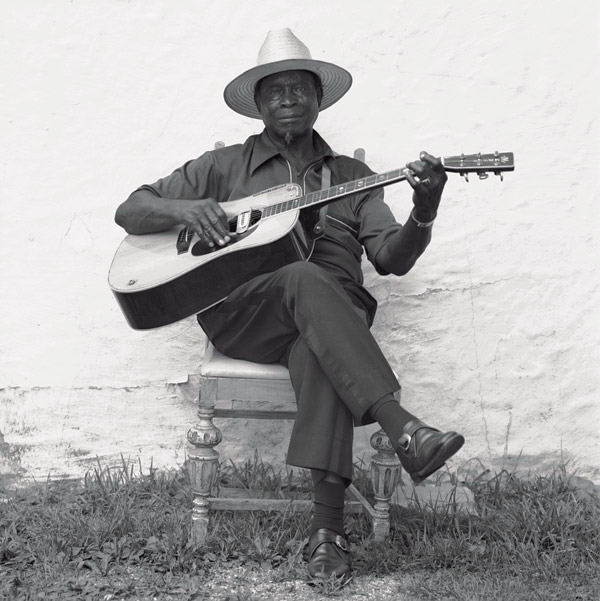 Photography James Fraher / Rock Paper Photo
Gianluca Tramontana shares his memories of the blues legend in
Port issue 7
Born in Shaw, Mississippi, David "Honeyboy" Edwards was the last of the Great Delta Bluesman; he passed away last year at the age of 96. During a career that spanned nearly a century, Edwards played alongside blues legends Robert Johnson, Henry Townsend, Robert Lockwood Jr and Homesick James.
Just a teenager when he left home to travel with bluesman Big Joe Williams at the height of America's Great Depression, it was Williams who nurtured Edwards' musical stylings as they travelled across the deep south playing the blues. During the 30s, as the careers of Johnson, Williams and many of his contemporaries took off, Edwards career took a more grass-roots approach. It was decades after Alam Lomax's 1942 tape recorded session with Edwards in Clarksdale, Mississippi — the most famous of Edwards' recordings — that these cassettes finally received the airplay they deserved, cementing Edwards' reputation as one of the finest blues musicians of his generation. During this period, and well into his nineties, Edwards continued to tour and play.
In Port issue 7, Gianluca Tramontana shares Memories of the Last Drifter. You can listen here to Tramontana's recording of Edwards as he reminisces about riding boxcars, hustling at cards and playing in the USA's most musically vibrant cities, an experience he shares in his article for Port.
Listen to more of Gianluca's Sitting With sessions at his website. Port issue 7 available from 6 September