Denis Johnson's Pulitzer Prize nominated novella is a wonderful evocation of an ordinary 20th century American life
Denis Johnson's novella, first published in the Paris Review in 2002, tells the story of the life of Robert Granier in the Idaho Panhandle of early twentieth century America – a country burgeoning with industrial endeavour on the cusp of an era of unprecedented growth and change. Born "sometime in 1886", surviving into his eighties, Granier's life is one of prosaic profundity; punctuated by death and melancholy, it is, thankfully, void of mawkish redemption. He dies as most of his life was lived – alone.
Granier is a man who never really understands where he's from or, for that matter, where he might end up. Sent from he knows not where to Idaho at the age of six or seven, his new family only serve to obscure things further. One cousin tells him he was Canadian – "they'd had to whip the French out of him" – the other that he was a Mormon from Utah. He spends his twenties as a largely feckless day labourer, "a man of whom it might have been said, but nothing was ever said of him, that he had little to interest him".
Professional aspirations seem to change with the arrival of a wife and child. His experience repairing railway bridges makes him "hungry to be around other such massive undertakings". He works in this manner – building, repairing, felling trees – until his body can take no more, ending his days an almost hermit, grief-stricken, blighted by his dreams and visions, uncertain as to what is and isn't real.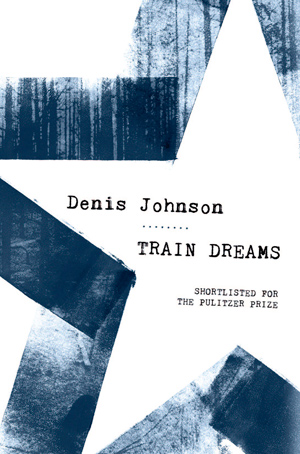 "When a child, Granier had been sent by himself to Idaho. From precisely where he'd been sent he didn't know…"
The great success of this work lies in its ability to move between vivid, muscular prose and hallucinatory poeticism – in many ways encapsulating all that is great about American literature. Train Dreams retains an authenticity and clarity that assures it stays clear of pastiche. Its brevity also helps maintain this. Short fiction is such a grand tradition in American letters that it is a great relief that Train Dreams upholds this.
There has been much talk again in recent years (when is there not?) of the Great American Novel with Foster-Wallace, Franzen and, more recently Chad Harbach, all chipping in with mighty tomes, consciously or otherwise attempting some kind of state-of-the-nation address. Indeed Johnson's last, 2007 National Book Award winner Tree of Smoke, concerning Vietnam, came in at a hefty 614 pages.
Train Dreams, however, (never striving for the accursed, aforementioned moniker it should be added) reminds us that a beautifully proportioned miniature is capable of as much as that splayed over a large canvas. Not that I have anything against the long novel. It's just that when shorter works are as good as this you begin to wonder why anyone would write anything longer. I'm certainly not of the thinking that we're incapable of applying ourselves to more than 147 characters at a time, what with our ever more truncated reading habits. But if something shorter, able to be read and re-read in a few hours, can provide such depth of thought and feeling, then it's certainly no reason to dismiss its ability to say something on an epic scale. Train Dreams does this effortlessly, with barely a false step and not a hint of pretence.
Train Dreams by Denis Johnson is published by Granta on 6th September