This astonishing new collection of teen verse provides an insight into what it means to be young in New York City
It's late autumn 2012, around the time of the last US election, and The Lincoln Center for the Performing Arts in Manhattan is playing host to a very special project. Dozens of teenagers from across the five boroughs have come together to perform their own original works at a series of poetry slams in the David Rubenstein Atrium. Held over five weeks, the theme is 'I Have A Voice' – fitting, as few of them are able to participate in the larger democratic process underway across the country. The purpose? To "promote literacy" and "empower youth", build confidence and enable young people to be heard above "the sound and fury of the city that never sleeps".
16 year old Bre'ann Newsome from The Bronx, a participant at that first Poet-Linc: Poetry Slam, is one of over 80 who've now had their event work published in a new volume from Black Dog Publishing. Her The Ambition to Exhale (overleaf) is typical of the mature and thoughtful verse running consistently through the book, which chronicles what it is to be young and in love, alone, broke or simply confused in the modern American city. She spoke to Port about her influences, the buzz of performing and being a contradictory pessimist.
Words: Tom Jenkins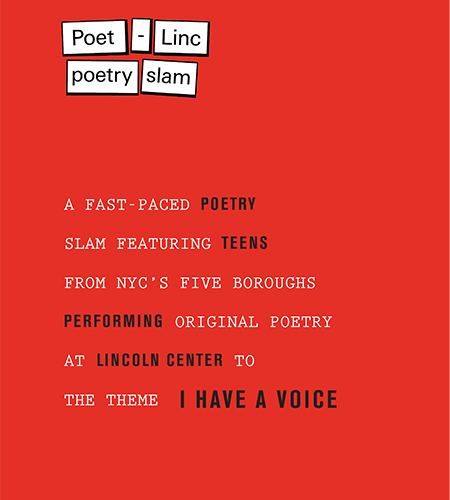 The Ambition to Exhale by Bre'Ann ­Newsome
I may not have that much money or expensive clothes in my closet
I may not have many electronics or extensive dollar signs in my pocket
But what I do have is ambition and a handful of courage
And I'm willing to do what ever it takes until it works
My mother doesn't own a car or a Prada purse
And it may be raining on top of my last name
But I've seen worse
And I've been called worse
And expected to achieve lower
But I refuse to stop running until this race is over
All of the other kids may have jewelry and their jeans identified by the brand
But I have a quarter in my pocket,
Two pennies in my left hand
They all may doubt me
And nor does anyone see
The greatness that has been endowed and is so deeply rooted within me
I am greatness
I am phenomenal
I am the tallest mountain
Amongst these brown-bricked buildings you can see
I can write
I can speak
And I am the best … by far, at being me
My dad doesn't live with me
And nor does my brother
Yeah she's flawed
But you've got me mistaken if you think I'd want another
They may have seen me trip
Slip and stumble
Tear, blink twice
Curse, heard me mumble
But I promise you they will never see me break down or fall
I have a point to prove
To myself, competition, their mothers and all
I may not ever be rich
But I don't mind being well off in a condo
Don't need to own a company
But a small business fine, make it mine pronto
I have the longest history of never going too far
If you look into my background you can get the hint of why I'm trying so hard
So hard just to find an open ear
I have the kind of luck that if I knock on someone's door,
All of a sudden no one's there
But I don't care if I get turned down
I will find someone else who will listen
Because they will hear me and all that I have to say
Hear my voice, my way rain, snow, hail, I don't care
I will fight and thump and knock down doors until I find
someone there
Whether you all like it or not I will prevail
And when you see, you ALL see
I will scream, cry, smile
And then exhale
"Poetry is the genre I write in most. When I write, I typically draw ideas from Langston Hughes – one of my personal favorite pieces of work by him is A Dream Deferred. Preparing a piece to perform on stage in front of a crowd of people you know or haven't heard of through a crack in the wall is always nerve wracking, but when you're finished and everyone applauds, you leave the stage feeling like you mean something. That's worth all of the butterflies. It becomes addictive. My role models are of course my parents and grandparents, though I also try to model myself on random people and their habits. This includes people I see in the street and my mentors. I've tried to cut out the best parts of people and glue them into myself.[/one_half]"I'm a pessimist. My Dad tells me I am, all of the time, and I can see it for myself when I interact with other people. So when I write about things from my perspective it differs greatly from that of an optimist. I guess you could say I'm determined to show everyone the places where the sun doesn't shine so bright, in the most realistic way. I'd say that contradiction and pessimism is what gives me my strength."