Book case; the rare book dealer explains how he started off by following Kerouac and ended up flogging Nabokov. He talks with Laura Barber
I wasn't exactly the boy raised by wolves, but the Catskill Mountains were a long way from the literary circles of Manhattan. My family had emigrated from Eastern Europe and my grandfather, uncle and father had all been peddlers of various kinds, so I grew up with a strong sense that selling things was a noble thing for a man to do. At the same time, I was a precocious kid with vague aspirations to a life of the mind, though I had no way of expressing that, even to myself. My whole experience of state-school education was uninspiring and, aged 17, my primary interests were athletics and girls. My parents wanted me to go to college, but if I thought about my future at all, I saw myself becoming a kind of Kerouac character – I'd head to New York City, do manual labour, write novels and sleep with as many girls as I could.
That was until I went to an open house at Bennington College – it was like stepping into another world, a beautiful postage stamp-sized Arcadia in the middle of Vermont. The time I spent there, studying fiction under the writer Bernard Malamud, was the most transformative period of my life. I lost that awkward sense of never quite fitting in, and I grew confident in my own judgment.
After graduation, I finally followed my adolescent dream and moved to New York to be a writer. By then, I'd churned out thousands of pages of prose, but I was also sufficiently well educated to know what superior literature looked like – and mine was definitely mediocre. To make ends meet, I was working in the rare books department at the Strand Book Store and I began to feel that buying and selling books was a way that I could actually make a living out of texts. As someone who was young and driven, it was slightly quirky to embark on such a staid profession, but it appealed to the two competing instincts I had, the intellectual and the commercial. After 18 months at the Strand, I'd earned the trust of a handful of serious collectors and I decided to go it alone. With a loan from my father and the savings from my bar mitzvah, I scraped together enough money to put a down payment on my first library and, six weeks after my twenty-fourth birthday, I had my own business.
At first I was just buying and selling individual books, but when I was asked to negotiate the sale of a poet's archive to a university, I suddenly realised that these larger deals were what really excited me – I liked the process of bringing two parties to the point where their interests were perfectly aligned and the transaction could take place. The game-changer came when I sold Nabokov's literary estate to the New York Public Library for a record seven-figure sum.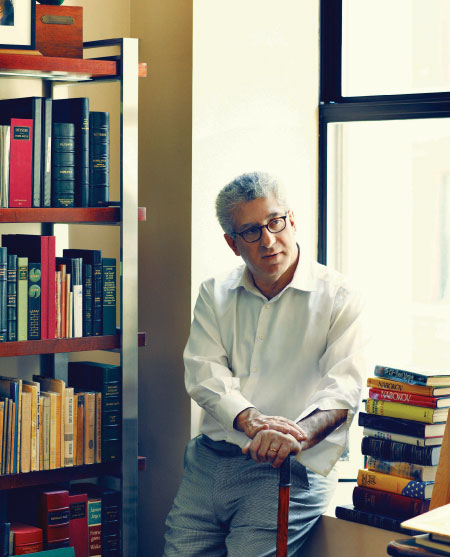 Whether it's Kurt Vonnegut's archive or Eleanor Roosevelt's collection, every deal is unique, and many of them take years to put together. People like to imagine that I spend several hours a day in the Union Square Cafe talking and eating, and it's true that talking is a big part of my job. Because of the relationships I've built up, I no longer go looking for good books: they find me. I'm also lucky to be surrounded by a team of gifted younger people, who share my vision for the business and will be able to watch the seeds I've planted grow to maturity. I may eventually take a more avuncular, advisory role, but right now most of my ambitions remain unfulfilled, and I wake up every morning determined to achieve more. If you're able to articulate for yourself what you want to accomplish, there's no secret to success: it's hard work, hard work, and really hard work. And when I'm not working? I'm reading.
Photography Neil Gavin