Or in the case of Switzerland's most historic watchmaker, crafting whole calendars – the most exacting and exquisite horological calendars on the planet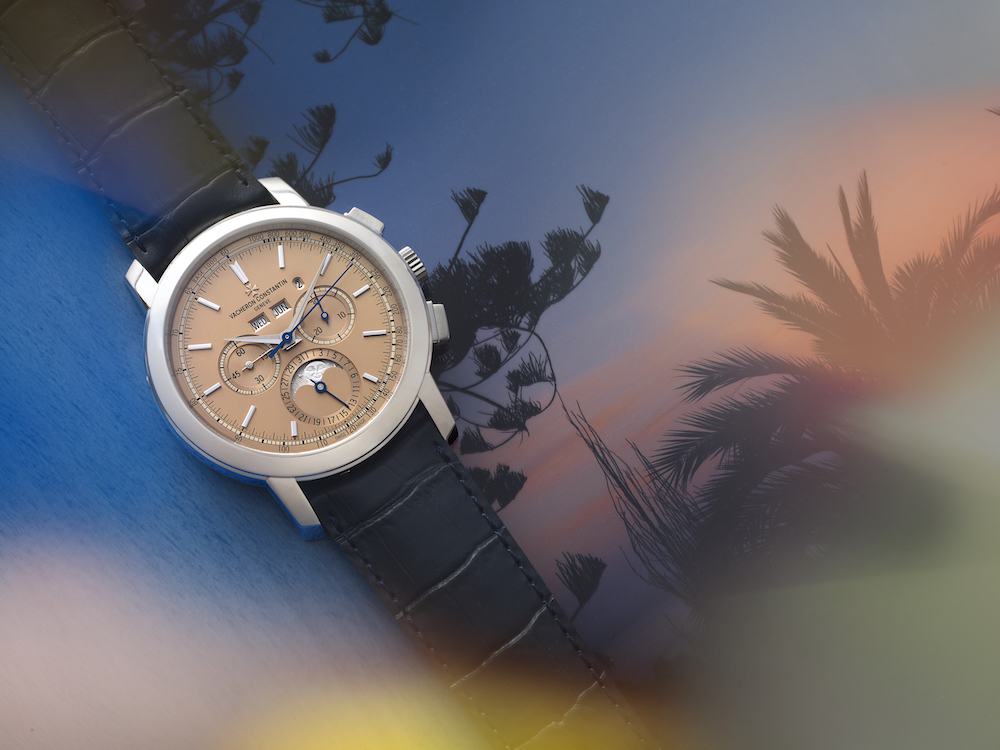 More than 260 years of uninterrupted production and profit doesn't happen because of heritage and nostalgia; it comes from constant preparation for your 261st year, then your 262nd, the 263rd… It's why the salmon-pink masterpiece depicted here is the perfect embodiment of its maker, Vacheron Constantin, being a calendar perpetuelle.
Perpetual, thanks to a 48-toothed cam just behind that gorgeous dial, rotating a full 360º every four years, guaranteeing you never need adjust the date, even on February 29th. (Except on secular, or centurial years (but not those divisible by 400) thanks to Pope Gregory XIII's calendar not quite syncing with the Earth's solar orbit – so do remember to adjust your perpetual calendar on the 1st of March in 2100.)
Then 'perpetual' in a second sense, since the seeming anachronism of this watch's elaborate, over-engineered mechanics belies the "what next?", "why not?" mindset to get here – regardless of better time (and a slightly more reliable date) kept by your iPhone. Thanks to Vacheron Constantin's broader-than-most outlook from 1755 onward, the brand itself has gone the distance; to the point where the 324-part movement inside the Traditionelle Perpetual Calendar Chronograph is considered the finest of its kind, befitting a 43mm case of pure 950 platinum.
The overarching vibe of any Vacheron watch is more Latin – rangy, even – than its handful of contemporaries. Reflecting this classical élan is Jean-Marc Vacheron himself, who in 1755 opened his atelier on an island in Geneva's arterial Rhône. He was something of a Renaissance man, interested in literature, history and philosophy – plus, in a perfect horological storm, fascinated by the rising potential of micro-mechanics in astronomy, chronometry and connoisseurial grandstanding.
These were passions inherited by his son Abraham and grandson Jacques-Barthélemy, ensuring their ornately decorated pocket watches made it into the right hands, throughout the era's emerging, further-flung markets. Its guiding motto, "Do better if possible and that is always possible," first appeared in a letter François Vacheron wrote to Jacques-Barthélémy Vacheron – the former a hotshot marketeer brought aboard in 1819, the latter proving particularly clever at the helm, going on to navigate the company through some choppy waters. The French Revolution for a start, followed by the Napoleonic Wars, then France's annexation of Geneva itself. How did the family firm stay afloat, cut off from so many of its elite clients? A temporary diversification into textiles, for one. And cherry brandy.
Such far-sightedness is rare in watchmaking; the fact every major Swiss marque remains voluntarily ring-fenced by mountains is metaphor made real. So it probably helps that Vacheron Constantin has always based itself just outside the Jura, down in cosmopolitan Geneva – a hub on the global stage, let alone European. The rather '80s velvet-lined, walnut-veneered retail experience remains, but think of what the Richemont Group's flagship watchmaker's actual flagship resembles. A furled spaceship in factory form, poised for lift-off, light years from its anodyne Genevan suburb.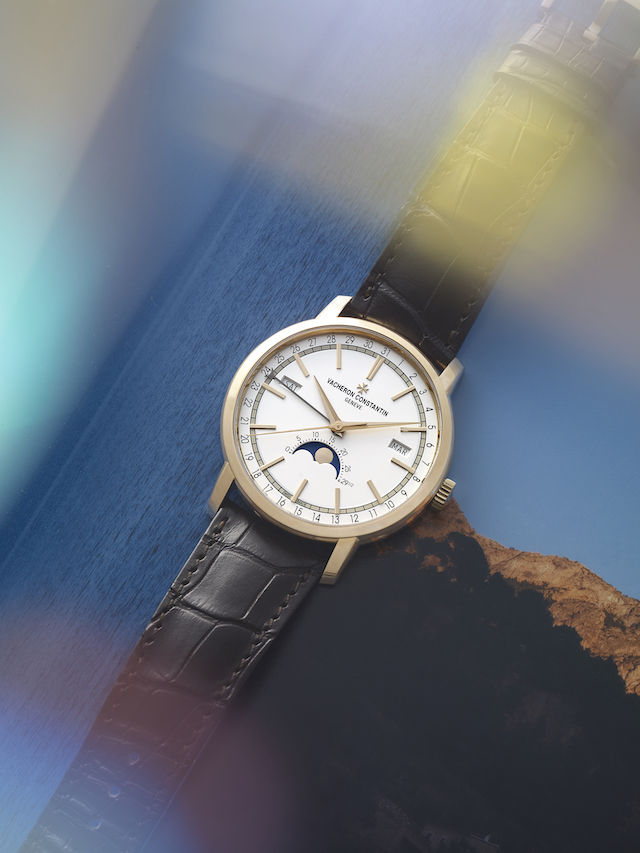 The batteries of million-franc milling machines populating the ground floor of no.10 Chemin du Tourbillon, feeding the hushed floors of finishers, decorators and watchmakers upstairs – the elite artisans bringing things to life – are the latest generation in a technology embraced by VC since the mid-19th-century. Other stoic practitioners of the Swiss craft turned their nose up, but not Georges-Auguste Leschot, who saw the potential of new American tech capable of making components in series with such precision that they could be interchangeable across a suite of different calibres. More importantly, Leschot also saw that brand integrity and baked-in product value need not be sacrificed downstream.
Vacheron Constantin had recruited Leschot as technical director in 1839 – a killer hire, given he'd invented nothing less than the ubiquitously adopted Swiss lever escapement nine years prior. Boosting VC's consistency in precision production, Leschot invested in the 'pantograph' – a pre-digital form of computer-numerical-control (CNC) machining, which centres and drills plates and bridges repeatably, scaling down the geometry of a fixed template.
Further, Vacheron Constantin became keenly involved with research into non-magnetic materials in 1862 – magnetism becoming a big problem for watch's delicate metallic parts just as electricity and motors were becoming part of daily life. By 1885, VC's mixologists had conjured a cocktail of metallurgy in the ticking 'escapement' mechanism: balance wheel, balance spring and lever shaft all in palladium, the lever arms in bronze and the escape wheel in gold. A full decade ahead of Charles Édouard Guillaume discovering the nickel-based alloy 'Invar', subsequently adopted wholesale.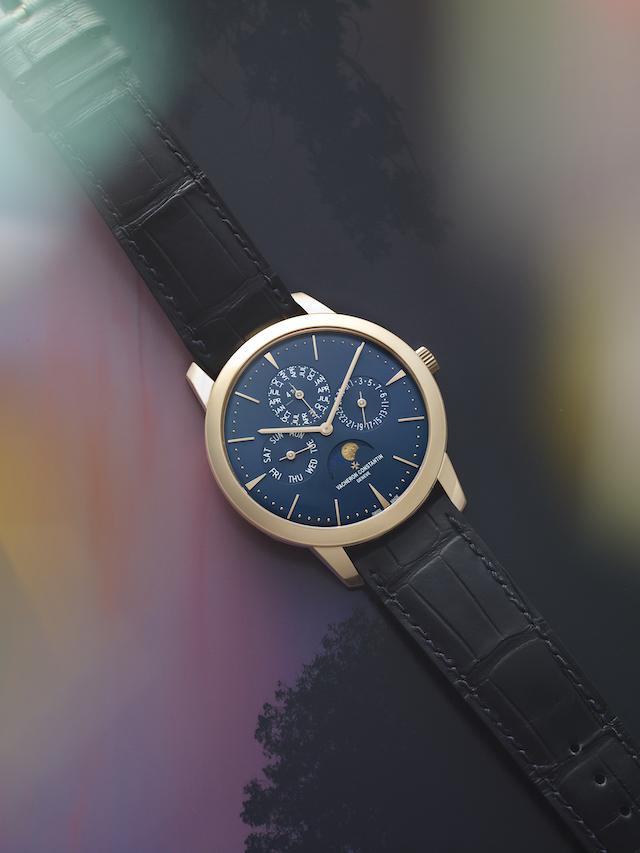 Calendars, though: it's fitting that watchmaking's most venerable name excels in keeping track of long time as well as the immediate or quotidian. Vacheron Constantin may not have been the first with any of horology's major 'complications', but like Apple – famous for keeping its powder dry before knowing when to conquer the emerging worlds of personal computers, desktop publishing, MP3 players and smartphones – it has applied its experience to being the best.
Turn the Traditionnelle Perpetual Calendar Chronograph's platinum case over, and you are sucked into a Lilliputian constellation of spellbinding mechanical delicacy. It conforms to the stringent 'Poinçon de Genève' seal of hand-finish. Circular-grained mainplates, Côtes de Genève motif on bridges, hand-bevelled components and straight-grained flanks, applied even to components that remain invisible once the movement has been assembled. Crafts all endangered until recent years' concerted efforts in preservation, at the hands of Switzerland's 'Big Five' – VC, as well as Patek Philippe, Jaeger-LeCoultre, Audemars Piguet and Girard-Perregaux.
Whether it's the new salmon-dial posterboy for Vacheron's 'grand complications' atelier (and we haven't even touched on the intertwined chronograph works, which starts to explain the £132,000 price tag), or the blue-eyed-boy of VC's Patrimony collection featured here also, stripped back to perpetual calendar alone (£73,500), or the simpler-still Traditionelle Complete Calendar (£36,200): you wear all of their mechanical hearts under your sleeve, and by the same token, the beating heart of Vacheron Constantin, in perpetuity.
Photography Benjamin Swanson
Post production The Wizard Retouch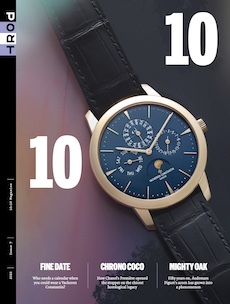 This article is taken from Port issue 31. To continue reading, buy the issue or subscribe here