James Bond and every single Apollo astronaut can't be wrong: the sharpest kit at watchmaking's cutting edge comes from a sleepy town called Bienne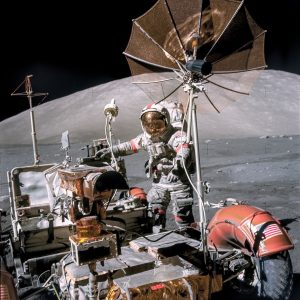 Until his death in 2017, Gene Cernan remained stoic in his belief in Omega's commitment to, "make the finest watch piece," as he would attest at countless appearances, quipping: "not only in the world, but in the entire universe."
Of any earthly being, Cernan is best qualified to make such a bold claim, given his hitherto unchallenged status as the 'last man on the moon'. He helmed the Apollo 17 mission, which celebrated its 50th anniversary last December, spending 75 hours on and off the Moon buggy, always – as pictured here – with his trusty Omega Speedmaster chronograph velcroed around the right arm of his spacesuit.
To this day, the so-called 'Moonwatch' has been worn by astronauts on every lunar landing. It was qualified by NASA for "all manned space missions" in 1965 and became official kit riding the nose of every Saturn V rocket, beginning with Apollo 11 in 1969, going on to prove invaluable aboard the "successful failure" that was Apollo 13 in 1970, timing a critical 14-second re-entry burn.
You can view Captain Cernan's scuffed-up ref. ST 105.003 'Speedie' in all its steely utility at Omega's museum in Biel, Switzerland – now whole again, having had its manually wound innards scanned by cross-sectional 'tomography' X-ray technology, when Omega bowed to fanboy pressure back in 2019 and revived production of the original 'Calibre 321' movement, for a very-few special editions.
The museum itself is part of another innovative feat of engineering, albeit on a multi-storey scale. Drafted by Japan's Shigeru Ban in his signature biomorphic style, Swatch HQ crouches incongruously amidst bland downtown Biel/Bienne on the German/French-speaking border of Switzerland's Jura; all undulating, interlaced wood, connected by a soaring and sinuous arch. Using the regenerative energy of groundwater from rain, collected via underground wells, rooms are directly cooled or heated by heat exchange, while grass helps the wells to filter and clean the rain as it descends to the 'phreatic table'. 
Omega's commitment to innovation goes on and on. While this building is shot through with natural references, its heart is pure machine: rising 14m high and occupying a space 30m long and 10m wide, you'll find a roboticised stock delivery system shooting through its core, where every watch that leaves the building starts its life.
Some 30,000 boxes are distributed over four aisles, containing everything from movements to hands and cases to dials, all programmed by barcodes and shuffled in a mechanised ballet by Wall-E-like entities on a bungee. Only two acclimatised humans are allowed to enter this space, which maintains its atmospheric oxygen at 15% rather than 21%, so that it can't burn.
That this is the 'heart' of the watchmaker's home is only the start of the metaphor. For where Omega's every other endeavour of the 21st-century lies is at the 'heart' of every mechanical watch: its pulsing, ticking escapement.
Even the elite of high-end horology are content to stick with the tried-and-true 'Swiss lever' escapement: 30 parts of steel, brass and ferrous alloy, alternately locking and unlocking the geartrain (powered at its other end by the mainspring) to which the hands are attached, four times a second, as dictated by the beat of a tiny, oscillating pendulum in wheel form. Fine-tuned to 'chronometer' level, it'll beat with a precision that hovers between –4 and +6 seconds a day – more than adequate for most of us.
But not for Omega. In 1999, it exacted upon commuting its reputation for ultra-precision as timekeeper for the Olympic Games from trackside to, literally, by your side. And the answer lay in the Isle of Man's one-man horological tour de force, Dr George Daniels.
Daniels had spent two decades – and plenty of prototypes besides – failing to convince the Swiss of his 'co-axial' escapement: nothing less than the greatest advancement in mechanical timekeeping since the above, dating back to the 1700s. By superimposing a second escape wheel and adding a third prong to the lever locking and unlocking it, Daniels' invention of 1975 eliminates all sliding friction and therefore the need for mucky lubrication. Rolex and Patek Philippe may not have cared, but in movement-making giant, ETA and ultimately its Swatch Group stablemate, Omega, Daniels finally found a kindred spirit.
"ETA needed a forward-looking technology that would attract new blood back into the industry," explains Michael Clerizo, author of George Daniels: A Master Watchmaker & His Art, speaking of a time when Switzerland's engineering graduates were more likely to be attracted by local micro-tech than dusty old brands up in the mountains.
"The Omega Co-Axial, as it became known, turned a dead end into a highway," Clerizo says, "it kickstarted a spirit of watchmaking innovation."
As if it wasn't enough integrating co-axial tech across its entire range, upping service intervals to eight years and warranties to five, Omega still weren't done. Launched in 2015, a new system of tests for anti-magnetism, accuracy and water resistance was unveiled in cahoots with the Swiss Federal Institute of Metrology (METAS).
The METAS test, conducted in-house by visiting METAS boffins, was, and still is, open to other brands to use; the fact that only Tudor has bitten too makes it easy – or not, as the case may be – to see why. To earn 'Master Chronometer' certification, amongst plenty more real-world wear and tear besides, the finished watch is exposed to a whopping 15,000 Gauss magnetic field, with the functioning of the movement (i.e. the escapement's "tick, tick, tick") checked audibly using a microphone.
To the humble mechanical watch, magnetic fields are still Public Enemy No. 1. Shocks, water and (thanks to the co-axial) lubrication have all been dealt with over the years, but proximity to a strong electrical charge or even the smallest 'permanent' magnet is still enough to magnetise the tiny ferrous components ticking inside your watch, causing them to stick together, repel each other, or behave erratically. More so these days, thanks to our crowded lives of devices. But, yet again, not content with just sticking to the "it'll do", Omega's closely guarded new cocktail of silicon and metal-alloy materials deals with that too.
It is mechanical timekeeping with relevance and quotidian readiness, rather than rheumy-eyed anachronism for the sake of it. The reason for choosing 15,000 Gauss as a barometer is because, although it is the type of onslaught you'd get if you were having an MRI scan, anything from a fridge magnet to an iPad can stop a watch. So Omega's Master Chronometer-rated co-axials are prepared for the worst – even worse in fact, but that'd be more than could be said for the person wearing it.
Smoother running, electromagnetic resilience… and now? Nothing less than near-perfect precision, getting on for electronic quartz extremes of accuracy. Again, coming down to the 'pendulum' wheel pulsing at the heart of the escapement.
It pivots on a hairspring, whose coil 'breathes' with every contraction and expansion. The more evenly concentric those breaths are, the more stable and easily regulated it is (generally via moveable weights dotting the attached balance wheel). Omega's surprise opener for 2023 was the silicon 'Spirate' balance spring – as technical and unsexy as the previous sentence implies.
Bottom line: thanks to an eccentric adjustment point at Spirate's outer terminal curve, Omega has whittled things down to an error rate of 0/+2 seconds a day by quite literally reinventing the wheel: a silicon spring allowing the watchmaker to act on the stiffness of the hairspring from both sides, where the terminal curve attaches to the movement.
Horologically, this is rocket science. Of which Captain Cernan would surely approve.