Diving watches are going back to the future with a flotilla of revival water babies, as cool and fit for purpose as they have ever been – and Rado's Captain Cook is at the helm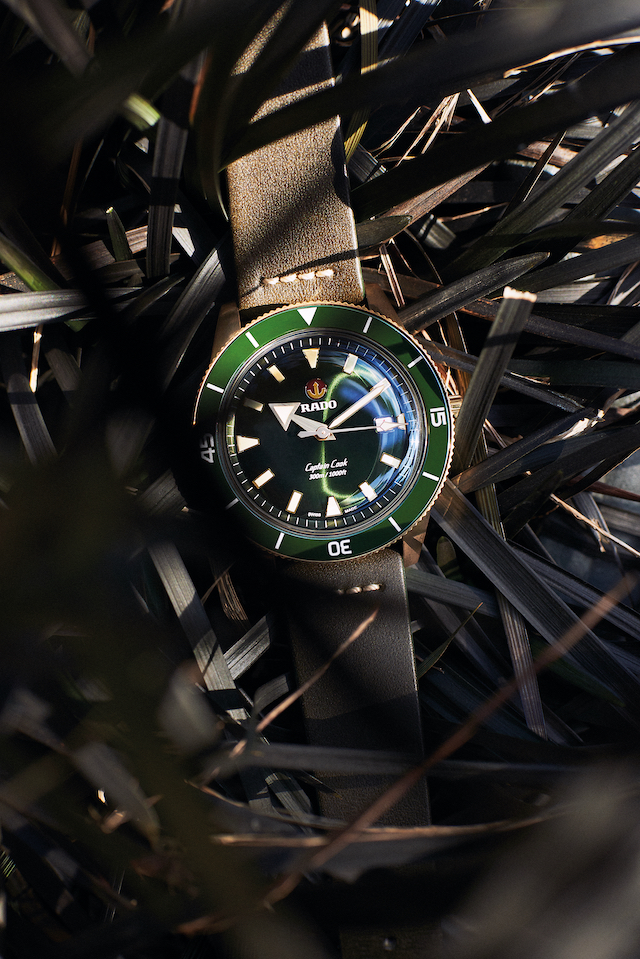 After five rather startling years of slowdown (since reversed, it should be said), you can forgive Switzerland's watchmakers for hunkering down to trend-led facelifts and subtle tweaks – rather than the bombastic, R&D-budget-draining mechanical wizardry of the noughties.
While the newness may only be case-thick, the impact of this more considered approach has been delightful. Indeed, the facelifts of 2020 have amounted to a veritable pick 'n' mix of exuberant colour pops, from regal blue to acid-house yellow and camo green.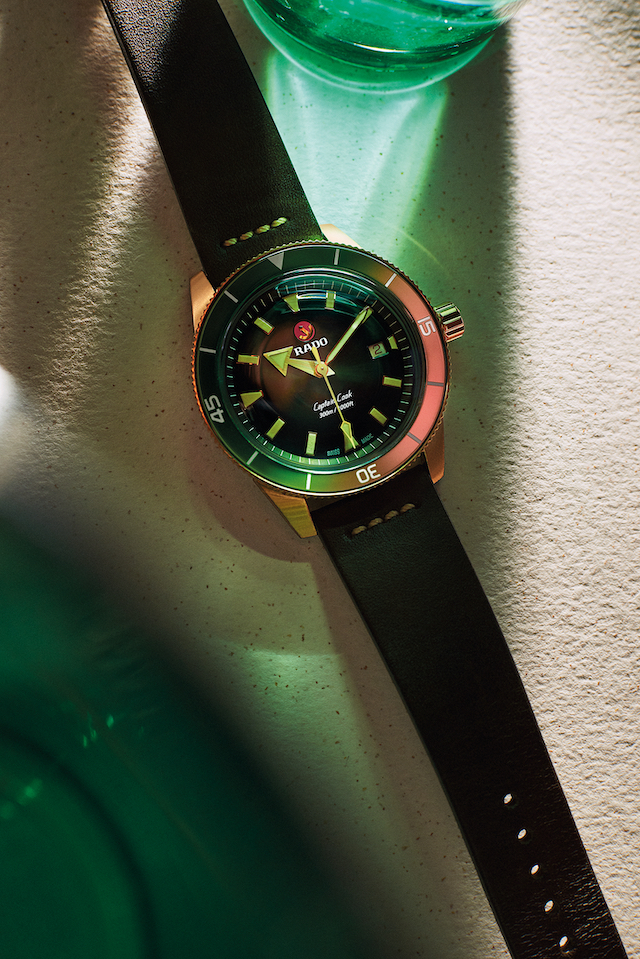 One particular colour, however, is a distinct rose tint – soundtracked to the creak of archives being pulled open and raided, to instantly satisfying effect. Just as with all the nostalgic advertising and 'Keep Calm' tea towels the UK is still suffering following the financial crash (no doubt drawn out by Brexit), this year's tentative stream of launches feature vintage reissues and retro throwbacks by the boatload – the biggest of all being the diving watch.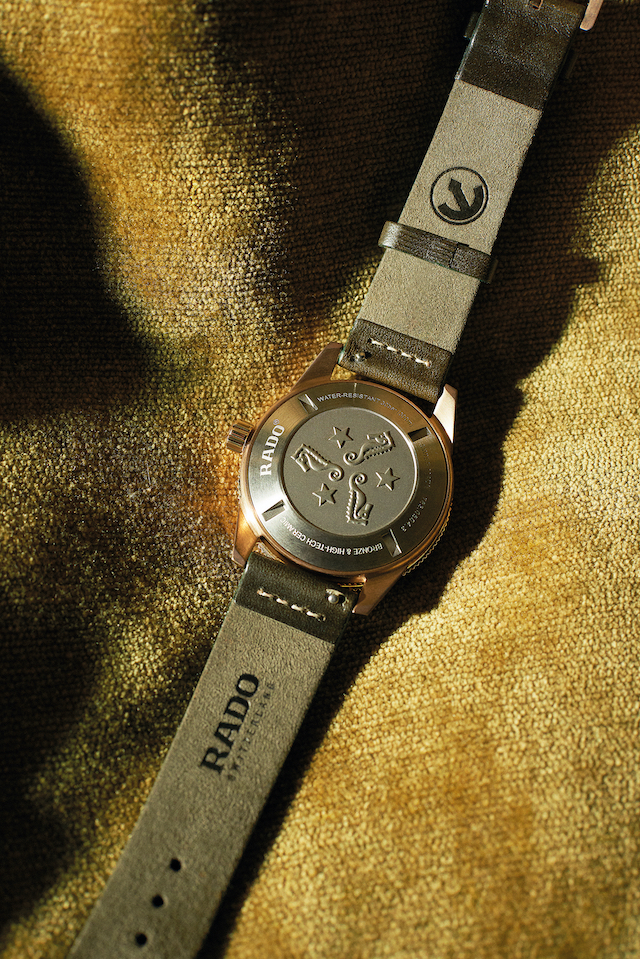 Despite rarely encountering actual saltwater, the water-resistant tool watch's ubiquity on civvy street is for good reason: It looks purposeful yet distinguished, with a broad canvas for bold design. And whether you're PADI level 3 or just splashing about in the shallow end with the kids, they're genuinely practical – not forgetting resistant to magnetism, as well as water, thanks to their chunky metal cases.
In other words…you can throw on a diving watch and forget about it. It's how Sean Connery's Rolex so believably transitioned from planting a bomb underwater to propping up a cocktail bar within just a few minutes. (Or, rather less believably, how Pierce Brosnan's Omega went from laser-cutting a nuclear train to driving a tank.) It's also how your diving watch embodies as many real-life tales of derring-do as the green-enamelled wings adorning your silver bonnet: proving itself on the professional circuit lends your prize purchase an array of talking points.
For a start, while born of the murky depths, it was something far murkier that provoked any notion of watertightness in the first place: the trenches of World War I. Those ghastly conditions meant the gentleman's watch migrated from the pocket to the wrist – a hands-free convenience that nonetheless kept it permanently exposed to the elements, rather than tucked safely away in your waistcoat. Dust and moisture entered far more readily through gaps in the case, and especially the watch's Achilles' heel: the winding/setting crown.
Thanks to a certain aforementioned brand, the new sports-watch genre began screwing the crown – as well as the case's back and front – tightly onto the central case body, like a submarine hatch. Throw in the later addition of rubber O-ring gaskets sealing every join, and you have the system in use to this day, across the board.
By the '50s, war had honed 'self contained breathing apparatus', or SCUBA, and thanks to the popular films of Jacques Cousteau, the public were throwing themselves (or rather, falling backwards) into this exciting new amateur sport. Which meant, for watchmakers, the floodgates opened: Every Swiss manufacturer and a good few American ones soon boasted a diving watch in their collections. It helped that the bright details and voluptuous forms lent themselves particularly groovily to the styles of the '60s and '70s.
Given our unquenched thirst for all things retro (especially mid-century retro), not to mention backstories aplenty, our current spate of reissued vintage diving watches is hardly surprising. Which brings us to Rado.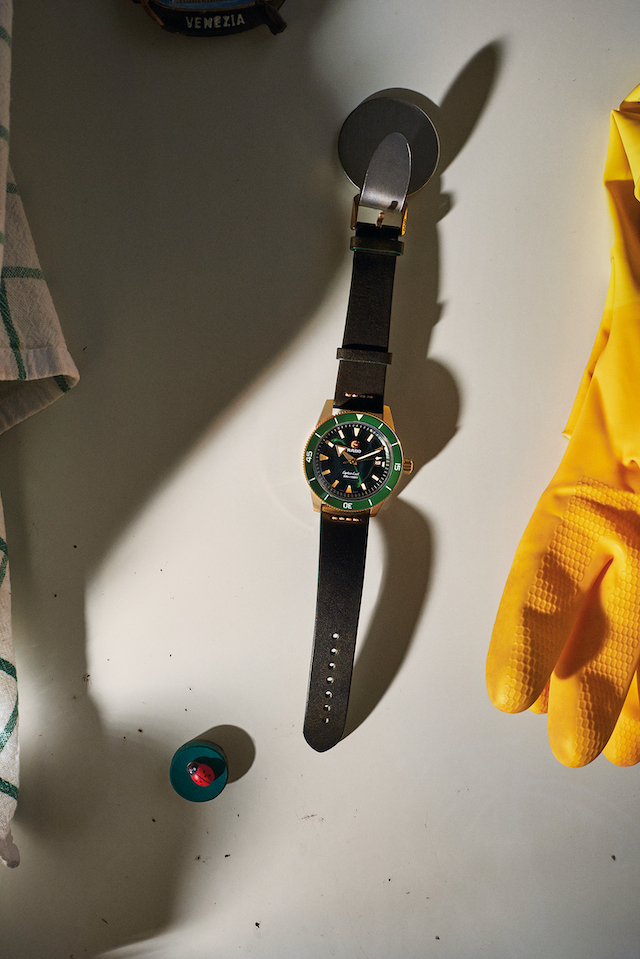 A burgeoning reputation for sci-fi experimentalism in materials science, and by the same token design, meant that Rado's Captain Cook divers of the early '60s stole a march on more famous releases, in terms of bulbous case shapes and far-out colourways: a long-ignored prescience that Rado is now redressing with another stellar 2020 reissue, dating from 1962. Moreover, given this expertise in tungsten-carbide hardmetals, followed by pioneering, precision-engineered ceramic, it's particularly charming to see Rado diving back into the scuba scene with a watch made of maritime's most historic metal: bronze.
The anti-corrosiveness of aluminium spiked copper ('CUAL', used here for the case as well as the crown and bezel) still makes it the alloy of choice for ship's propellers, and its rough-hewn heft and warmth means bronze is flattering on any wrist. Tech-heads needn't fear however, as Rado couldn't resist inlaying the bezel with top-grade green ceramic, whose numerals are then laser etched.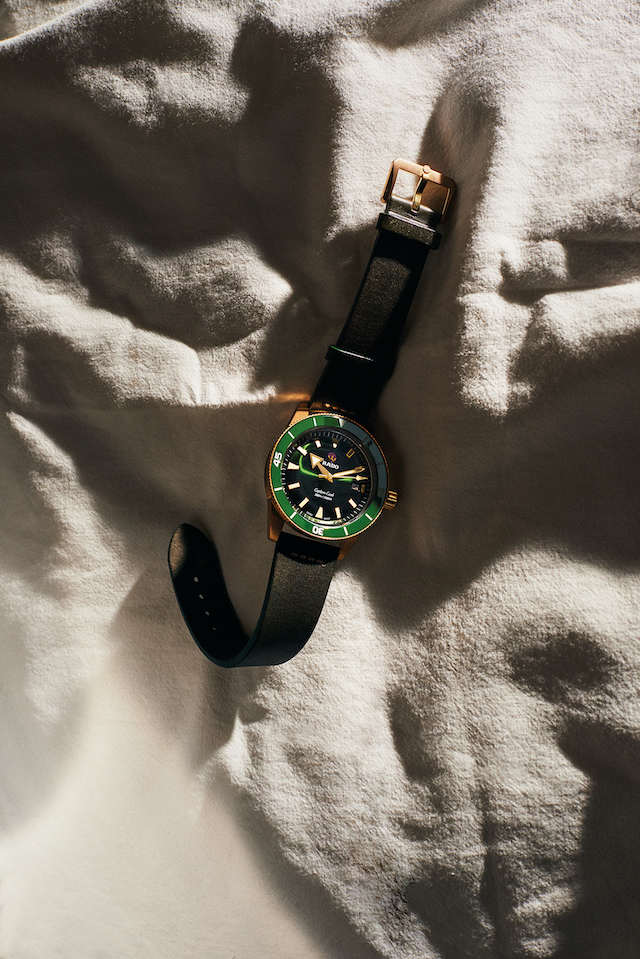 It's not just the maritime connection per se, or the brooding brown-gold tonality that sells this watch; it is the patina that develops in reaction to external agents such as air, moisture, heat and friction. This green-grey 'crust' isn't corrosion – on the contrary. It is the bronze's 'skin', a protective layer that slows down any further oxidation of the metal. And because it develops haphazardly, in accordance with your lifestyle, your place on the planet, how much you wear it, etc…your Rado's patina is totally unique.
Uniqueness is a priceless USP in the luxury-watch world – as well as authenticity – and in this case the good captain has both firmly anchored.
Dive on in, the water's fine.
Photography Tex Bishop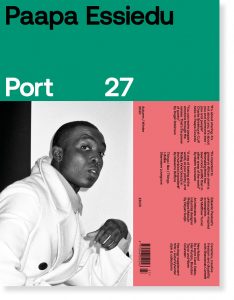 This article is taken from issue 27. To buy the issue or subscribe, click here