Clare Finney talks to East London Liquor Company about their ambitious plans to revive the capital's whisky scene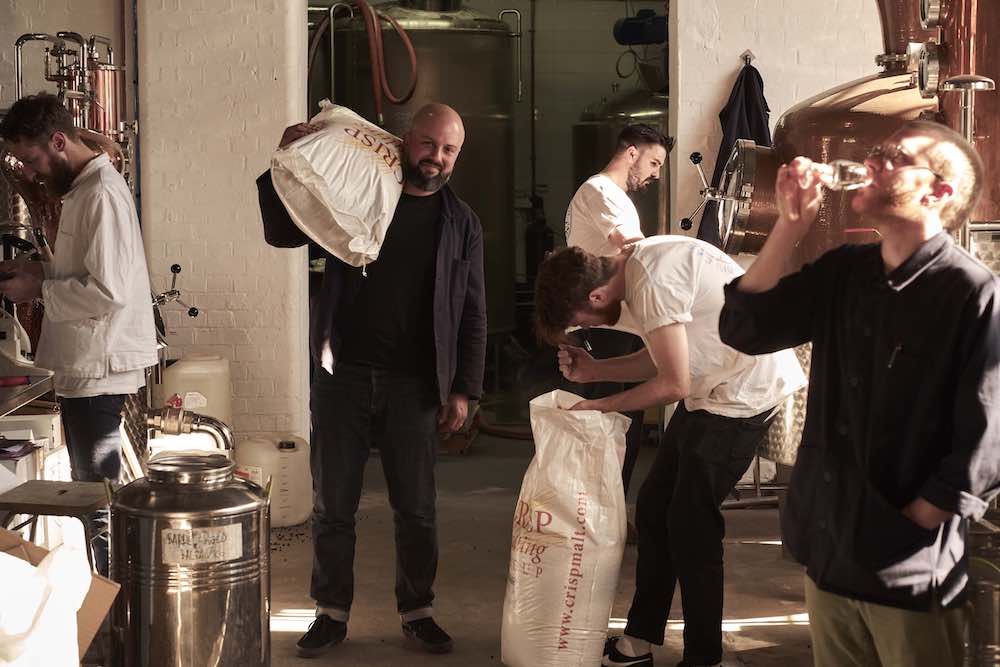 December 2015. Obama is still the president, Ziggy Stardust is still shining and Brexit is but a twinkle in the eye of some Tory backbenchers. Meanwhile, in an old glue factory in East London, three men are embarking on another project, that will, if successful, herald a new era in the capital's rich history. They are Andy Mooney, Tom Hills and Alex Wolport – and  their mission is to revive whisky production in London, 112 years after the last drop was produced in the city. "It's very much a leap of faith," Hills told us then over a dram of the White Dog – the newly distilled, unaged whisky. "There's no way of knowing how it will turn out…we've just got to put it in a lot of different barrels and, unfortunately, I guess we'll have to keep drinking it to find out how it's going."
Fast forward to 2018 and Hills' White Dog seems to be the only thing in the world that has got better in the last three years. The first batch has been bottled, and East London Liquor Company are delighted (perhaps even a tad surprised) with the results. I'm invited in for a sneak preview with Mooney, their whisky distiller, who takes me through the process: a mash of 42% rye and 58% extra pale malted barley undergoing double distillation – first, in a pot still, to strip the spirit from the beer mixture, then in a column still to concentrate and purify the alcohol. "I always say brewing is like baking, in that you have to get the temperature and balance of ingredients exactly accurate, whilst distilling is like cooking. You can be more creative," he shouts over the distillery's whistles, roars and bangs.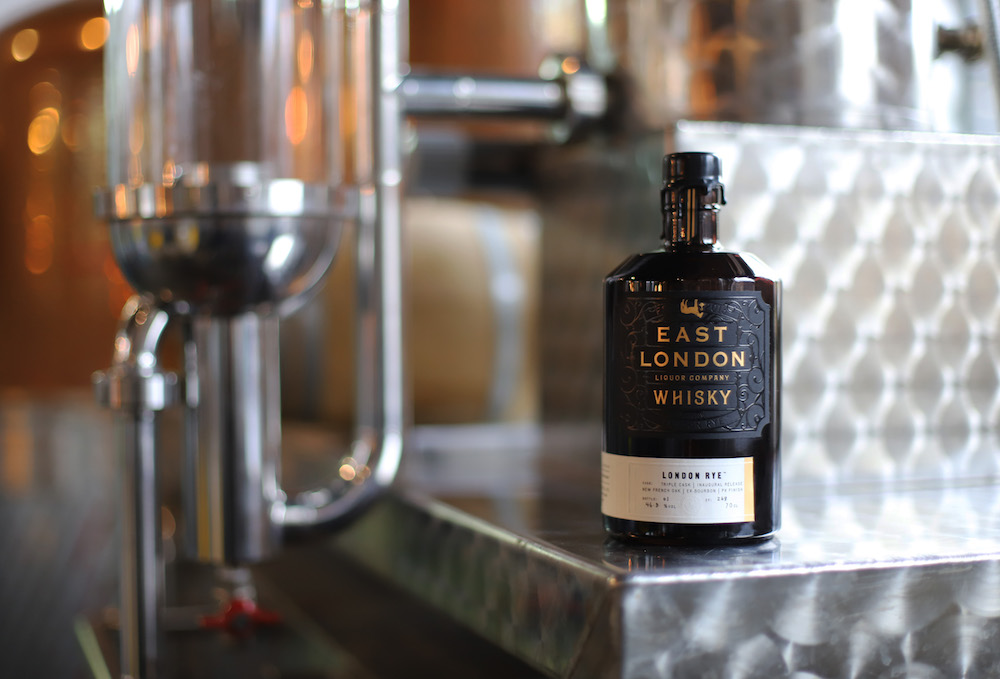 Creative isn't half of it. When we first visited back in 2015, Hills explained how excited he was about innovating in an ancient industry. "There's no surviving culture of making London whisky, so we have carte blanche to do what we want." They aren't governed by the strict rules of Scotch, they aren't catering for Japanese or American whisky drinkers, and their sleek copper stills, having evolved in Germany largely for the production of schnapps, are more refined and artisanal than the industrial stills of their Irish and Scottish forebears. What's more, they're distilling in East London: home of craft beer, home-brewed ferments and start-ups as far as the eye can see. "Gin was considered a grandmother's drink, and now the gin scene is massive. People are starting to drink spirits for enjoyment rather than to get drunk. They're looking for interesting flavour profiles." If ever there was a time to introduce young, innovative whiskies to Londoners," Mooney argues, "that time is now."
He's looking forward to experimenting further: to creating the sort of "funky flavours no one has tasted in a whisky before," using different yeasts and barrels. "My barrels are new American and French oak, chestnut, mulberry, acacia, and ex-wine, rye and bourbon, Cognac and vermouth," he says, gesturing to a gunpowder plot pile of barrels outside. Each barrel infuses the spirit with a different layer of taste and aroma according to the wood, it's level of char and the spirit it held previously. The London Rye on sale now has been matured in new French oak casks – "intense and cinnamon" – with Level 5 and 3 chars for one year, spent two years in ex-Bourbon – "caramelly flavours" and has been finished off for one month in a cask formerly containing Pedro Ximénez sherry – "to add a touch of sweetness." The result is bright, fruity and dangerously palatable – but things will get funkier in the future. "I'd love to mature a naturally fermented rye whisky in an ex-orange wine barrel," Andy enthuses – which is the sort of drink I can only imagine being served in a basement speakeasy in Hoxton.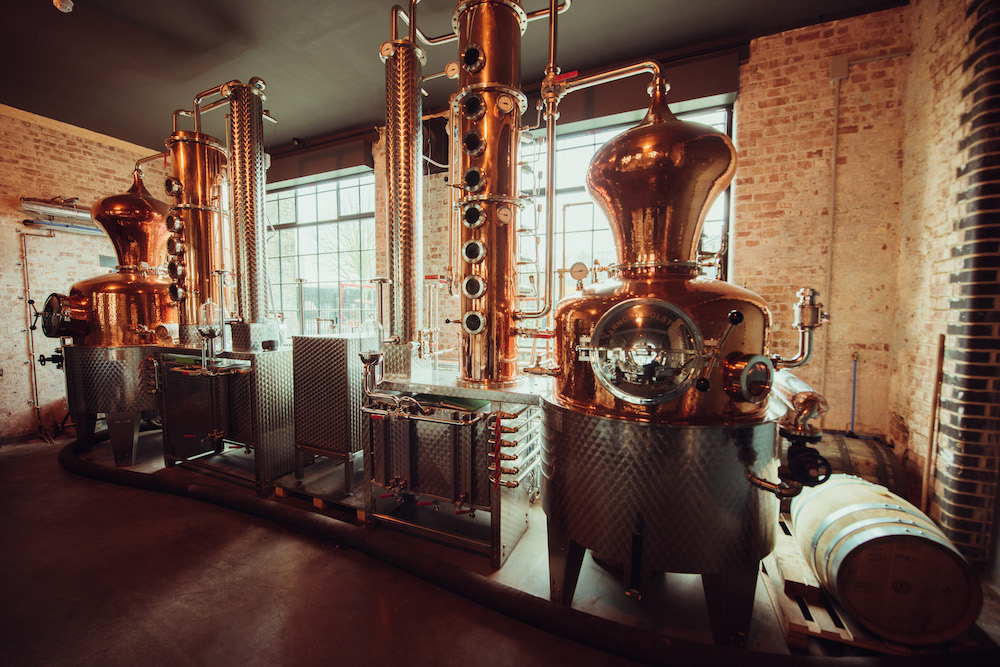 Next year, they'll start doing whisky 'vintages': a quarterly production of whisky using yeasts which are most comfortable with the season at the time of distilling. "Different yeasts produce different flavours at different temperature," explains Andy. "A yeast that produces banana and caramel at 30 degrees might produce rich cherry and smoky notes at three degrees." The first one will be Spring 2019. "We'll vary the ageing of that, so there will be several editions of it." The long-term goal, he says, is to work with a natural yeast, "based on this building" – much like the natural starter culture used by some cheesemakers, or the indigenous yeasts collected by brewers like Wild Beer – to create a spirit that inherently reflects the distillery's locale.  
East London Liquor Company's rye whisky has diverse and multicultural roots – but like the city itself, these only make it more 'London'. The chefs, sales team, bar team and tour guides, all have a say in the final product: "that's really important. They've different professional experiences, cultures and tastes." Head to the ageing room and you'll find the team rolling the barrels around to the sound of techno or bass music. "It's a good idea. Unlike wine, whisky needs to be oxygenated, and have contact with the whole barrel for maturation to work effectively, and the vibrations help that," grins Andy. It's difficult to imagine a more London image – but then, East London Liquor Company is premised on being local, inclusive – "a local bar offering amazing spirits to Londoners." It's one of the main reasons the recent crowdfunding campaign to expand the business was so successful. And it's one of the main reasons you need to lay your hands on one of the 269 bottles, for, once London gets wind of it – this beautiful, expert distillation of a brighter past – they will not delay.