Martin Hudak, head bartender at the Savoy's American Bar, takes Port through three new cocktails that reinterpret the Soho classic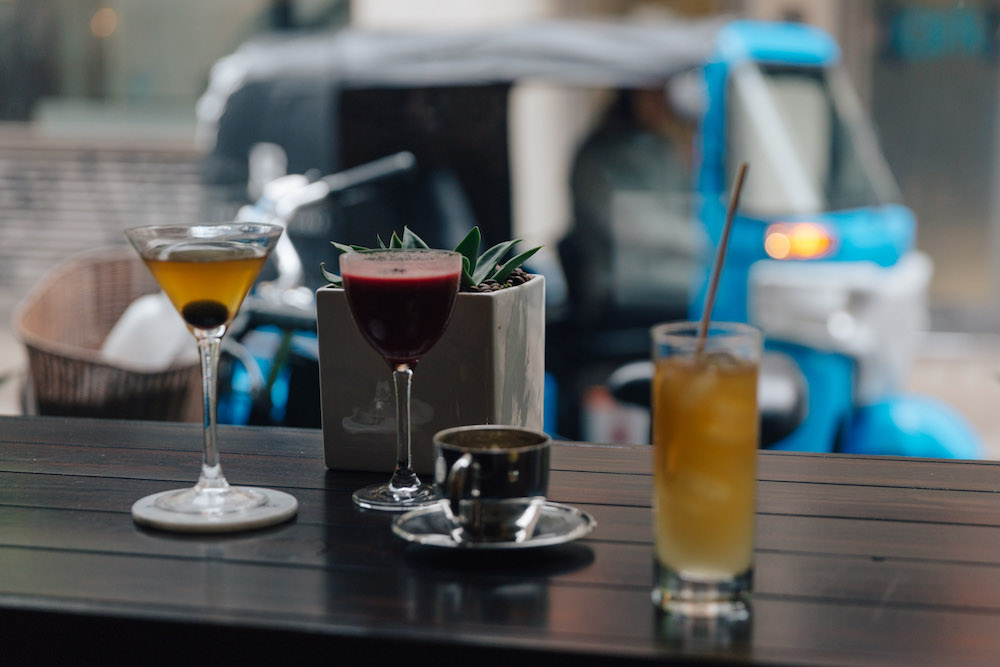 The heart of Soho is the birthplace of the Espresso Martini, originally the Vodka Espresso, created by bartender Dick Bradsell. As I heard it, one very famous model walked into the bar and asked for "something that will wake me up and fuck me up". He looked at her and just grabbed a vodka, sugar, coffee liquor, shook it, and bam. That's the beauty of this drink. It's simple. But, that was 30 years ago. We respect the Espresso Martini, we respect the history of it, but we want to create something new.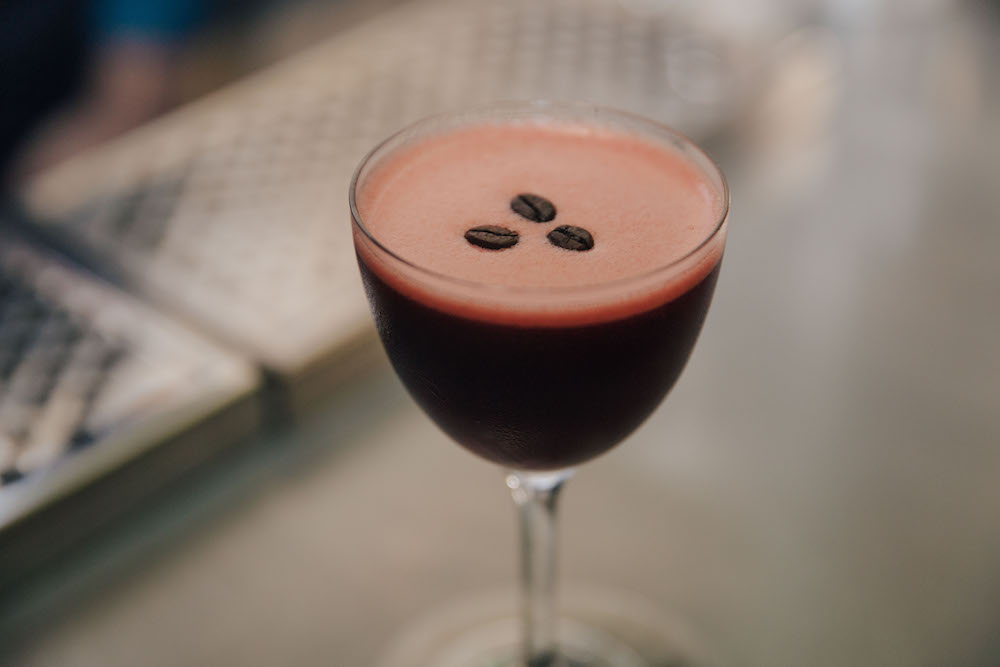 Beetroot Flat White
This looks to the Polish roots of Belvedere Vodka. We wanted to use Polish ingredients and they eat a lot of beetroot and raspberry. It was a big challenge to make a coffee cocktail with vegetable, but we created a sweetener made from blended raspberry for its fruitiness and fresh beetroot juice for the flavour and colour. We then mixed with Colombian coffee and Belvedere vodka for its purity. We call it the Beetroot Flat White.
50ml vodka
25ml shot of espresso
20ml beetroot & raspberry syrup*
Shake
Martini glass
Dried raspberries on top
*
200ml beetroot juice
100g fresh raspberries
200g caster sugar
Blend it all cold way and strain it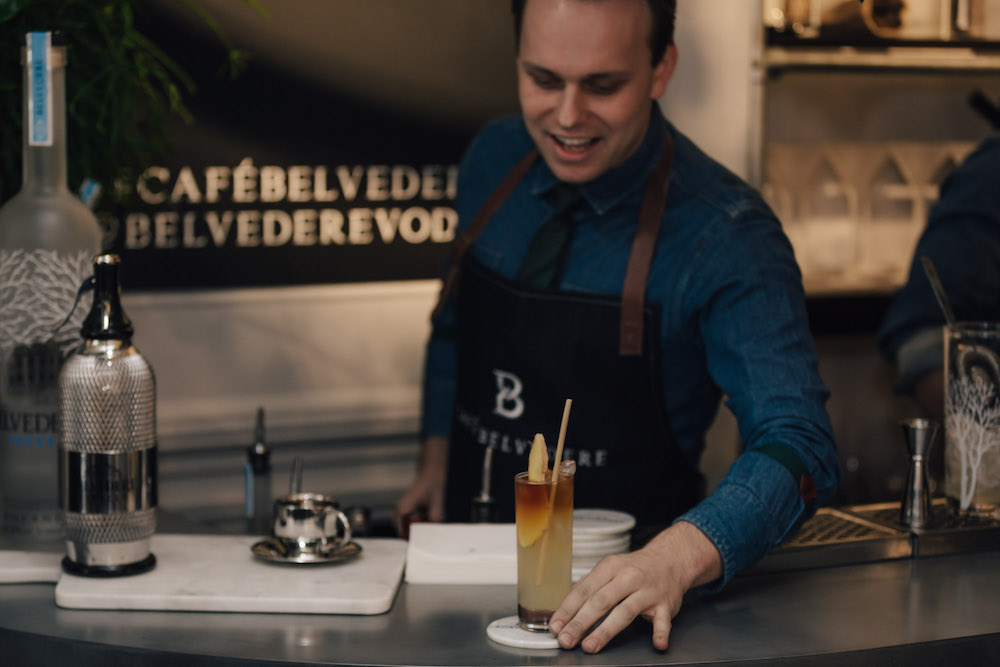 Coffee Collins
The more refreshing Coffee Collins is inspired by Southern Europe's espresso and tonic. Instead of espresso, we make cold brew coffee, which is just coffee beans left in cold water overnight. We add grape juice and use ginger syrup to give it a sweet, spicy edge.
20ml pressed ginger juice with caster sugar 1:1, slightly reduced
20ml Verjuice
30ml vodka
12.5ml Splash Tonic
20ml brewed coffee
Garnish with candied ginger on wooden stick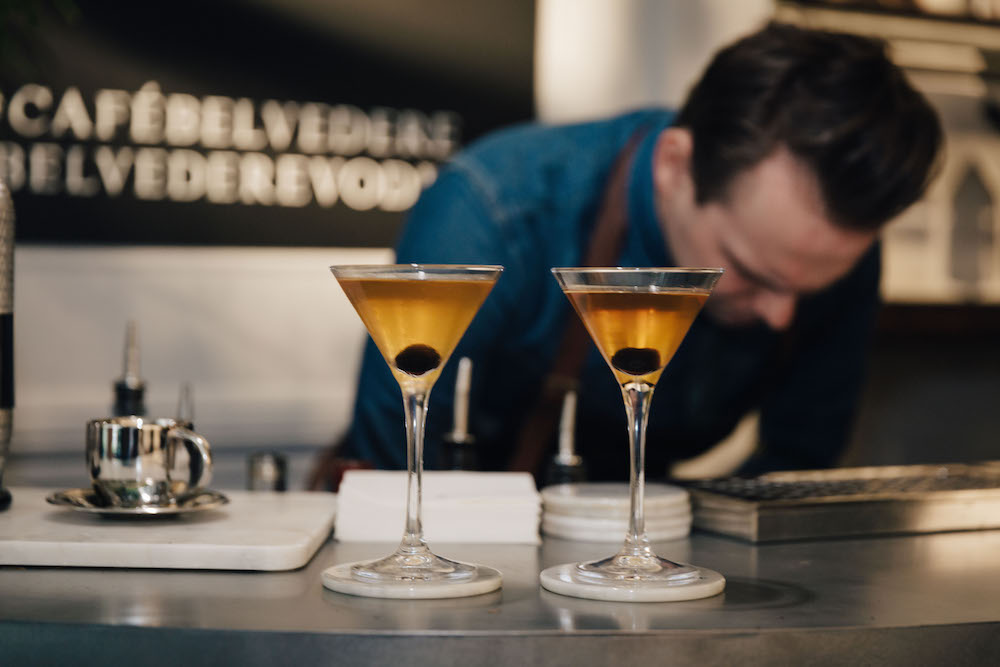 Cold Brew Gimlet
For the Cold Brew Gimlet we tried to replicate the drink's elegance and crispy flavour while keeping it almost transparent. We took the same cold brew, a little bit of sugar, and fresh lime peels to make a sweet and sour coffee cordial. You won't believe how flavoured it is, the layers and texture.
60ml vodka
20ml Coffee & Lime cordial
(1:1 sugar, citric acid and cook with lime)
Garnish with a morello cherry depending on the cordial and lime oil on surface.