As Chinese New Year celebrations begin, Michelin-starred chef Tong Chee Hwee talks to PORT about the importance of competition, using tradition to create contemporary Chinese dishes and learning from a master
Set up by Alan Yau OBE, the Hong Kong-born restaurateur behind the successful high-street chain Wagamama and the Yauatcha dim sum eateries, the Hakkasan brand has become synonymous with high-end Cantonese fine dining around the world, having first taken root in London's West End 16 years ago.
Although the commercial accomplishments may be attributed to Yau (who sold Hakkasan and Yauatcha to Emirati investors in 2008), Hakkasan's reputation for crafting modern interpretations of traditional dishes from southeast China is surely owed to the ongoing efforts of executive head chef Tong Chee Hwee.
After working for 18 years under "master of Cantonese cuisine" Cheng Hon Chau in Happy Valley Singapore and Malaysia, Chef Tong came to London to set up Hakkasan in 2001, and quickly earned a Michelin star within just two years. Building on this, Hakkasan has since ballooned into something of an empire, with outposts in New York, Mumbai, Las Vegas, Doha and beyond.
Today, Chef Tong bases himself in HKK, the group's City of London restaurant whose mission is to "celebrate the true diversity of Chinese cuisine". It's in HKK that Chef Tong and his team experiment with new creations which, if successful, are rolled out to the other restaurants in the Hakkasan network.
Here, we sit down with Chef Tong to discuss how he created the Emperor's Feast menu to celebrate Chinese New Year, competing with top international chefs and why he's passionate about using Western ingredients in his cooking.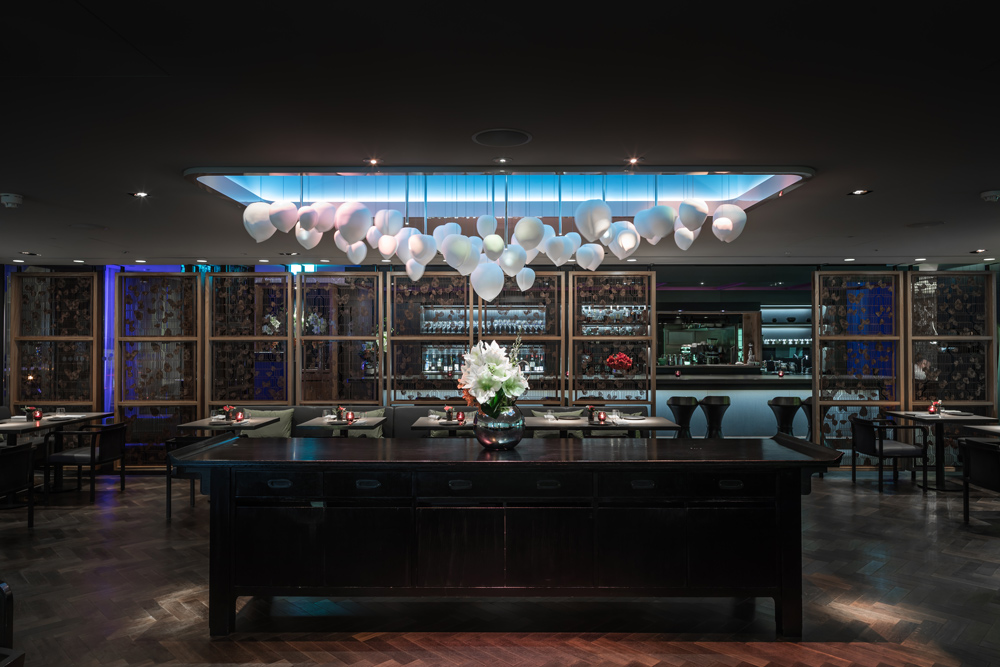 What memories do you have of celebrating Chinese New Year from your childhood? What food would have been around the family table?
I remember the delicious meals my Hakka grandmother used to cook during Chinese New Year celebrations. She had such a talent, and she passed that talent on to my mother.
Prosperity toss salad with raw fish, Pen Cai or Big Basin Feast, roast duck or chicken and dumplings are the most popular and traditional to commonly serve during Chinese New Year. My grandmother always cooked them for family. Now I always cook for my family, I am most happy when cooking for them and watching them enjoy the food when everyone is gathered around the table.
What sets HKK apart from the other restaurants in Hakkasan Group?
Hakkasan focuses on modern Cantonese cuisine, whereas HKK is modern Chinese cuisine; the reason behind HKK is to further improve the standard of Hakkasan. I found that Cantonese and Chinese cuisine in London lacked the individual fine dining standard, and HKK is a restaurant that combines quality Chinese cuisine and French fine-dining service.
What are the biggest challenges of creating Chinese fine dining for a diverse London palette?
I think the biggest challenge for me during these 15 years is that I've seen lots of international cooking, with international chefs coming from all over the world with new dishes and new cuisines. We as chefs and restaurants are now forced to offer something new and interesting to meet consumer's needs. They expect it. But, for me, it's a great improvement and I look forward to this continuing in the future.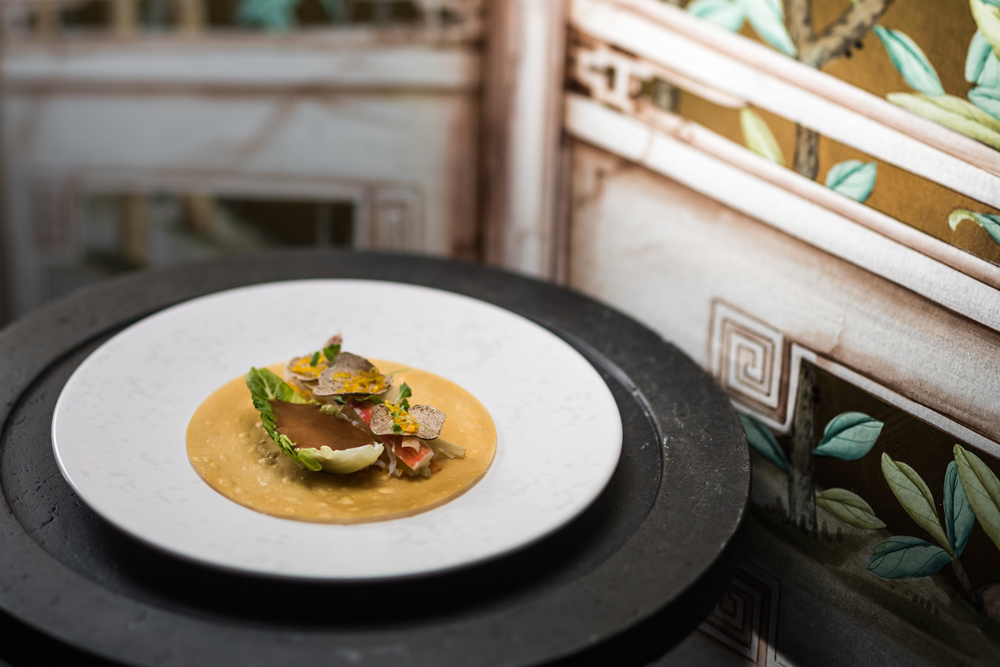 At what point in your career did you feel that you had mastered your craft?
I began working under my master Chef Cheng Hon Chau. He was known as a master of Cantonese cuisine, and it was under his mentorship that I honed my own skills and techniques. After four years, I became a master chef to run the restaurant [Happy Valley]. It is hard to find the point in my career because I am always learning and improving.
What are the key lessons you've learned in your career, which you often pass on to your junior chefs?
First, the UK is a highly global society; you can find food from all over the world very easily. Therefore, positive competition can definitely encourage people and help people to improve their ability to create a better restaurant with a unique style. Second, change your [perspective] and consider yourself as a guest – would you be experiencing well-prepared hospitality and concepts? No matter where they are, in the UK or anywhere else in the world, if customers receive the best service and best quality food what is not to like?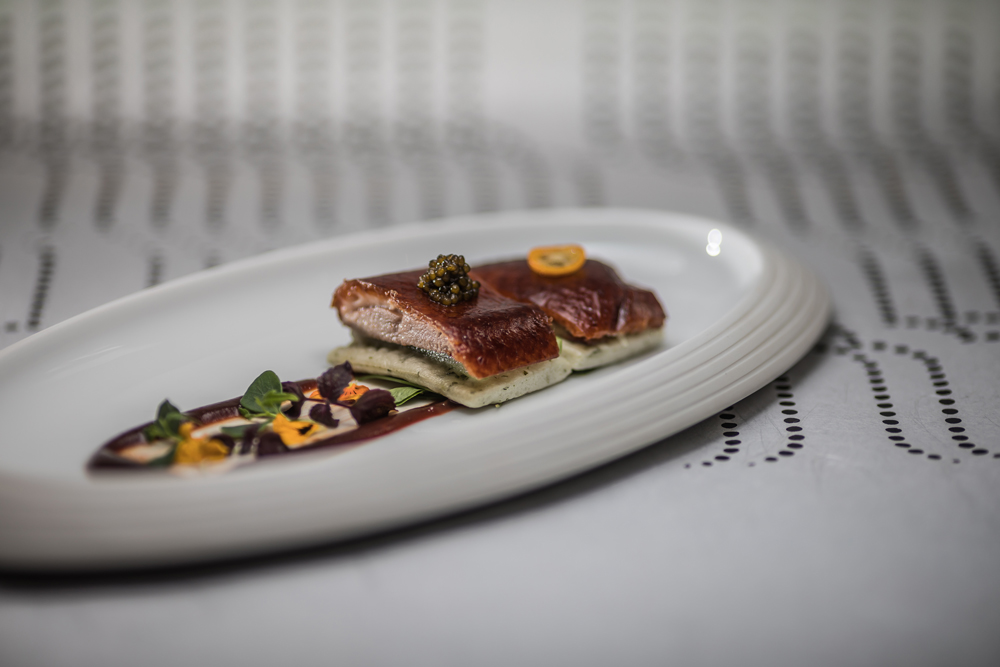 HKK's Peking duck has often been recognised as a standout dish from HKK's menu. Can you tell me how you adapted it for the Emperor's Feast menu for Chinese New Year?
For this special Cherry Wood Roasted Peking duck I presented it with the combination of imperial caviar, foie gras, and kumquat as a bite of the soul for the menu. We have plated the dish beautifully to make it feel even more luxurious and with the background of the jade and gold emperor banners I think guests have really enjoyed it.
What is your process for finding the right drink pairings, both alcoholic and non-alcoholic, for your tasting menus?
We have a very strong beverage team to find the rights drinks pairings. Our cocktails and wines choices are definitely superior. The beverage team all taste the menu and work together to build a drinks flight that not only works with the [usual] menu, but also the entire Chinese New Year campaign.
How have you integrated Chinese ingredients like sea cucumber and yu fungus into your food?
We are always trying to introduce authentic Chinese ingredients and add innovative elements into our newly designed dishes. We want to offer guests a new experience and surprise them with new flavour combinations that they haven't tasted before. I used sea cucumber in the Chinese New Year dish 'Monk jumps over the wall', which is one of the culinary dishes for Chinese people and dates back to the Qing Dynasty.
This dish contains 18 kinds of main ingredients including sea cucumber, abalone, scallops, dang ginseng, mushrooms, ham, chicken stock and more. Rather than a clear soup, I blended the ingredients to form a thick soup which makes the flavours more balanced. Moreover, the scallop noodle dish with yu fungus featured in the Chinese New Year menu uses a jade coloured chive sauce symbolising immortality.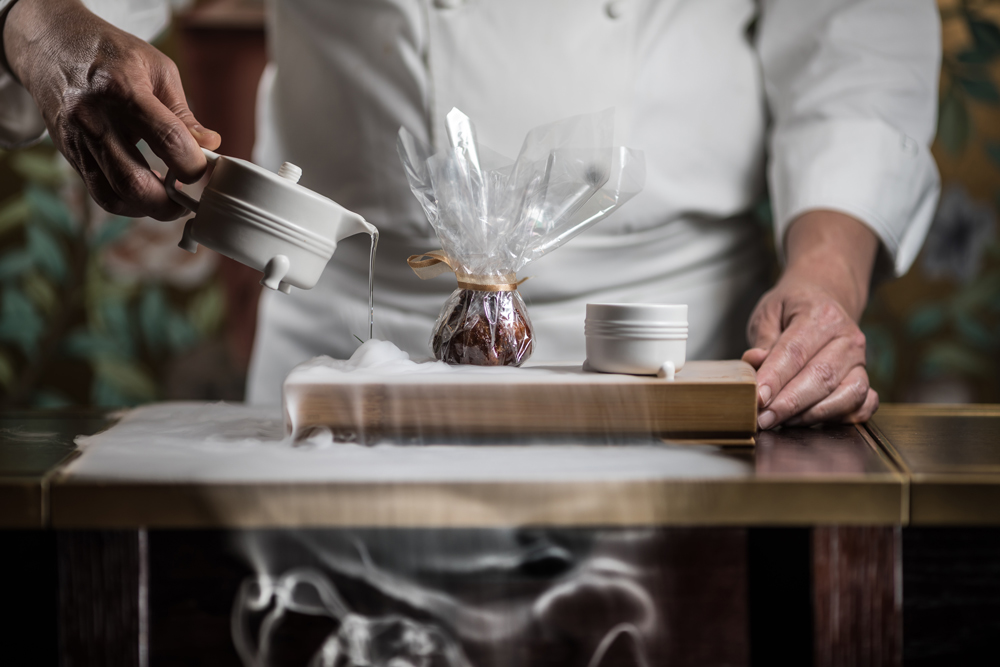 How important to you is using local British ingredients?
It emphasises the point that with HKK we are taking guests on a culinary journey. I like to use lots of Western ingredients to have a nice combination of Chinese food with Western cultures. There are lots of different cultures surrounding food in northern and southern China, and also for Chinese people in different countries as well. That is why I think using local ingredients is a part of culinary culture.
We get most of our ingredients locally. We're really lucky in the UK, as we have such a variety of local producers. For example, the Dingley Dell Pork we use is from a rare breed of pig originating from Suffolk; the lamb is from the Welsh Rhug Organic Far; and we use local seasonal shellfish and vegetables too.
Can you explain the reason for the names behind some of the dishes, including 'Emperor's bite of spring' and 'Monk jumps over the wall'?
Spring rolls are hugely variable in today's Chinese cuisine but the actual story of the spring roll comes from the season of the spring where it was traditional to welcome the arrival of spring and pray for good luck at the start of the new year. They gathered a variety of different spring vegetables and seasonal ingredients to be placed on one plate and rolled into a pancake. The spring pancake has also been used as one of the royal dishes, which emperors offer to his ministers as a reward in the beginning of the spring to welcome the season.Our 'Emperor's Bite of Spring' takes this inspiration and uses authentic ingredients such as sea cucumber but also black truffle.
The reason why the other dish you mentioned is known as 'Monk Jumps over The Wall' is there was once a scholar was cooking and preparing this dish next to a temple. The strong aroma of the dish spread over to the temple and one of the monks of the temple, who was meditating, was tempted with the nice aroma and jumped over the wall just to try this dish.
For more info on the Emperor's Feast tasting menu, visit hkklondon.com/our-menus