We talk to the larger than life East London haunt offering Cantonese-Italian plates coupled with natural and organic wine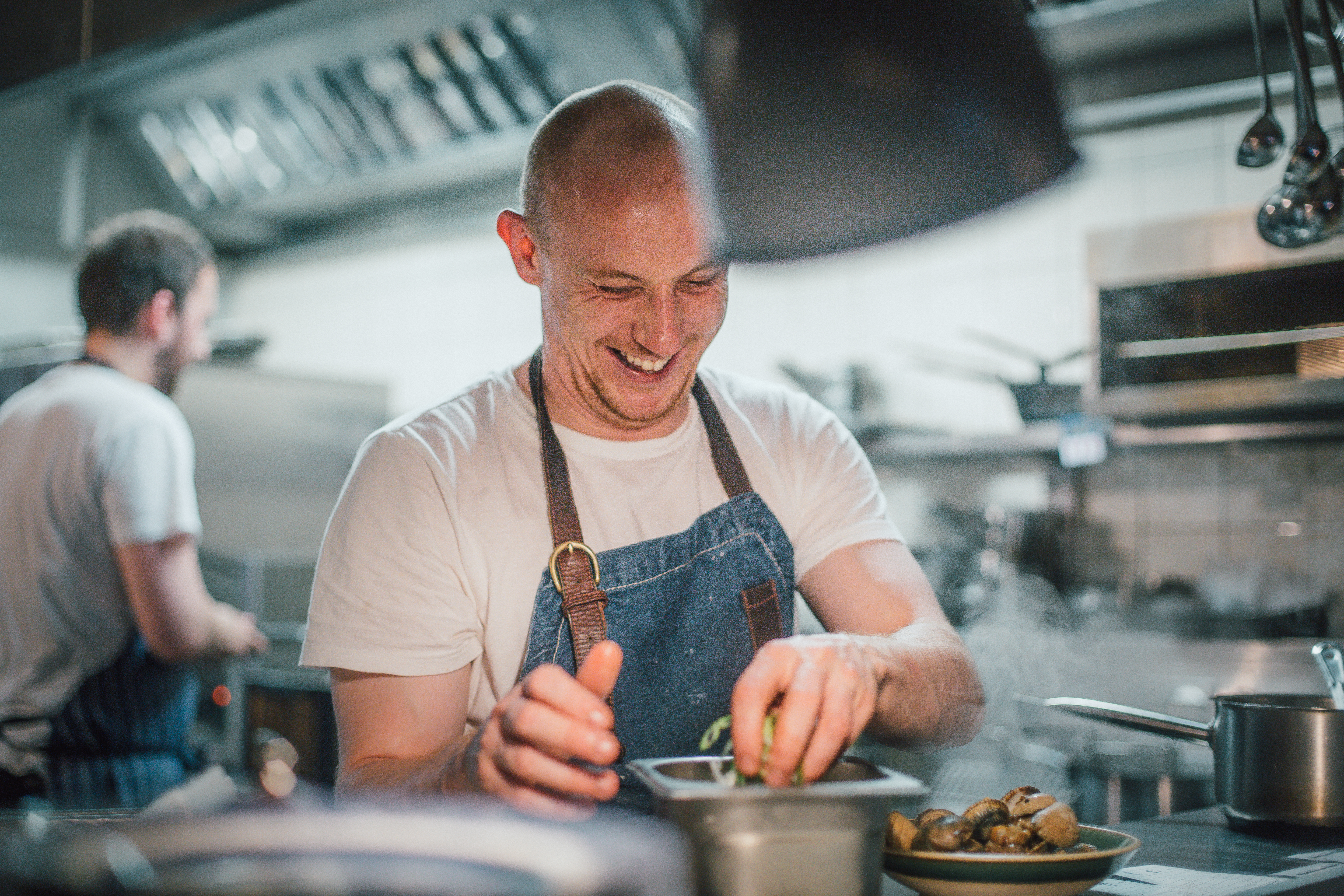 you can't beat death but
you can beat death in life, sometimes.
and the more often you learn to do it,
the more light there will be.
your life is your life.
know it while you have it.
you are marvellous
the gods wait to delight
in you.
– Excerpt from The Laughing Heart
by Charles Bukowski
The Laughing Heart is waiting to delight in you, music turned up, glass in hand, lights down low. The relatively unassuming East London restaurant, wine bar and shop opened its doors in 2016 and offers a decadent, daily changing menu of small Cantonese-Italian plates coupled with natural and organic wine from small-scale production growers. It is a joy to eat and drink here.
Inspired by Sydney's popular 10 William Street, owner and founder Charlie Mellor used every penny he had to set up, having soaked up experience at renowned bars and specialists including Brawn, P.Franco and Noble Fine Liquor. Together with head chef Tom Anglesea – who himself has worked under Gordon Ramsey, Thomas Keller and Neil Perry – they have created an unpretentious kitchen that evolves around the very best produce available that day. Taking a craft-based approach, the team make their own butter, bread, miso and puff pastry, and a quick look in the pantry reveals some serious fermentation due to the focus on Asian flavours and cooking techniques.
Over a number of sumptuous small plates – including Delica Pumpkin Agnolotti, Buttermilk Whey & Sage and Cornish Mackerel, Apple, Yuzu & Shiso – we spoke to Charlie and Tom about the gravitational pull of East London, what the West can learn from Asia and the importance of accessibility.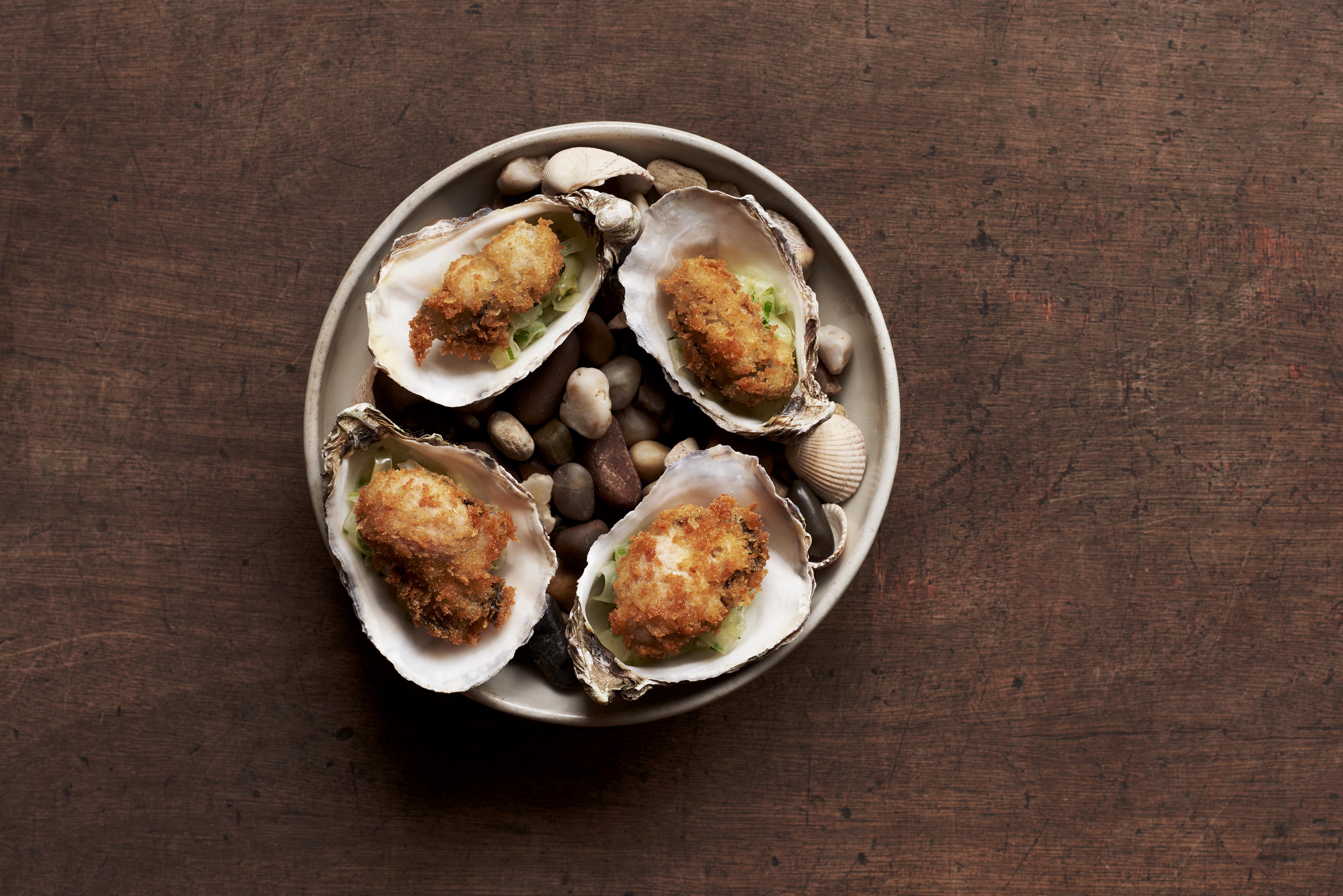 You've been busy?
Tom: It's been a fast two and a half years. There's large scope for freedom for the team as we're not regimented to the same menu, we write it every day depending on what's coming through the door and what's good. It's a great job opportunity for me to flex my muscles, but I also want people to have their own voice in developing their own styles. That's the way we work here. It should be a constant evolution of dishes and ideas. Got to keep moving – I get bored quickly.
Charlie: It kind of has to be like that. If we get a phone call saying 'we've got the best fucking carrots in the world, but there's only 20 of them', well, we'll take them. All of a sudden there are 20 spanking carrots in the building and they're dictating the menu. Sure, one great mind might be able to come up with the best idea – but it could be the sous-chef, or one of the others who says in the last place we used to rehydrate such and such in carrot juice. If you want to have a daily changing menu responding to what the best available product is, then you've got to be open to everyone's influence.
How did you start cooking?
Tom: I'm from the North of England and always been a grafter. I had a paper round since I was twelve, and when that money wasn't cutting it anymore, I started washing dishes at a local bistro. One of the chefs went away for summer and I filled in the kitchen doing desserts, it all stemmed from there really. I ended up doing lessons in the morning and then lunch service and then back to school. I didn't finish my A-Levels but I made a point that I would do it properly so moved down to London and worked for Gordon Ramsey at 18, from then people have just put me in the right positions at the right time.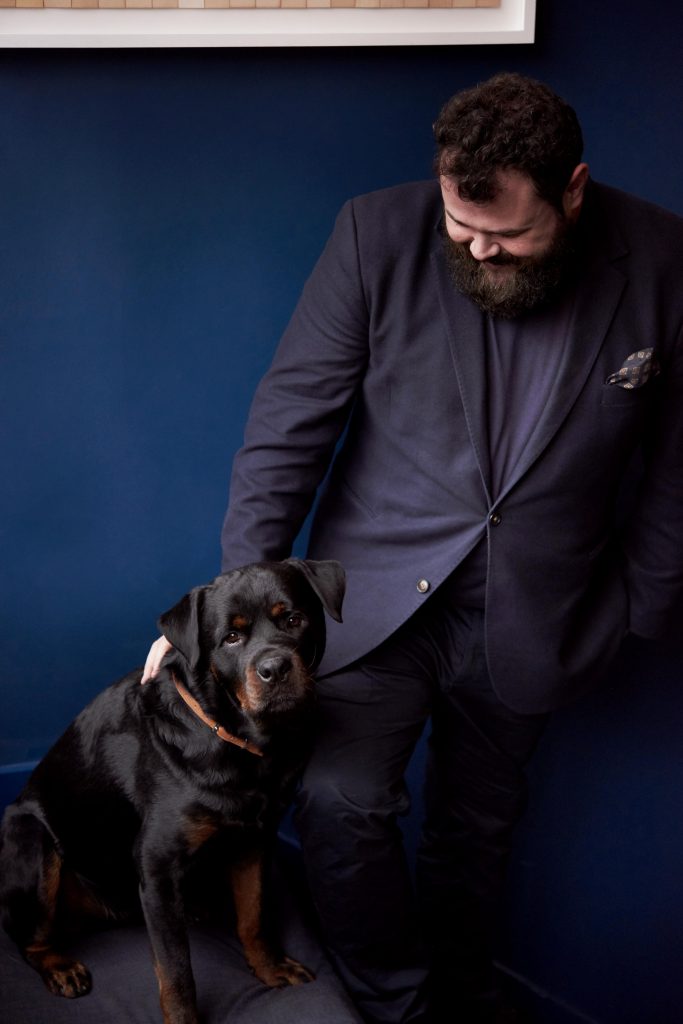 East London's restaurant scene has been on the rise for a while now, is there something in the water?
Tom: I rarely leave East London now – everything I need is here! A whole array of dining as well, you've got your top end Clove Clubs, middle range Brats, Brawn and Brights and all the other B's and even in Dalston you can grab the best kebab at 2am in the morning (Ummet 2000). There's a great community, everyone knows each other and there's real comradery. Everyone hangs out in each other's places and you wouldn't have found that in London ten years ago, it was so cut throat.
Charlie: East London is an important hub for gastronomy now. Particularly high-end casual dining, which is the most exciting type of restaurant. In London, you have access to the most incredible product, whether it be fish, meat and vegetables from this great Island or from Europe. Also, it's probably the best wine market in the world, so together with the people, it's an amazing opportunity to be here. 
What do you love eating on the menu at the moment?
Charlie: For what it's worth, Tom's paté is probably the best I've ever had. He puts duck fat in and the sneaky bastard always uses my most expensive booze. The other day, he made a Madagascar paté with two thirds of a very expensive Calvados.
Tom: Nick – one of my sous chefs – has just come up with an amazing snack, he makes a cracker out of mushroom puree, so it's set puree and tapioca that you dry out and fry, served with a really rich mushroom puree and yoghurt and thyme leaves.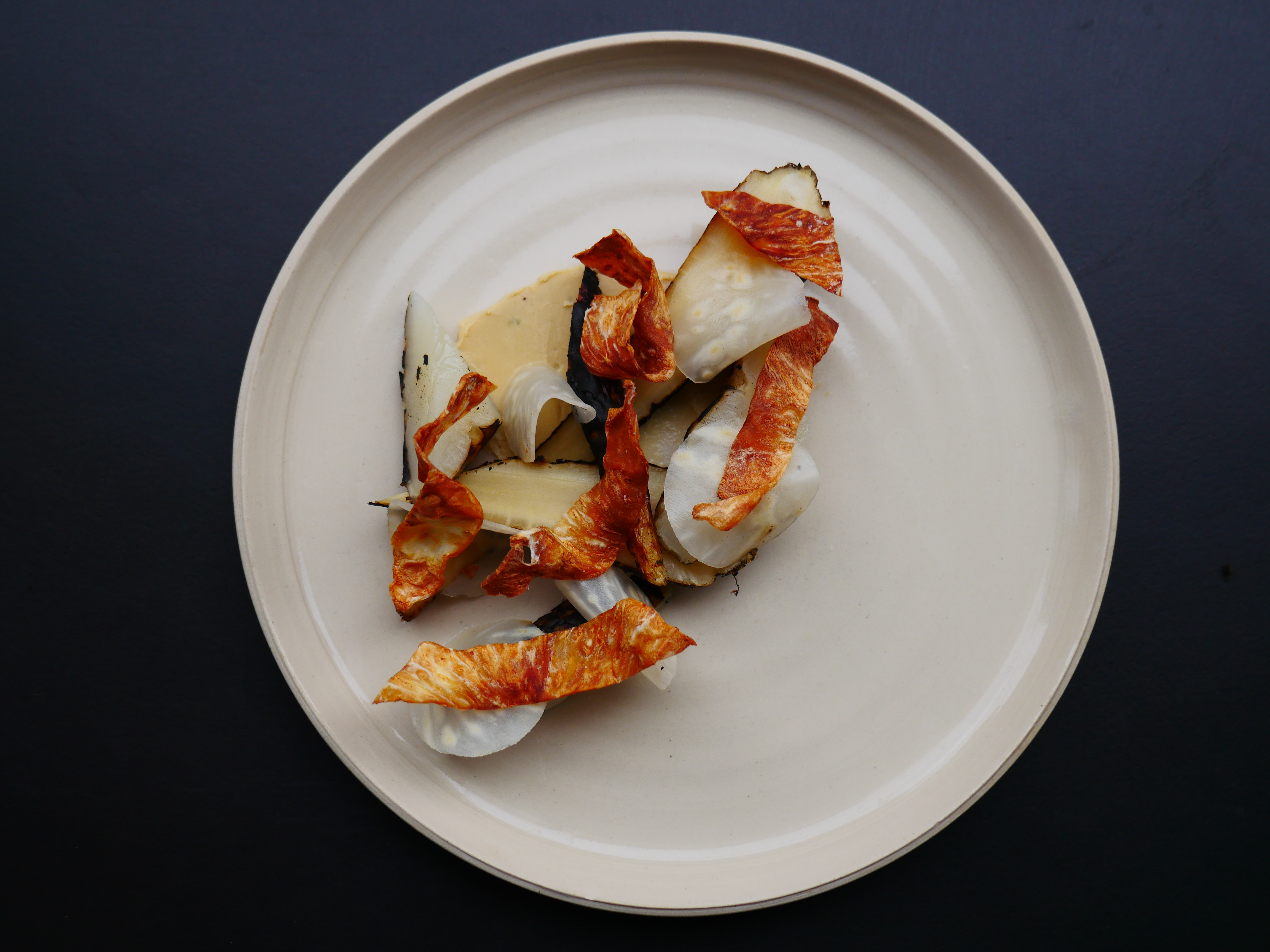 What can the Western world of cooking learn from Asia?
Tom: When I was out in Sydney I fell in love with simple, flavoursome cooking. A lot of English cooking is still based in traditional French technique, and we just don't need to cook like that – you can get amazing flavours from vinegars and soys, dashes of ferments, stuff that you just can't find in that French style. Miso is also a great way to utilise all our trim here. We have such a bounty of things that we can grab which makes the presentation and way you cook much simpler because the flavours already there.
Why is accessibility important to you?
Charlie: Inherent within good hospitality is an element of generosity and for me on a personal level, one of the things I enjoy most about the work that I do is being able to share stories and experiences. When my financial accountant points at a figure and asks what's this – I say this is the money I set aside for staff development, so I can basically open £200 bottles of Jura whites at 1 o'clock in the morning and have a drink with the team. This is built into the business plan, because let's face it, it's going to happen anyway. But it's important that people understand why they're getting access to these exciting things and having a real relationship with them, not just some taster. Let's get some fucking comté, let's sit down, lets drink, lets live! And then maybe cheddar.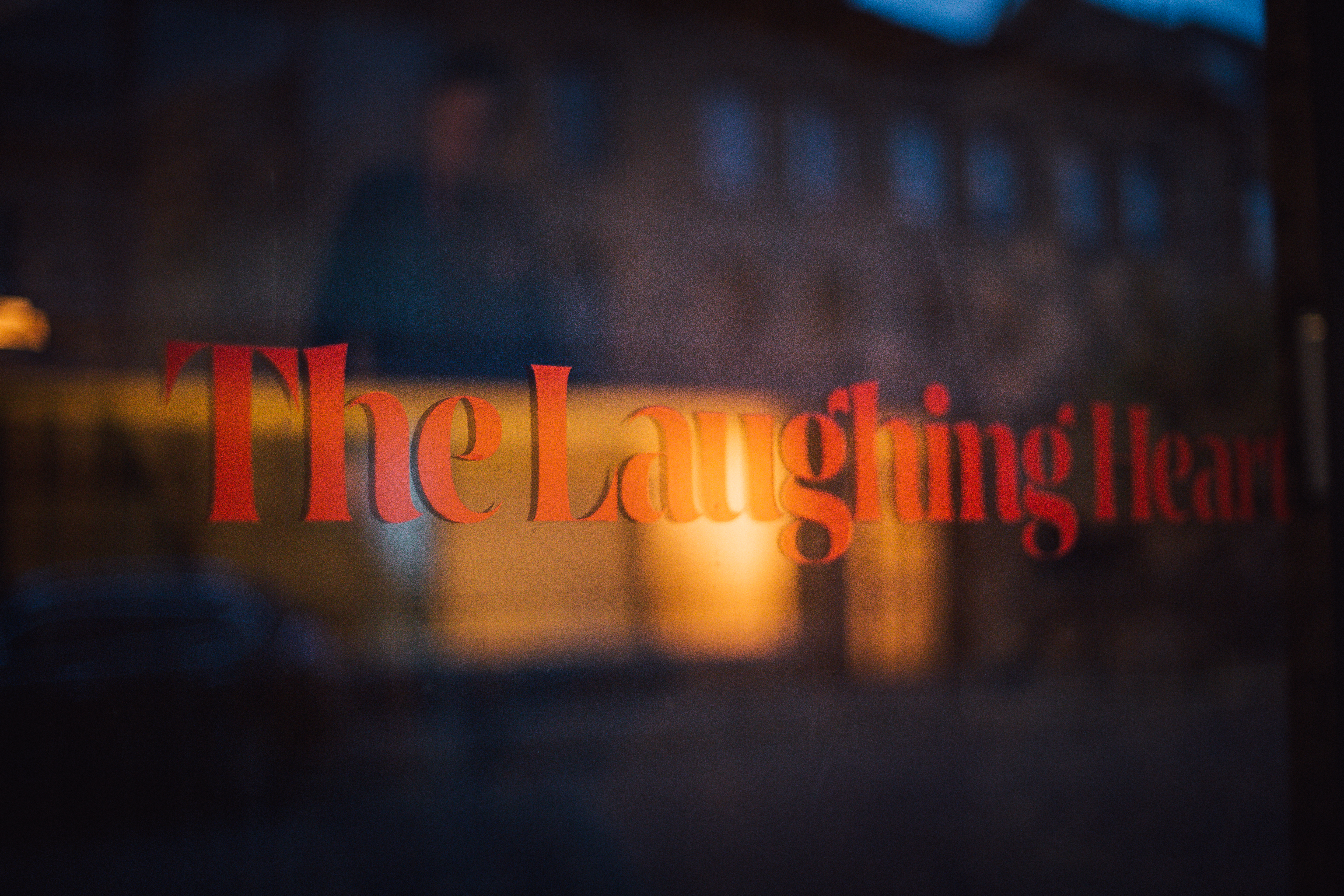 Why did you name the place after a Bukowski poem?
Charlie: I wanted to curate a space that was reflective of the things that I loved in life, and was prepared to be vulnerable in that respect. The poem was recited at the funeral of my cousin, who was 28 when he died of pancreatic cancer, the youngest recorded case in Australian medical history. It was a slow, painful process and I was with him at the end. His brother, one of the greatest men I'll ever know, read this poem and all of it just resonated. It was like a lightning bolt. In so many challenging moments it's been a comfort. Plus, it kind of sounds like the name of a dirty East London boozer, so it all just fell into place!