Talking to Roberto Roncolato as he settles in at The Franklin, in Knightsbridge
Roberto Roncolato grew up in Italy, where he studied cookery, but moved to London not long after graduating. Since then, he's spent time in acclaimed, Michelin-starred kitchens including that of DeGusto, but also overseeing kitchens as a development chef for restautants including Bella Italia and Happy Fish. The first Hell's Kitchen in Europe, in Sardinia, opened under Roberto. Here in the UK, he's turned his eye to The Langley in Berkshire and Texture, as well as Gordon Ramsay's three-Michelin-star restautant.
Since earlier this year, Roncolato has been applying his culinary skills, both on the large and the small scale, as Head Chef at The Franklin, in Knightsbridge. The hotel, part of the Starhotels Collezione, sits in a quiet patch of the area, next to Egerton Gardens. Roncalato is joining Executive Chef Alfredo Russo. It's appointed, inside, by Anoushka Hempel, and everything is kept intimate; the restaurant seats 30, and the grey velvet leaves room for the food to do the talking.
Port caught up with Roncalato – reflecting on his culinary paths so far and his hopes for The Franklin – as the weather in London began to cool.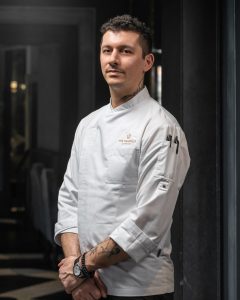 What are some of your earliest food memories?
Every Sunday my family and I would visit my grandparents and prepare the usual baked lasagna. I would hide under the table and eat the raw pasta sheets. That's my first memory, the taste of fresh egg pasta, the smell of the Bolognese sauce and béchamel.
How did you start cooking, and what's your journey been up to The Franklin?
I studied at the Hospitality High Cookery School in Montagnana (PD), and during school I started to work as a pizza chef on weekends.
Straight after school I started work in a fine dining restaurant in the city centre of Verona. After a year I moved to London, where in a few months I was able to become Sous Chef in an Italian AA 3-rosette restaurant.
I was hungry to discover different cuisines and London is the perfect place to do so, I had experience with French and Scandinavian cuisine at Harvey Nichols then, and I was curious to learn more about French cuisine, so I spent some time at the Royal Hospital Road by Gordon Ramsey.
It was, easily, the toughest experience ever, but opened many doors for me, like being a consultant chef for a restaurant in LA, and becoming the head pastry chef of a 2-star Michelin restaurant, where I met my partner Alessandra. After that, we moved to Friuli, in the north of Italy, and I worked in a 1-star Michelin restaurant as Sous Chef.
I helped a restaurant in Italy reach its first Michelin star, and in the meantime, I became a father. Then, for three years, I taught in a Hospitality High School, close to home and family, collaborating with different restaurant groups. Among that, I became a Sous Chef for a fine dining restaurant at Forte Village Resort in Sardinia, and opened the first Hell's Kitchen restaurant in Europe. Obviously, I always brought my family with me.
After three years of teaching, we decided to move back to the UK. I was Sous Chef for a five-star Luxury Collection Hotel – we were pushing to get our Michelin star, but the pandemic changed everything.  I ended up Group Executive Chef for a family run restaurant and now from, September 1st, 2023, I am the Executive Chef for The Franklin Restaurant by Alfredo Russo and the Pelham Hotel with some really exciting projects to come.
I'm excited to be able to blend my track record of executing exhilarating dishes and techniques with those of Chef Russo's bold approach and Piedmont roots – to present guests a classic Italian experience in a modern twist. I think the combination of his experience and my creativity will lead to a truly innovative experience for guests.
You've worked on the very small scale, in individual Michelin star restaurants as well as a Development Head Chef for several restaurants. How do those scales of working compare?
They are obviously different environments, but as a chef and as a person I always have been keen to learn something new. I love new challenges!
Is there a single dish that captures your approach to cooking at The Franklin?
I'm hoping to continue The Franklin's success so far, as well as to craft new and exciting menus. I couldn't choose just one dish! Things that come to mind are our sourdough, panzanella and red prawns imported from Mazara del Vallo, in Sicily, the Tortelli, the milk, the lamb, even our roasted peach. I cook everything we eat with love.
The surprise tasting menu sounds exciting – what's the thinking behind it, how has the response been?
I think the best thing to hear, as a a chef, is a guest saying: "do what you want for us". It means I can play with the food, and give every dish my personal touch, bringing the guests on a personal journey of taste with me. It's meant to give guests a sense of the quintessential Italian spirit in hospitality.
What's inspired you, in terms of food, recently?
Currently everyone is focused on what I call "Instagram food" –  gorgeous, amazingly colourful dishes that are completely tasteless and boring.
I take inspiration from the ingredients. My philosophy is "if you respect the food, the food will respect and amaze you".  I want to prove that we can deliver a top quality experience from a great work environment. It's essential for me.