Chef patron of Salon and Levan discusses his latest project, Larry's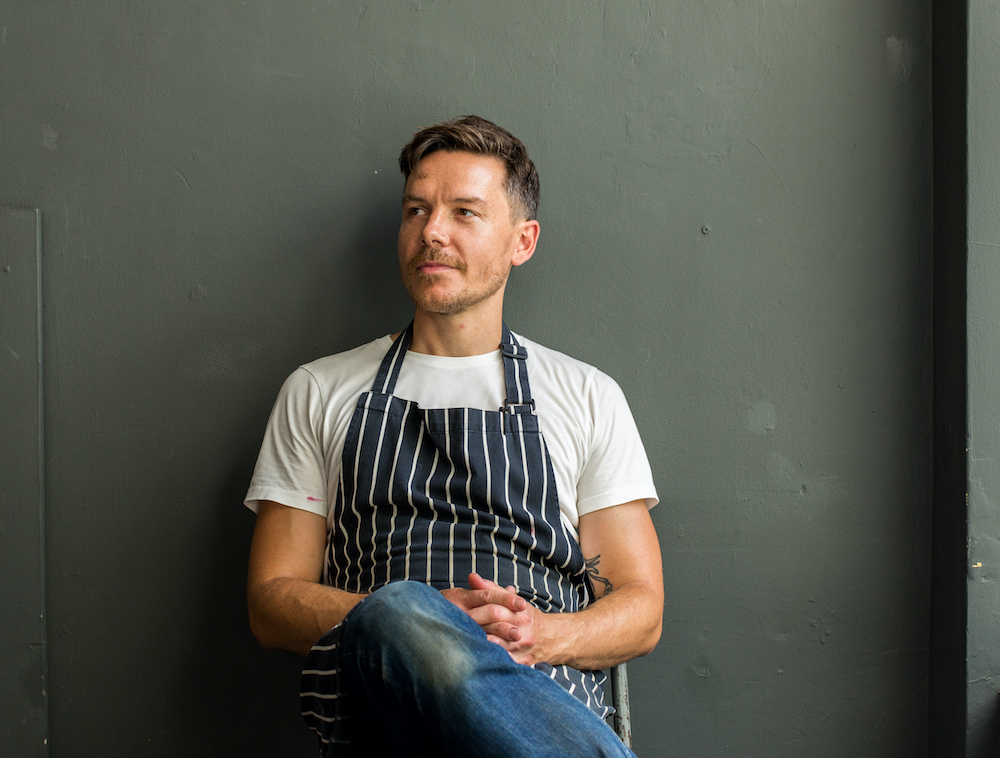 At the age of three, Larry Levan could work a record player. Later in life, his disco, dub and synth-pop sets were so rapturous they were referred to as 'Saturday Mass'. Hailing from Brooklyn, the late great producer and DJ would change dance music forever through his decade long residency at the NYC Paradise Garage club in the late 70s. Nicholas Balfe – chef patron of Salon, Brixton – is one of the many devotees to Levan and his sonic legacy, having named his latest two projects after him. Both Levan and Larry's can be found in Peckham, and the latter enjoyed only four days of service before lockdown, followed by a four month pause which saw it adapt and offer everything from takeaway to online cooking demos.
Taking its culinary cue from Italian-American and Jewish diners – decked out with orange laminate tables and a vintage Celestion Ditton sound system – the bite-size restaurant is now back up and running, offering breakfast, lunch and dinner. I relished each and every sharing plate I was treated to; crisp potato latkes, cosy aubergine parmigiana, a Negroni (or two), 'nduja soaked focaccia, roast gem lettuce and a decadent chicken liver pappardelle all contributed to me coming home ten pounds heavier with a smile on my face.
I caught up with Balfe afterwards to talk about his start as a chef, SE-inspiration and tentative hope for hospitality.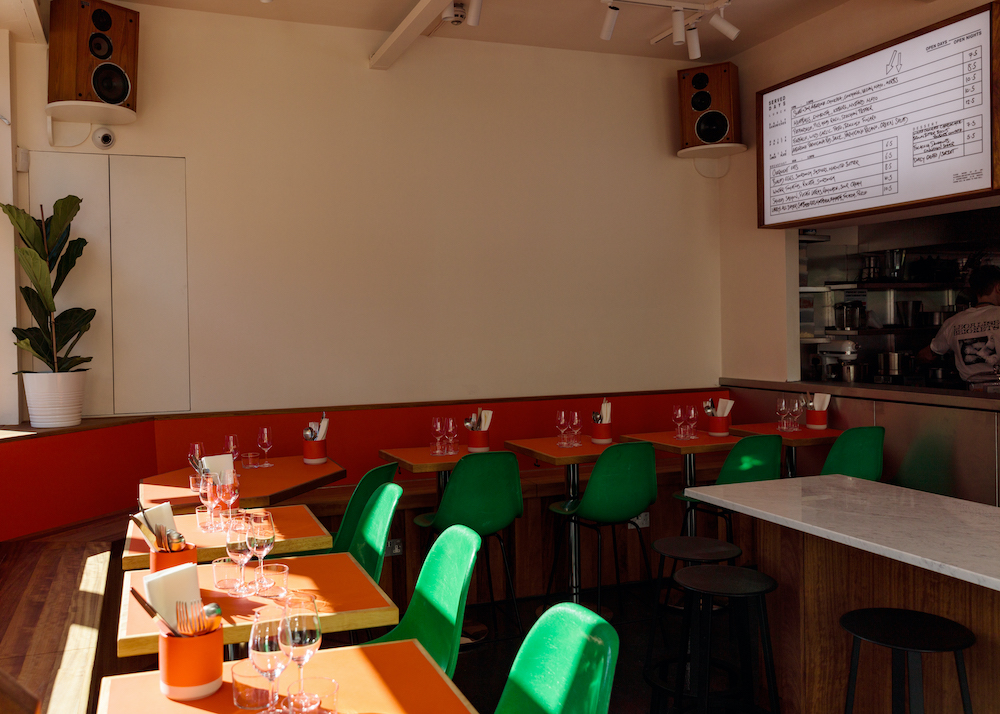 How did you start cooking?
I suppose I came to cooking relatively late, in the grand scheme of things. Prior to and throughout university, I worked at a restaurant called Pinocchio's. I started as a pot-wash, which was a rite of passage for any 14-year-old in Harrogate, where I'm from. I met friends for life there. It was a basic, brilliant trattoria and we used to do 300 covers on a Saturday night. Madness. I carried on working in restaurants after my degree before working in an office for a bit, but decided that wasn't for me. I had a quarter life crisis after a particularly heavy weekend, listening to some bullshit about marketing strategy for Bacardi, so I sacked it off and did a little culinary exploration of the Spanish hinterlands on the Portuguese border. Starting off in San Sebastian, then Santiago, I made my way due South and ended up working in a little agriturismo guest house. I was only gone for eight months, but it felt like a culinary reawakening. 
When I got back, I started working in restaurants in earnest and because I was a little bit older and driven, I probably rose through the ranks fairly quickly. I carefully picked the people I wanted to work for and made it my business to extract as much as I could from them in a short period of time. In 2012 I opened Salon, so it was a fairly short, truncated, fast-track career working for other people. The truth was that when I started Salon, I knew fuck all, I was so green. I had a range of technical cooking skills and I was confident in my palette and knowledge of produce, but I knew absolutely nothing about running a business. I spent the first year of Salon getting everything wrong, spent the second year working out what I was doing wrong, and then the third year I fixed all my mistakes. It wasn't until year four that it was actually a viable, growing concern. It was pretty fucking hard, and I always say to young chefs asking for advice, maybe don't do it like this…It was all part of my journey, though, and our reputation was definitely earned!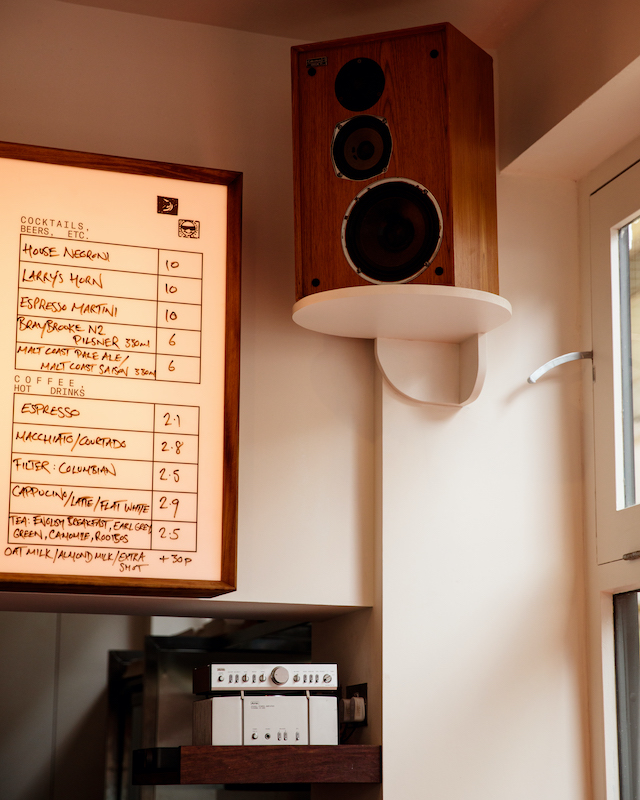 Why Larry Levan?  
Me and Mark (Gurney), who looks after our wine and is one of the co-founders alongside Matt (Bushnell), are big into disco. Before we opened Levan, we knew we wanted to do something related to the French gastronomy movement, fine but semi-causal dining. Coming back from a research trip in Paris we were drinking some wine and listening to a Larry Levan set on our little speaker – probably being incredibly antisocial – and knew immediately there and then that we'd call it Levan. After a while, we were lucky enough to be able to open up next door, somewhere even more causal and approachable. We like to think of Levan as the older, demure sibling living in Paris, while Larry is the younger one who jetted off to New York and hung out in Brooklyn.
Is this where the food takes its cue from?
We wanted the food to be representative of the melting pot of every city, but with New York as a kind of framework, a lens to look through. That wonderful mix of cultures is present in London, but especially in Peckham. All you need to do is stroll up Rye Lane to see it. It's incredible to have Kurdish, Jamaican, Turkish, South American, Japanese, Nigerian – and so much more – restaurants and grocers within walking distance. It means we have a lot of creative freedom to play with different flavours. Because the restaurant is built around the idea of city life I hope it's relevant to everyone, because we're urban animals for the most part.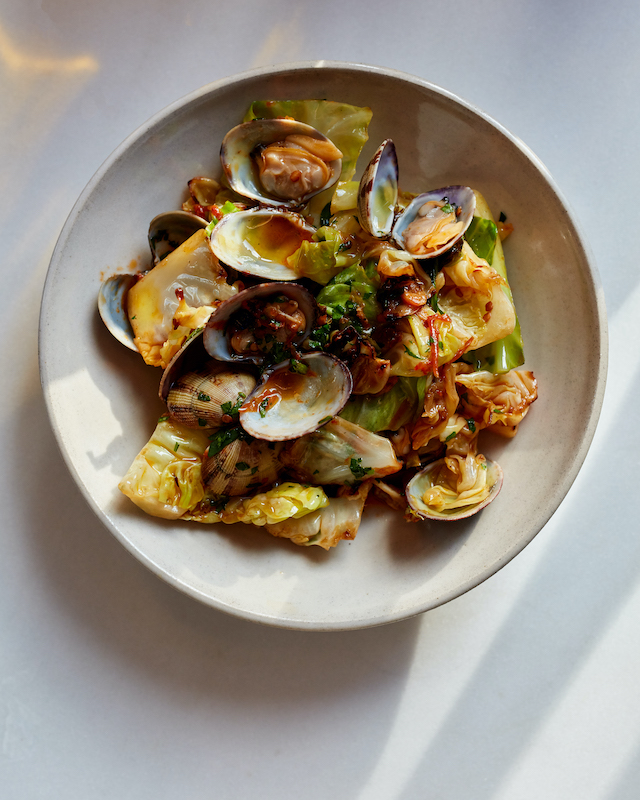 Will the menu change?
Some dishes have been around since we've opened and others have rolled on a bit of a cycle. The plan is for one thing to change on the main menu every week and for the specials to change almost every day. We want it to be fluid enough that if you did come here for lunch three times a week, you'd be surprised every time. We'll try and be responsive as well – if it's going to piss it down we'll do a nice hearty stew, if it's going to be boiling hot we'll fix up something like a watermelon salad.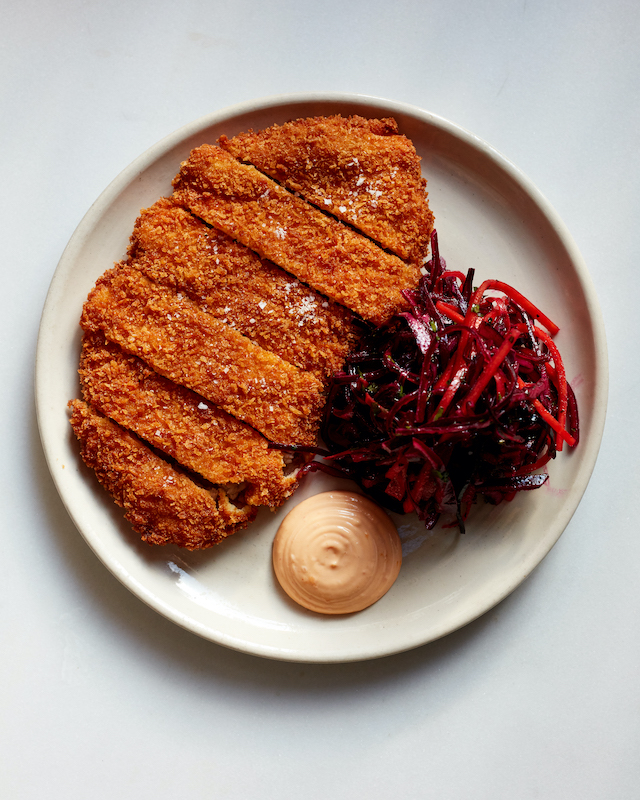 Four days of being open, then a four-month hiatus – are you relieved to get back up and running?
We've been through the whole motion of it. The team was on furlough and then we did takeaway, Instagram videos, cooking demos – you name it! Whilst hospitality was hit really hard, as an industry we've received quite a high level of support from the government, despite them doing so cynically in order to stimulate the economy. I hope they realise how important eating out is to the economy as well as the soul. The attitude of guests has been buoyant and we're very lucky to be where we are, i.e not in Central, which is still pretty ghostly. We're feeling relatively positive about where we're at, but I have no idea what's going to happen next. We shall see.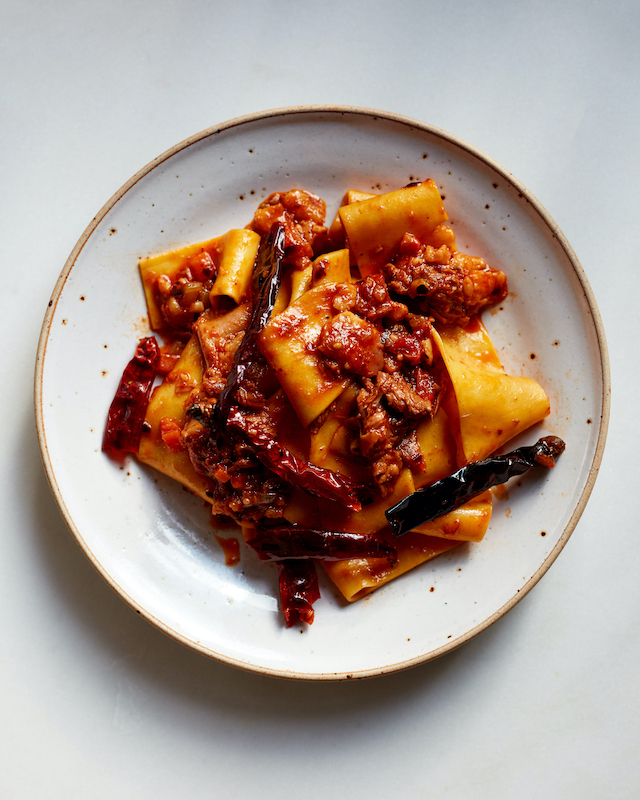 Favourite dish at the moment?
The pappardelle with chicken liver and 'nduja. We were going to do something different originally, inspired by Silk Road in Camberwell – a pig's head ragù with Szechwan pepper – but I love chicken livers. They're so cheap, nutritious, buttery and abundant. Delicious. 
Photography Matt Russell