The Munich-based Michelin-star chef speaks to Port about how it feels to gain that covetable third star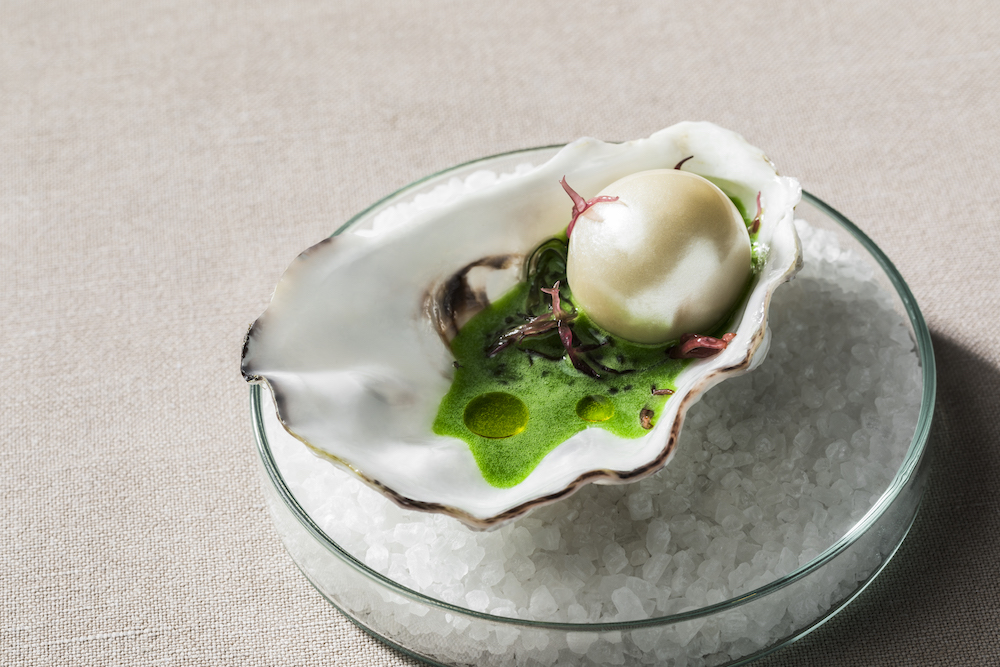 Jan Hartwig is a man who sets high standards for himself. Within just six months of joining Atelier, the Axel Vervoordt–designed restaurant at the Hotel Bayerischer Hof, the new chef de cuisine had already earned his first Michelin star, with the second to follow just one year later. In 2017, Hartwig achieved his dream of gaining a third, putting both Atelier and Munich firmly on the gastronomic map; not since Eckart Witzigmann's Aubergine closed its doors in 1994 had the city been able to boast of a three Michelin-star establishment. Three years later and counting, it is still the only restaurant in Munich to carry the full three, a testament to Hartwig and his team, whose meticulous attention to detail sees dishes presented as miniature works of fine art, and certainly a proud moment in the history of the Hotel Bayerischer Hof, which has been owned and run by the family Volkhardt for more than a hundred years.
Port caught up with Jan Hartwig to find out what keeps him striving for perfection, and what comes next after achieving the Michelin Guide's highest honour.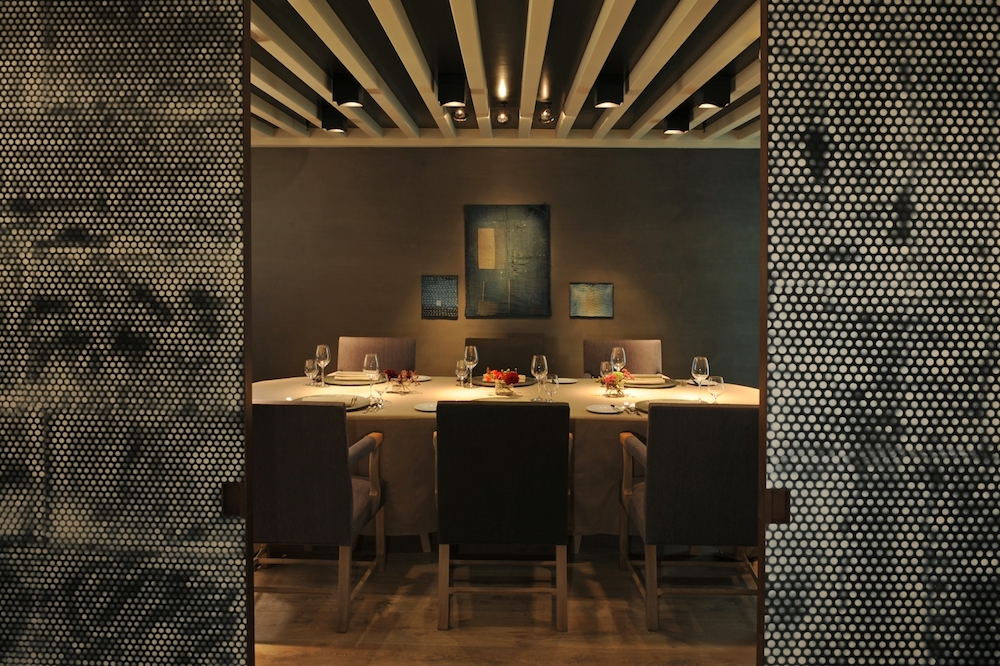 Where did your love of food first come from?
My father is a trained chef and since I can remember, cooking has been a part my childhood. At least once a day we used to enjoy a hot home-made dish. But it wasn't just the culinary part that excited me – I loved sitting together with my family and chatting around the table over a nice meal.
Do you have a specific dish which transports you back to your childhood?
I've always loved pasta. I could eat pasta every day. Especially Spaghetti Carbonara. I also like Piccata alla Milanese and the leek gratin cooked by my mother.
You gained your Michelin stars very quickly after joining Atelier. Was this the goal when you started there?
It has definitely always been my dream and it is everyone's ambition to accomplish this. I have always said that I wanted three stars because I have always been interested in elite cuisine.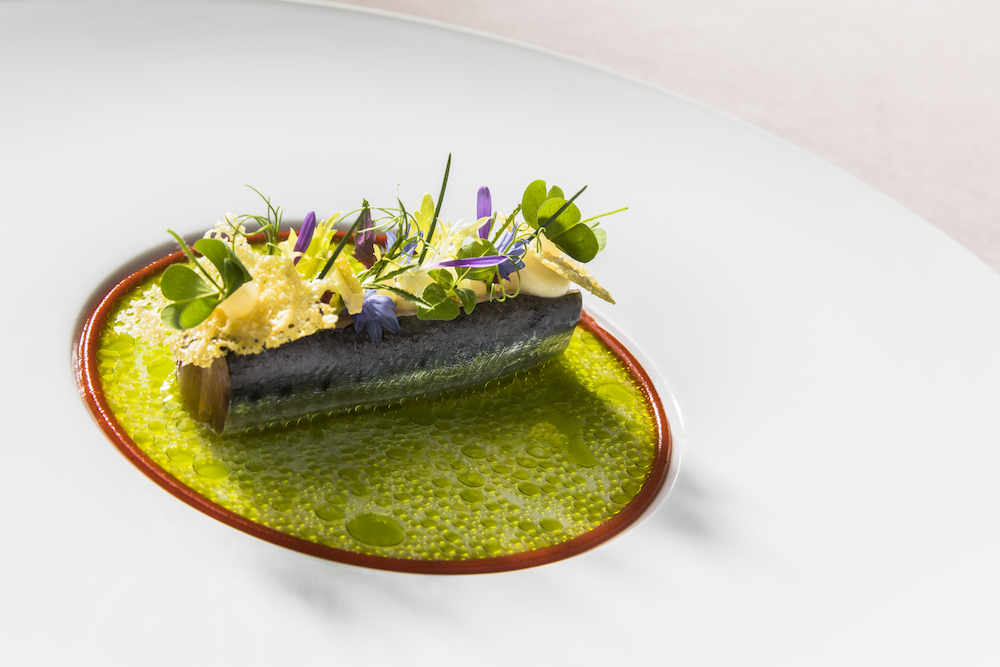 After gaining three stars, what next?
I strive to improve my skills every day and this process starts with motivating my staff. Furthermore, my goal is to maintain the level of the restaurant and to make sure that it stays this well visited. I would like to become more internationally known and am working on improving sustainability and environment protection in my cuisine.
Some French chefs are now relinquishing their Michelin stars. What do these awards mean to you? Would you say they hinder or encourage your work?
I haven't heard about that. For me, earning the third star was an incredible feeling! In my eyes, only the feeling of becoming a father could top this. I really enjoy going to work, because I want to develop my skills and, for me, going to work is fun. I want everybody to be satisfied. Innegrit Volkhardt (the owner of Hotel Bayerischer Hof), my Atelier team, and the guests – but primarily myself – have to be satisfied with my work. The third star does not only mean success, it also brings more responsibility and stress. The higher you rise, the lower you can fall. Furthermore, the pressure increases because guests are very critical and expect more. We did not only get the three stars, we have to keep them by proving ourselves every night.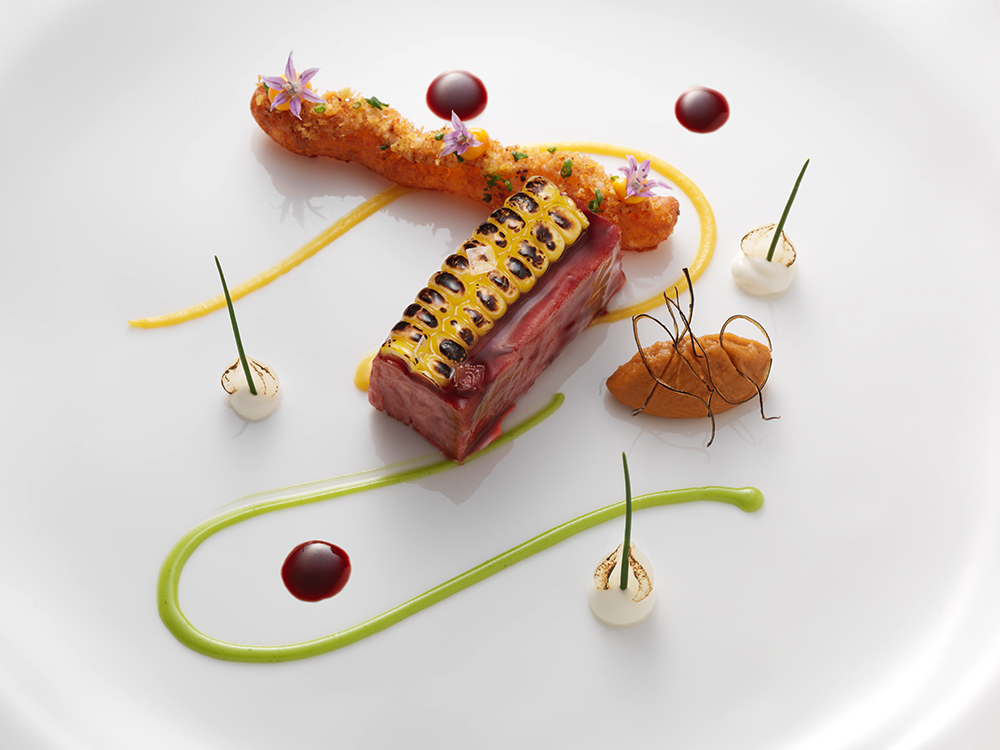 What is your creative process? Where do you find your inspiration?
I always choose one protagonist, for example lamb, flounder, or something like that. While considering the season, I form the idea of the dish. With my experience and long education and training, I am happy to say that I have the talent to imagine how some compositions of flavours will taste. Every situation and product inspires me. Many people live very inattentively but I get inspired all the time, while eating, brushing my teeth, or just taking a walk.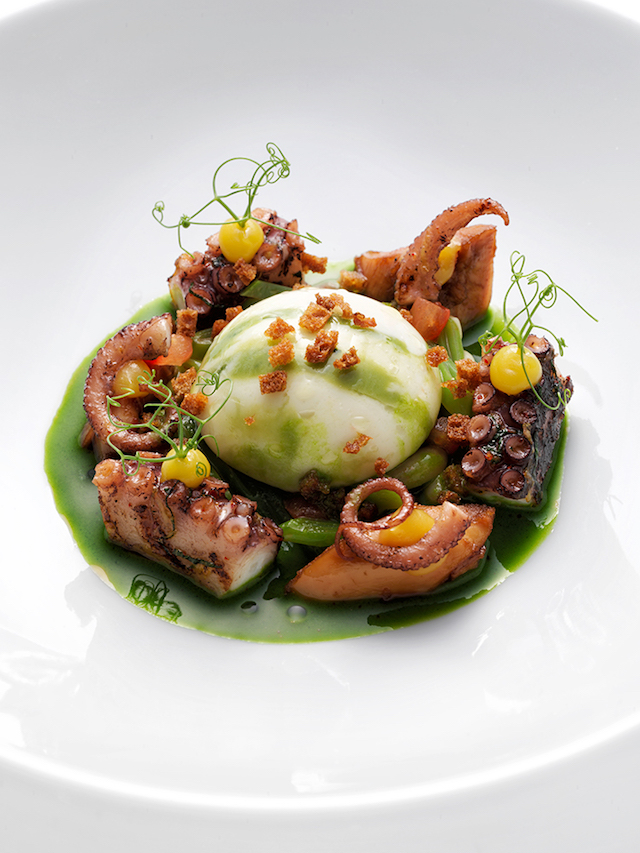 You've said before "the guest should have fun during dinner". How do create this with your food?
Dining with us is simply a fun experience because the food is excellent. In addition, our guests feel welcome and can engage socially by talking and laughing with each other without having to hold back. Our restaurant is known for its relaxed atmosphere and its cool – not classical – music.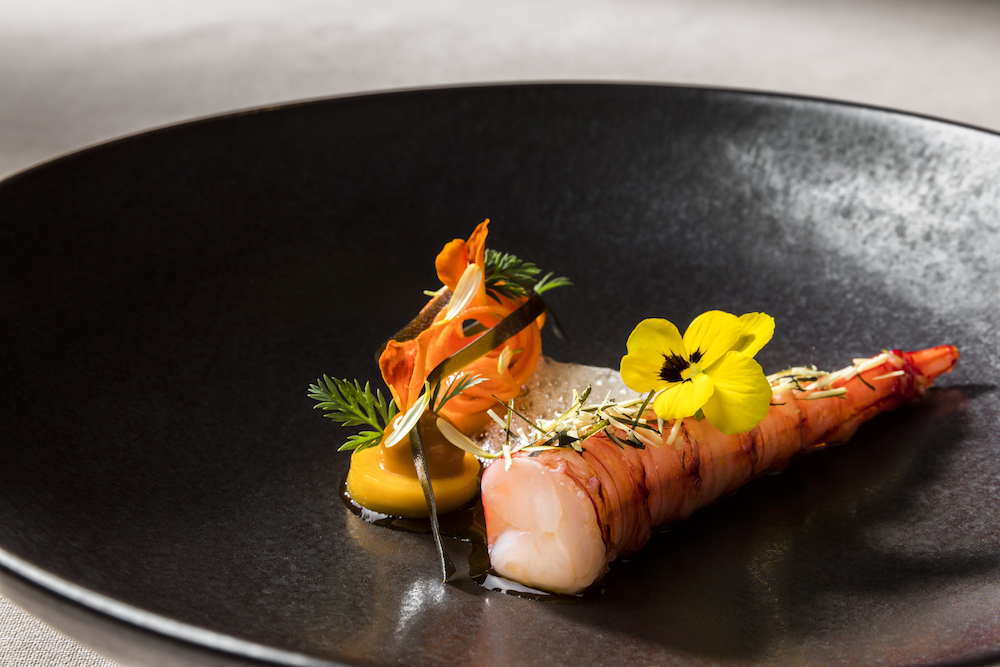 What would you like your menu to say about German gastronomy?
German chefs are creative and very well trained. They work under a lot of pressure and are very competitive. Their abilities include working well manually and having professional expertise.
What are your favourite flavours and ingredients to work with at the moment?
My favourite ingredients are seafood, mushrooms, and citrus fruits. As for flavours, I like to cook with vinegar and homemade oils.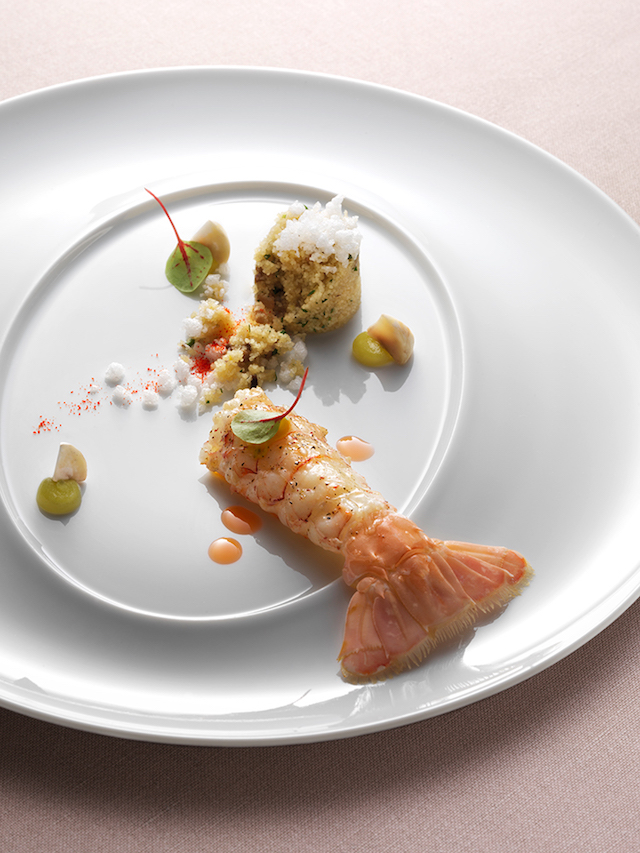 With the current concerns about sustainability, how are you building this into your work? Can you also give us an example of something seasonal on the menu at the moment?
We do not cook meat from animals threatened with extinction, for instance tuna, and the ingredients we cook with are seasonal.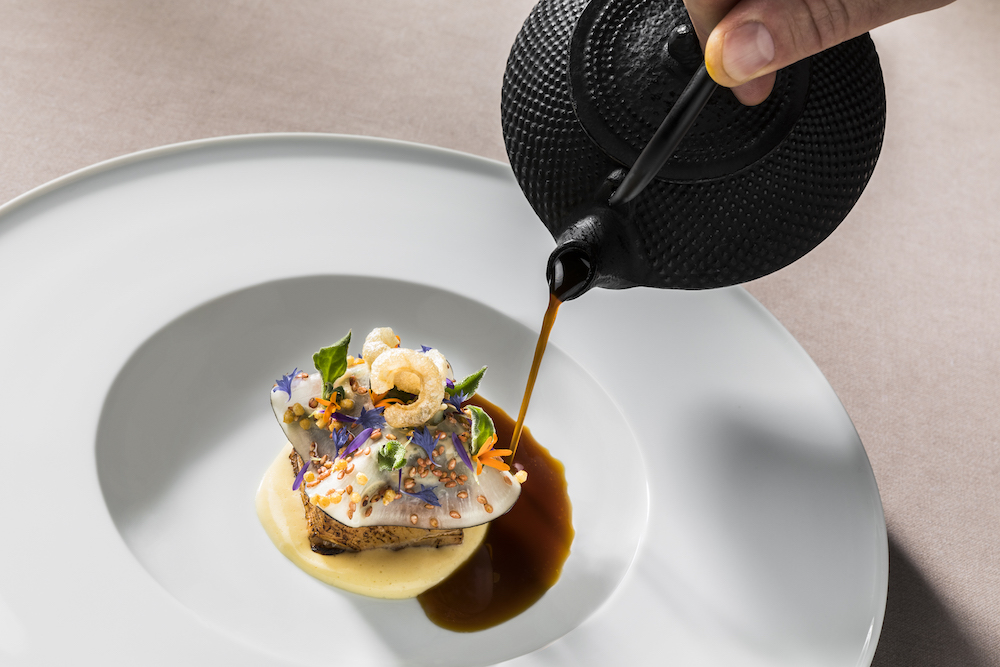 How has your time working with some other incredible chefs, such as Sven Elverfeld (at the Ritz-Carlton Wolfsburg), and Christian Jürgens (at restaurant Kastell) who also each hold three stars, shaped your career and style of cooking? Is there anything they have taught you – their approach to cooking or some words of advice?
All of these chefs are great people with successful careers, who have shaped me throughout my career. I observed different techniques and methods, applied them to my work routine and, thus, improved my skills by using the ones that worked best for me.