The executive chef at Wolfgang Puck's CUT reflects on bringing back showmanship to cooking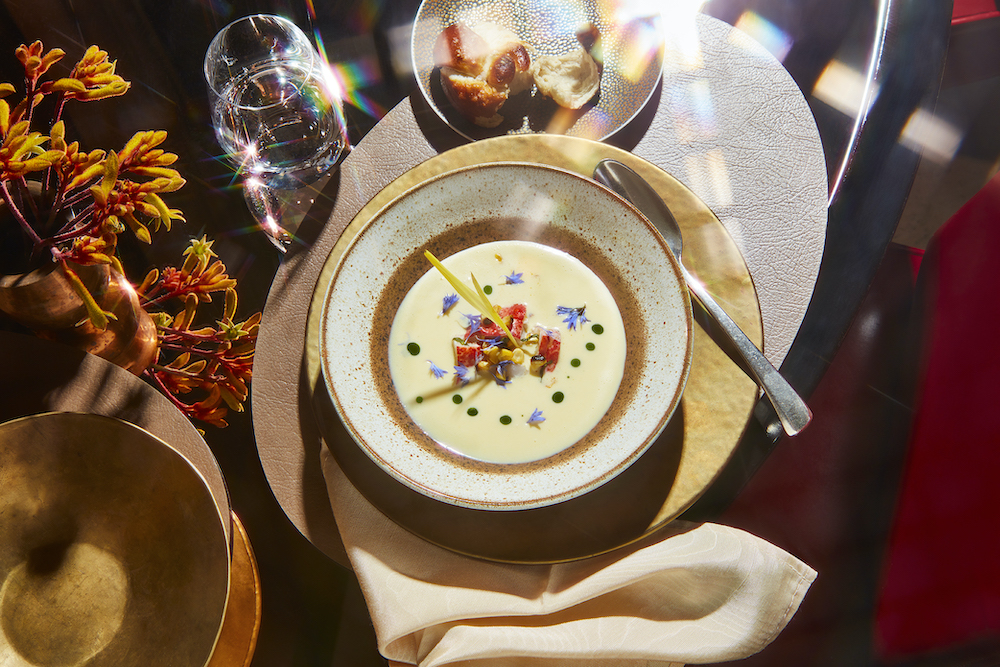 Wolfgang Puck's first restaurant in Europe, CUT, is known for serving one of the best steaks in London. Set within Dorchester Collection's Mayfair hotel, 45 Park Lane, executive chef Elliott Grover has been busy adding to its roster of dishes to love – pan-roasted lobster, silken tofu dumplings with shiitake mushroom bouillon, Cornish dover sole à la meunière – on its locally sourced and seasonal menu. Having cut his teeth under Mark Hix and Tim Hughes, Grover's impressive resume of Le Caprice, Scott's Mayfair, Hix Soho, The Ned and Duck & Waffle has put him in good stead to now oversee the entire culinary direction of the luxury hotel.
Recently revamping the summer menu for its al-fresco terrace (with delights like chilled sweetcorn soup and carnaroli risotto primavera to entice on those increasingly sultry evenings), Grover spoke to Port about the nostalgia of seafood, bringing back showmanship to cooking and the kitchens that have shaped him.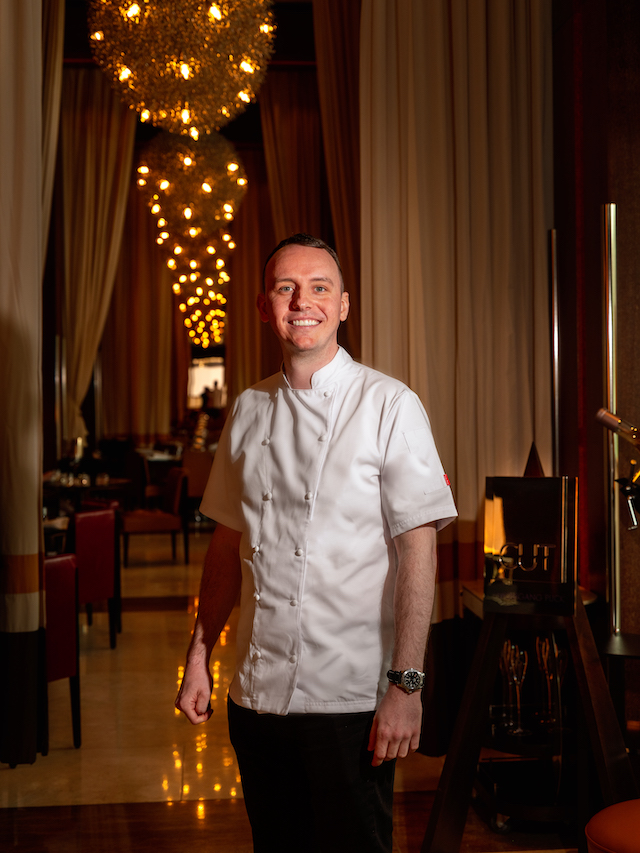 Which kitchens have been some of the most formative for you?
The biggest influences for me were Le Caprice and Scott's Mayfair. I started at Le Caprice when I was 16 and had my 18th birthday in Scott's Mayfair, so I was basically brought up in the kitchens.
II remember my first ever day in London, 15 years old, my dad took me for my trial at at Scott's Mayfair. It was a freezing cold morning walking through Berkeley Square, there used to be hardly any restaurants or shops there. I was very nervous but as soon as I arrived and saw all the beautiful fresh seafood and seasonal produce, I felt like I was home. I never knew I'd spend so many years there. We sat down and all the chefs had a meeting about the menu. I remember the current chef director of Caprice Holdings, Tim Hughes, talking about anchovies going on the menu. He was so passionate talking about what the dish would work with, what flavours go, the reason for the change of menu, why it's in season. I was fascinated and knew this was my dream job.
You now look after the culinary direction of the whole hotel, what skills do you need as a chef to be across a space of that size and quality?  
Since my roles at The Ned Hotel and Duck and Waffle, I've always had very strong team support. And people always ask how you keep such a strong, passionate, happy team. I think the most important thing for any business, regardless of the kitchen equipment or the best produce, is to have a fantastic team. I look after my team as a number one priority, I look at all staff members strengths and weaknesses and we work together to get the best out of everyone… including myself.
I always give staff a chance to give their opinion and listen to ways we can improve and try to action everything. Good or bad, we can improve on it together. Right now, I have a fantastic head chef Ibrahim, and amazing pastry chef Niamh. They are a huge support, and we all have the same vision and passion.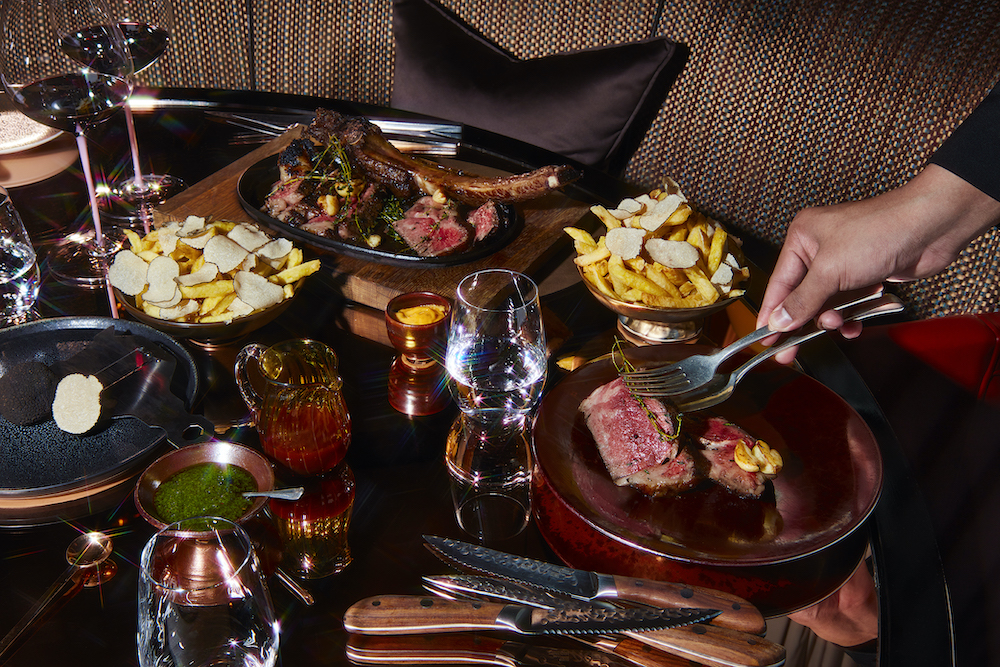 A restaurant is only as good as their suppliers, who are some that make the CUT what it is?  
Classic Fine Foods is a great example of a supplier that makes the CUT, a constant service and they never let us down.
What was your thinking behind the new summer dishes, and which one are you most excited for people to try? 
When I started at 45 Park Lane I needed to streamline the menus, and make sure we had a menu to support our new outside terrace. I went for lighter dishes like grilled tiger prawns, sweet chilli jam, green mango salsa – I wanted to get away from just steak and sides.
Wolfgang Puck has obviously been a huge influence. I went to LA in May and had the pleasure of seeing Spago, Beverly Hills and finally CUT Las Vegas with the wonderful Matt Hurley, the executive chef there.
The dish I'm most excited about for guests to try is our crispy fried sweet and sour pineapple seabass, it has everything! Flavour, drama, and the 'wow' factor. You must come and try it.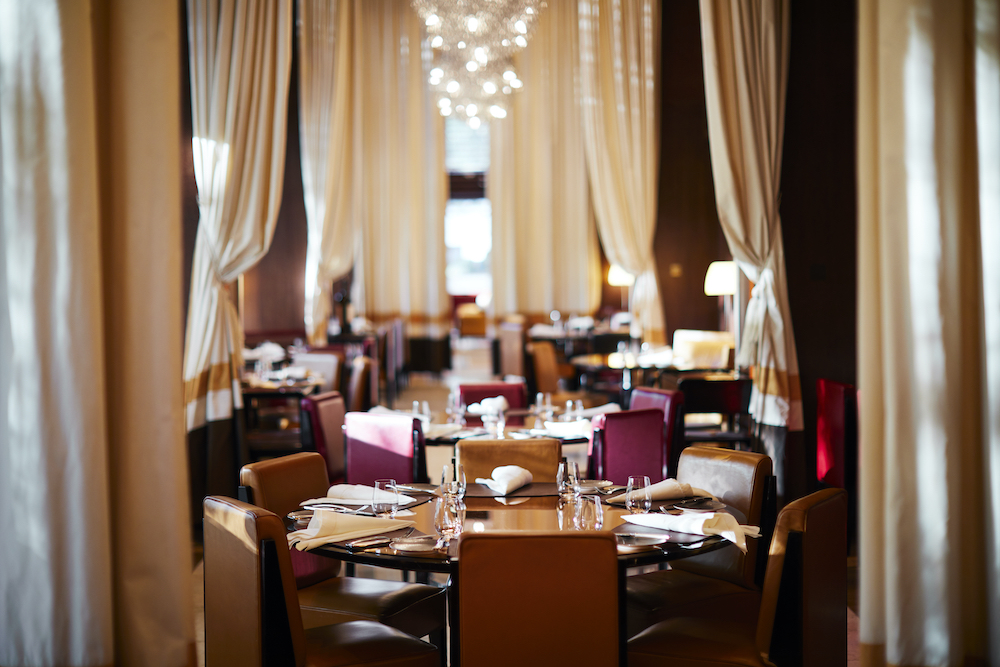 Why is seafood important to you, and what makes your signature whole baked sea bass special? 
Seafood reminds me of home in Cornwall, and the very start of my love for food. This seabass dish stems from a red snapper dish I tried at Miriwa Hollywood. Chef Tetsu, who is now a good friend and works for Wolfgang Puck, gave me the recipe – I was a bit apprehensive if it could work in London. But after many attempts and tests we nailed it, and it's now becoming a CUT classic.
How do you like to run your kitchen? 
Easy answer: fun, high energy and a huge amount of passion to produce the most beautiful product. If you have these three all in a row the rest will come.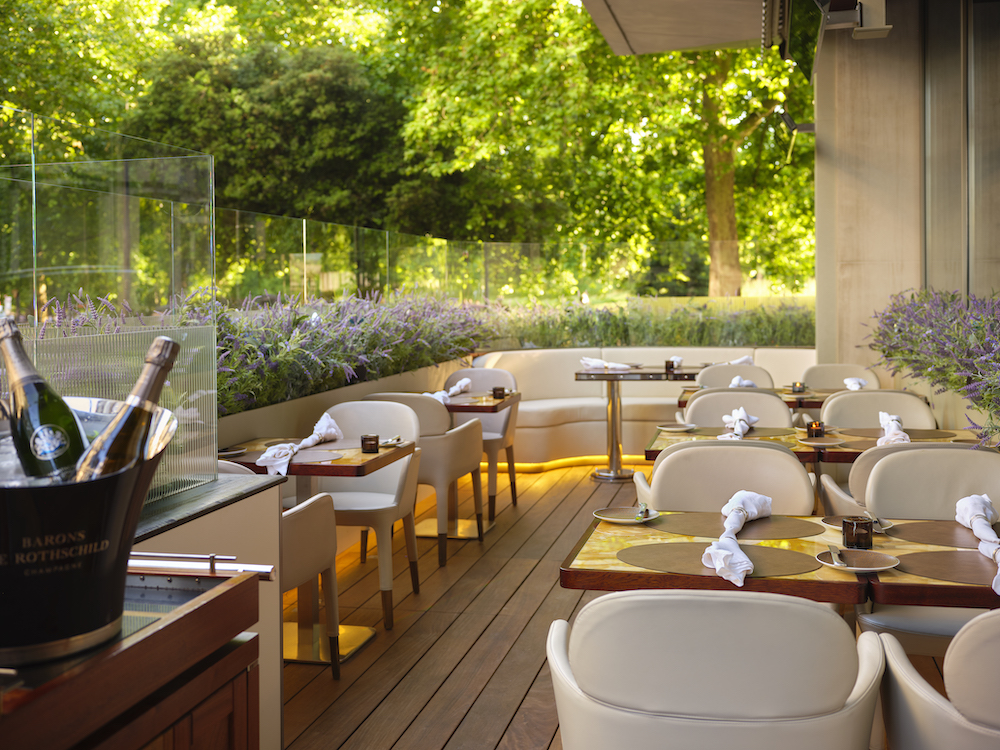 You said recently that you would like to bring back the showmanship of cooking and interact more with the customers – what does this look like exactly, and what do these aspects add to a restaurant experience? 
It's no longer about going for a 6-course tasting menu, it's all about how you feel when you first step in to 45 Park Lane. It needs to be an experience, and that's why restaurants can't just rely on good food alone.
I like to bring a playful element to the menu. We are always thinking and developing ways to keep guests engaged, and not just with food on a plate. I often bring my young chefs to the dining room and get them to meet guests. Serve food. This way they see the bigger picture. They understand why all the hard work goes in.
I also like to bring the guests to the kitchen, I've even had a few grill their own steaks! Our seabass and roasted shellfish with garlic butter and coastal greens are an example of a show in our dishes. We serve table side with the chef and it brings a great conversation to the room and a lot of excitement.