The head pâtissier at Le Meurice speaks to Port about what inspires his fantastical desserts, the importance of travel, and how his 'trompe-l'oeil' fruit came to be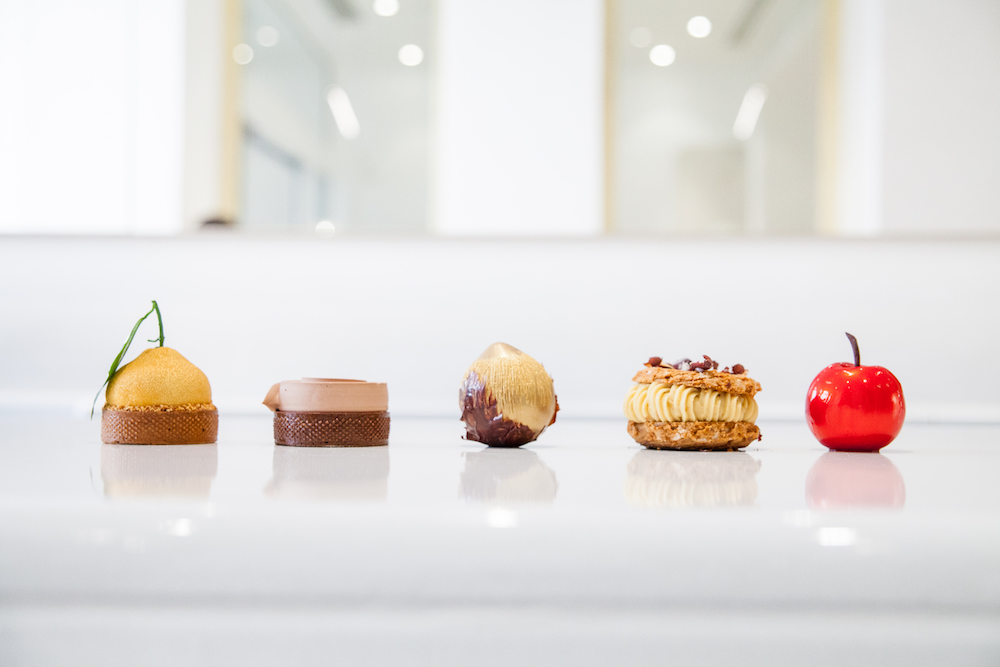 Located on Paris' famed rue de Rivoli, Le Meurice opened its doors in 1835, hoping to entice discerning British travellers looking for all the comforts of home. Boasting modern luxuries for its time – the hotel was the first to install a telephone and later, the first in Paris to offer private bathrooms – Le Meurice quickly attracted the likes of Queen Victoria and a whole host of dignitaries and royal guests, earning it the moniker, 'Hôtel des Rois' (Hotel of Kings).
Le Meurice also had a reputation for lavish dining as well as facilities; dinners were known to last from eight in the evening until eight the next morning. According to hotel legend, one guest recounted attending a lunch where only hard-boiled eggs from the rarest birds were served, ranging from partridge eggs to swan eggs. In 1908, salmon coulibiac was added to the menu and served every Friday just to please Russian guests, while visiting maharajahs dined on curry every Wednesday. In 1918, Picasso and his first wife Olga Koklova enjoyed the pomp and splendor of the hotel for their wedding dinner, and sixty years later, Bob Dylan enjoyed the pampering service to have his evening meal brought to his room at 3am. Dalí spent so much time there behaving as surreally as his paintings – the artist lived at Le Meurice on and off for over three decades – that Le Jardin d'Hiver restaurant was renamed in his honour. The boiled eggs have also been replaced by two Michelin-star cuisine overseen by Alain Ducasse, and the opulent dining rooms embellished further by Philippe Starck, although staff will still indulge you with Dylan-style requests and 24-hour room service.
Completing this exceptional culinary offering is Cédric Grolet, who joined Le Meurice in 2011, quickly climbing up the ranks to become the hotel's Head Pâtissier and the World's Best Pastry Chef to boot. It could be argued that it is at Le Meurice where the master pâtissier truly came into his own, and it is notably where he created his first ever trompe-l'oeil fruit. We caught up with Cédric to find out the story behind his most famous dessert, how he continues to evolve, and his plans for the future.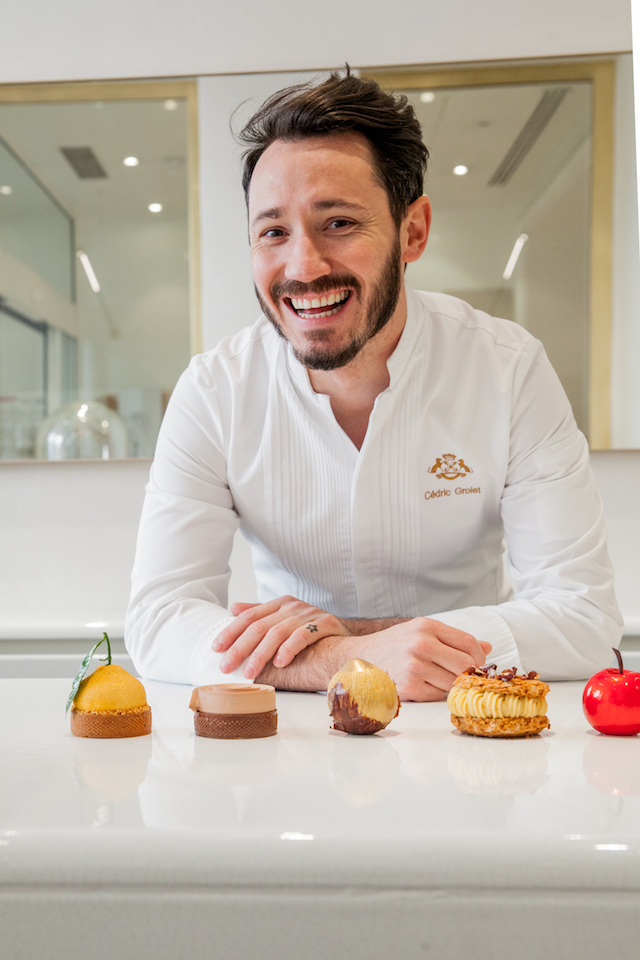 Where did your love of patisserie first come from? 
My grandparents had a hotel and restaurant and I used to stay in it when I was a kid. The desire to become a chef came naturally, and I wanted to make cakes from a young age. The moment this idea "clicked" is when my grandfather showed me how the ice-cream machine worked when I was six years old. He made me touch the vanilla ice-cream with the tip of my finger and it melted instantly – I was fascinated. It became an obsession – as a child I did not even that making desserts could be a job, but my only desire was to make cake!
What is the creative process behind your patisserie and where do you find your inspiration?
I do not have a creative process, I never sit behind a desk and say I need to create something. I would not be able to do it that way. It is important for me to be free to create – if you force me, nothing comes. I am inspired by absolutely everything that surrounds me – tastes, landscapes, shapes, colors. That's why travelling a lot is very important to me, it allows me to constantly discover new things.
Where did the idea first come from for your now famous 'trompe-l'oeil' sculpted fruit?
It's a technique that I created and the fruits are all my creations. I started with nothing. The way to do it, the techniques such as brushing chocolate, carving desserts… nobody before me did that, it's really a personal creation. Since I was young, especially between the ages of 16 and 20, I used to carve chocolate for fun. It's something that I really enjoyed doing, and I still do today. This is how I came up with the idea of sculpting my creations, which would not only be available to my friends and family, but also available for sale. When I arrived at Le Meurice, my project was to work on different seasons, and that's how I came up with the idea of using fruit. My first creation was cherry with tarragon. I introduced it to the hotel manager, Mme Holtmann, during a tasting session and she liked it immediately.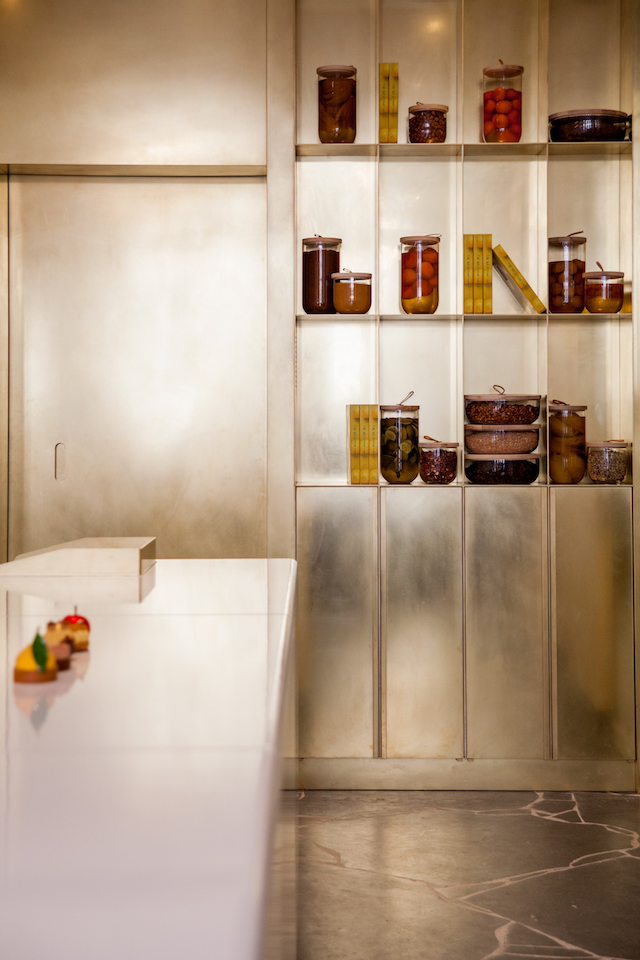 How long does it take to develop and perfect a new fruit from your first idea to the final result? 
It depends on the fruit; it can be a few days or a few years. For example, it took me five years to create the strawberry. I am constantly rethinking my creations, and it's also my way of advancing, by always questioning myself.
With so many French recipes to master, why is it important for you to innovate and create?
I'm not reinventing anything, I'm trying to rethink Parisian pâtisserie to push it to its limit – to lighten it up and bring a fresh approach. I also want to create new techniques that are my own, like with my carved trompe-l'oeil fruits.
What are your favourite flavours and ingredients to work with at the moment?
Seasonal fruits are products that I very much enjoy working with. But we have to be careful not to distort them, and to use everything. I like working according to the seasons, and I always respect the produce and its timing.
Do you have a favourite dessert?
My favourite dessert is something simple, like crème brûlée or crème au caramel, which reminds me of my childhood.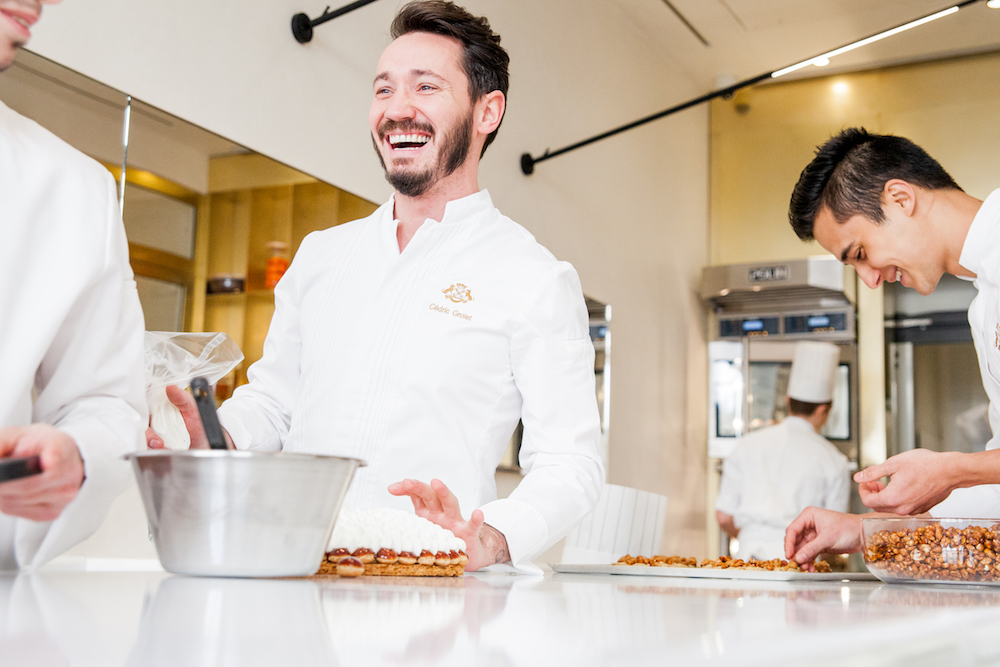 You're currently in the process of switching to all-natural ingredients in your fruits. Why is this important for you and what challenges has it posed for the technical aspects of your fruit? 
It's really important for me to offer my clients desserts which go straight to the heart of the flavour, and which are true and authentic. For example, each of my carved fruits is perfect with regards to taste, seasoning and aesthetics. To achieve this, I choose to use products that are more natural, for example, I've removed refined sugar from my laboratory. Meeting the challenge is not simple – I want to remove all chemical food colorings from my pastry –  and the solution was not obvious and easy to achieve. But in the end we've found one, by dehydrating the fruits to extract their pigments.
With the current concerns about sustainability, how are you building this into your work?
I try to use as many organic products as possible – you can't make good desserts without perfect raw produce.
You've worked around the world in locations such as China, Dubai, Morocco, and South Korea. Has this inspired your work at all or are traditional French recipes still at the heart of your pâtisserie?
Japan is the country that inspired me the most, particularly because of their respect for the produce. French desserts will always remain at the heart of my work, it is a bit of a trademark of mine, beyond the fruits. My goal is to simplify desserts as much as possible, by using different techniques.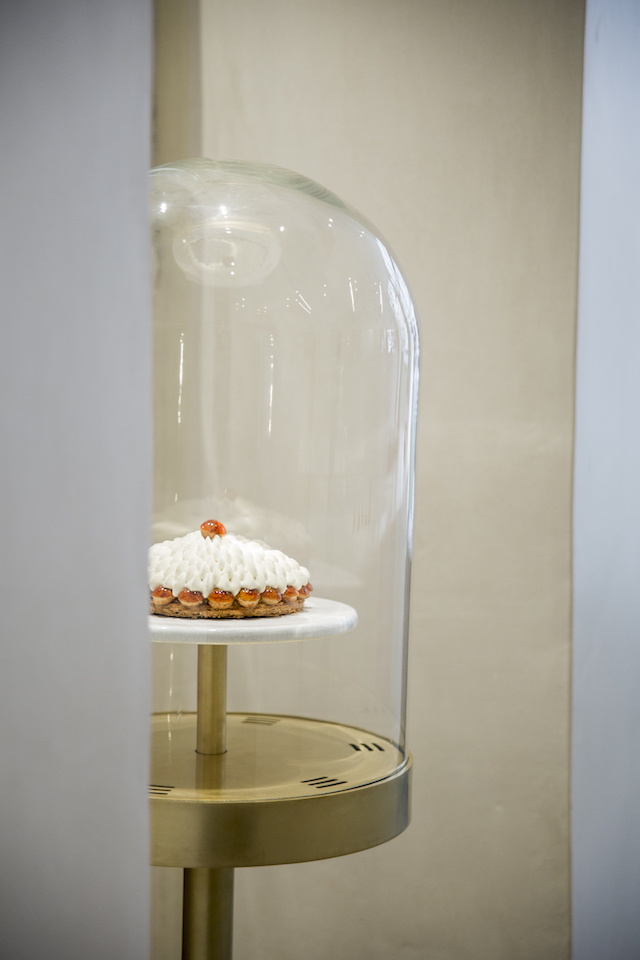 What do you think makes French patisserie so special?
Our dessert culture is unique. When I travel, I almost only taste savoury dishes – no other country has the sweet heritage that we have. It's in our genes. Everyone, since they are small, makes cakes – that's what makes us so unique!
Your first ever pastry shop, Cédric Grolet par Le Meurice, celebrated its first birthday this year, and you yourself have just celebrated 20 years in the industry. What can we expect next from Cédric Grolet pâtisserie? 
I'm going to release my next book in October. I cannot reveal the theme yet, but I want it to surprise people, and to show a different creative side. And also, my first address in my name in Paris.