A new dining experience inspired by Martin Parr's photography is reinvigorating the pop-up niche
Martin Parr's photographs of food are the antithesis of the conventional, glossy food photography we see all around us. The ambiguity and contradiction of opening a packet to find the food inside bears no resemblance to the image on the front, "one of the great lies we're told" according to Martin, inspires him. It's something he's explored throughout his career, both here in the UK and abroad, providing an almost gonzo alternative to big-budget food porn.
At The Art of Dining: Say Cheese, a new East London pop-up inspired by Parr's food photography, those present seem at turns both disgusted and fascinated by the gratuitous close-ups of sickly walnut cake and greasy fat chips bobbing in gravy, that adorn the walls of the rundown community centre the Art of Dining team have converted into a kitsch 'Rosie's Cafe' (no acute accent here). I can't help thinking how delicious it all looks.
The project is the brainchild of Parr's daughter Ellen, a trained chef who's previously worked at London's Moro, and set designer Alice Hodge. Having met at university in Glasgow, the pair has previously collaborated with the National Trust on numerous themed dining experiences, incorporating art and theatre. Say Cheese offers five courses directly inspired by Parr's photographs. Hence, a beef and mushroom massaman style broth presented in a tackily ornate teacup and cumin scones topped with goat's labneh and chilli jam are amongst the dishes.
Compare these to the original photographs and you'd struggle to tell them apart, but I wonder, is it difficult for a highly skilled chef to hold back on the flourishes and produce food that's supposed to look bad? "We've never been a pop-up that uses tweezers and drips of sauce," says Ellen. "I've really enjoyed not having to worry about presentation – the shitter it looks, the better!"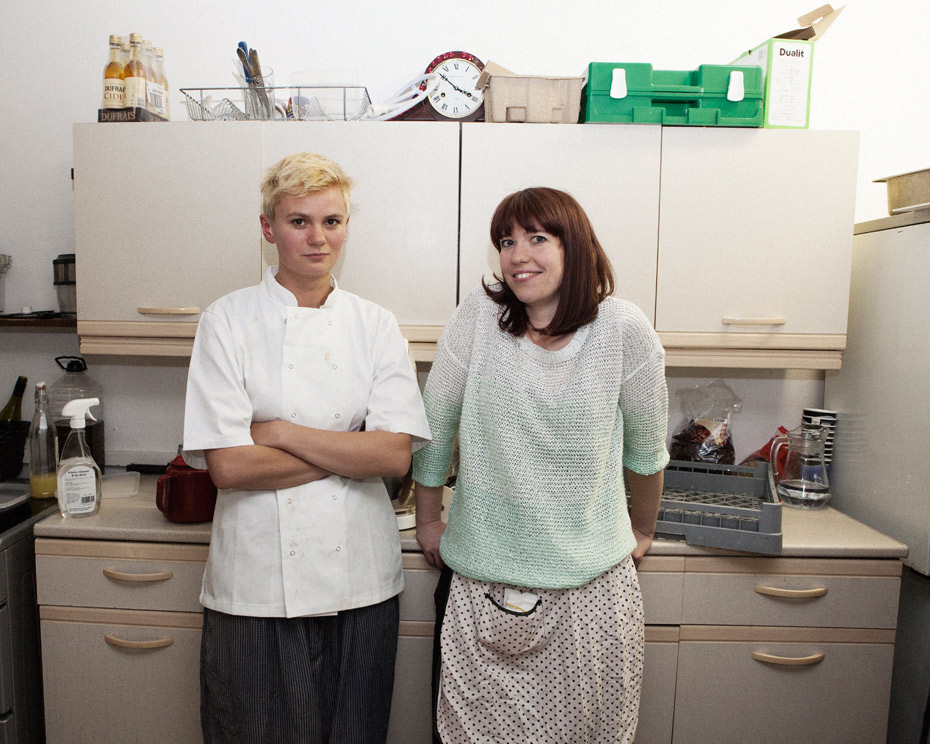 Hodge's set design is perfect: notice boards decorated with lost dog and jumble sale posters; fluorescent cardboard stars advertising bargain meal deals; archive British tabloids from the early 80s; a watchful, regal portrait of Jimmy White hanging next to a bruised and battered snooker table. Oh and there's a photo booth too, and a raffle. Everyone loves a raffle.
"We're always playing with people, challenging them, turning things on their heads," says Alice. "Taking Martin's photos and turning them into posters has been such a laugh. His PA sent me 300 pictures and said 'choose what you want'. I just sat there in front of the screen and laughed and laughed and laughed."
The food is good, verging on great – the cumin scones being a particular highlight – though I find myself gazing longingly at a hefty looking pie and chips photographed by Martin on the wall behind me as I tuck into a main course of roast chicken and vermouth pie with spring greens. The pie itself lacks a certain depth of flavour and is crying out for carbohydrates. Having said that, a desert of a perfectly balanced lemon curd mousse accompanied by a cardamom and sour cherry biscuit leaves me feeling smugly satisfied, though the biscuit could be softer. The pop-up niche has become something of a derogatory stick with which to beat po-faced 'hipsters', but The Art of Dining has captured its true essence at Say Cheese: trying new things and meeting new people. The conversation in the room barely dips below an excited roar throughout, perhaps helped by the presence of Martin Parr himself in a room full of Martin Parr fans, and the friendly, attentive staff and Alice's buzzing hospitality contribute to a crackling atmosphere, despite some hit and miss entertainment from the cafe's 'owner' Shirley.
"The pop-up attracts a really interesting, open-minded type of person," says Alice, "because you don't know where you're going to go, who you're going to sit next to. It's sometimes quite an unusual place; it's a set menu… There are so many pop-ups going on, loads of people are doing it, but I feel like we're all part of the same team – we go to theirs, they come to ours. We feel unique enough, it doesn't feel like a competition."
Time to give pop-ups another chance then, after all, wasn't eating out always meant to be this much fun?
The Art of Dining: Say Cheese runs until 29 March at the Rose Lipman Building, 43 De Beauvoir Road, London, N1 5SQ. Limited tickets are available HERE