The world-renowned butcher, Dario Cecchini, on meaty philosophy and why boiled cow's knees can be as good as a fillet steak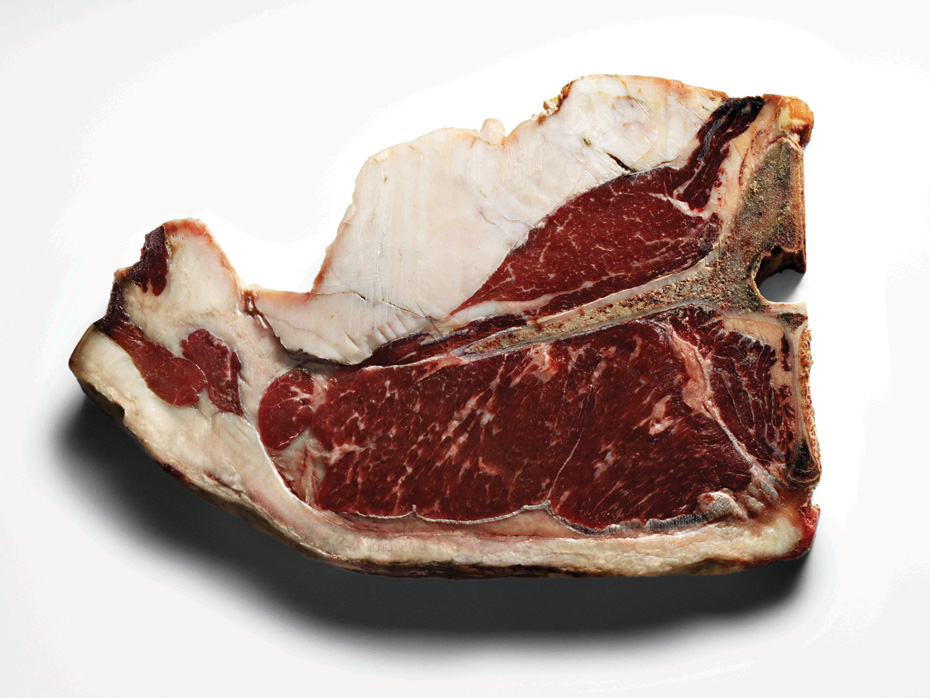 Some say the greatest practitioner of an ancient and bloody craft works in a small hillside town in Tuscany. At the least, Dario Cecchini is certainly the most famous butcher in Italy, if not the world.
Culinary enthusiasts have made pilgrimages to Panzano, a four-road Chianti town of sun-wrinkled Italians, vineyards and olive groves, for years to feast on Cecchini's celebrated hunks of crimson beef.
His butcher shop has been in his family for over two centuries. Small and lively, it overflows with red wine for visitors, and bread slathered with creamy lard. A towering man with trunk-like hands, he's known to launch into dramatic recitations of Dante from behind his counter.
Cecchini, 58, oversees something of a culinary empire in Panzano, which takes about 20 minutes to explore. His two restaurants are mere paces away from each other, all housed on the same patch of uphill road his butcher shop is on. He was born in the town and did not leave it until he was 14.
Although he may now enjoy one of the greater measures of fame ever awarded a butcher, he seems most content upholding his family business and growing as a student of meat.
"Above all I try to maintain the ancient values," he says. "The butcher assumes a responsibility for his whole community, like it was back in ancient times." Butchery is "noble work," he insists. "In Italy all the butchers are closing," he laments. "They are dying."
A key to his craft, perhaps surpassing sheer technique, is philosophy. "It is not enough to buy a steak," he says. "The cow has died. We have to thank the cow. This is the paradox. As I like to say 'To beef? Or not to beef?'" 
When he recently gutted a dead pig on stage at a food conference in Copenhagen, he preached such values while pulling entrails from the animal. "I'm here to show you I can gut a pig," he said into a headset, "but my whole life has been about promoting these principles." He laid piles of innards on a nearby wooden block to physically demonstrate how much one animal offers its eaters. "I'm here to tell you my work can become like poetry."
"To beef, or not to beef?"
He still believes in apprenticeship. His father, before death, instructed Cecchini to keep learning more under his own former teacher. A man simply dubbed "Maestro." "He taught me in a way that comes from the renaissance," Cecchini says. "He replied to all my questions. Taught me cuts of meat. But above all, he taught me that to search for the best meat is to understand how to recognise the best meat."
He stresses that the best meat is also sometimes underestimated meat.
"My grandmother cooked mostly offal: tripe, intestines. I didn't even eat my first steak until I was 18. But to me it was not better than tripe, head, or foot. People want steak because they think it is the most expensive, so it must be the best." An early dish he mastered was boiled cow's knees, served simply in a salad with carrots, onions, and light seasoning.
And he'll judge a butcher by how they use their hands. "You use the knife only when necessary," he insists. "Great butchers are ones that are great with their hands."
But becoming a truly great butcher, he says, means the grunt work is unavoidable. "One must work 10 to 11 hours a day, minimum. And then more work to maintain the technique."
He insists on evolving: "Every day I start work, I put myself in front of beef. And when I work with beef, I feel I must improve for it a little bit every day."
"I still have respect for it," he says. "And I believe this way of looking at it, this respect, will never leave me. I will always be evaluating my life with meat."
Photography Robin Broadbent