Travel writer David Constable sends this report of his culinary trials and hiking adventures from the legendary actor's favourite holiday destination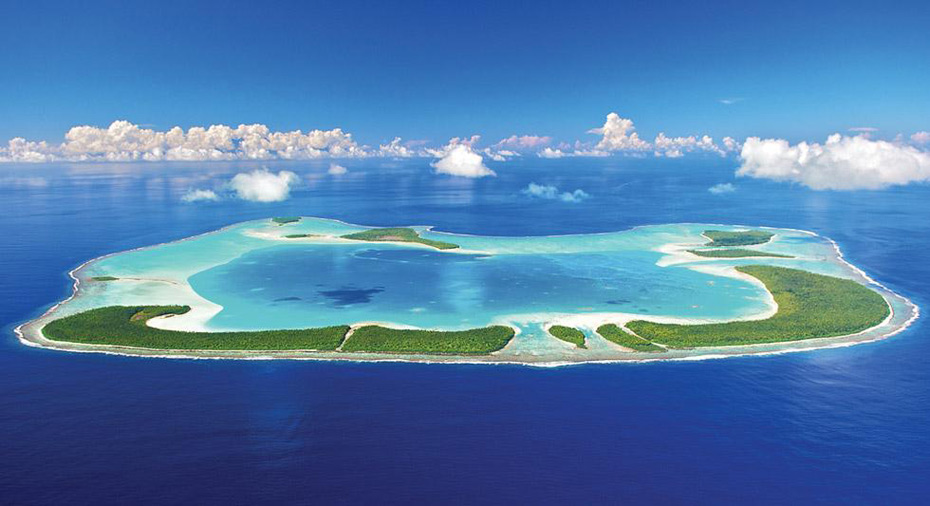 Above: The Brando © Gie Tahiti Tourisme
There's a connection between Marlon Brando and me. I don't mean a flimsy parallel coincidence, like we enjoy wearing ladies' knickers or begin the day gorging on a box of cinnamon buns; an actual, provable similarity. How many people can say they have this-or-that in common with Brando? But it turns out that both me and the pudgetastic deceased actor are pulled by the lure of the tropical island Tahiti.
When the glare of the spotlight became too much, Brando would escape to the South Pacific. First introduced to the island in 1962 when filming Mutiny on the Bounty, he went on to marry his co-star Tarita Teriipaia – who I met briefly when visiting Tahiti last year – and in 1966, was granted a 99-year lease to the island of Teti'aroa by Tahiti's government. I was due to visit Teti'aroa and witness the island's re-development into an eco-friendly and sustainable resort, aptly named The Brando, but building has started and stalled several times over. It will now open on 1st July 2014, or so the latest in a string of press releases has announced, each laced with the bombastic, flowery narration that accompanies such releases: "A place of stunning beauty, tranquillity and rejuvenation", going on to promising such waffling aphorisms as "offering a life-enriching experience".
Kept on Tahiti and now without Teti'aroa in my itinerary, I searched deeper into the capital island – a place of myth and mutiny; literary, anecdotal and tribal stories; coconut trees, turquoise lagoons and black sand beaches.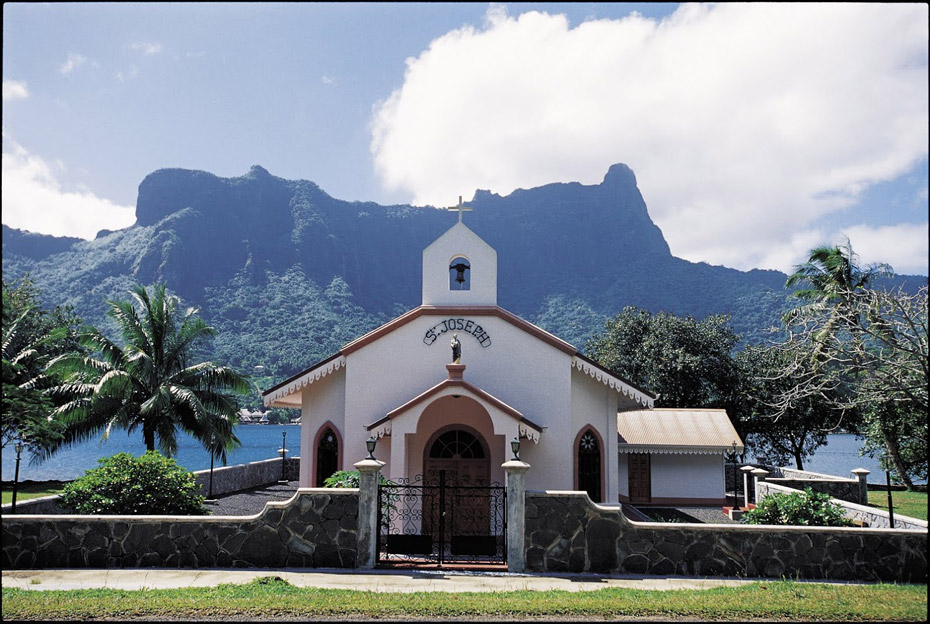 Above: St Joseph's Church © Gie Tahiti Tourisme
From Faa'a airport in Pape'ete I drove along the coast to Punaauia. Pacific views were soon interrupted by the InterContinental resorts, a sprawling cement shopping mall, then a McDonald's. It seems the rich web of Westernisation has no bounds, and Tahiti now finds itself host to the Big Mac.
I'd hoped to learn about Tahitian culture and history in Pape'ete, but as with most capitals, I was met by the foreign influx and tourist congestion. In the market across from the ferry plaza, I spoke with the vendors about Polynesian cuisine and the piled ingredients of breadfruit, lychee, pineapple and pamplemousse; the dead, jelly-eyes of tuna and grouper; and signs of Cantonese migration with kung pao chicken and chow mein.
The curious combination of baguette and noodles is as popular as it is baffling. A sort of Franco-Asian juxtaposition and an epic misstep in crossbred ingredients. It fascinates me how and why food migrates, the choices people make of what to take and what to leave behind. When the French first arrived in the 18th century, it wasn't foie gras or macaroons they brought with them, but the baguette. I imagine it was all Gauguin lived on, that and penicillin for his syphilis.
I thought immersion would present me with a greater understanding of the Polynesian culture, so I left the coast and its sun loungers and headed into the jungle. Ghostly churches – around 54 percent of the population are Christian – are isolated in fields and more breadfruit trees emerge on the verdant route to Mount Orohena, the island's tallest mountain at 2,241 metres. Then through small towns, witnessing the economical gulf. Hotel high-rises with sea views are replaced by small houses on stilts and communal shacks made from salvaged wood and painted corrugated iron. They reveal a privacy and cosiness lacking from the glitz of the international chains.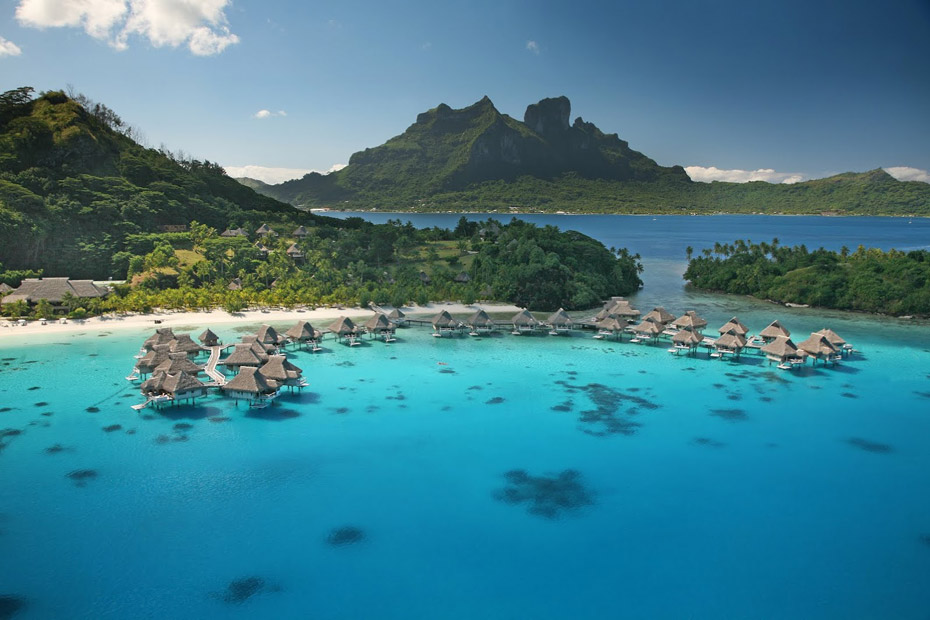 Above: The island of Bora Bora © Gie Tahiti Tourisme
I wondered whether it was this gracious and​ warmly spirit​, this existence of impoverished families in a sticky paradise, that had originally captivated Brando. Back then the island was still largely rural, before the corporations moved in and the horizon lines were unblemished by hotels.
What stands someone apart as alien abroad is usually their inability to conform; happy instead to go in search of wi-fi. They might visit the national museum or seek out the tourism office, but I wanted to enter the orbit of these natives and learn direct from them. Still, all the while tourism is contained to Pape'ete and the honeymoon island of Bora Bora, I went about my nosey intrigue, pleased not to be bumping into newlyweds and couples from London. Hence, after my visit to the market and black pearl outlets, I never returned, choosing to hotfoot across town and into the tropical wilderness. I rented a kayak and paddled around the southern region. Later I took the ferry to Mo'orea – 17 kilometres northwest of Tahiti – where I stayed in a pension near Cook's Bay and hiked in the north to Opunohu Bay, in the foreground of Mount Rotui. I stumbled upon a juice factory specialising in fruit punches and jams. Chilled pineapple was thick and cold and sweeter than any pineapple I'd ever tasted.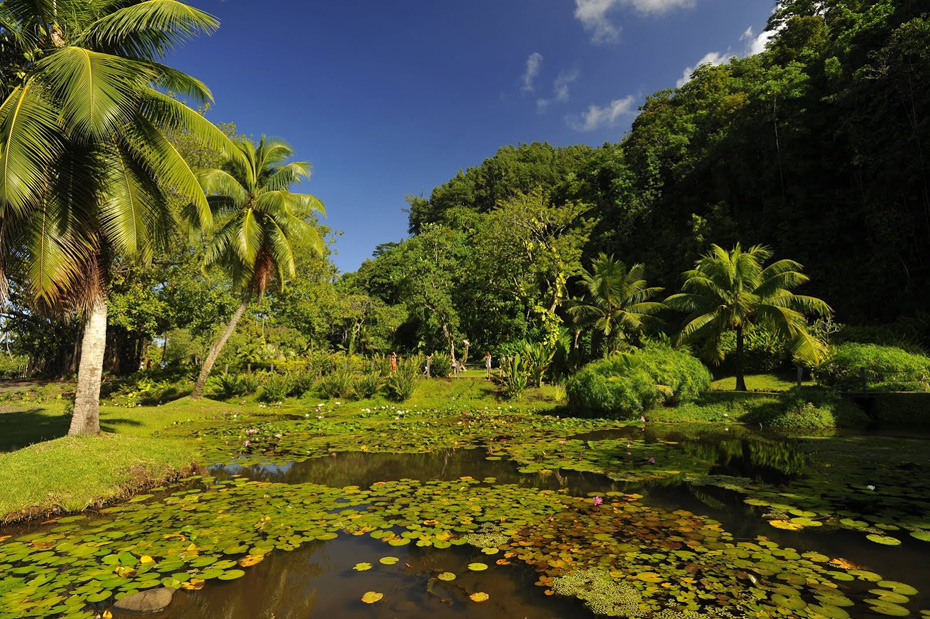 Above: Vaipahi © Gie Tahiti Tourisme
Amenities at the pension were limited, but there was an authenticity to Motu Iti. My greatest understanding of the culture came from experiencing such intimate home life and eating with the family. It wasn't a difficult leap, not when there's poisson cru, grilled barracuda and coconut milk mixed with vanilla and fire-grilled bananas. The children ate pizza.
I did stay on Bora Bora for a time. Collected from the airport by Sofitel's water taxi, I sped across the open azure to a wooden pier jutting out into a lagoon. There I was met by the hotel manager who waited with pineapple juice and a cold flannel.
Again I took to the kayak, easily the best and most rewarding way to discover the island, despite not being on it. I snorkelled with stingrays and lemon sharks, and swam until I was far enough out that my wee wouldn't discolour the emerald lagoon.
"When the French first arrived in the 18th century, it wasn't foie gras or macaroons they brought with them, but the baguette. I imagine it was all Gauguin lived on, that and penicillin for his syphilis"
I understand why Brando continued to return. French Polynesia is a paradise of unrivalled beauty. It captivated and stumped me with every turn and in each of my meetings with its inhabitants. Now, if the Tahitian government ever read this, how about leasing me an island?
David is British a travel writer. To read about his adventures in Las Vegas click HERE