Betty Wood talks to the head chef of Shoreditch's newest dining venue, opening next month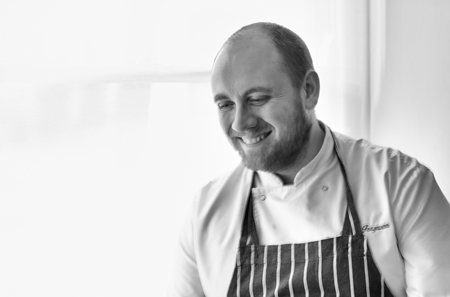 Words Betty Wood
The East London residents amongst you might have noticed a flurry of activity taking place under the railway arches on Geffrye Street, Shoreditch in recent months. Opening April 8, this spectacular renovated space will house the new restaurant, bar and coffee shop from and Kieran and Danny Clancy (founder of Fitzrovia's Bonnie Gull), Beagle.
"I grew up in a family restaurant and the importance of honest, flavoursome food is something that I hold close. Nothing on the menu will be overly complicated, but every element must be thought out with care and attention," says head chef, James Ferguson, explaining what we can expect from Beagle's menu. Formerly head chef at Margot Henderson's Rochelle Canteen, Ferguson adds his time at the Canteen "allowed me to understand how to pare back my style of cooking, and trust my own judgment. Before then, my time in London had been spent mostly in fine dining establishments and although this gave me a wonderful grounding as a chef, the Canteen allowed me to rediscover the pleasure cooking gives to me."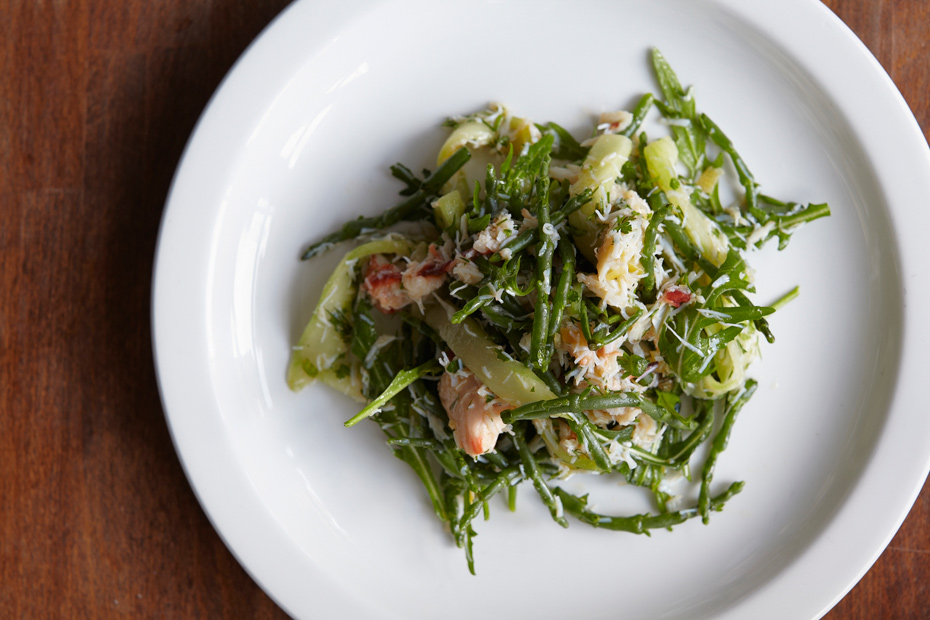 CRAB & SAMPHIRE SALAD
1 Medium cock crab
200g British marsh samphire
1 Cucumber
50g Rocket
Handful of chopped chopped dill
Juice of 1 lemon
200ml extra virgin olive oil
1 clove garlic, finely chopped
1. Cook the crab in boiling salted water for 10 minutes, pick out the white and brown meat and keep separate.
2. Peel and deseed the cucumber and slice thinly.
3. To make the dressing combine the brown crab, lemon juice and garlic in a bowl. Whisk in the olive oil in a steady stream to form an emulsion and season.
4. Combine the crab, cucumber, rocket and dill in a bowl and coat evenly with the dressing.
This pleasure includes the use of a natural wood grill and rotisserie at Beagle. "My Greek grandmother used to cook spit-roasted chicken with lemon potatoes and aioli for me as a child so I am looking forward to serving this as my signature dish at Beagle. It's really close to my heart". Ferguson has drawn heavily on his heritage – his father is half-Greek – as an influence for his cooking. "I love olive oil, and I always like to have a few lighter dishes on the menu".
The freedom with which Ferguson has put together his seasonal menu, "influenced very significantly by the quality of produce available" is echoed in the freedom the Clancy brothers have shown elsewhere. "Both Danny and Kieran share my philosophy on food; even after our first meeting, we knew we were singing from the same hymn sheet. This means I've had freedom with regards to the design of the kitchen – the aesthetic of the restaurant, (the interior of which is designed by London based Fabled Studios) ties very well with my vision. It's a beautiful space to enjoy high quality, unfussy food".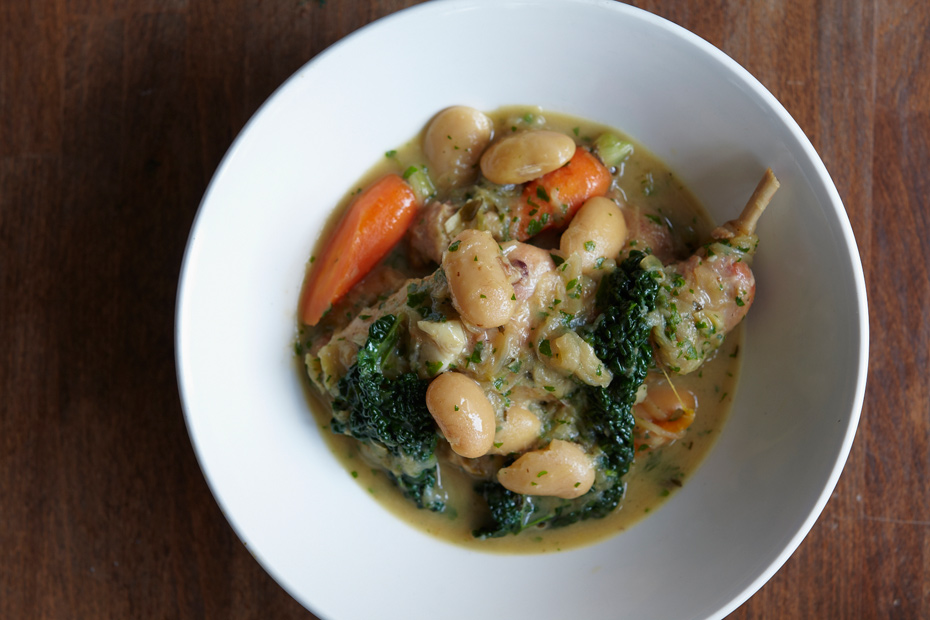 BRAISED RABBIT WITH BUTTER BEANS & MUSTARD
4 Rabbit legs
100g Butter beans soaked overnight
1 Large onion finely sliced
4 Garlic cloves
4 English bunch carrots peeled and cut into chunks
300ml Chicken stock
1 Bunch black cabbage
1 Tbsp Dijon mustard
1. Cook the butter beans in a good covering of water until tender.
2. Seal off the rabbit legs in a heavy based casserole dish. In the same dish sweat off the onions in a good knob of butter until sweet and tender.
3. Add the garlic and 2 bay leaves and cook for a further 5 mins then add the carrots and stock. Return the rabbit to the dish and season.
4. Place in an oven set at 150 Celsius for 1 hour then add the butter beans and cook for a further 1 hour. Check the rabbit is tender.
5. On the stove add the chopped black cabbage, simmer for 10 mins and then off the stove stir in the Dijon mustard.
What else can we look forward to? Pig head croquettes for one. "I really love pork for its versatility and my favourite breed is Tamworth. The meat is dark and flavoursome, and the fat extremely sweet. When a side arrived in my kitchen, it presents me with so many options – roast belly, grilled chops, sausages, terrines, pork piece, pig head croquettes… It makes me almost light-headed!"
The restaurant also features a seasonal cocktail menu that ties closely with the aesthetic of the restaurant, as well as stylistically with the food. "I worked very closely with Adam Freeth (Shaker Consultancy) and Myles Davies (formerly of Viajante & Hix) – the cocktail menu will feature seasonal herbs and fruits, and some superb British spirits. Forget elaborate embellishments and over the top fancy glassware."
Beagle opens 8 April at 397-399 Geffrye Street, Hoxton, London, E2 8HZ. Find out more here