The chef dishes on his favourite food porn book – but he's improved on one recipe, he explains
Robert Freson's book The Taste of France must win the prize for the ultimate food porn cookbook. For example: a rotund couple, he makes cider, she, apple tarts. Self-marinated and fattened, they have delicious rosy cheeks. Both look good enough to eat.
Imagine my disappointment when I learnt that Freson travelled around France with his car full of old spoons, cast iron pans and glasses to titillate the authenticity! To add insult to injury, the recipes don't really work. There is, though, a 'pork chop and prunes' recipe, the cause of many a fantasy, which I've edited a little. Time to make my fantasies come true.
Ingredients
A happy pork chop per person – Tamworth pig is ideal
A pint of good pork stock made with red wine
Three prunes per person (stone in) from Agen
Knob of butter
Sea salt and black pepper
Method
Make the stock with pork bones, celery, carrot, onion, a few peppercorns, bay leaf, a halved leek if you like – and a glass of red wine. Simmer prunes in stock so they are swollen with joy and have imbued the stock with pruney goodness. Meanwhile, get the pan hot, pop in butter to melt and bubble, season the chop and gently fry so everything goes an appetising brown. Add a healthy splash of stock and prunes to the pan, place in the oven until cooked to taste. Serve the chop with the sauce poured over. We should have a glistening chop with proudly placed prunes.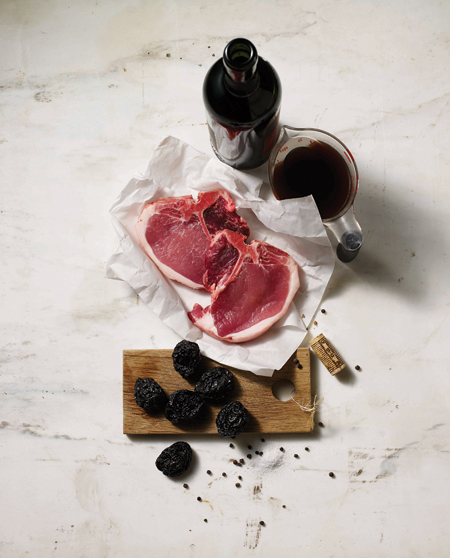 Photography Anita Calero