Bold flavours burst from this classic French dish
Nestled on Bermondsey Street, and with space for just 20 covers, Casse-Croûte exudes the familial feel of a small-town French restaurant. Its menu features French classics that deliver a bold selection of flavours, from paté de Foie to entrée delights such as gratin de raviolis and oeuf à la coque, Mouillettes.
Here, Casse-Croûte's Hervé Durochat – co-owner with Alexandre Bonnefoy and head chef Sylvain Soulard – talks us through signature dish, Duck Confit.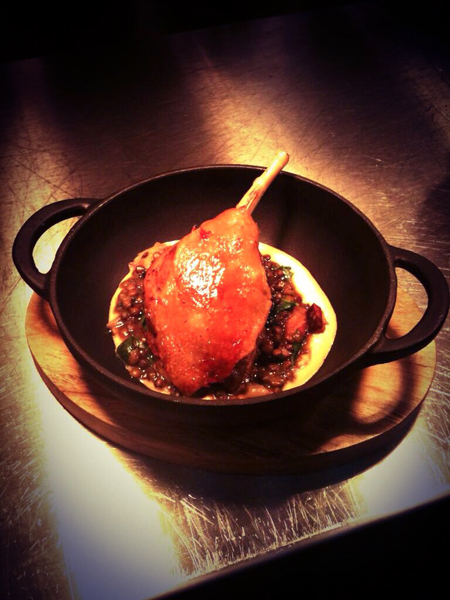 Duck confit
4 duck legs
1k of duck fat
200mL of white wine
4 cloves of garlic
Thyme
Salt and pepper
1. Put the duck legs, fat, garlic, white wine, salt and pepper into a large sauce pan.
2.Bring it to boil then cover and cook in the oven at 110°C for 2h30 hours.
3. When cooked, remove from the fat and leave to cool down.
4. Before serving, put the duck legs into a sauté pan (skin on), then into the oven for 12 to 15 min at 180°C to crisp the skin.
Puy lentils
250g puy lentils
100g onions
100g celery
100g carrots
Puy lentils
1. Sweat the onions, celery and carrots in a large pan with two spoons of duck fat for 3 or 4 minutes.
2. Add the lentils and 1 litre of cold water. Bring to boil and cook slowly for about 30min. Add in salt and pepper when it's cooked.